Reduce your support ticket volume and embrace the product-led approach by adding a help center to your mobile app.
Add a help center
The Help Center layout lets you create an in-app help center by linking to multiple guides to help your users use your app. You can add links to important support articles or a "Give us feedback" poll, or use deep links for a walkthrough guide to send your users to a specific location in the app.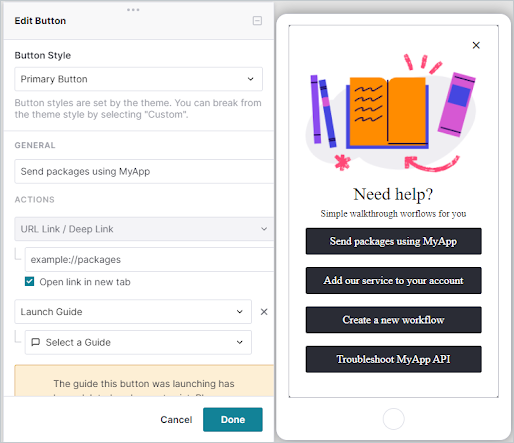 The layout is predefined with button actions:
Deep link to navigate your visitors to the desired location.
Launch Guide

to trigger customized walkthroughs for these pages.
Frequently asked questions
What are deep links?
Deep links send users directly to an app instead of a website or a store. They are used to send users to specific in-app locations, saving users time and energy locating a particular page themselves and significantly improving the user experience.

How do I know if my app has deep links?
Consult your app developers, as these are implemented in the application's URL scheme (iOS Universal Links) or an intent URL (on Android devices).