Pendo uses the Monthly Active Users (MAU) metric to monitor the number of unique, active visitors in your app within the last 30 days. MAU serves as a valuable overall health indicator for your product, so it's important to monitor this metric to track trends in user activity and identify changes in user behavior over time.
The Pendo Free homepage provides a dedicated platform to effortlessly monitor your MAU count and access a variety of resources to help you maximize your experience with Pendo.
Track monthly active users
The Monthly active users (MAU) tracker section at the top of the homepage gives you high-level insights into your app's user engagement. This section features a progress bar that visually illustrates your current MAU count in relation to the maximum threshold for your plan.

Within this section, you can also find a few key metrics related to your MAU threshold:
Current MAU count. The number of visitors that have interacted with your app within the last 30 days. This count is continuously updated and provides real-time data on unique, active visitors during the most recent 30-day period.
Highest MAU count. The highest number of active visitors that interacted with your app over the last 90 days. This metric identifies the maximum level of user engagement recorded over the last 90 days, giving you visibility into your app's peak user engagement level.
Rolling MAU average. The average number of active visitors over a rolling 30-day period within the last 90 days. This metric is updated regularly as each 30-day window progresses.
Tip: Even if you've exceeded the MAU threshold for your plan, the homepage always shows you an accurate visitor count.
Monitor weekly visitors
The Weekly visitors line chart provides you with the total number of MAU that have interacted with your app over the last 90 days to help you stay informed about your app's engagement trends.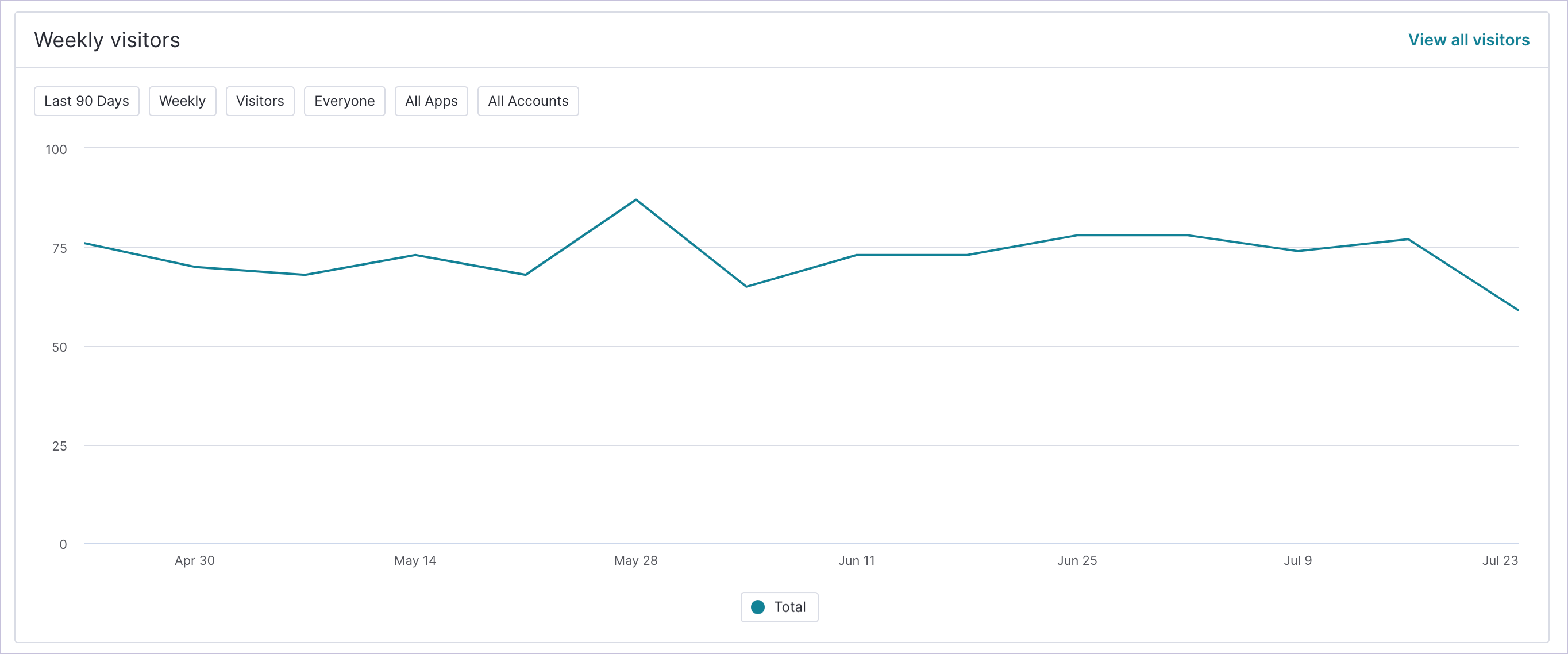 To view your full list of visitors, see View all visitors in the top-right corner of the chart. This opens the Visitors page where you can search for or select a specific visitor to open the Visitor Details page. (If you've exceeded your MAU threshold, you might not see data for some visitors on the Visitors or Visitor Details pages. To learn more, see MAU limits.)
Watch use case videos
The Explore what's possible in Pendo section provides a curated selection of the most common use cases used by Pendo customers. These use case videos help you explore how to leverage Pendo to address various scenarios and achieve specific objectives. Watch the videos that pique your interest to gain insights into real-life applications of Pendo's capabilities.

To view the full list of use case videos, select See more at the bottom of the section.
Share feedback
We highly value your insights and suggestions for enhancing our product. If you have feedback that's specific to the Pendo Free homepage, we invite you to share it with us. To do so, select Share feedback at the bottom of the page.

If you're interested in sharing feedback about other parts of Pendo, see Give product feedback to Pendo instead.
Explore learning and upgrade resources
On the right side of the page, you can find three sections tailed to empower you on your Pendo journey:
Learn and grow. Discover a wealth of knowledge in our Pendo Academy, where you can access on-demand video tutorials and sign up for live webinars.
Get help. Access our comprehensive Knowledge Base (where you're reading this now!), which houses our detailed product documentation, and our Discussion Forum, where you can join peer-led discussions with other Pendo users.
Plan your upgrade. When you're ready to take your Pendo experience to the next level, this section provides all the resources you need for a smooth upgrade to a paid subscription. Explore these resources at your own pace, and if you're ready to discuss your upgrade options, select Talk to Sales... to submit your contact information. Alternatively, if you're ready to upgrade immediately, select Upgrade in the top-right corner of the homepage.