Note: This offering is currently in closed beta, available to select Pendo customers for testing. The information that follows isn't a commitment, promise, or legal obligation. The development, release, and timing of any features or functionality described here are subject to change at the discretion of Pendo, which can occur without notice. If you're interested in getting early access and providing feedback, sign up to the beta waitlist.
Pendo Discover is a continuous discovery, validation, and planning platform designed to help you build what matters most to your customers. It offers an integrated set of tools to give you confidence in the data that informs your product decisions.
Functionality
Pendo Discover brings together a combination of tools to deliver feedback, validation, and roadmapping functionality, with additional insights powered by AI. This functionality includes the following.
Feedback capture.

Pendo Discover offers a central location for collecting and acknowledging customer feedback. Create saved views of feedback data to return to later.

Feedback insight.

Look at customer feedback in the context of other data in Pendo to identify patterns and uncover points of friction. View feedback data trends, insights, and categorized feedback data, created based on a combination of AI and your own rules.

Idea curation.

Alongside customer feedback, Pendo Discover offers a central location for creating and managing product ideas and the ability to link feedback data to these ideas, giving you a sense of what's most important to customers.

Idea validation.

Use Validate

to test and prioritize ideas so that you can give your customers what they want and need.

Roadmapping.

Promote ideas in Validate

to features in

Roadmaps

that you can then use to communicate with stakeholders.
The Discover platform is fully connected with other Pendo data and features, such as segments, NPS, and Session Replay. Pendo Discover also works with other SaaS tools and with Salesforce custom reporting, allowing you to highlight revenue that's blocked by product gaps.
The product life cycle
Pendo Discover is designed to help you along your product management lifecycle. In early stages, Discover helps you to capture and manage feedback and to generate and test ideas. In later stages, Discover helps you progress and communicate your product development and launch, and to evaluate and iterate, feeding back into discovery.
Discover.

Capture customer feedback and generate ideas. Pendo Discover provides a centralized location for managing artifacts.

Validate.

Promote customer feedback to ideas and then test these ideas in-app to prioritize what to build next.

Plan and build.

Promote ideas to your roadmap and share this with your stakeholders. Communicate requirements to your engineers to start development.

Launch.

Co-design with customers and then communicate with them once a requested feature has been released using guides and emails.

Iterate and evaluate.

Capture more customer feedback and use this to feed into future discovery and validation.
Use customer feedback captured in Pendo Discover (1), alongside replay and analytics data, to inform and test ideas with Validate (2). Use this data, alongside AI-generated insights about your customer feedback, to discover customer needs and to prioritize development work. Promote ideas in Validate to features in Roadmaps that you can share with stakeholders and then hand off to engineers for development (3).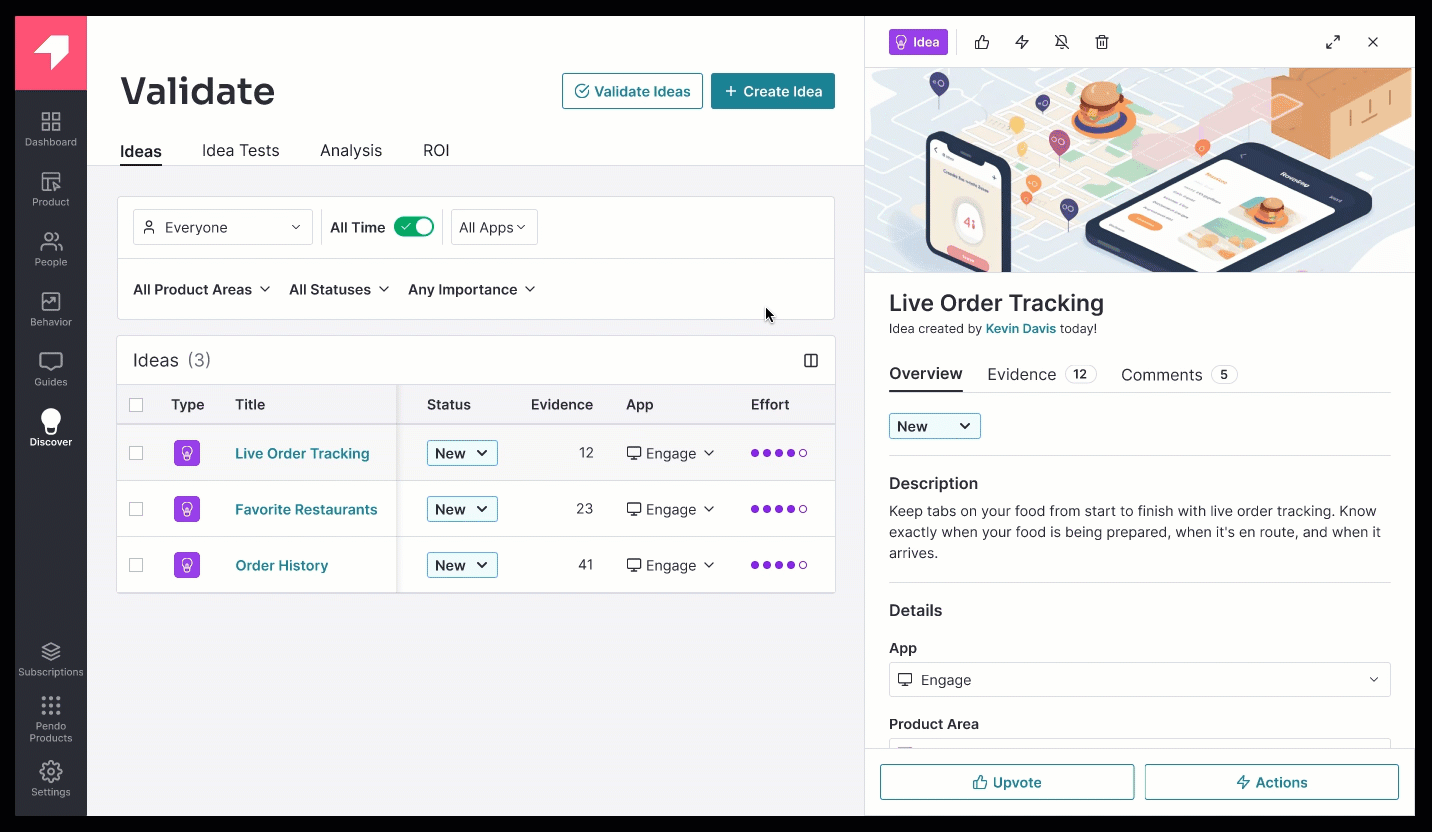 Deliver guides to your customers from within a feature on your roadmap to engage with them. Let them know what's being built and what's been delivered in the context of their feedback requests (4). Use the feedback you receive to evaluate and iterate on your product and its features (5), looping back into the discovery phase for continuous product development.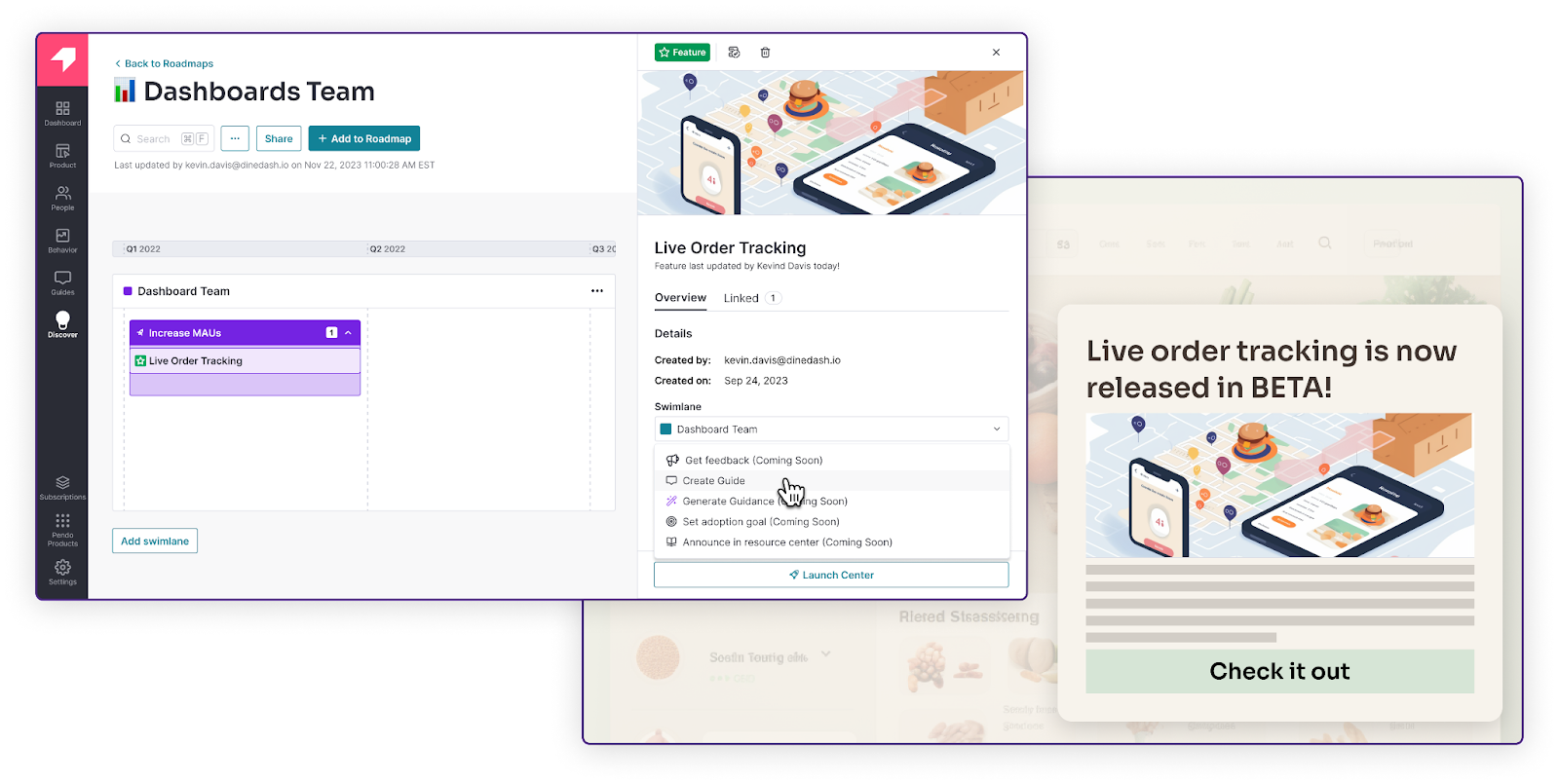 Take a tour
This section summarizes key pages and tabs in the Discover UI:
Feedback. Though it has similar features, the Feedback page in Discover is different to the Pendo Feedback product. The Feedback page in Discover is designed specifically to fit into the product management life cycle as part of the Discover platform. It also offers AI-powered insights and high-level trends into customer feedback.
Validate. The next step in the Discover process is turn your customer feedback requests into ideas and test them. This allows you to prioritize what to build.
Roadmaps. Roadmaps help you plan and communicate your releases. This is a more complete feature that builds on Feedback Roadmap but is specific to Discover.
Feedback
Feedback items are managed in table views that you can create and save to return to later or to share with others. For information on how to create a custom view of your customer feedback, see Manage feedback in Discover.
To open the Feedback views page, navigate to Discover > Feedback from the left-side menu. The Feedback views page lists all the saved custom views of customer feedback. Custom views are created based on filters and columns that you apply to the table of customer feedback. For instructions on creating and saving a custom view, see Save custom views of feedback.

Favorite views display at the top of the page. This section is unique to you and defaults to All Feedback and New Feedback for first-time users. These can't be deleted. Select and deselect the star icon next to a feedback view to add it to and remove it from Favorite views.
Validate
You can create ideas to test in Validate and link these ideas to feedback items. To open Validate, navigate to Discover > Validate from the left-side menu. Validate consists of four tabs.
Ideas tab
Ideas are created, listed, and managed in the Ideas tab in Validate. You can link these ideas to feedback items and can test them using idea tests. For instructions on how to create ideas, see Create and test ideas with Validate.
The Ideas tab is open by default when you navigate to Validate. You can modify the ideas list using the filters at the top of the page. For more information, see Validate ideas.

Idea Tests tab
Once you've created ideas, you can collect votes and comments on those ideas to help you decide what to build next. Create and manage idea tests from the second tab in Validate, Idea Tests. For instructions on how to create an idea test, see Create and test ideas with Validate.

Analysis tab
The Analysis tab offers visualizations for comparing and prioritizing ideas that have been validated in idea tests to help you make product decisions based on an aggregate of ideas. For more information, see Compare and prioritize ideas in the Analysis tab.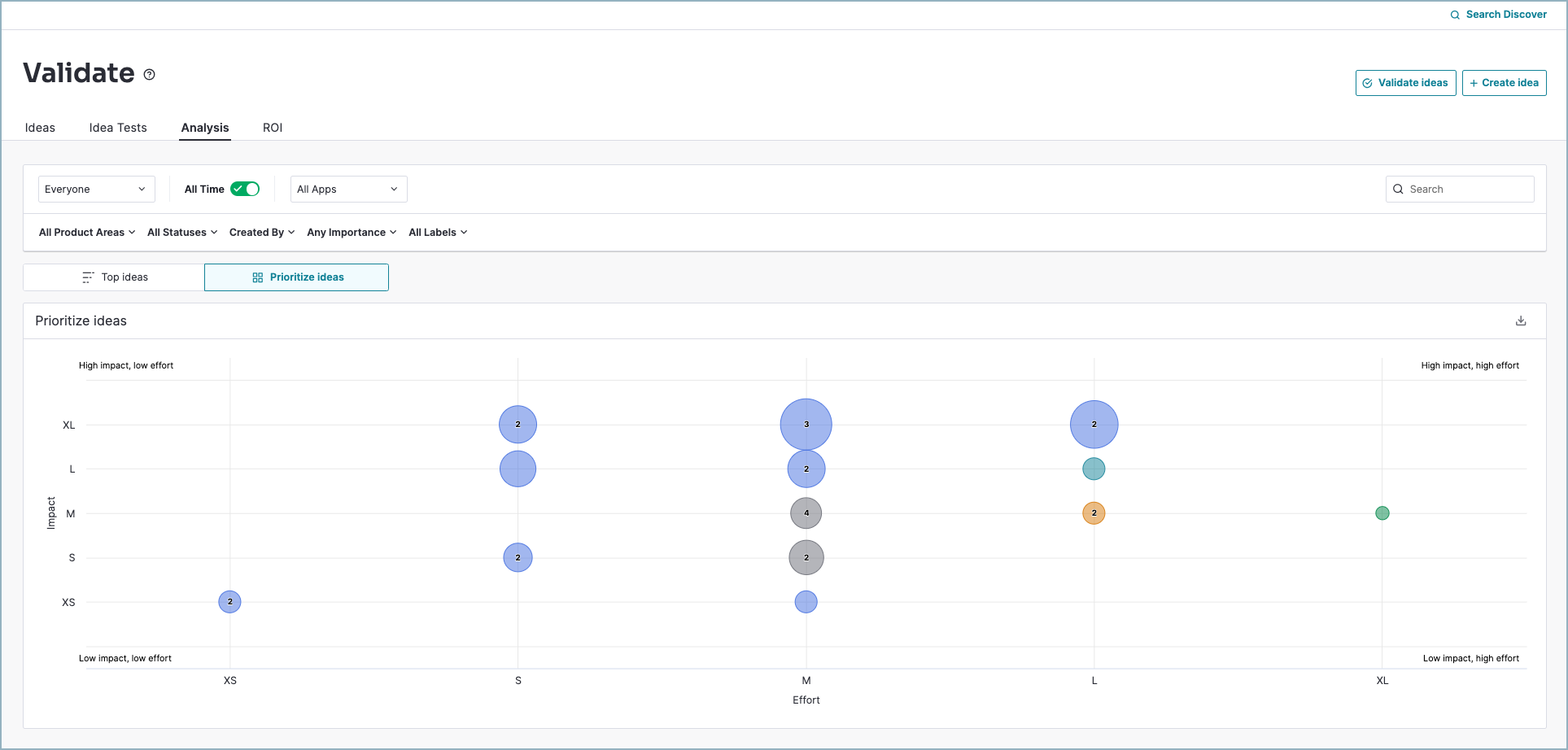 ROI tab
The ROI tab shows you key metrics relevant to your return on investment as a result of using Validate to test your ideas. This metric helps you to evaluate how effective Validate is. For more information, see View return on investment (ROI) for Validate.

Roadmaps
Promote ideas to features that you can add to roadmaps in Discover. To open the Roadmaps page, navigate to Discover > Roadmaps from the left-side menu. The Roadmaps page lists all of the existing roadmaps created by you and colleagues who've set their own roadmaps to be visible to team members.

Create and use roadmaps to plan your product delivery and map features and initiatives that you can share with your colleagues. For more information, see the Roadmaps documentation.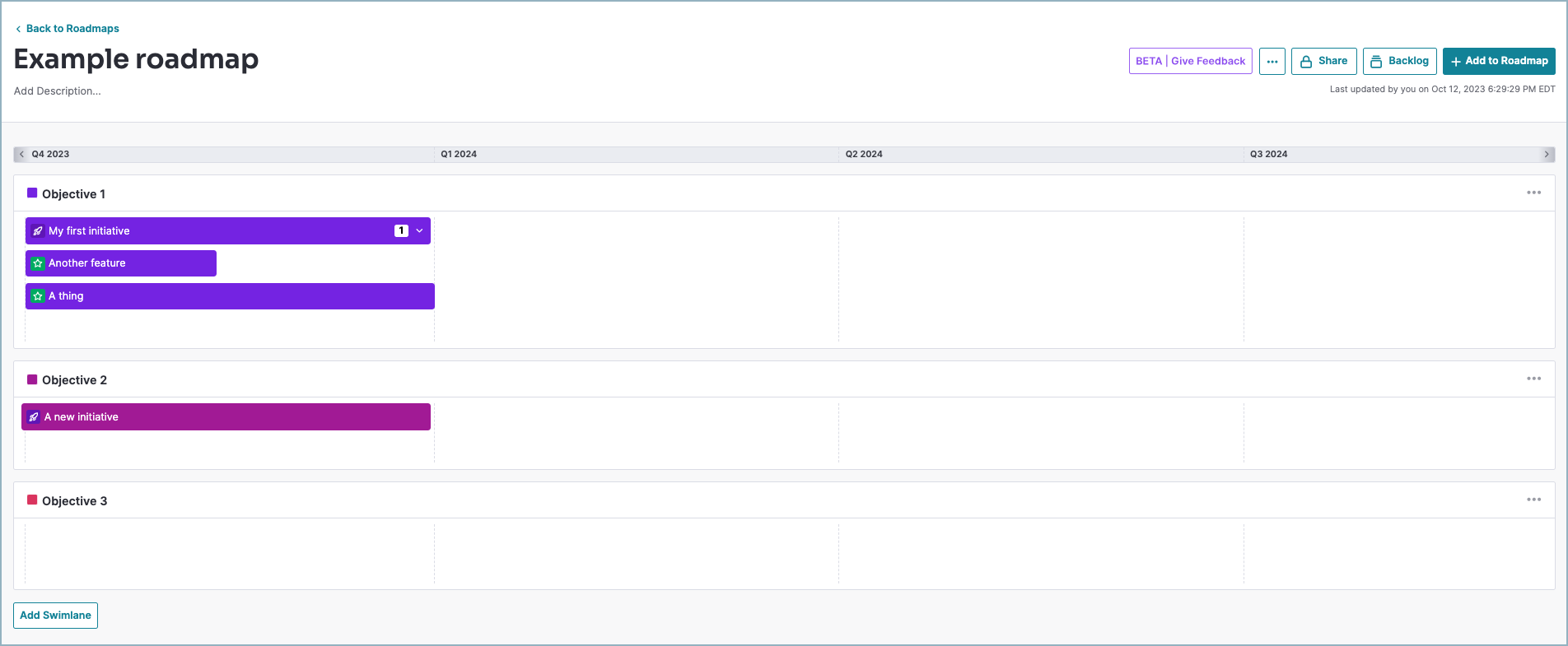 Keyword search
Whenever you're in the Feedback or Validate pages of Discover, there is a keyword search bar in the top-right corner of the page labeled Search Discover.
This is different from the search bar that appears next to the filters in a saved view of feedback items, the ideas list in Validate, the Analysis tab of Validate, or the Roadmaps list. The keyword search bar in the top-right corner of Discover searches all feedback items and ideas.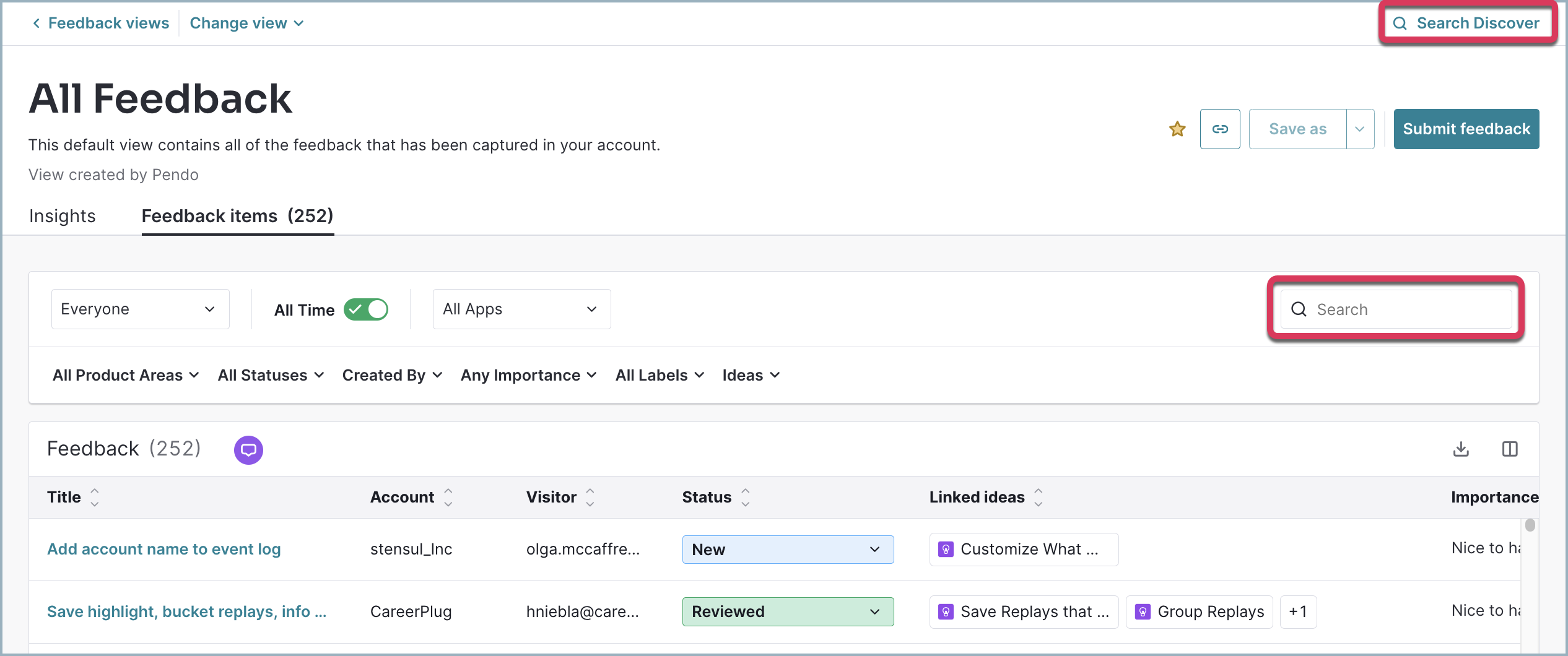 Selecting Search Discover opens a window where you can choose to search all visible feedback items and ideas, or limit your search to one or the other using the Feedback and Ideas buttons directly below the search box. The buttons have counters next to them to indicate how many results your search returns for feedback items and ideas.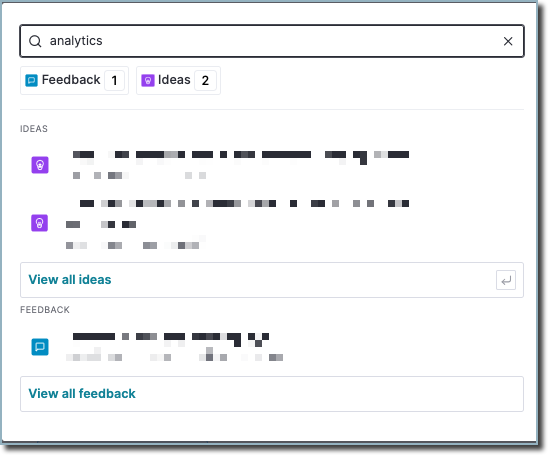 The search results have no impact on the page you're currently in unless you either select View all ideas or View all feedback, which loads a new table of the ideas or feedback that are surfaced by the search. If you select View all feedback, you can save the results as a custom view to come back to later. For more information, see Save custom views of feedback.