Use the Support module in the Pendo Resource Center to contact Pendo's Customer Success (CS) team. This opens a form for you to complete.
Access to CS requires a paid subscription to Pendo. Pendo Free subscriptions are unable to create tickets and are encouraged to engage with us and other Pendo users through our Community instead.
Open the Support module in the Resource Center
To contact the CS team, sign in to Pendo and select the Pendo badge in the bottom-right corner of your screen. This opens the Pendo Resource Center. Select Support and choose Submit a ticket under Technical support.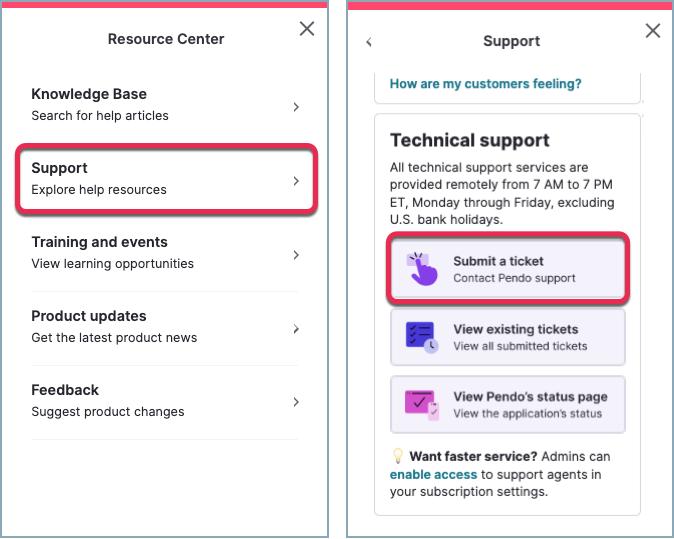 If you've already asked a question and want to check the status, select View existing tickets, instead. This option shows you all open and closed tickets you've submitted in the past. This includes tickets to Technical Support and to CS. For instructions, see View existing and open tickets in this article.
You can also select View Pendo's status page to view information about maintenance and known issues that we're already working on, such as product downtime or operational issues. You can subscribe to this page to receive updates.
Submit a new ticket
To submit a question to the CS team:
Select Submit a ticket to open the Submit a request form.
Enter your email address.
Enter a meaningful title for your question under Subject.
From the Request type dropdown menu, select How-to question or Best practice question. These request types are sent to the CS team.
Fill in the rest of the form. Provide the details of your question, choose a product areas, and add attachments to help our team better understand the context.
Select Submit in the bottom-right corner of the form.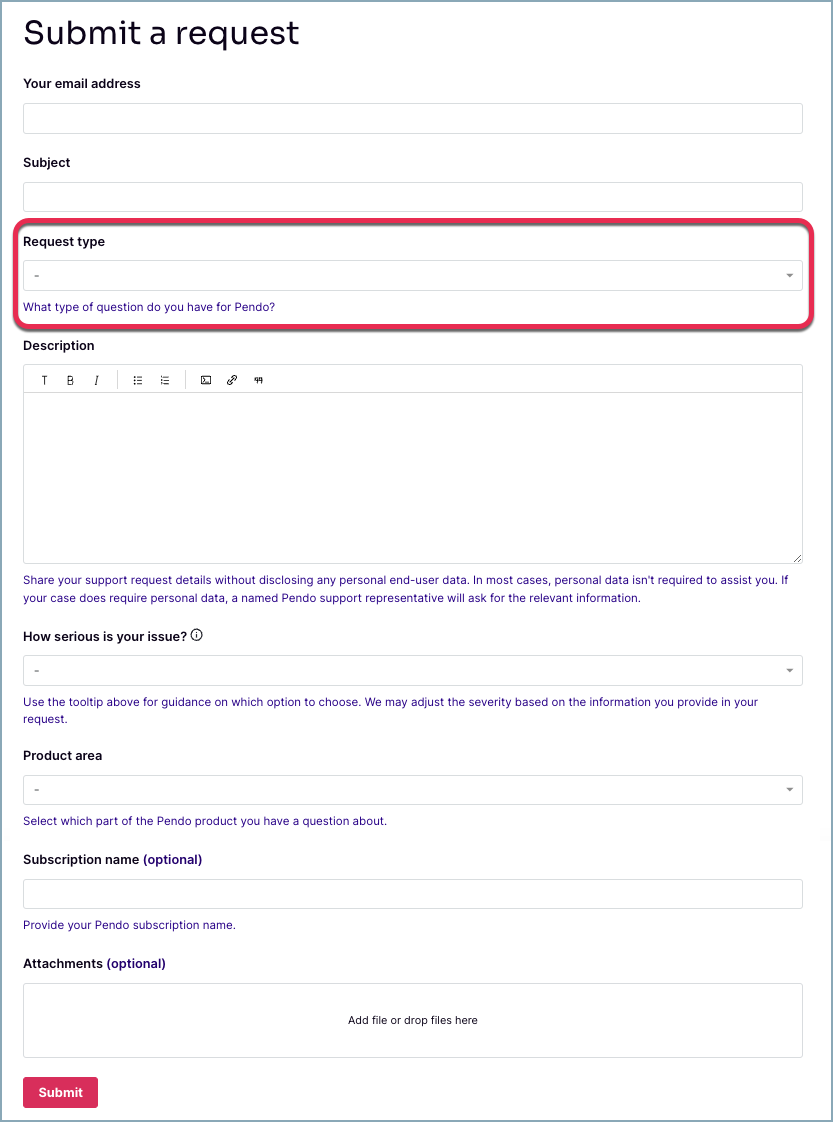 View existing open and closed tickets
Select View existing tickets to view requests that you've already submitted to technical support, including both open and closed tickets. From this section, you can search your requests by entering a keyword or filtering it by status.

Frequently asked questions
I'm not a Free or Starter package customer and can't sign in. How do I get help?
Customers who are unable to sign in to Pendo can use our request form to open up a ticket for us to review.
I'm a Free or Starter customer. How do I get help?
Free and Starter package customers have access to self-service support, meaning help can only be provided through our in-app, community, and Knowledge Base resources.