Note:
 The following Guide Localization process is only available via the 
Visual Design Studio
, not the Classic Designer.
Overview
Companies interested in growing and expanding into global markets need to be able to speak local languages. The Visual Design Studio makes it easy to deliver in-app messages in a variety of languages. This feature is available for both web and native mobile Guides (v2).
Pendo Permissions
You will need to have Pendo Administrator Permission to access and manage your app's Localization settings within Subscription Settings.
Note: If you can't access your Subscription Settings, reach out to your Pendo Administrator to setup Localization settings or to elevate your permissions.
Setup your App's Localization Settings
Navigate to Subscription settings and choose your app. Choose the "Localization Settings" tab and enable Localization Settings.
Language Preference Metadata
Pendo determines which language to serve visitors based on the visitor's local metadata. Once you setup your desired metadata value and pass it to Pendo, set the metadata here. The metadata field name and values of that metadata are up to you.
If you aren't passing any language metadata to Pendo, you can use the default "Language" metadata option that Pendo provides out-of-the-box. This metadata option will look at the default language setting that a user sets up for their browser.
Pendo highly recommends that you use your own values for analytics accuracy but a visitor's browser language metadata can be used if you don't have another option.
Supported Guide Languages
After you choose your language metadata, click on "add a language" to add all languages you need for Guide translations.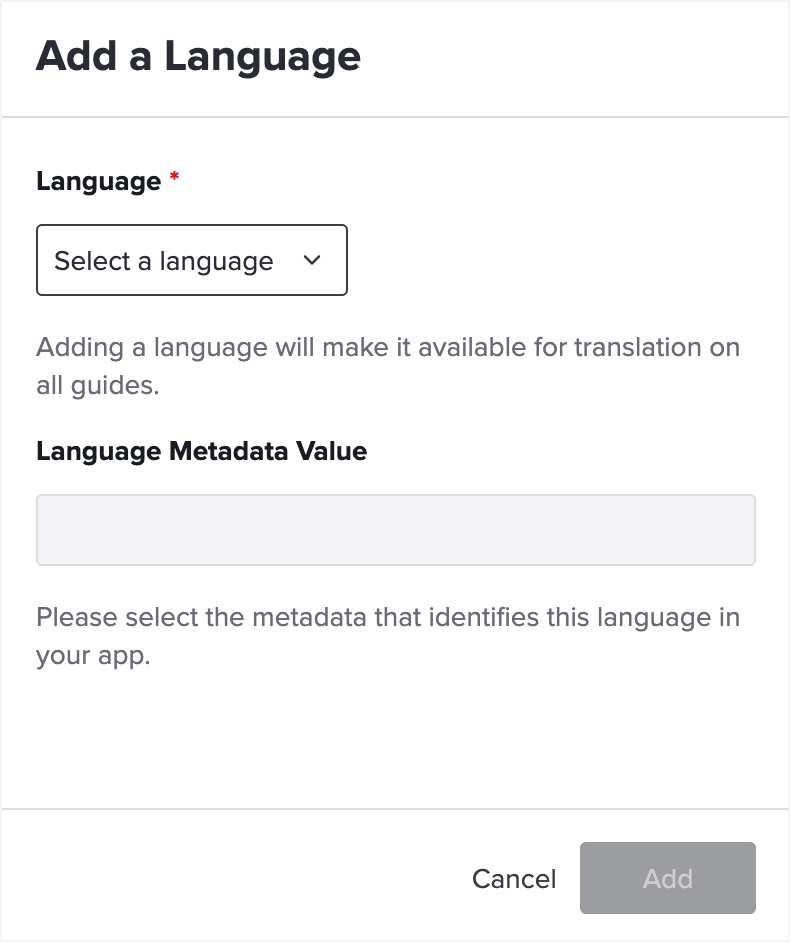 Once you add all languages, you will see the selected languages listed.

Missing Translation Language Behavior
This setting tells Pendo what to do if a visitor is eligible for a Guide, but their language setting doesn't match a translated version of that Guide. This could be because that language has not yet been translated or is not set up in your Pendo subscription. Toggle this setting to the "On" state so the Guide will be displayed in the default language.
If you toggle this setting "off," it's important to remember that this setting could prevent a user from seeing a Guide if they have a language setting that doesn't match any of your preferences.
Note: This is an important setting with significant implications.
Export Your Guide
To start, create a Guide in English in the Visual Design Studio.
Once you've created your Guide, navigate to the "Localization" tile in the Guide Details view.
Click on the "Edit" (1) option to export your Pendo Guide. You will see your default language guide and an export option.
Click on the export button (2) to download your Guide in XLIFF 1.2 format so it can be translated.
This file will contain your Guide content as strings that can be translated into your desired languages. If it is a multi-step guide, strings from each step will be included in that same file.
Import Your Translated Files
After you import your files, use the language chooser at the top of the Guide Settings to preview your Guide in your desired language.
Test & Preview Your Translated Guides
After you import your files, use the language chooser at the top of the Guide Settings to preview your Guide in your desired language.
Once you're happy with your Guide, schedule or publish it when you're ready.
Frequently Asked Questions
When I Turn On Localization, How Will It Affect My Old Guides?
Guides created in the Legacy Designer cannot be localized. Similarly, the "Missing Translation Language Behavior" setting will not apply to Legacy Designer Guides. (Users will still see older Guides even if the fallback setting is set to hide them if the users's language has not been translated.)
What Language File Type is Supported?
XLIFF 1.2 format only.
What Languages are Supported?
Afrikaans (af)

Amharic (am)

Bulgarian (bg)

Catalan (ca)

Chinese(zh)

Chinese - Hong Kong (zh-HK)

Chinese - PRC (zh-CN)

Chinese - Taiwan (zh-TW)

Croatian (hr)

Czech (cs)

Danish (da)

Dutch (nl)

Dutch - Belgium (nl-BE) 

English (en)

English - Australia (en-AU)

English - Canada (en-CA)

English - Ireland (en-IE)

English - New Zealand (en-NZ)

English - UK (en-GB)

English (US) (en-US)

Estonian (et)

Filipino (fil)

Finnish (fi)

French (fr)

French - Belgium (fr-BE)

French - Canada (fr-CA)

French - France (fr-FR)

German (de)

German - Austria (de-AT)

German - Switzerland (de-CH)

Greek (el)

Hindi (hi)

Hungarian (hu)

Indonesian (id)

Italian (it)

Japanese (ja)

Korean (ko)

Latvian (lv)

Lithuanian (lt)

Malay (ms)

Norwegian (no)

Polish (pl)

Portuguese (pt)

Portuguese - Brazil (pt-BR)

Portuguese - Portugal (pt-PT)

Romanian (ro)

Russian (ru)

Serbian (sr)

Slovak (sk)

Slovenian (sl)

Spanish (es)

Spanish - Chile (es-CL)

Spanish - Latin America (es-419)

Spanish - Mexico (es-MX)

Spanish - Spain (es-ES)

Swahili (sw)

Swedish (sv)

Thai (th)

Turkish (tr)

Ukrainian (uk)

Vietnamese (vi)

Zulu (zu)
Note: Right-to-left languages (e.g., Hebrew and Arabic) are not supported yet.
Is this Supported for Mobile Guides as well?
Native mobile guides can be translated just like web Guides by any customer using the mobile V2 SDKs and participating in the Localization Beta.
The mobile SDKs send the device language in the 'language' metadata field, just like the web agent. You can alternatively set to use any alternative user metadata field for the device language via the application's settings.
Does Pendo translate the Guides for me?
No. We provide you with an XLIFF file that you can translate using your existing Guide translation processes. Afterwards, you upload the translated files to Pendo.
Can I author a Guide in a different Language?
Yes. If you want to author individual guides in a different language, you can do so by clicking the "Edit" link near the Export button in the Localization edit card on the Guide details page. If you'd like to set your default language for all new Guides to a language other than English, contact your Pendo Representative.
Can I localize an NPS Guide?
Yes. NPS is a type of Pendo Guide so it will have a Localization tile on the Guide Details Page after the initial Administrator setup is completed. Once you localize your NPS survey, responders will be able to fill it out in their native language.
If you don't see the localization option, you might have an older NPS that just needs to be upgraded. Take a look at this article to learn more about upgrading your NPS Guide.
Can I Analyze Guides According to Language?
Yes. Navigate to your Guide and choose "Guide Metrics." Using the filter, you can select the language dropdown option and choose your desired language. 
Can I Translate My Resource Center?
Yes. Once you enable Localization in admin settings, you will see the same translation options for the Resource Center. If you're using Guide Center (Classic version of Resource Center), Localization is not available.
What is the Minimum Agent version Needed to Use Localization?
2.15.15 or above is recommended. Localization leverages the Visual Design Studio, so the minimum version is required for this feature.