The Guides Overview shows all Guides in your subscription with many filtering options for seeing Guide status, activity, and management. You can add columns to your Guide List to quickly view and sort by Guide details. Basic Guide controls, like publishing, changing status, or deletion, can be done directly from the Guide Overview page. The Guide List can be downloaded as a CSV to manage your Guide List and Guide data outside of Pendo. The Guide Overview has tools for Product Managers, Content Creators, or anyone working with customer engagement to visualize Guide health and activity.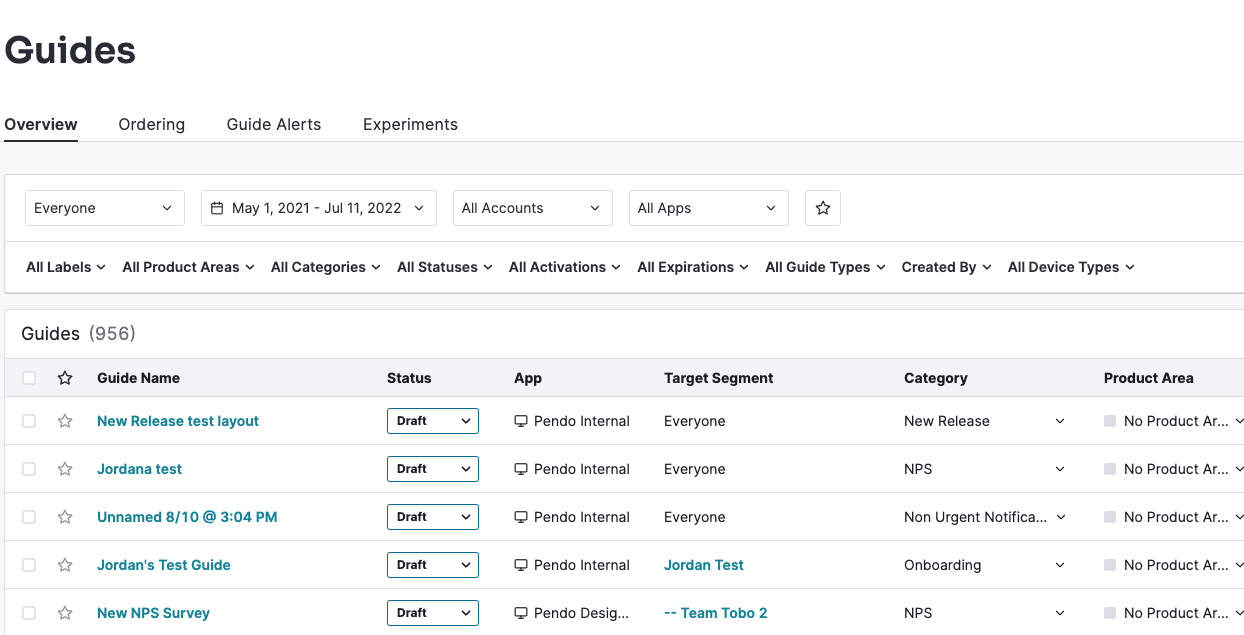 Filtering
Guide Filters control the data values shown in the columns of the Guide List and the Guides shown in the Guide List.
Data Filters
Dropdown menus for Segment, Time, and Accounts segment the data that appears in columns for Guide Visitors and Guide Views. These Filters are also available in Guide Metrics when you click into Details for a specific Guide.

Guide List Filters

Search, Star, App, and Pick Lists filter the Guides that are shown in the Guide List by many different criteria.
Search uses the search query to filter the Guide List by Guide Name, Created By, or Last Updated By.
Star is an individual list of highlighted guides. Click the star next to a guide in the Guide List to add it. Your starred Guide List is only visible to you.
App filters by Guides that display in the selected app, web apps, or mobile apps.
Labels filters Guides by the labels assigned to your guides.
Product Areas filters by the Product Areas you have assigned to your guides.
Guide Categories filters by the categories you have applied to your guides. See Manage Guides using Categories.
Statuses filters by the Status of Guides; Draft, Pending Review, Staged, Scheduled, Public, or Disabled.
Activations filters by the Activation method of Guides; App Launch, Automatically, Badge, Element Click, Guide Center, Page View, Programmatically, or Resource Center.
Expirations filters by active and expired Guides.
Guide Types filter is only relevant for classic guides created by the classic designer. Visual Design Studio guides type is "Building block" only.
Created By filters by the user who created the Guide. The list automatically populates with the user names of Pendo users who have created Guides.
Device Types filters Guides by the device they will display on including mobile Guides. Available options are Desktop, Mobile Web, Desktop and Mobile Web, iOS, or Android devices. Select iOS or Android to view Mobiles Guides.
Group by Category groups the guides in the list into categories and adds a count to the category to see how many guides are published in each category
List Columns
Guide List columns allow you to see the details of each Guide, sort by different parameters, and quickly assess the activity and health of your Guides.
Guide Name and Status always displays but every other column in the Guide List can be added, removed, or reordered to your individual preference.
Tip: Named Custom Segments in the Target Segment column are clickable and take you directly to the details of that Segment on the Segment page in People. Default Segments, like Everyone, and custom segments for individual Guides aren't on the Segments page and are not clickable.
Edit Columns
1. Click

Edit Columns to open the Manage Columns menu.
2. Click + Add Column to add a new column.

3. Select the Column parameter from the list.

4. Click and drag the Ellipse next to the Column to reorder columns.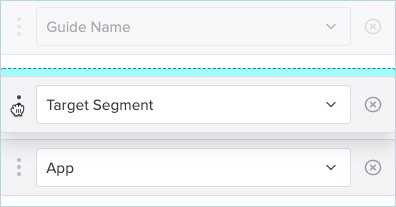 5. Save to update the Guide List.
Changing Guide Status
The Status column is used to quickly change the status of a guide without having to click into Guide Details. Guide status changes immediately when you select an option from the dropdown menu.
Note: Only Admins and users with Manage Published Guides can change Guide status to or out of Public.

Draft -

The guide does not appear in any environment but can still be edited.

Pending Review - Guide creators and contributors can use this status to indicate that their guide is awaiting review. Publishers and reviewers can use this status to filter the guides list to see which guides are awaiting review. Setting the guide status to Pending Review does not push the guide to Staging.
Staged -

The guide is only visible on your designated staging servers ready for testing and validation. Staging servers can be managed by admins of your subscription

here

.

More information on staging here

.

Public -

The guide is public to all visitors targeted in the guide's segment and will appear in the designated "Location" on all environments with Pendo installed. Public guides will still appear on your designated staging servers.

Disabled - The guide is no longer public. Use it to filter for guides that have been published.
Delete -

Deletes the guide and all of its data permanently.
Changing a Guide to Public requires additional confirmation and displays the Segment and eligible Visitor count.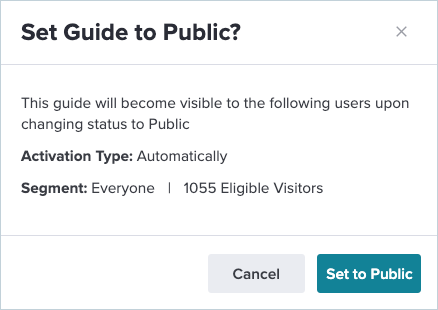 Delete a Guide

Deleting a Guide permanently removes the Guide from your subscription and cannot be undone. If you want to take down a Public Guide, change it to any other status. If you want to remove a Guide from working queues in Draft or Staged, use the Disabled status.
Hover over a Guide to show the Delete button.
Click the Delete button and confirm to permanently remove the Guide from the subscription.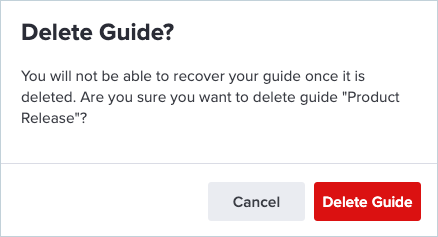 Download Guide List

Download CSV downloads the currently displayed Guide List and columns as a Comma-Separated Values (CSV) file. This file can be used outside of Pendo in other spreadsheet or data visualization tools. It does not contain any examples of Guide content or identifiable Visitor or Account information unless it is named in a Guide Name or Segment.
Frequently Asked Questions
Who is "System User" and why are they changing my guides?
Guides with scheduled start and end dates are published and disabled programmatically by the Pendo system. When these actions occur "System User" appears in the "Last Updated" field, visible in the Guide List and Guide Details pages. System User only appears when a user in your subscription has scheduled guide activation. You can find the last user who changed the guide in Edit History in Guide Details.