Overview
Webhooks enable you to take action based on real-time knowledge of events that occur in Pendo. For example, you might want to:
send event information to a provider such as Segment.com to then be routed to other systems

invoke remote code (like AWS Lambdas or Zapier) to drive workflows

enrich other systems of record in real-time with Pendo-specific events (e.g. Zendesk Sunshine platform)

send events to third-party SIEM providers for analysis in real-time

archiving admin events for auditing and compliance
Requirements
To configure and manage Webhooks, Pendo users will need Pendo Administrator Permissions.
Webhook Types
When creating a Webhook, admins have the ability to select from a few pre-defined formats.
Segment.com Type
Unique to Segment.com, Segment.com webhooks send events in Segment's preferred format. It's important to note that you will need to create an HTTP API Source in Segment to retrieve a Write Key. Read more about Segment write keys here.
Generic Webhook Type
Coming Soon! Pendo is looking to add more Webhook types. This includes sending events in a generic format.
Managing Webhooks
To setup Webhooks, navigate to the "Integrations" section once you click on "Settings."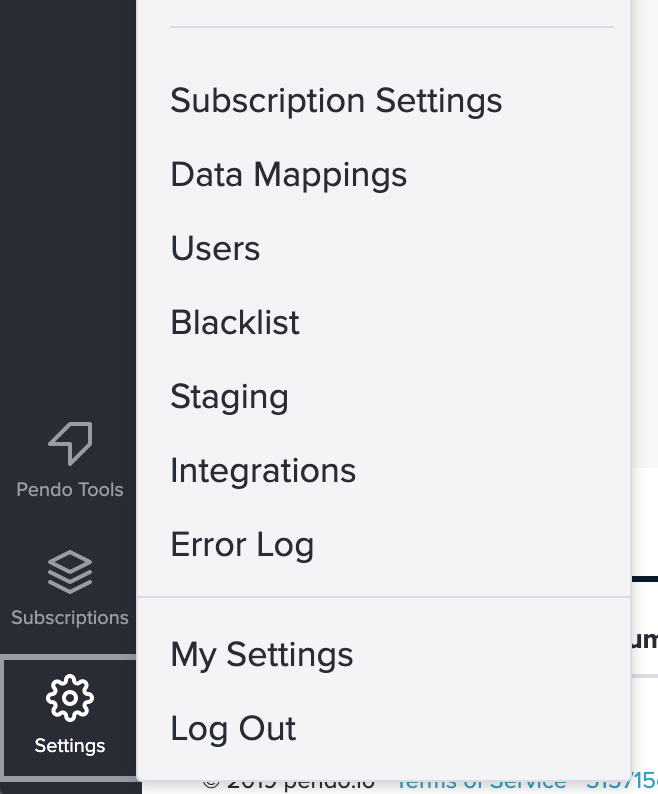 Then click the Webhooks tab.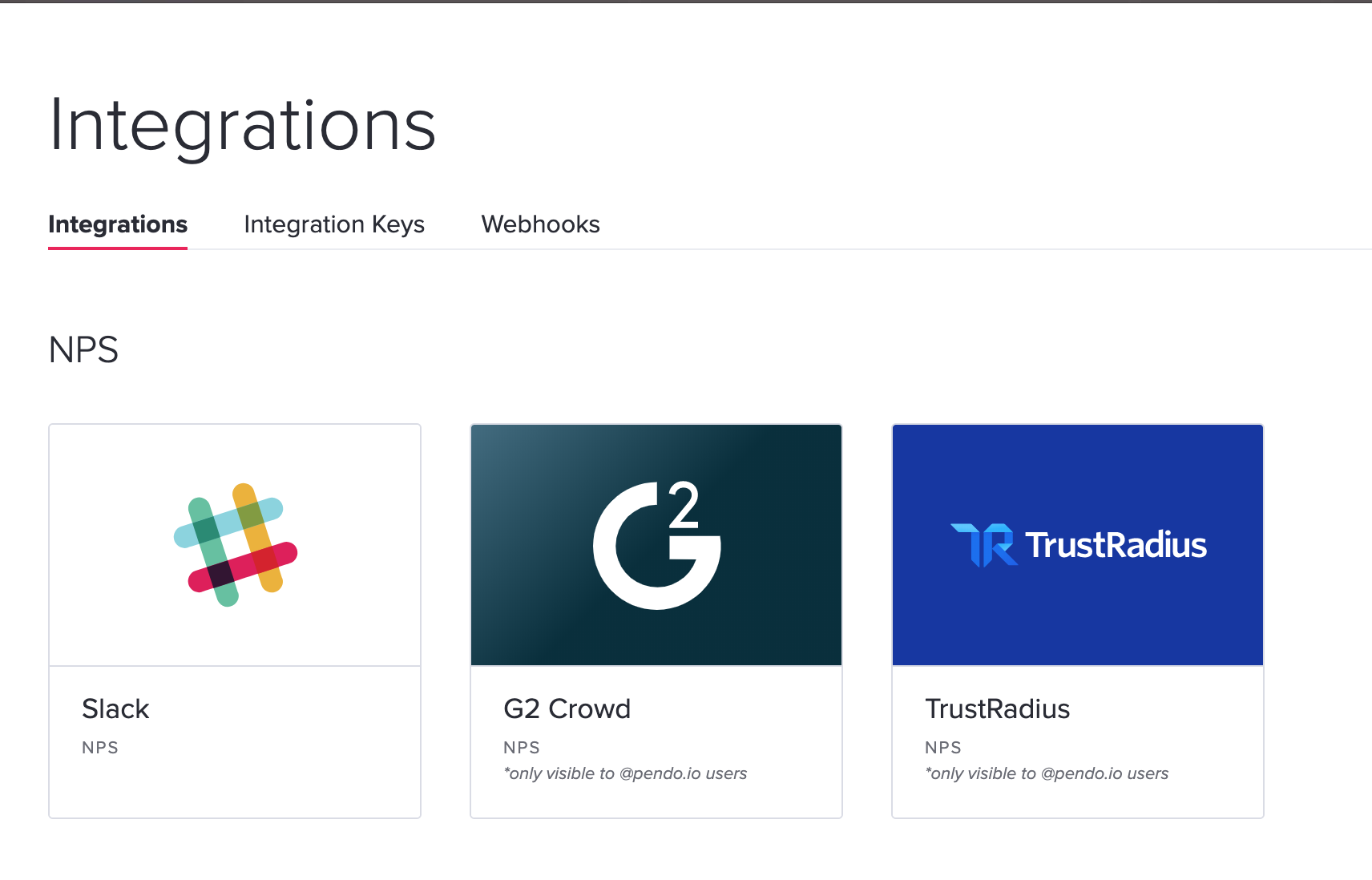 Create
To create a Webhook, click on "+ Add Webhook" button.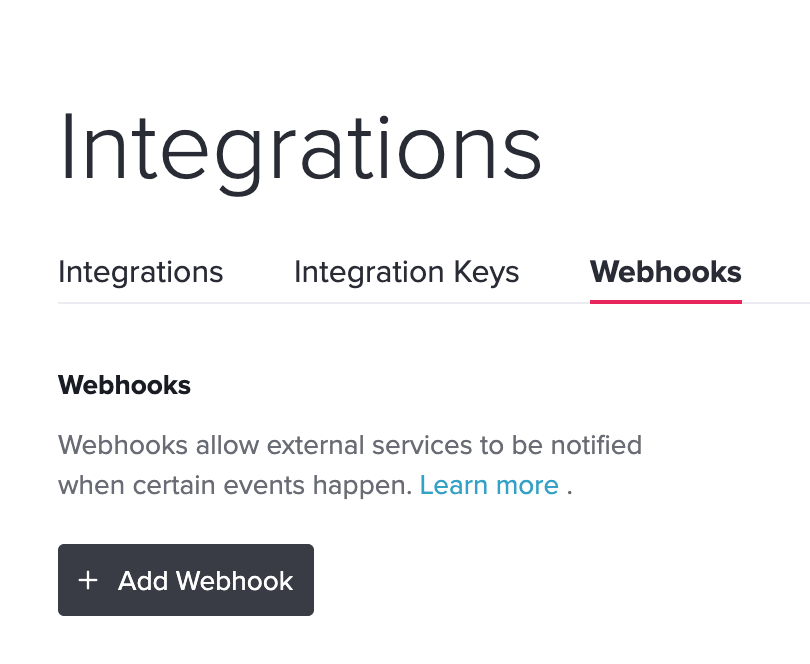 This will open an overlay where you will be prompted to do the following actions:
name your Webhook
select a type
input your secret/write key
Save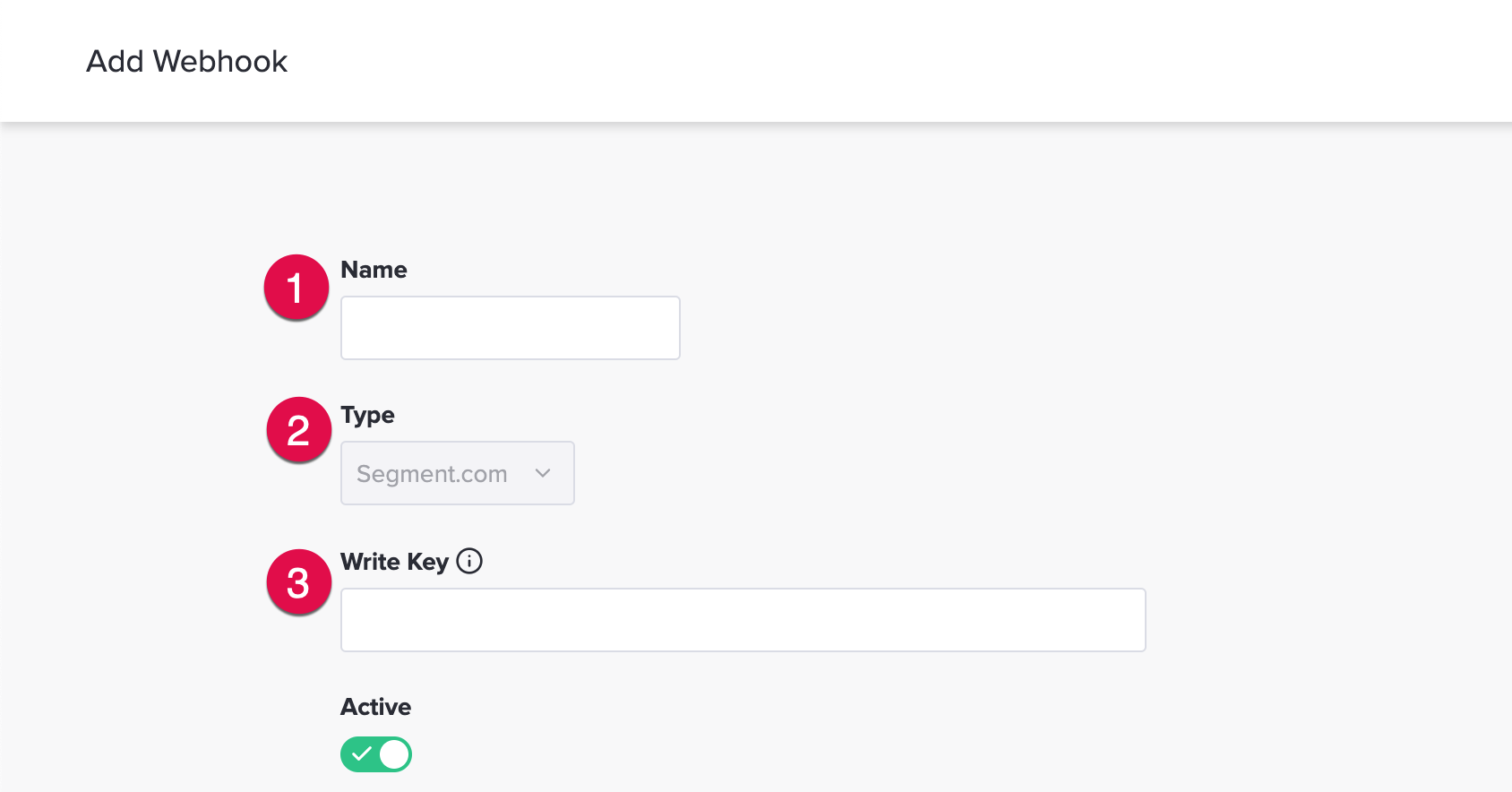 Active & Inactive
The Active/Inactive toggle allows you to stop sending events for this Webhook without deleting it. You can toggle this when you create the Webhook, or while editing it.
Edit
To edit an existing Webhook, hover over the name in the Webhook list. This will reveal an edit icon.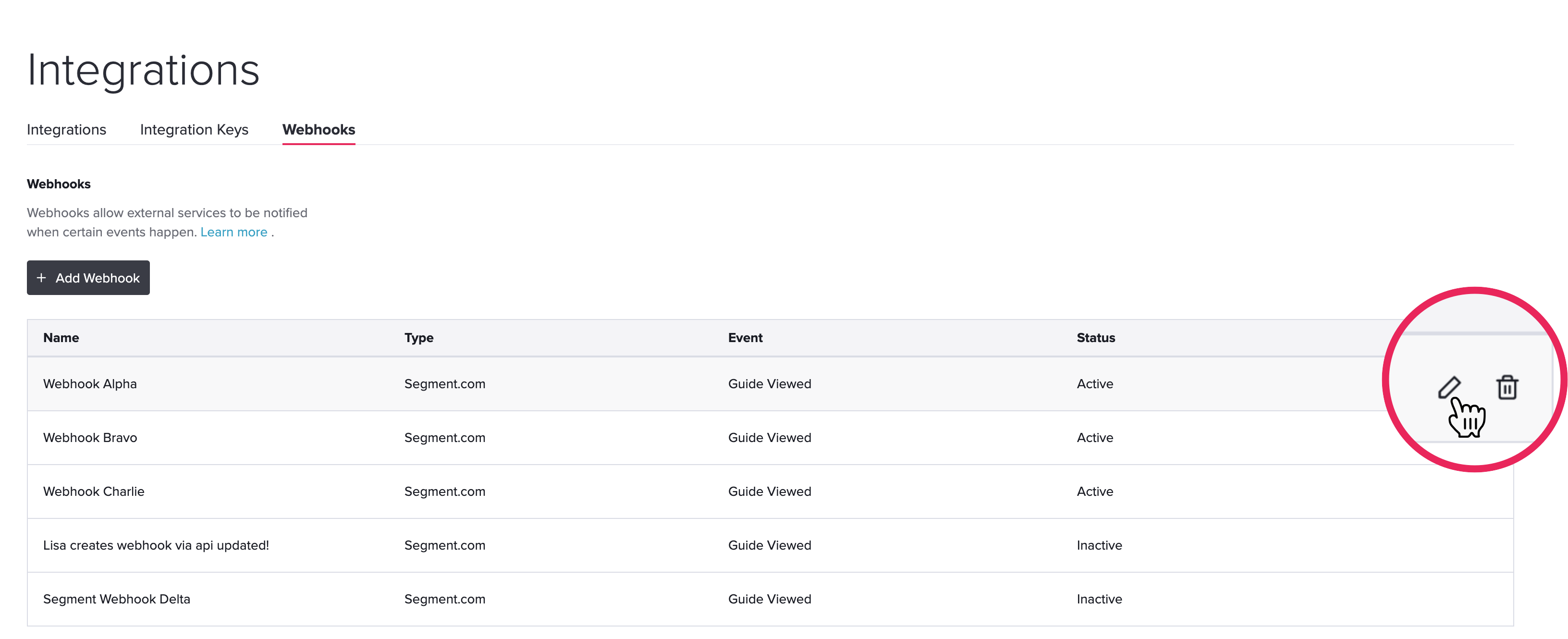 Click the edit icon to open the webhook overlay. Remember to save your webhook after making changes!
Delete
To delete an existing Webhook, hover over the name in the list. This will reveal a delete icon.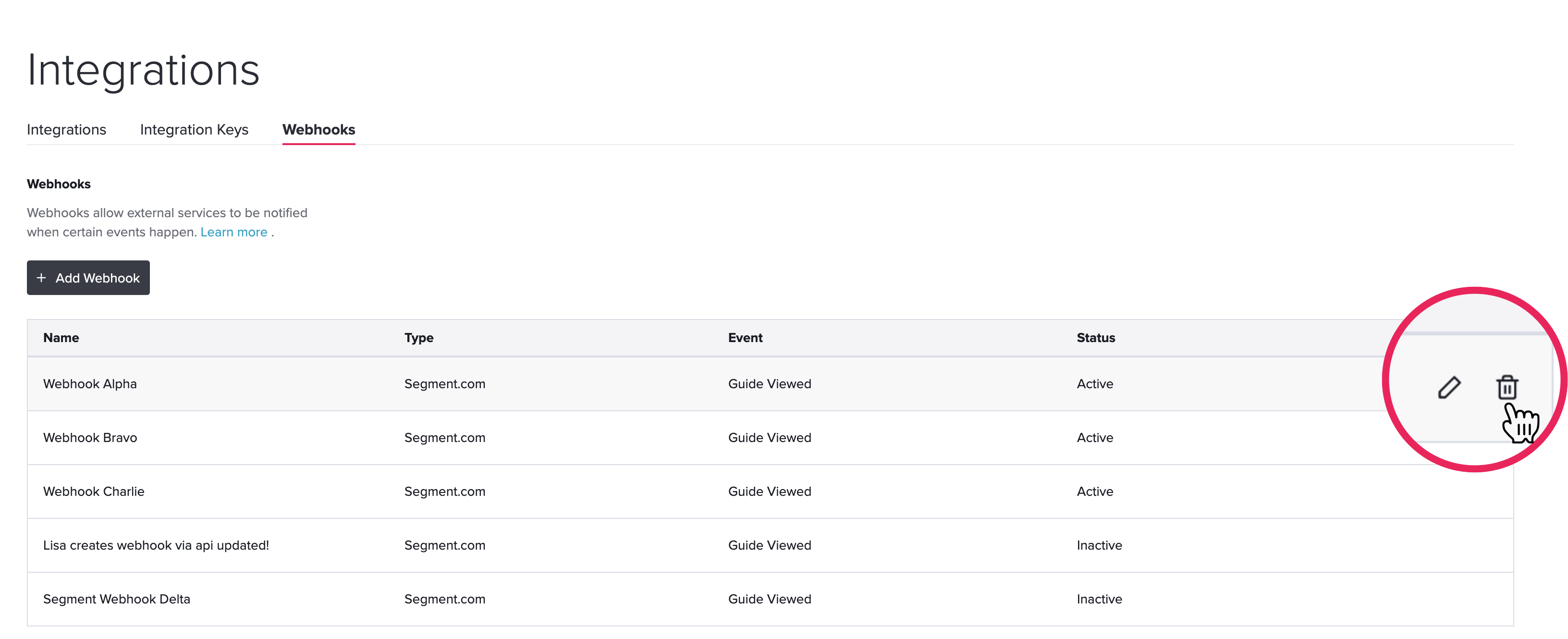 Click the delete icon to delete the Webhook overlay, and confirm or cancel the delete in the confirmation.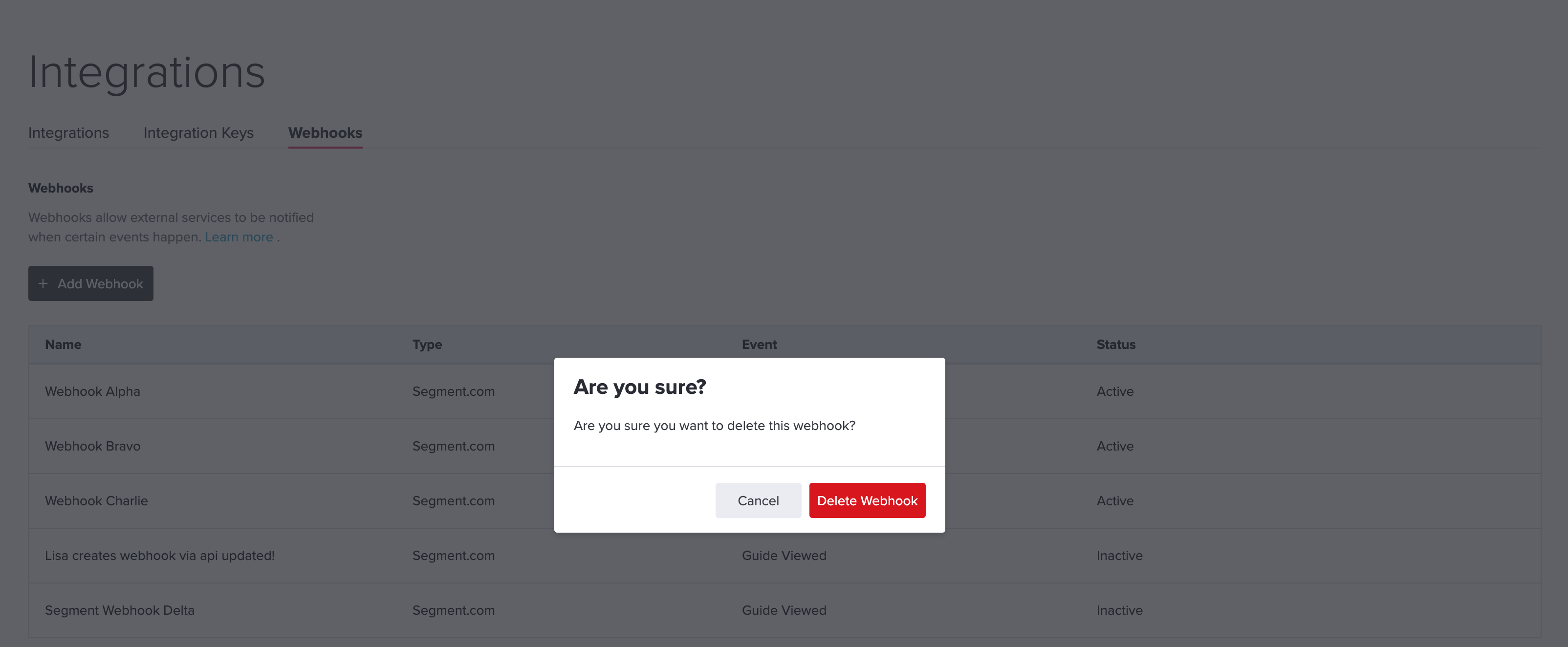 Once a Webhook is deleted events will stop being sent.