Customers will be automatically added to your Feedback account via the Pendo snippet. If this isn't an option for you, or if you want to manually create a few records while testing Feedback, there are a few other options.
Snippet Install
If you integrate your product with Feedback by installing the Pendo snippet, your customer data will be automatically added to Feedback. Note that you can start using Feedback internally at this point. Your internal users can add requests on behalf of your customers, without giving your customers access to the Feedback platform.
Once you expose a link to customers, they can then log in to Feedback from your app via SSO through the widget, the Pendo Resource Center or a link to the portal. Read more here on how to add Feedback to your app when you're ready to launch to your customers.
Manual Invites
You can create visitor records by manually inviting them to Feedback, but note that this is not a long-term solution and should be done for testing purposes only. The limitations are:
Visitors you invite manually will need to set a username & password to login to Feedback. They will not be able to login via your app, so the login process for them is much more manual which we have found has a big impact on their engagement with Feedback.
Manually created records will not sync with records created via the snippet, so if you do decide to install the snippet further down the line, any visitors you create manually will be duplicated.
Records created manually will not be auto-updated with the latest customer data, so you will not be able to track logins, ARR & other metadata which are essential to running Feedback reports & getting valuable data out.
Create users manually by following these steps:
Log into your Feedback account and click "Accounts" on the left-hand navigation


On the right-hand side you'll see a button labelled "New Visitor".


Click on that button and a form will open up. Filling in this form and clicking "Create visitor" will then add the customer to Feedback.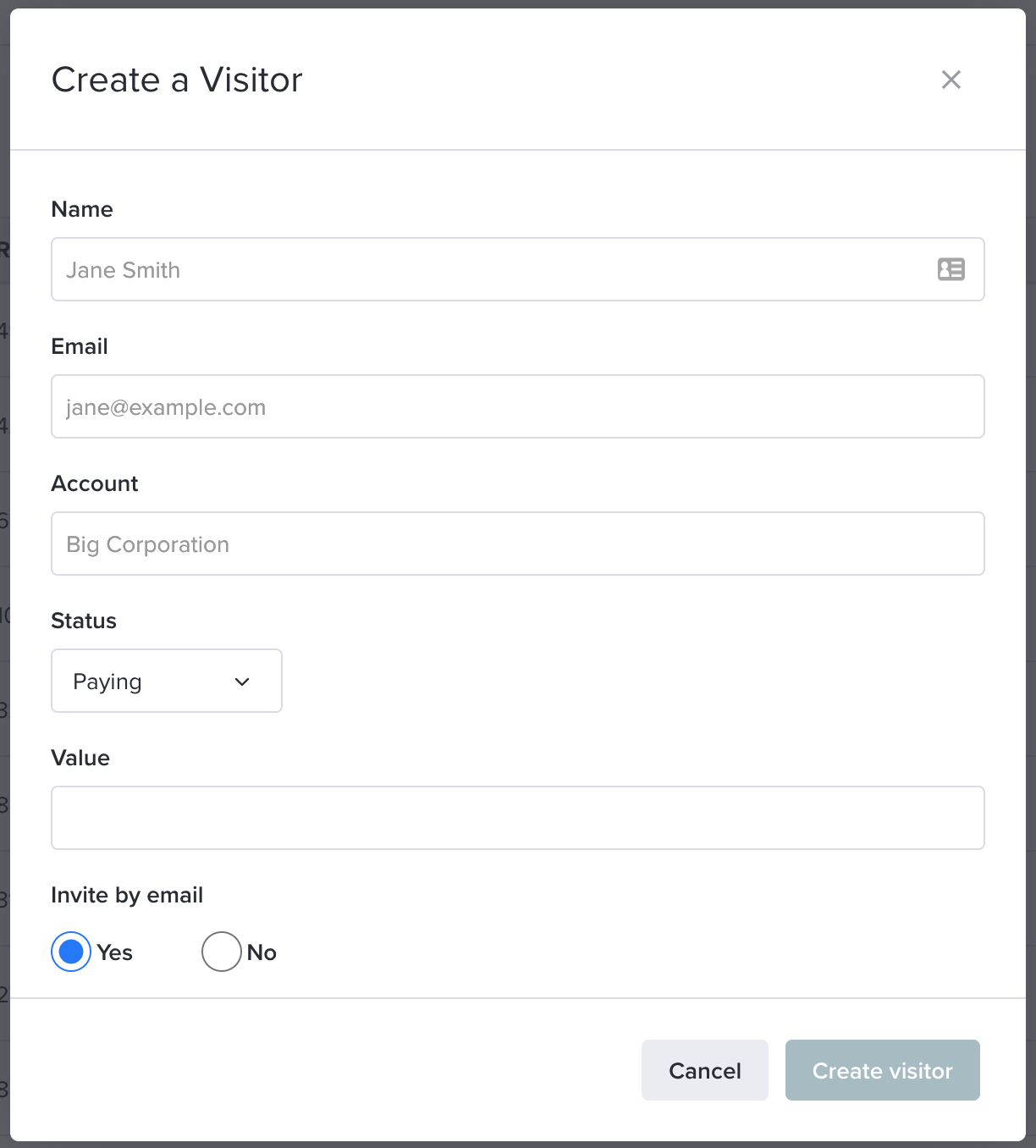 The information you need to fill in on the form is:
Full name*
Email address* - so they will (optionally) receive an invitation to access Feedback
Account name* - company name the user belongs to
Status - select "paying" if the user belongs to a customer that is on one of your paid accounts. This will allow you to split out the requirements and priorities of paying vs free accounts in Feedback's reporting. Select "not paying" if the user does not belong to a paid account. Select "prospect" if the user is a prospect.
Monthly value - the monetary value that the customer pays you (or will potentially pay you) each month - this will let you split out the request and priorities of your customers based on value (high vs low value) accounts
Invite by email?

Select "Yes" if you'd like your customer to be notified. (Notifications won't be sent if customer notifications are turned off on your settings page.)
Select "No" if you'd like to use Feedback on their behalf, without notifying them.
*Required fields
APIs
If installing the Pendo snippet is not an option, you can create visitors using our APIs, using the "POST /users/invite_end_user" command. This can give you more flexibility for where & how your customers login to Feedback & how you update their records.
SAML SSO
You can set up SAML SSO to enable your customers to log in to Pendo Feedback without a username and password. Follow the steps here to get set up.