Overview
While at first glance Pendo Feedback is designed for Product and CS teams to better manage product feedback, it also provides your Marketing teams with a really effective way of communicating your new releases.
There are a number of steps you can take to help improve your product marketing process and ensure that your customers are excited about what you've been building.
Update the Request Details
Sometimes the titles and descriptions for request don't accurately reflect what you've built. Perhaps details changed as you worked on a feature, or maybe it wasn't written particularly clearly in the first place.
It's important that the request details clearly explain exactly what the new release does. With that in mind, you should consider changing the title and description of a request to clarify what it means, and ensure that it matches the actual functionality of the release.
You can do this by finding the request, and then clicking the edit icon.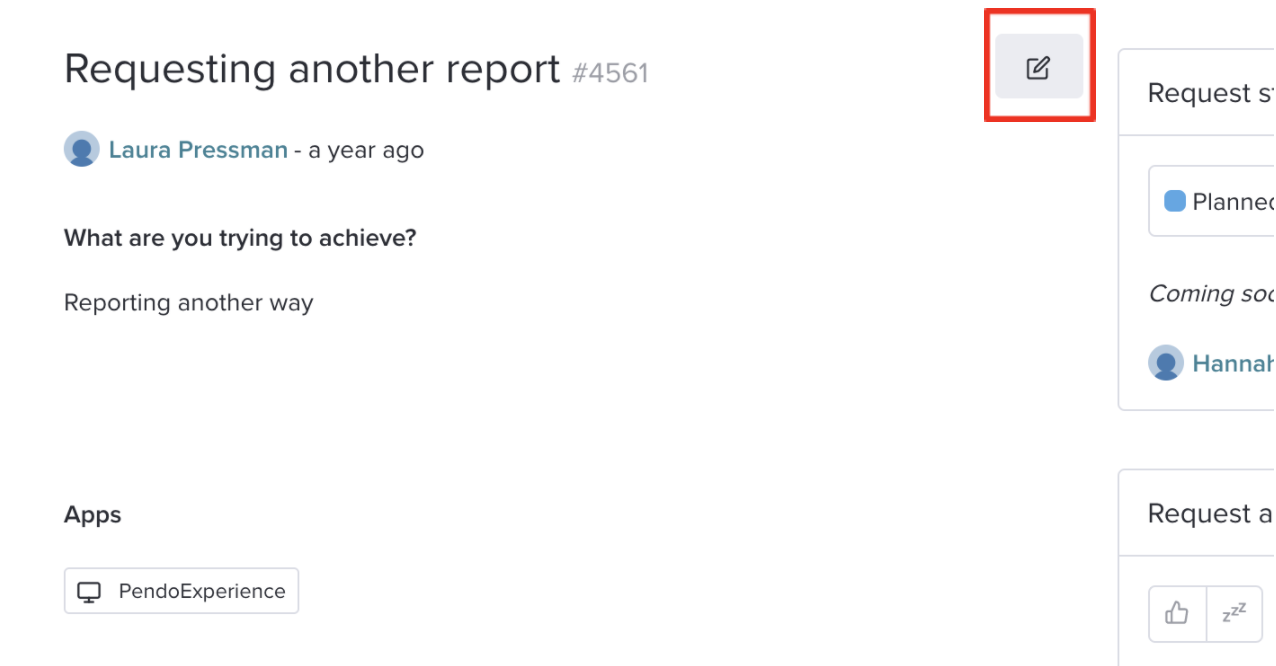 You can then edit the relevant fields before clicking "Save Changes" at the bottom.
Set the Request to "Released"
Once you've edited the details, it's time to release the request. This ensures that it appears in your Release Log, and also means that interested users will be notified (if you choose to notify them).
To release the request, find it and then use the drop-down menu on the right (in the "Request status" box) to choose the "Released" option.
This will display the following pop-up.
The "Customize response" field is where you can write the response that your users will see. This response should include a number of things.
Firstly, it should contain a brief description of what your release does. Focus on the benefits to your users.
Secondly, it should include a link to any relevant help docs. This will make it easy for your users to get started with the new release.
Thirdly, be sure to thank your users for their feedback. This will encourage them to provide more in future.
Once you've written your response, you can decide if you want to email the interested users. We recommend that you do, as this will ensure your users are made aware of the new release.
Then you can click "Release request".
Write a "Roundup" Blog Post
Just because Pendo Feedback helps you to communicate new releases doesn't mean you can't use more traditional methods. In fact, some of the older methods like blog posts and emails can be used in conjunction with Pendo Feedback.
The "Roundup" blog post is a fantastic way of recapping some of your major releases. You should choose a time frame that encompasses a few major releases, and perhaps some smaller ones too. This time frame will depend on how much you build and release, but generally every quarter is a good rule of thumb.
In the blog post, you should explain each of your biggest releases, selling the benefits to your users, and perhaps linking to relevant help docs as you go along.
You can then share this blog post on social media, in a newsletter, or wherever you feel appropriate.
Send an Engagement Email
The final thing we recommend doing is sending an engagement email. This will go to all of your visitors and will include a list of your latest releases. It also encourages them to go into Pendo Feedback, leave more feedback, and update their priorities.
Choose "Accounts" from the left-hand navigation, and then click "Engage More Visitors".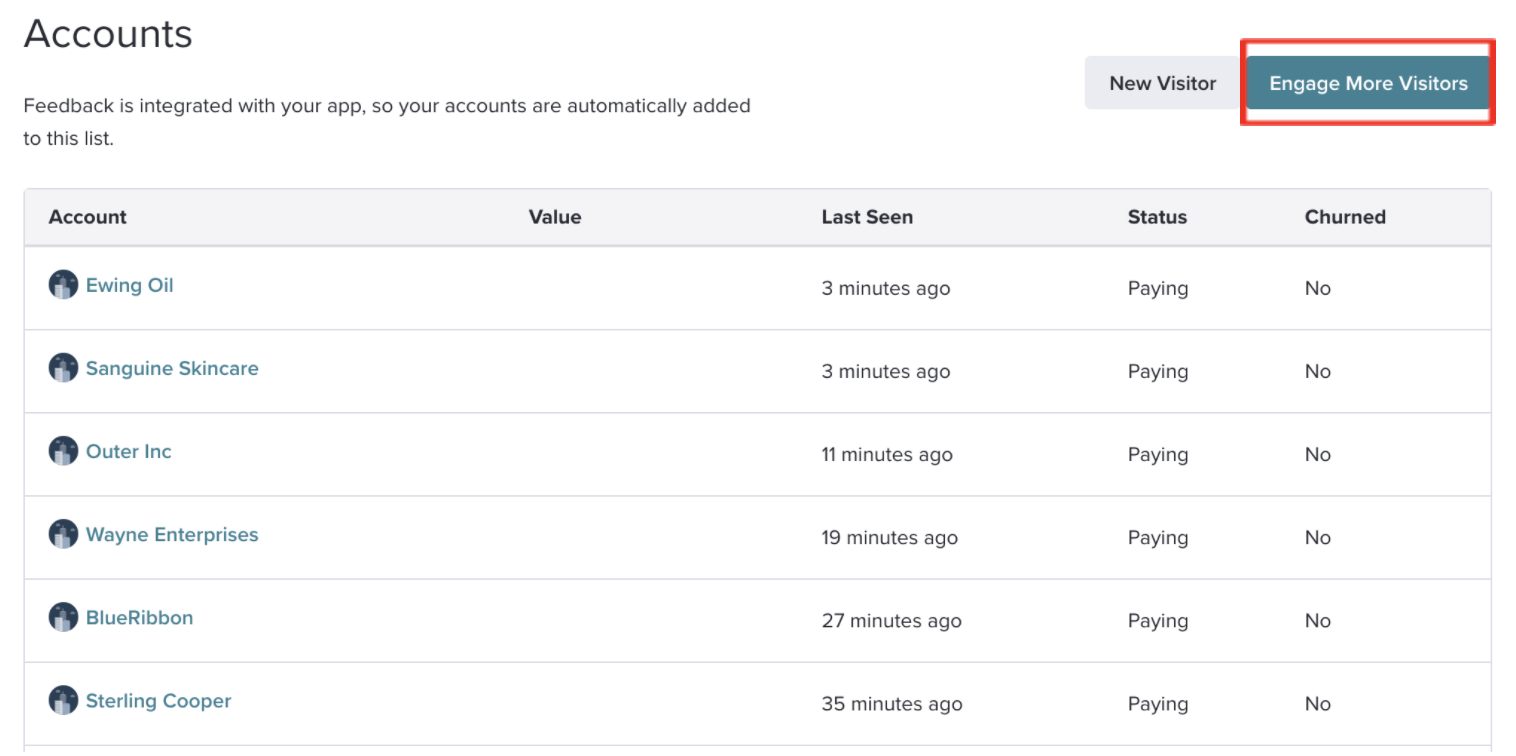 You can then edit your header and footer. We recommend linking to your "Roundup" blog post here as well.
You can then choose how many previous days you want the list of releases to cover.
Summary
Pendo Feedback can help you to market new releases and improvements to your product. Following the steps above will help show your customers what you've been working on, and make them excited to try the new features.