Overview
Users can organize pages, features, and track events into groups. These placements are subscription wide - meaning any movement of an item to or from a group affects the groups for the entire Pendo subscription. However, each user has its own filters so groups can be hidden or revealed as desired.
We recommend using Groups to organize related areas of your product. For example, a group might consist of all of the "account setup" functionality.
Permissions
To create or manage groups, you will need the following Pendo permission(s):
Creating and naming groups require administrator permissions
Group deletion require administrator permissions
Changing existing groups for pages, features, and guides can be done by all users except read-only users
Create Groups
You can create a Group on the Guides, Pages, Features, or Track Events pages.
Click to expand the Groups menu and scroll to the bottom of the list.
Click + Create Group to open the Create Group form.
Type a name, select a color and click Create Group. Your new Group will be available for categorizing your Pages and Features.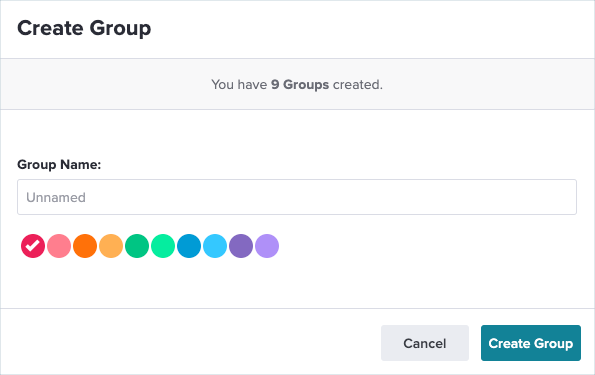 Manage Groups
Groups can be accessed in two ways:
Option 1. Clicking the Product section in navigation, then Groups: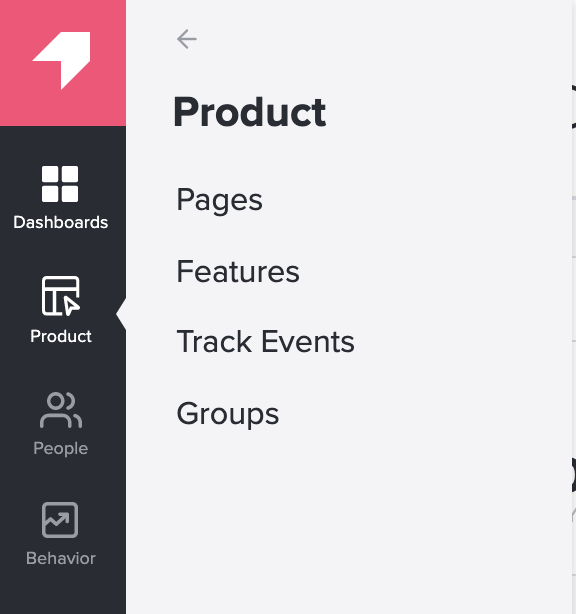 On this page, you'll see analytics associated with these Groups, such as the number of pages, features, and track events associated with each grouping.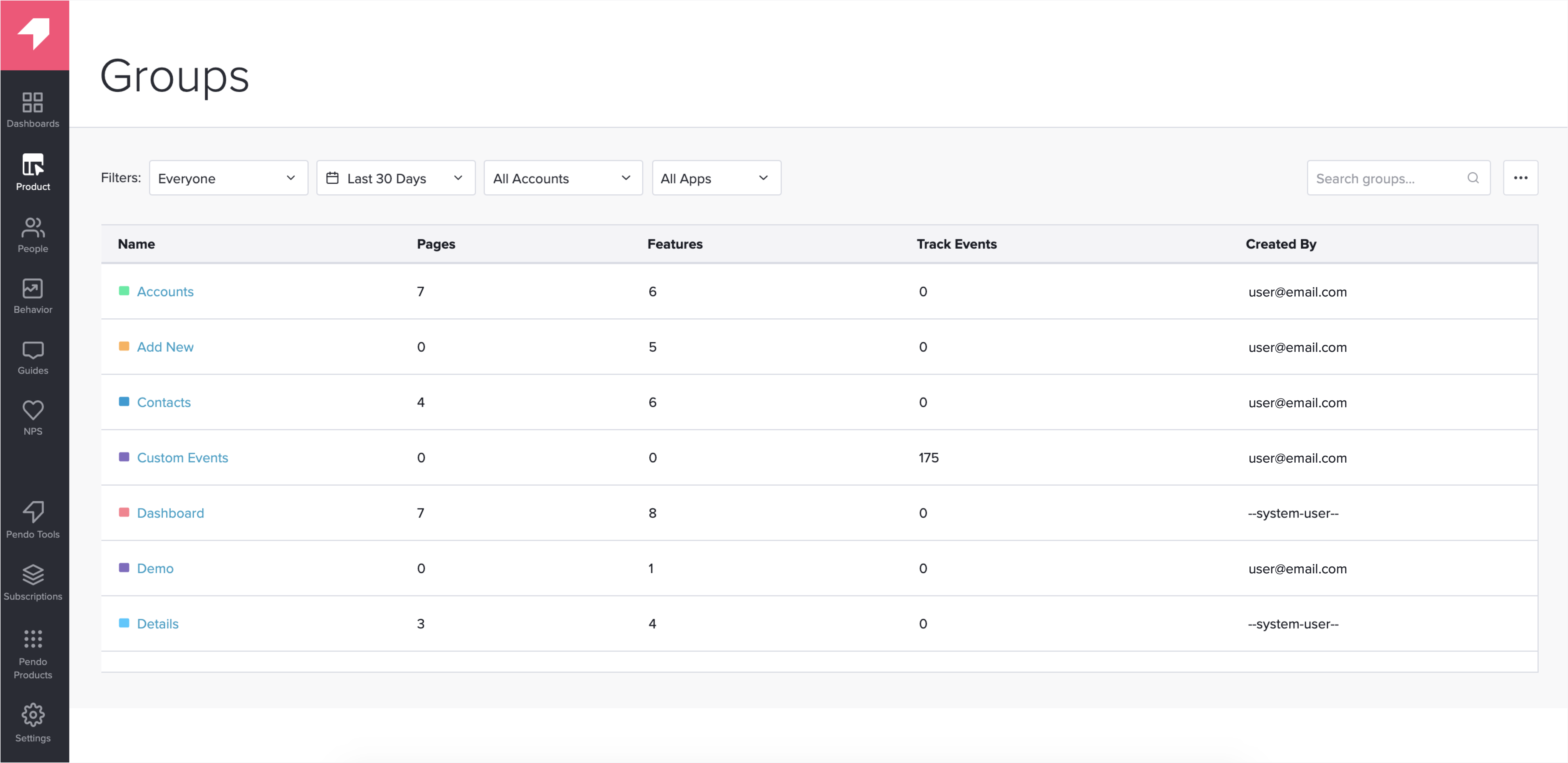 Note: You can adjust and add columns depending on your preferred view.
Option 2. Clicking on any Group name will take you to the Group Details page, where you'll find a list of all the pages, features, and track events associated with that Group: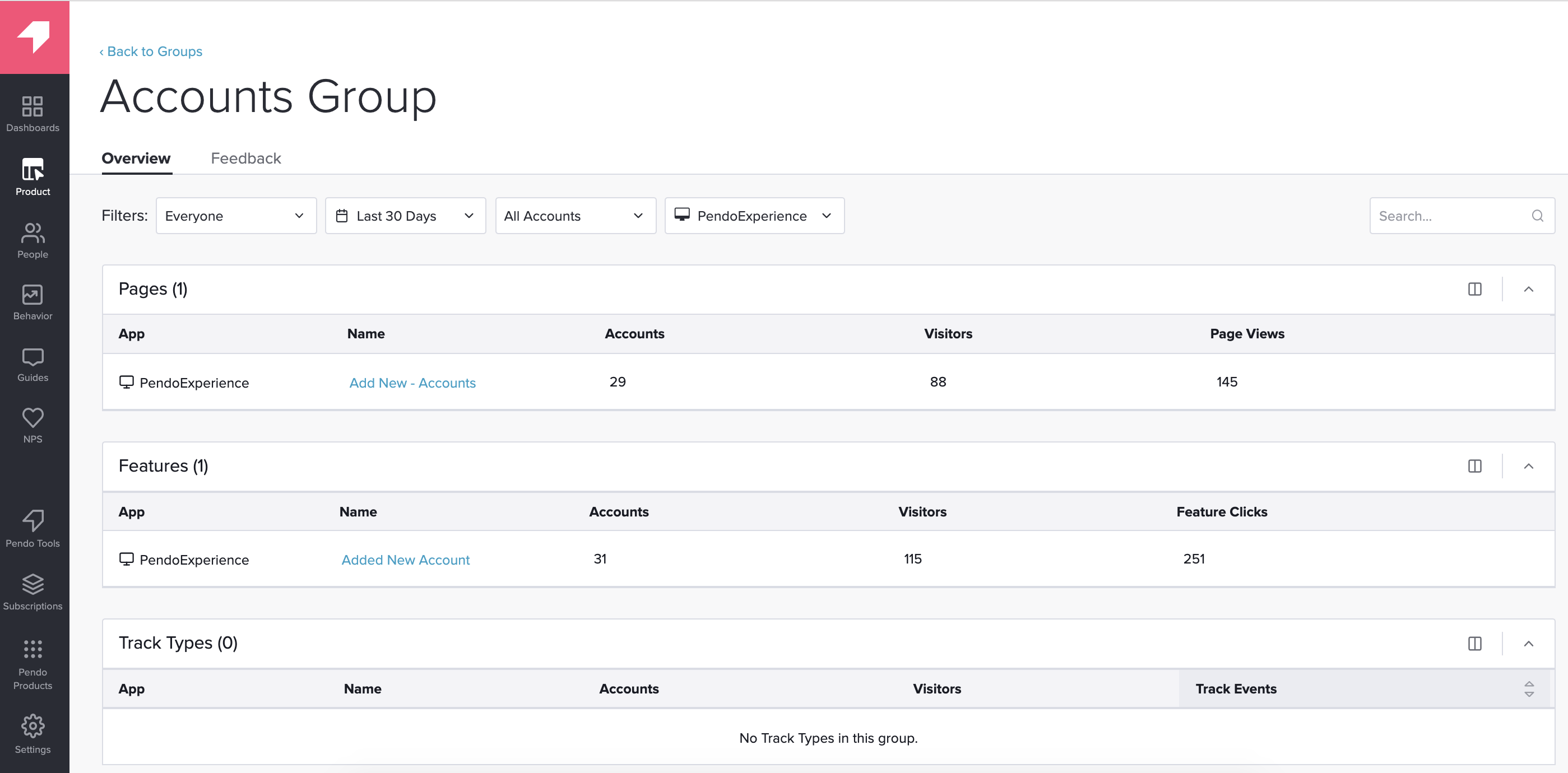 Feedback-enabled subscriptions will see a Feedback tab next to the Overview tab. If you click on the Feedback tab, you'll see the list of product requests associated with that Group. Identifying requests that belong to specific Groups is done with the request submission form.

To see the full product request, you can click "View in Pendo Feedback" to see more details including voters, comments, and any associated labels.
Edit and delete Groups
After you create a group, you can go back and adjust the settings as needed. To edit, select the Group dropdown within the Filters option and select the edit icon:
Tip:
Groups can be used in conjunction with
stars
. For example, you can see only the starred items from only Group A by clicking the Star button and checking Group A under Groups at the top of the page.
If you need to delete a group, make sure to move any pages or features out of the group first. Then, you will be able to click on the "Delete Group" option and confirm the deletion.