Overview
More and more, product and customer success teams have found innovative ways to let their product facilitate important customer milestones. Onboarding a new customer, providing opportunities for renewal, or pointing out new functionality can now occur without customers leaving the application. While this, of course, is a critical foundation, a key ingredient to ensure the success of a subscription business model is to first understand what makes a healthy customer healthy, and conversely, an at-risk customer at risk and then develop a strategy around both scenarios to continuously drive users to value.
Incorporate usage metrics into your customer health scoring
A critical piece of this strategy is using the data to inform customer health scoring. Consider measuring breadth, depth, and frequency of usage to make up your customer health score:


Use historical data and customer outcomes to set goals around each of these metrics to define a customer as healthy or at-risk. These goals will be unique to every business based on how they've seen usage patterns lead to more positive customer outcomes - but the breadth, depth, and frequency framework can provide a holistic way to structure these goals:
Step by Step Instructions:
Go to People > Accounts

Click on Account Reports

Create an Account Report

Include columns for:
Number of Active Visitors (Breadth)

Usage of critical pages or features (Depth)

Days Active (Frequency)
Experiment with different segmentation. For example, segments by your "happiest" customers (customers known to have renewed multiple times, have written use case studies or blog posts for your marketing team, or simply exhibit usage on the higher end of your breadth, depth, frequency calculations). Spot check the results and determine if you've got a good first pass at your health score benchmarks.
Tip: Download the reports as a CSV to manipulate columns, sort, and filter in a way that enables you to discover a baseline of data that could represent average usage trends.
Customer Reporting
Customize reports to see the customer data that matters most: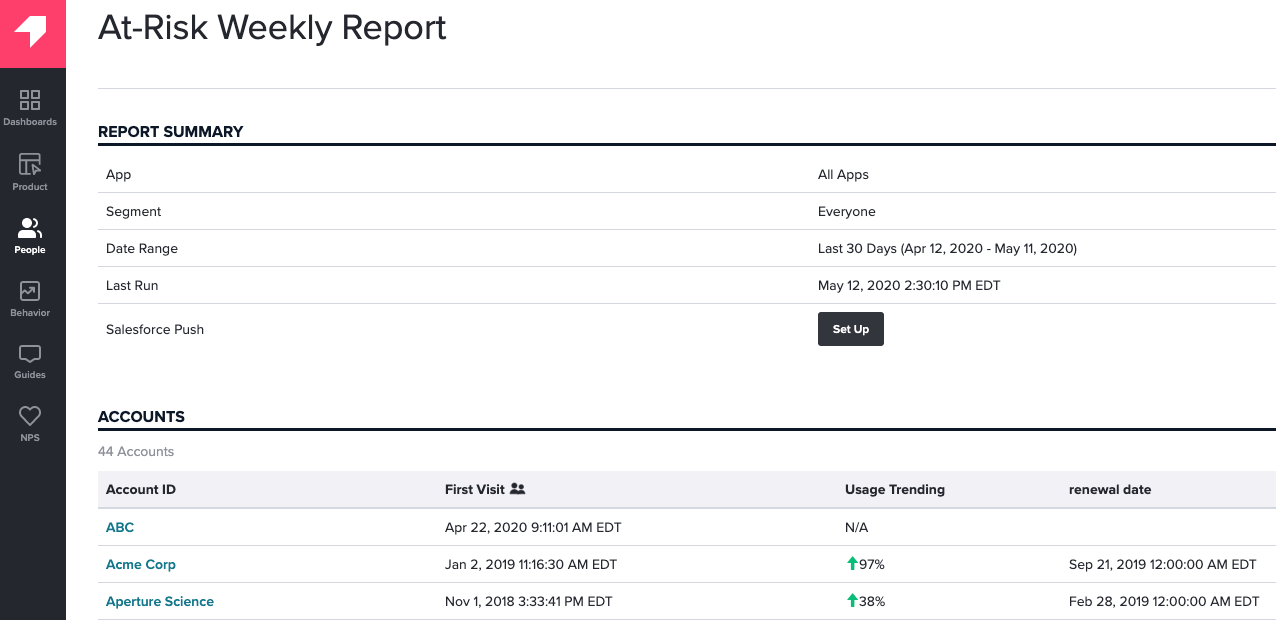 Step by Step Instructions:
Account reports

can be created and saved in the Accounts section of Pendo.

Each CSM can save a version of the report that only shows their accounts by applying a segment. (See Step 2 in the CSM Introductions recipe above for more details).

Some data points to consider including in the report: usage trending, days active, engagement with highest value features, responses to NPS and other surveys, plus any additional data from outside systems, such as renewal date, ARR, etc.

If CSM's prefer to digest the data in Salesforce or another system, you can of course push the data out and have them access there instead.

Best Practice:

Usage Trending is a great quick pulse check for the overall health of your customers. It is a comparison of the total active time in your app of the selected date range to the previous period of equal length.
Use the Stickiness Ratio to Measure Product Health
For products with subscription business models, we recommend measuring stickiness. Stickiness is a metric that measures the number of active users, sometimes measured as Daily Active Users (DAU), Weekly Active Users (WAU), or Monthly Active Users (MAU). DAU or MAU can give you insight into the quantity of your user base but doesn't tell you anything about the quality of those users.
Rather than looking at these metrics in absolute terms, a more useful measurement is the ratio between these numbers, usually DAU/MAU, known as the stickiness ratio. It's one thing to say, "We had a 20% increase in MAU," but for your product to get traction and drive growth, you need users logging in more than just once a month.
The stickiness ratio visualizes your product's natural usage cadence, allowing you to understand the differences in usage patterns between user segments or personas, and monitor changes in their user behavior over time. Once you know which personas tend to be most sticky, and which features are correlated with more habitual use, put these learnings to work in your user acquisition programs, in-app feature adoption campaigns, and customer education initiatives. Experiment, monitor changes over time, and include stickiness in your regular KPI review cadence.
Step by Step Instructions:
Go to Dashboard

Click Add Widget

Find "Stickiness Widget" and click Select

Select your preferences for the widget and click Save Widget


Tip: To see what your ideal Stickiness should be, add your "Healthy" customer segment to the Stickiness Widget, then compare that to your average Stickiness Widget to track improvements over time.
Also known as 'cohort analytics', retention analytics is a key method to measure growth of SaaS and digital products. Retention looks at first time users within a specific timeframe (typically one month or one week) and calculates the percentage of those users that return in subsequent time periods. At the highest level, retention is looking at user logins, and you can segment by any behavioral or demographic info to get a very specific look at retention across different personas within your user base: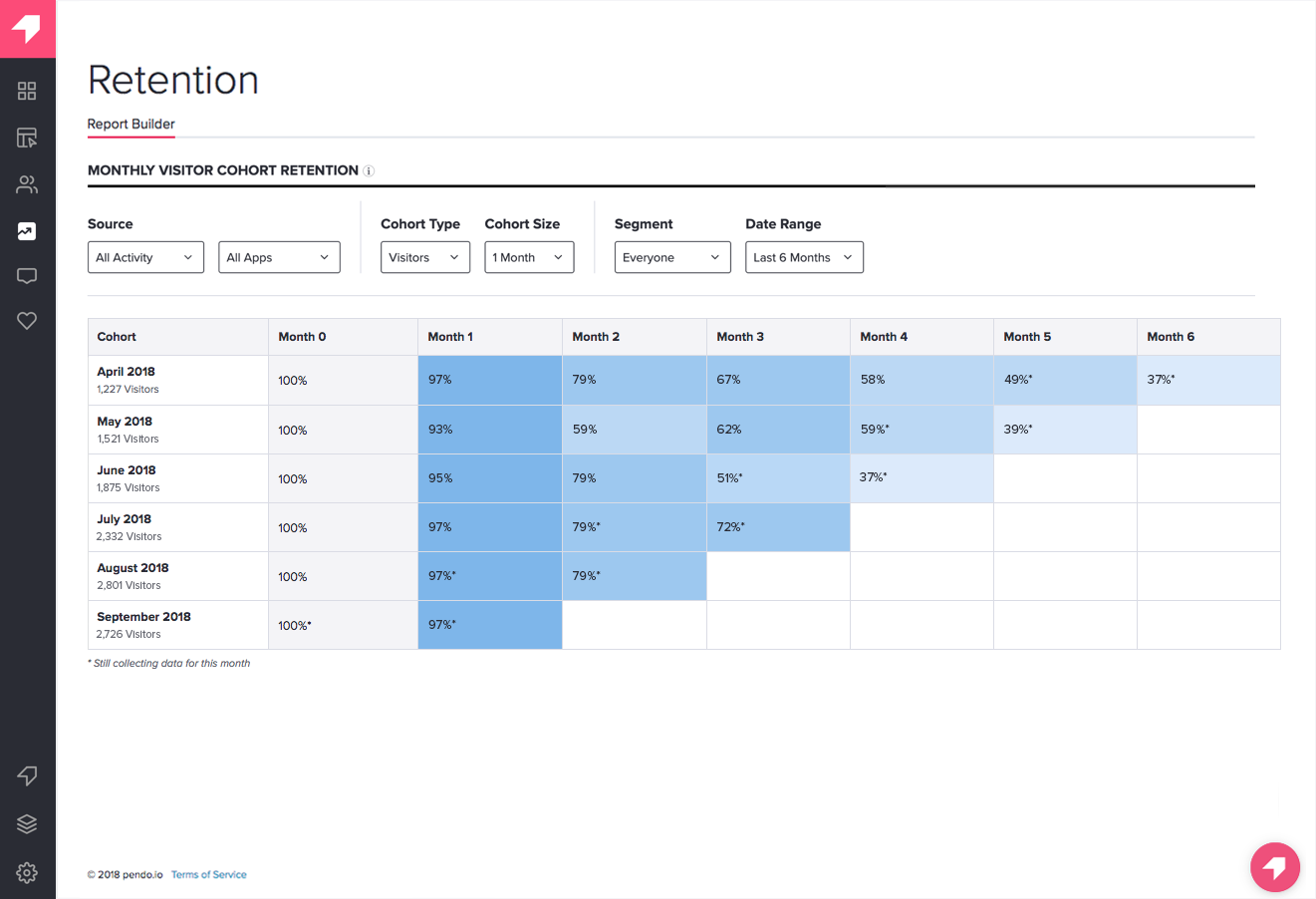 It's great to know the rate of return, but what if you want to do something to re-activate users who aren't coming back to the product?
Step by Step Instructions
Click Behavior > Retention

Choose "All Activity" as the source

Select other preferences, such as which app, cohort type and size, segment, and date range

Click the box with where retention starts to fall to see the list of visitors who "dropped"

Download a CSV of that list, and plan your next move - send an email to these visitors or display an in-app guide if login frequency is more than 15 out of 30 days.
Be Proactive Using Guides
Once you have a customer health score identified, don't wait until customers reach a status of "at-risk" to intervene. Proactively engage your at-risk customers with Pendo guides:

Step by Step Instructions
Define your at-risk customers and ensure that you have the data you need in Pendo and create a segment.

Create your at-risk segment using this definition.

Build a guide to proactive engage with users coming into this segment. Your guide could offer additional help or be a poll.
Extra credit: if you include a poll, you can push the poll results to Salesforce and set-up a trigger there with the help of a Salesforce admin, or leverage our Zapier integration to automatically push the poll responses to a Slack channel for your CSMs to see in real-time.
Provide Contextual In-App Assistance
Read our New User Onboarding recipe for advice on using in-app guidance to drive users to most important features so that they realize value as quickly as possible and remain sticky product users.
Provide a one-stop-shop for contextual in-app guidance, so users have access to information at their fingertips, instead of getting frustrated and needing to call support: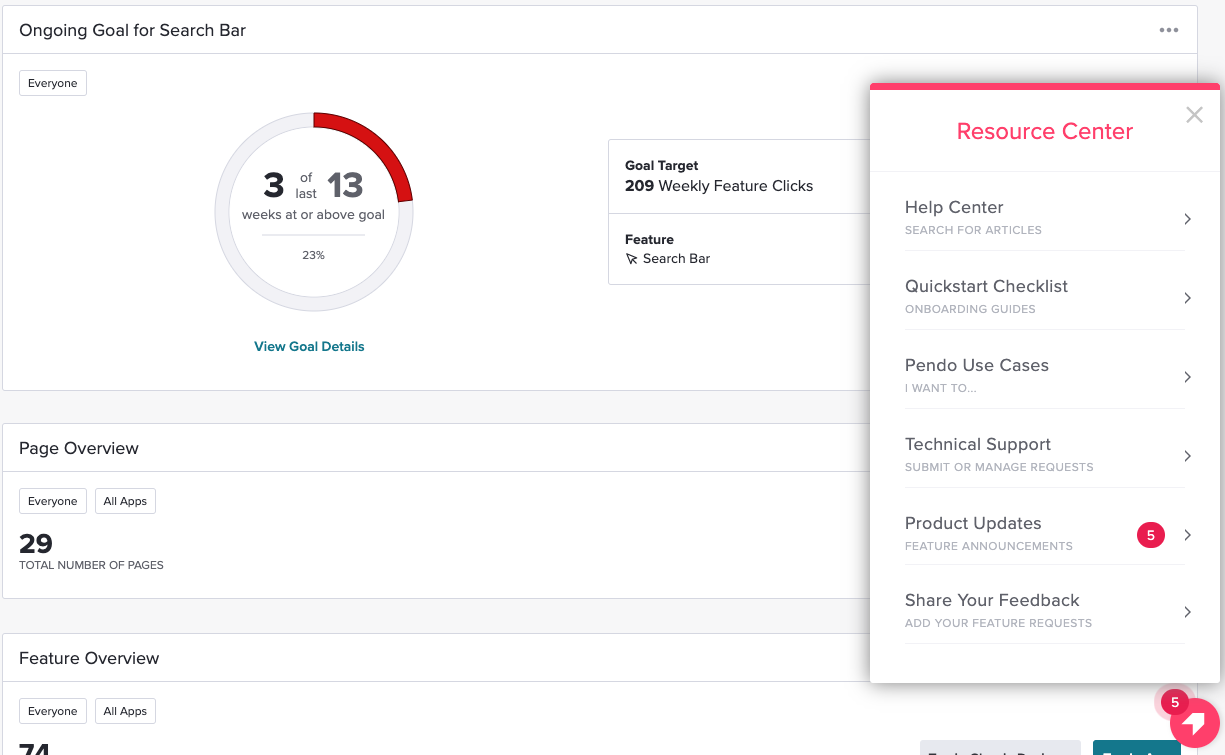 The Resource Center is a great tool for providing contextual in-app guidance to your users at scale. This guidance can include an onboarding checklist, "how-to" walkthroughs, announcements, knowledge base articles, live chat, as well as custom modules for other types of help you'd like to provide.
Step by Step Instructions:
To set-up the Resource Center, you will need Administrator Permission.

You can follow the

step-by-step instructions here

, but here are a few things to pay attention to:
Confirm which segments of users should see which modules(s) within the Resource Center. You can add segmentation rules on both the guide level as well as the module level to ensure users are only seeing help that is relevant to them. Some common examples: segmenting the onboarding checklist module to new users within their first 30 days, segmenting certain guides for specific user personas or account types.

If you'd like to set-up an integration module (i.e. knowledge base integration and/or live chat) and you have integrations enabled in your account, click on the "+ Add Integrations" button to temporarily navigate to the Integrations hub. Once you add an integration, you will see it as a module option in the Resource Center.


Best practice: Refresh your health score regularly. Because the initial iteration of your health scoring system will be largely based on assumptions, you'll almost certainly need to make adjustments.