Overview
In Feedback, you can receive, analyze, and respond to product requests
Receive product requests from internal teams, prospects, and customers all in one place
Automatically communicate back to teams & customers when you review their requests in Feedback.
Segment your product feedback to truly understand what to build next
Back up your product decisions with data
If you are using Insights & Guidance with Pendo Feedback, you can truly understand quantitative & qualitative data all in one place! Within Insights, you will be able to see:
Triage incoming requests
Firstly, you should navigate to the "Browse" page of Feedback, using the link on the left-hand navigation. Once there, you will see the latest requests that have been submitted.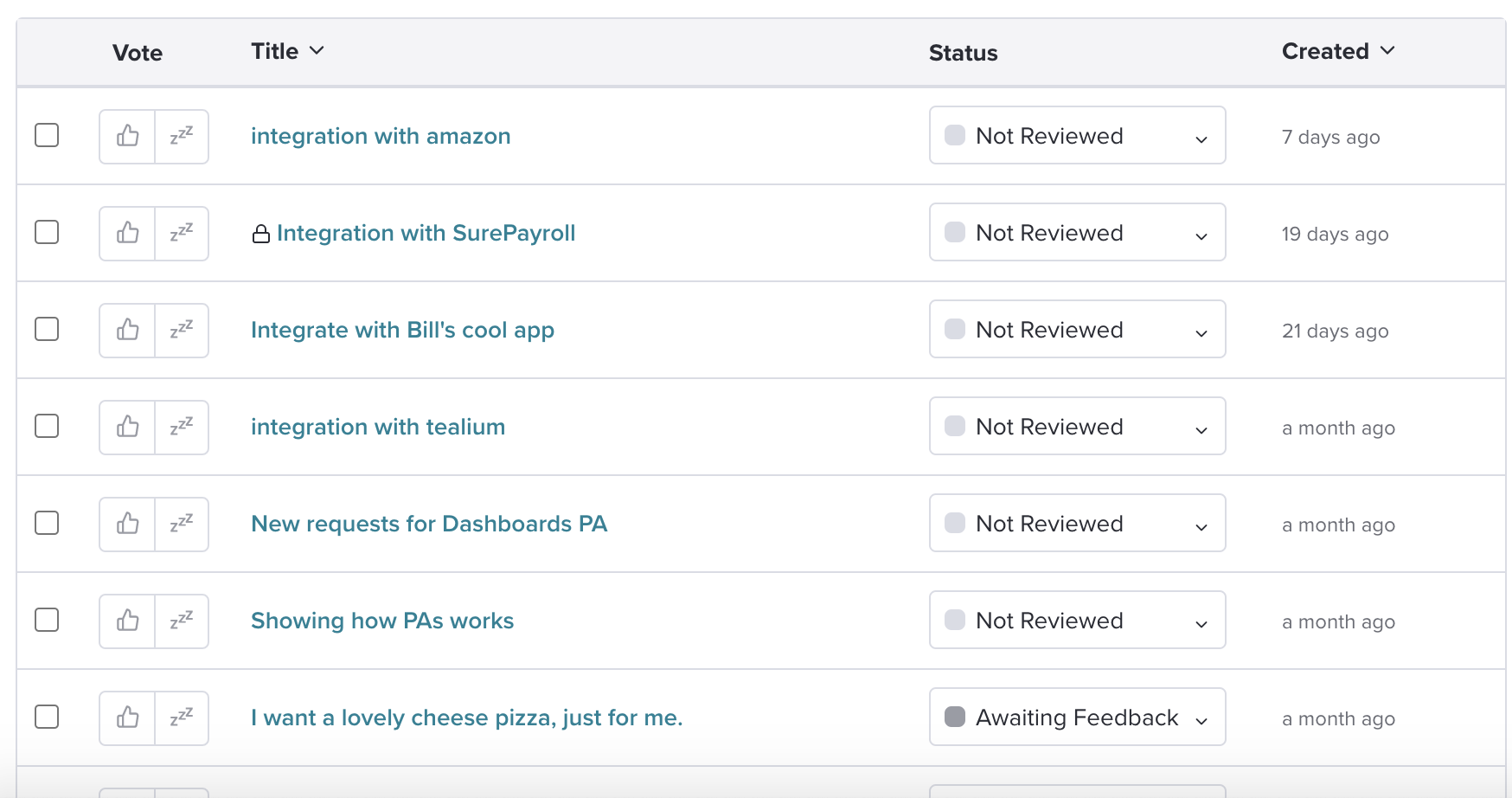 Filter by Product Area
In the event that you have multiple products or different areas of the same product that are managed separately, you need to filter down to your product area.
To do this, you can use the drop-down menus along the top of the "Browse" view to select the relevant filters.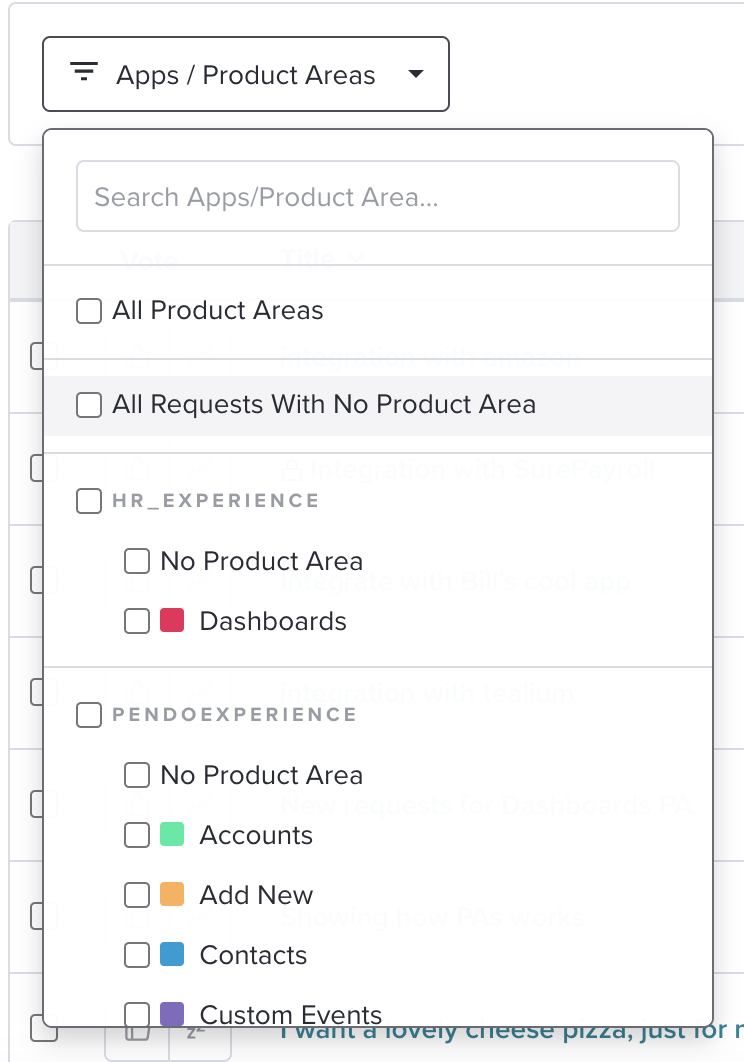 Move Items to "Awaiting Feedback"
The next step in the triage process is to change the status of any new requests to "Awaiting Feedback."
You can do this by selecting the request and then choosing the status from the box on the right-hand side.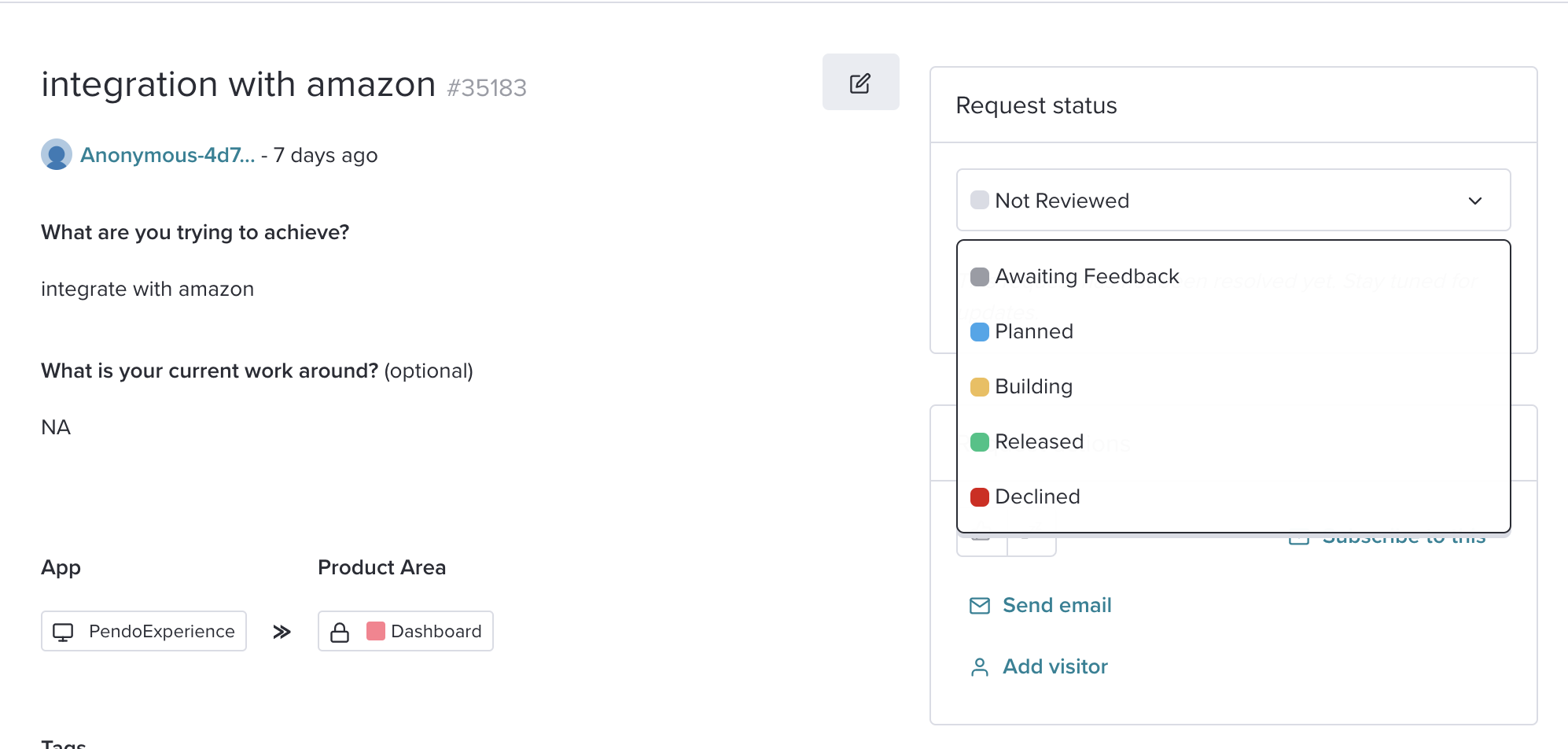 You can set up an automatic "saved response" which will help to set expectations and keep your users informed.
To set up your response, head to "Settings", "Product Settings", then "Custom Responses." Click on the "Create a Custom Response" button and that will take you through the process.
We highly recommend that for all "Awaiting Feedback" status message, that you include a link to your Product Feedback Policy. This will set expectations that you cannot and do not response to every request. You can learn more about Product Feedback Policies here.
To save time, you can also change the status of multiple requests in bulk. To do this, select the relevant requests using the checkboxes to the left of each one.

Wait
Once you've moved the new requests to "Awaiting Feedback", all that's left for you to do is wait.
There's nothing you can do until the requests have been seen by others and prioritized or commented on. In the meantime, feel free to merge any duplicates that may have slipped through the net.
Roadmap Planning
Strategy & Vision
If your company already has a strategy or vision mapped out, then this step is easy. Simply familiarize yourself with the product strategy you already have. You're going to use this to dig into the data.
Additionally, you may already have regular roadmap meetings in which you decide what you're planning to build next. Feedback helps to make those meetings more productive and easier for you all.
For now, we recommend keeping the meeting schedule (whether it's weekly, monthly, quarterly) as it is. Instead, we'll work on improving the efficiency and effectiveness of the meetings.
Before the Meeting
The first thing you should do is to identify the primary person responsible for handling Feedback. They should be able to communicate well, know your product inside-out, and be able to quickly check through Feedback for new requests. At Pendo, we've designated one of our Product Operations Managers for this important task.
In the days leading up to the meeting, this person will then work through the top 10 requests in each of the three SmartLists (customer, internal, and prospect).
To do this, they will need to navigate to "Reports" on the left-hand navigation, and then select each of the SmartLists in turn from the right-hand side.

They should then check through the top 10 requests for each, making sure there are no duplicates and understanding what each request is asking for.
It's also useful to ask the other attendees to review them quickly for clarity during the meeting.
During the Meeting
Work your way through the highest priority for each SmartList, then the second-highest, the third, and so on.
Eg. Customer #1, Internal #1, Prospect #1, Customer #2, Internal #2, Prospect #2, etc.
As each item is reviewed, the organizer should update the status of the request in Feedback so that your users are instantly updated as the meeting goes on.
Don't let the meeting run over its scheduled time limit. Chances are you won't get through all 30 requests in the time, but at least you'll get through your most valuable requests.
Advanced Roadmapping
The process outlined above is great for when you first get started and will help you to make quick and easy progress right from the word go.
But eventually, you'll probably want to think about delving deeper into the data you've gathered.
Strategies & Visions
If your company already has a strategy or vision mapped out, then this step is easy. Simply familiarize yourself with the product strategy you already have.
You're going to use this to dig into the data.
Using your Strategy
Navigate to the "Reports" page using the left-hand link.
Now, instead of selecting the pre-generated SmartLists, you're going to create your own filters.
Select the "Advanced" tab on the right-hand side. You can now apply a range of different filters to segment the requests you've received.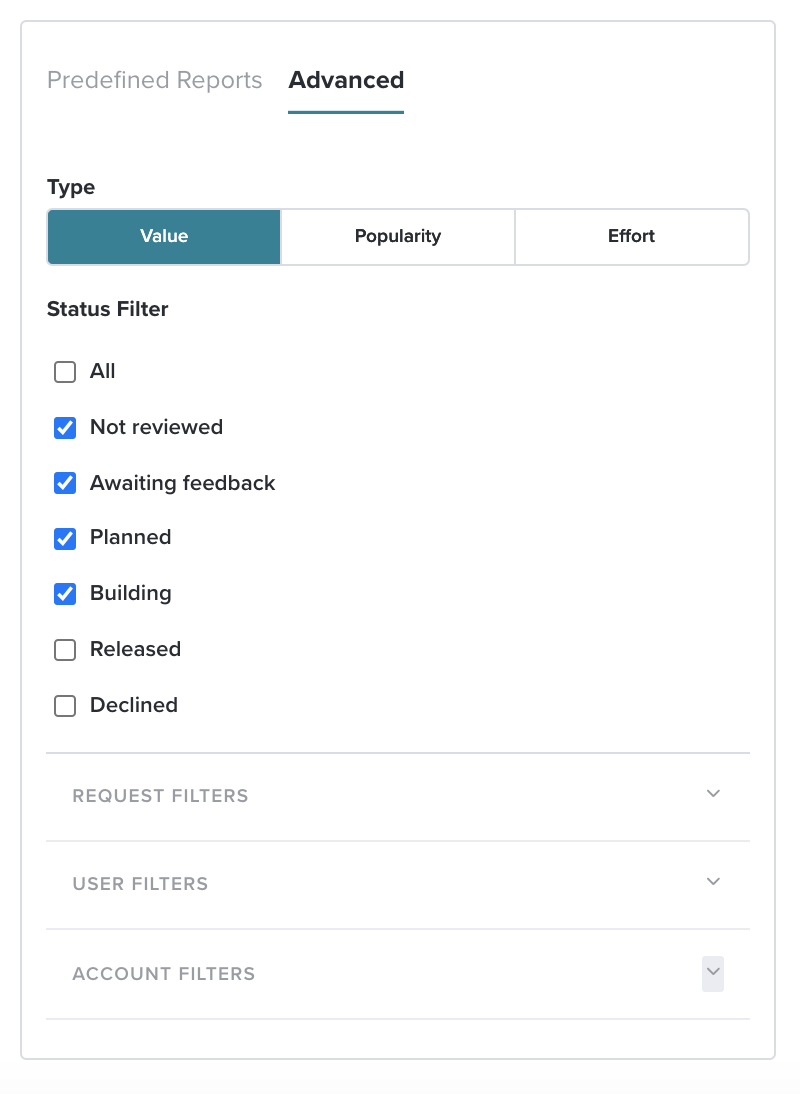 If, for example, your strategy was to close more enterprise deals in the financial industry, you could add a filter to select only high-value accounts and another filter to select only those accounts in the financial industry.
You would then be able to identify what your current enterprise and financial accounts want the most. It stands to reason that building those requests will help you to seal more deals with similar accounts in the future.
Development effort
You're able to set the development effort of a request. This allows you to see a graph showing value vs. effort of the requests you've received.
To set the effort, select the relevant request and click "Edit". Scroll down and you'll see a slider labeled "Feature Effort". Slide that to the appropriate point and click "Save".
Alternatively, if you navigate to "Reports", select "Advanced", then "Value" you will see the effort-value graph displayed.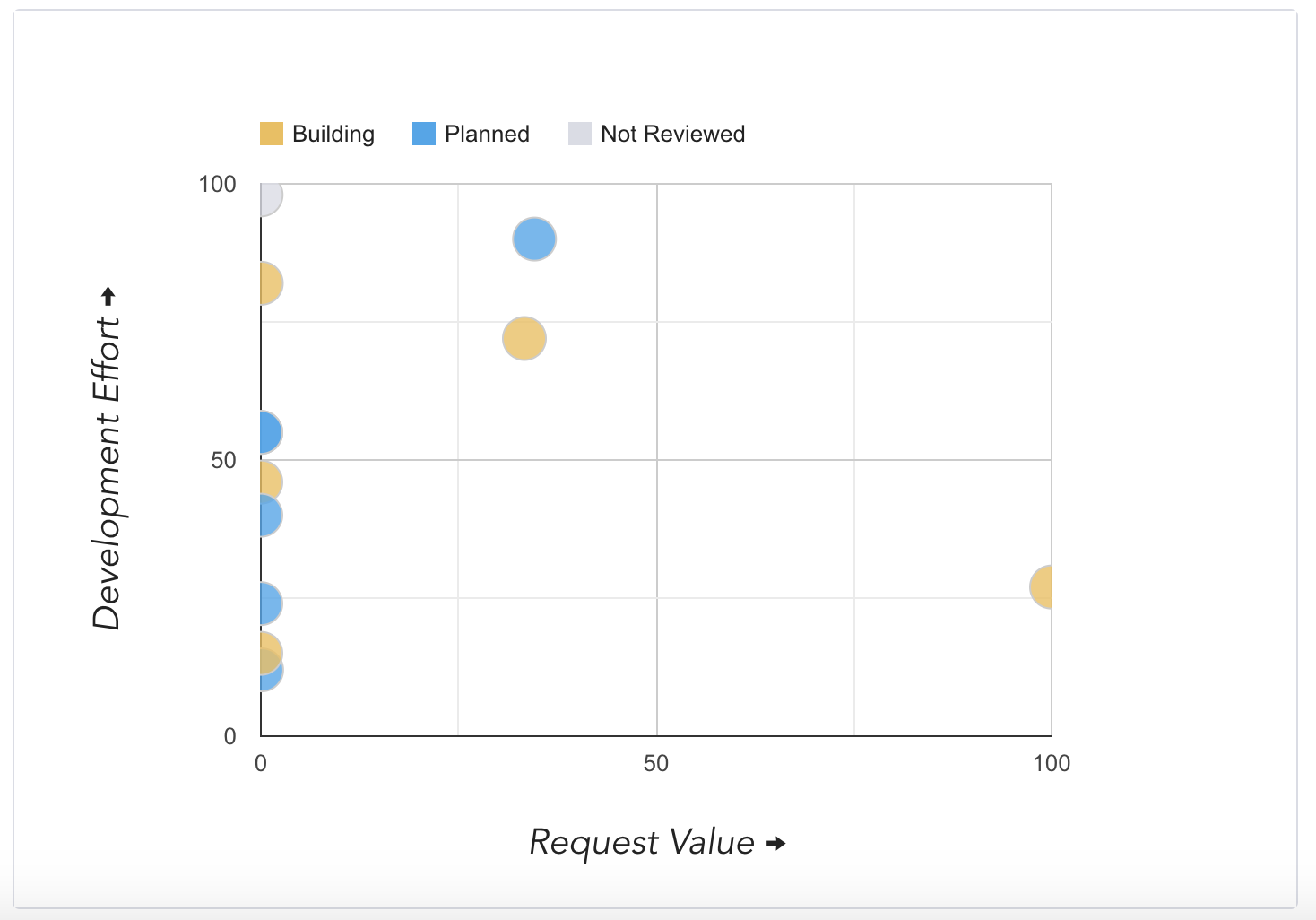 Customer Engagement
Now that you have your process sorted, you may want to increase your users' engagement with Feedback and start receiving more feedback.
There are a number of ways to achieve this.
Send an engagement email
The engagement emails are sent from within Feedback and are tailored to each user, with their priorities and requests which may interest them. Your users will receive their personalized email and are more likely to engage with Feedback and provide more data.
Announce Feedback in your blog
If you want people to submit their feedback, then your best bet is to simply ask them.
Think about including an announcement about Feedback on your company's blog, or in email newsletters. The more publicity you give it, the more your users will come and use it. We've got more resources and examples on that here.
Involve your CEO
A video from your CEO talking about the benefits of Feedback and encouraging people to use it is a great way to increase visibility and show your users that you're taking their feedback seriously.
We hope this guide has helped clarify a few things and helped you to develop your own process for managing feedback with Feedback.
If you have any more questions, contact Pendo Support or take a look around our help docs for more information.