Overview
Feedback allows customer facing teams to:
Strengthen customer relationships
See customer requirements & priorities
Understand how visitor priorities change over time
Automatically keep customers updated
See what's been released for each visitor
Capture important day-to-day niggles
Make requests you want personally, and stay updated
Look up the status of any request
How your visitors use Feedback
Logging In
After the Pendo snippet is installed and Feedback is integrated within your app, a link or button will be added to your software called "Suggest a feature" or similar.
Visitors reach their dashboard by clicking this link. No additional login or password is needed.
Alternatively, if you have the embedded widget enabled, then your visitors can click on the tab on the right-hand side of your product to access their Feedback dashboard.
Making a Request
Once your visitors have reached the Feedback dashboard, they click "Make a Suggestion" and amend details as needed.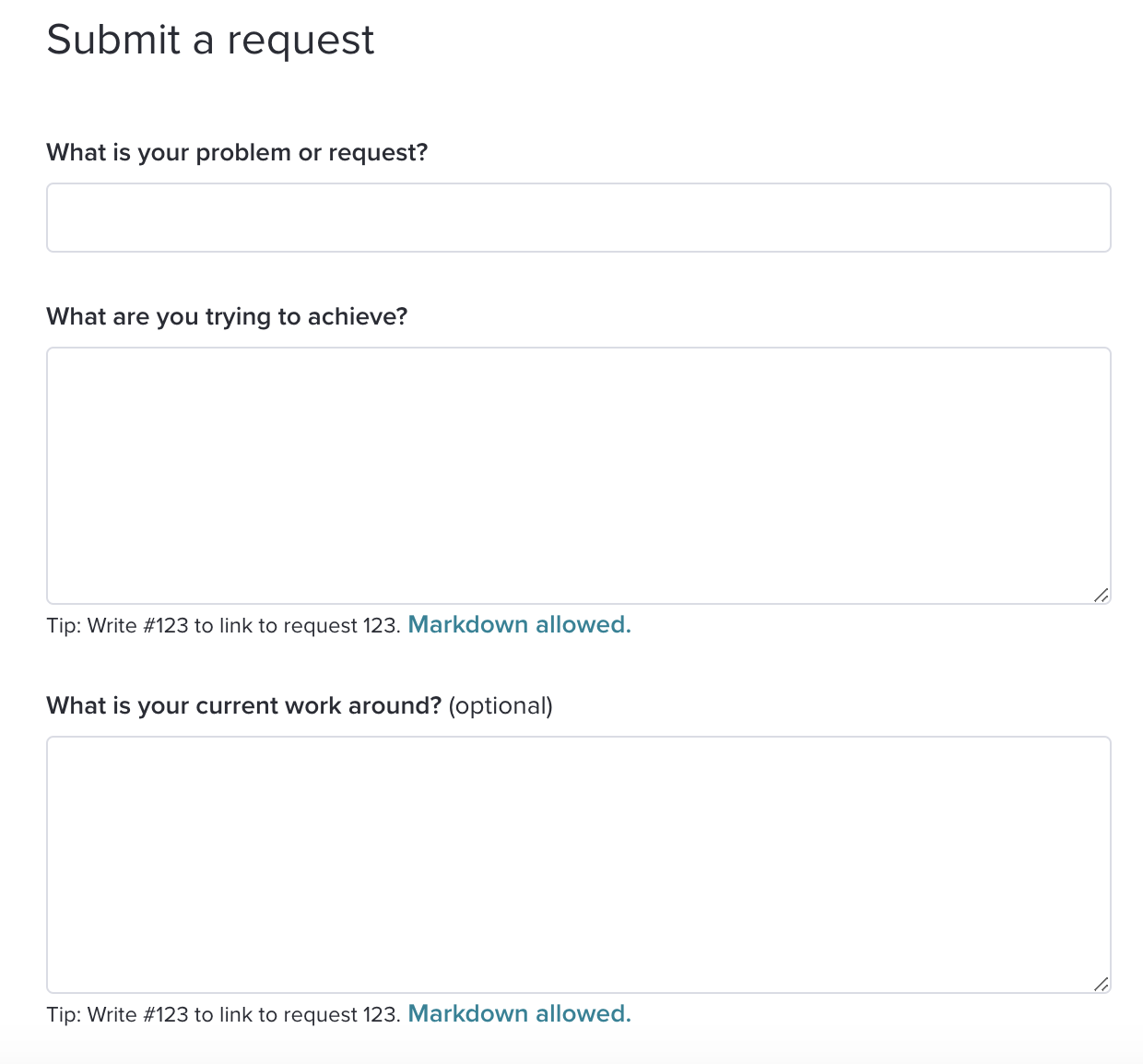 If you have these set up, visitors will be asked to select the App and/or Product Area their request relates to.
Voting on Requests
Visitors will see a list of requests that have been submitted by other users in their dashboard under "Requested by others".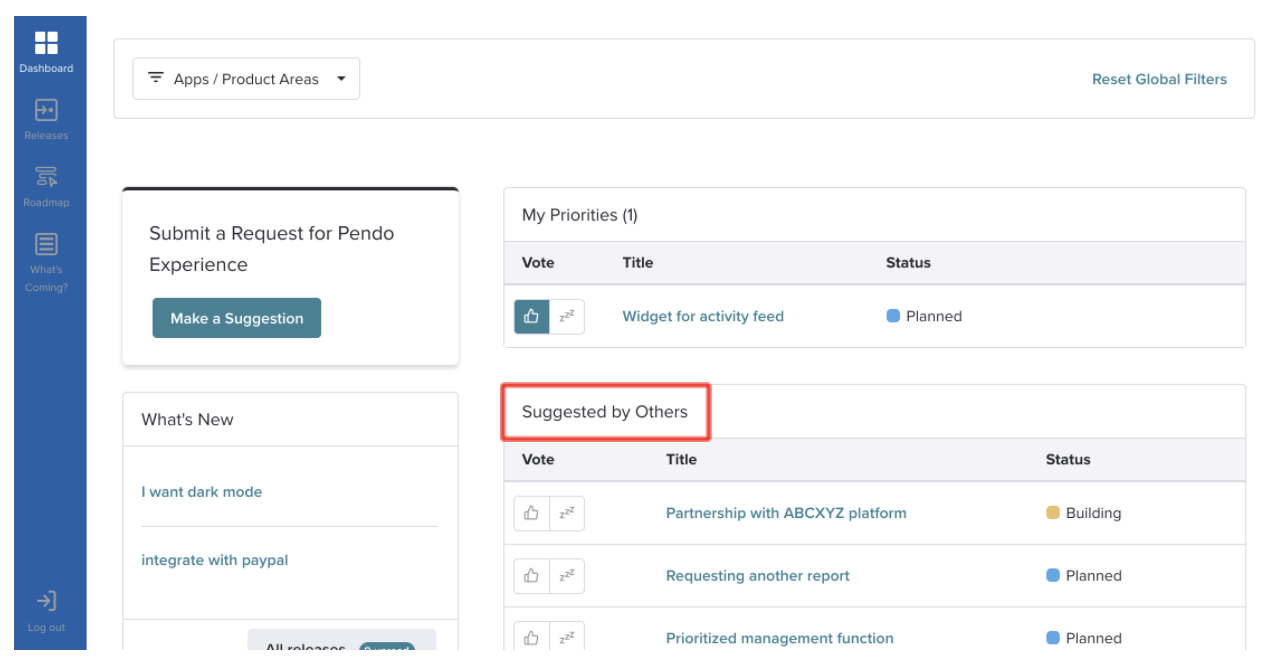 They can vote for any of these requests or show they aren't interested straight from their dashboard.
Prioritizing their Requests
Once your visitors have voted on more than one request, they will have the option to prioritize them using the sliders.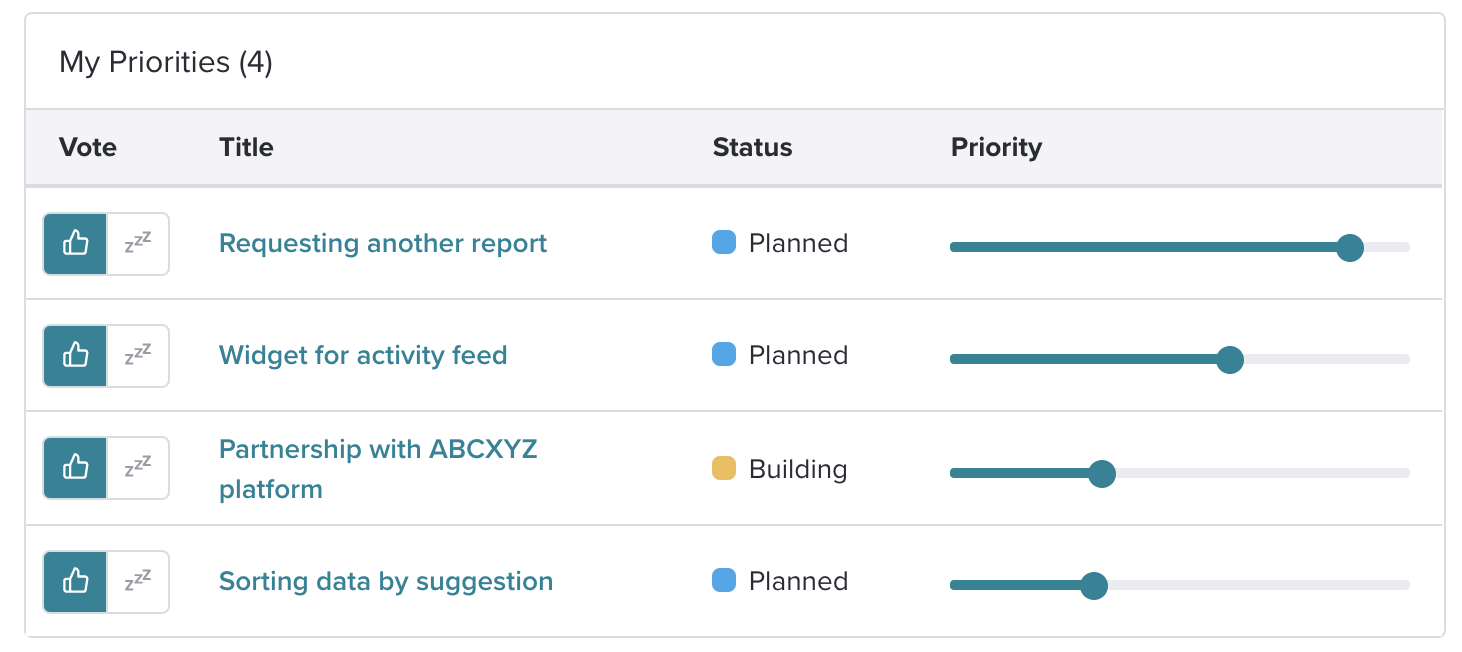 As they increase the priority of one, the others move down slightly. This stops your visitors from telling you that everything is important, and allows them to update their priorities over time.
Tip: On phone calls with your customers, remind them to review their priorities every weeks or two so they're always up to date.
Adding feedback
By clicking on any request, your visitors can view the description, status, and any public comments from your team and other visitors.
Visitors that are subscribed will receive notifications when new comments are added.
Use this area to gather use cases and understand why a request has been submitted.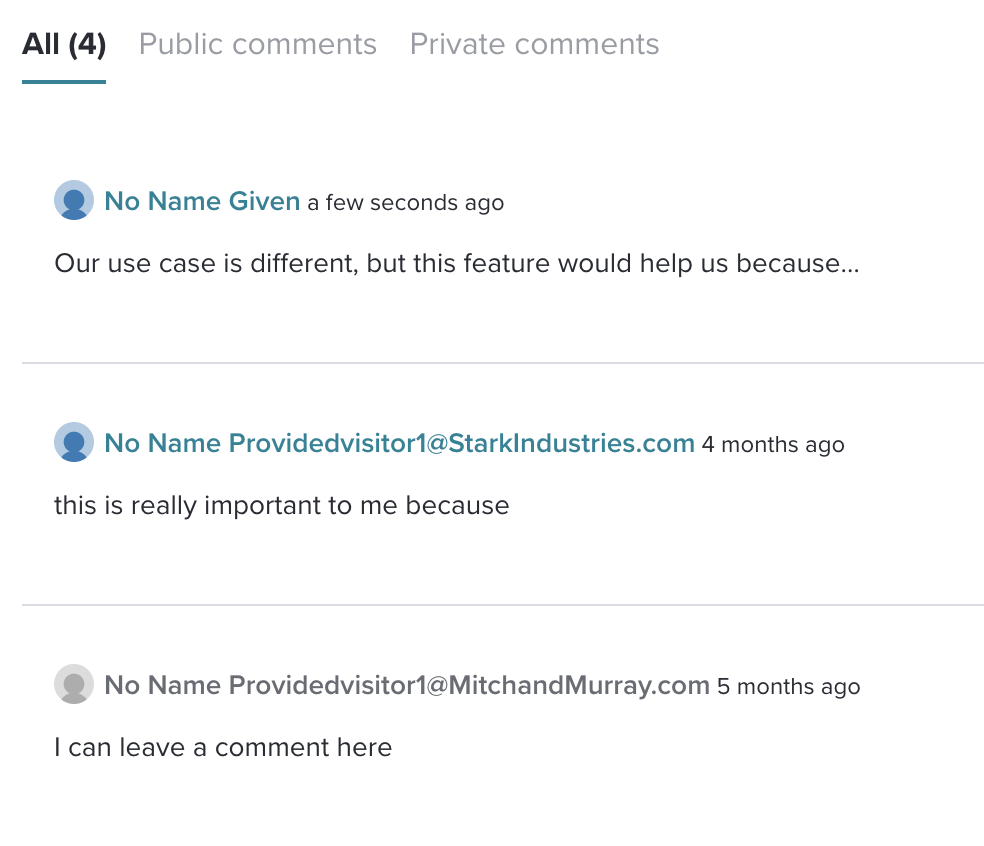 Tip: Visitors will use requests instead of describing a use case or pain point so always ask why. You are the experts in building software & your visitors are living the day-to-day. Work together to create something amazing!
How to use Feedback on behalf of your visitors
Logging in
If you've already received an invitation to your Feedback account, just go to app.pendo.io and use the Product Switcher bottom left to navigate to Feedback.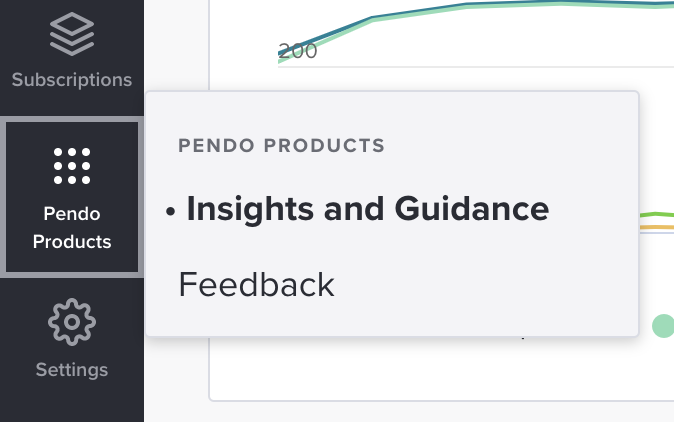 If you need an invitation, have your Pendo lead go to "Manage team" from their Product Settings in Feedback and send you an invitation.
Managing incoming visitor requests
When visitors mention requests via call or email, Feedback allows you to quickly add the visitor to the request and then move on - Feedback handles the rest.
Adding a customer to an existing request
If you know the request already exists, just use the search box in the top right hand corner, and click on the right request to open that request's page.
Add the visitor directly to the request by clicking "Add visitor" on the right-hand side.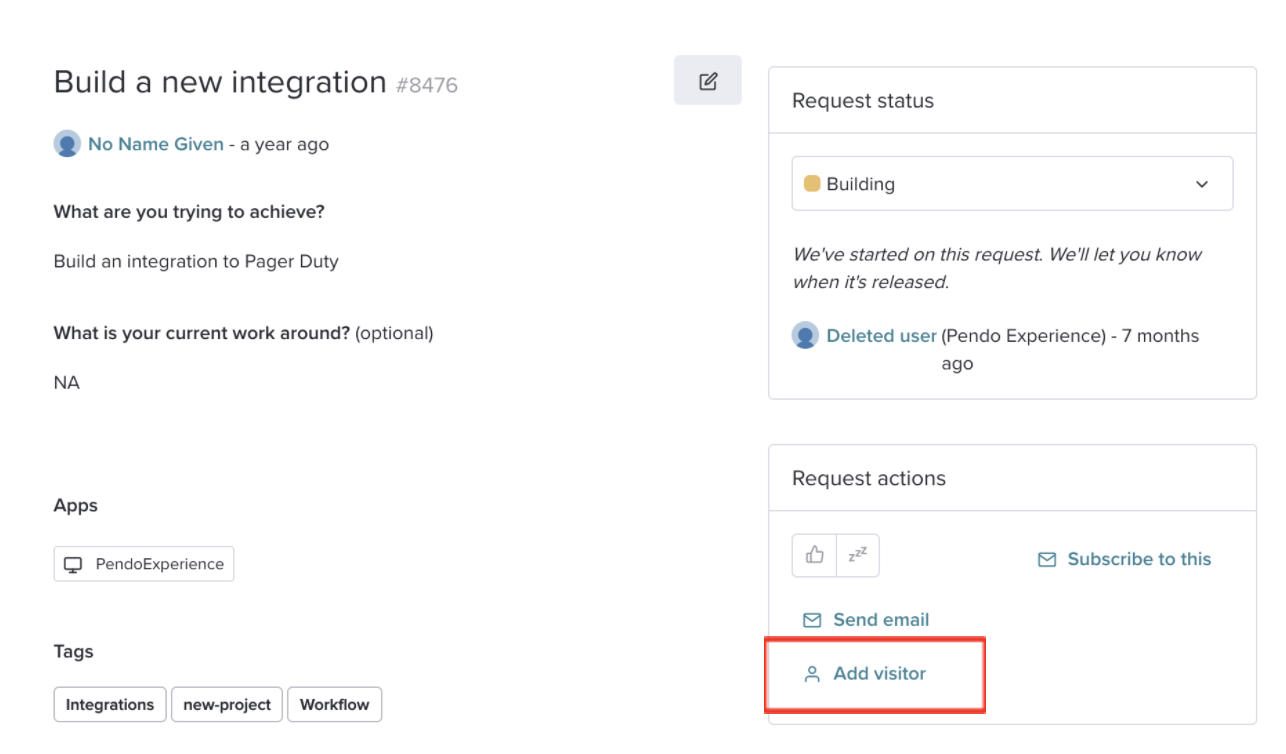 Start typing the visitor's name (not company name), and select the appropriate visitor.
Your visitor will be updated automatically every time the request is updated (via status or discussion).
Creating a new request on behalf of the visitor
If you're not sure (in most cases) whether the request exists or not, just click "Suggest" from the left-hand navigation.
At the top of the page, click "Requested by you" and click the link on "you":

Start typing the visitor's name and select the correct visitor from the drop-down menu: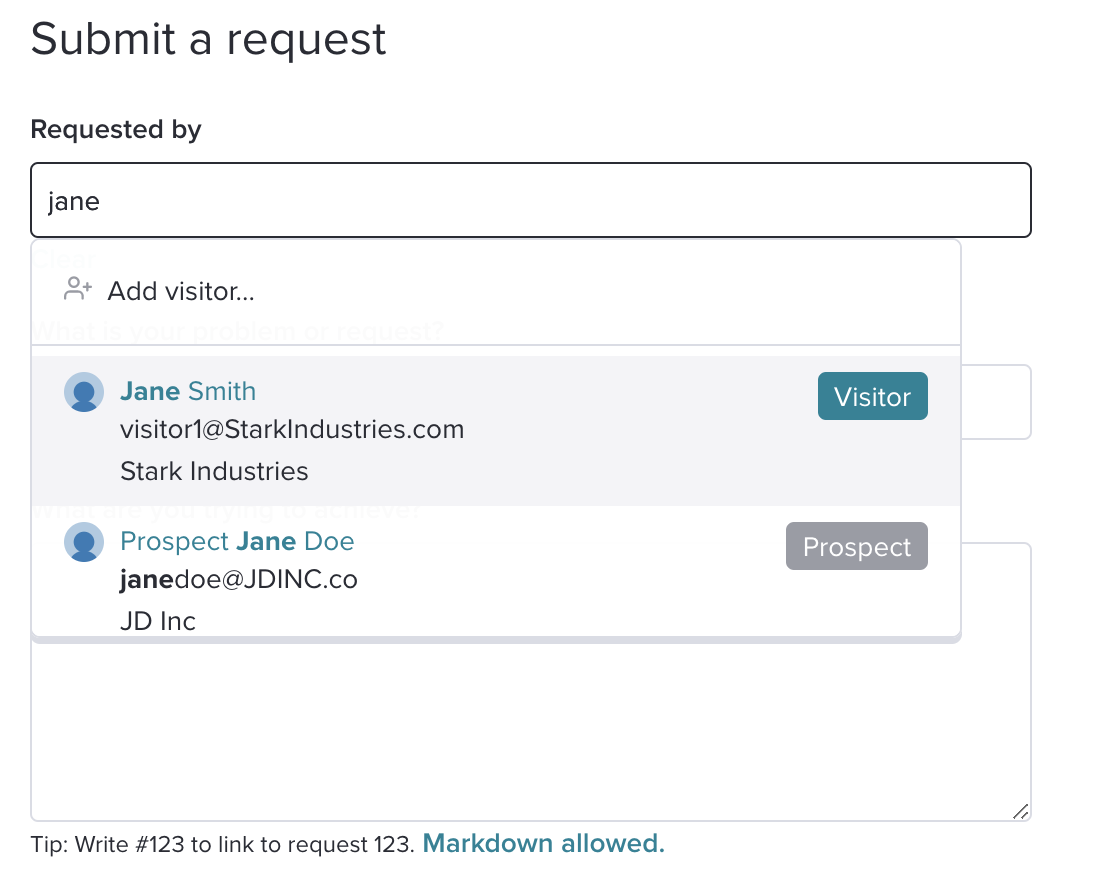 Start typing the request and any similar requests will appear below. If the same or a similar request is already there, just click on the title to open that page and add the visitor to the request (see previous step).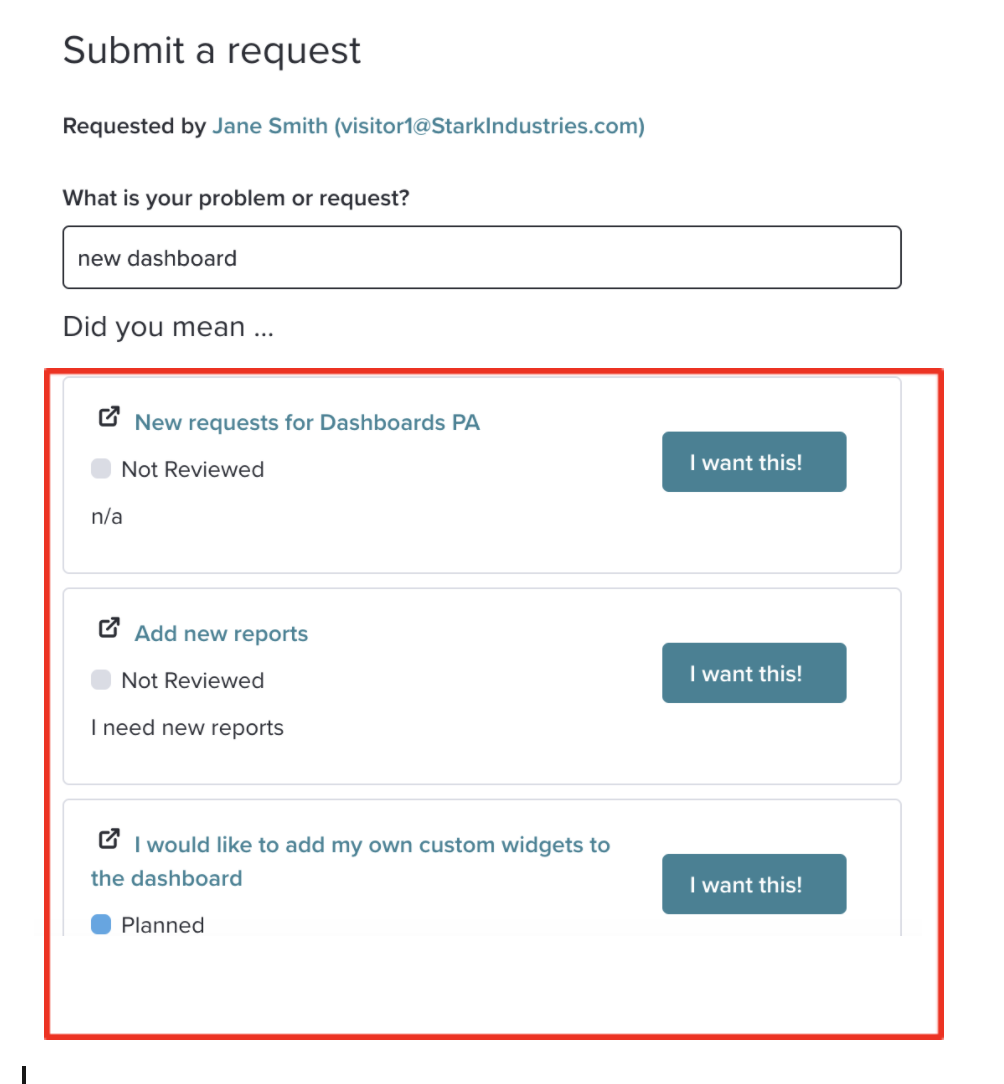 If not, continue to fill out the request form with any additional detail provided by the visitor and hit "Suggest" at the bottom of the page.
Note that the visitor's vote is now added to this new request. If you like, you can add your own vote as well (or subscribe) to keep track of any updates on this request.
Notifying the customer
Once you've added the visitor to the request, you can let them know how they can view their requests themselves and let them know how they'll be receiving updates, for example:
"Thank you so much for the feedback! I've submitted this as a request on our Feedback dashboard. (You can view your own dashboard here.) When our product team reviews your request you'll receive automatic updates. Also, feel free to add additional details in the discussion section so our product team knows how this would help you."
Updating visitor priorities on their behalf
If you're on the phone with a visitor who indicates their priorities should be updated, you can do this for them.
First, you need to find their profile. Enter the user's name in the search bar at the top and then click on their name.
Alternatively, select "Accounts" from the left-hand navigation, and choose the visitor's account.
Find and click on the correct user from the list on the left hand side.
Once you find the user's profile, click the "Edit" button on the user page and then select the "Priorities" tab.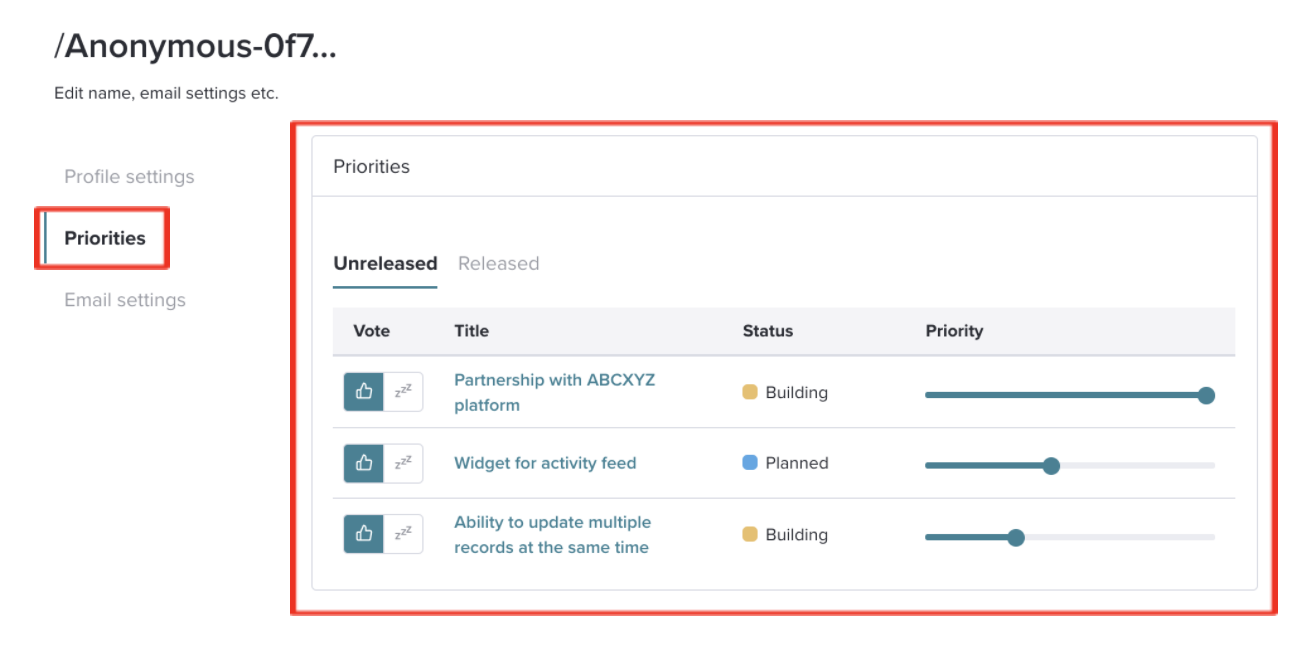 The changes will be saved automatically.
How you can use Feedback in your role
See visitor requirements & priorities
Get smart insights about what's going to help your visitors accelerate their success.
Select "Accounts" from the left-hand navigation, and choose the visitor's account.
This leads you to the "Account priorities" page which includes priorities from all visitors in the account.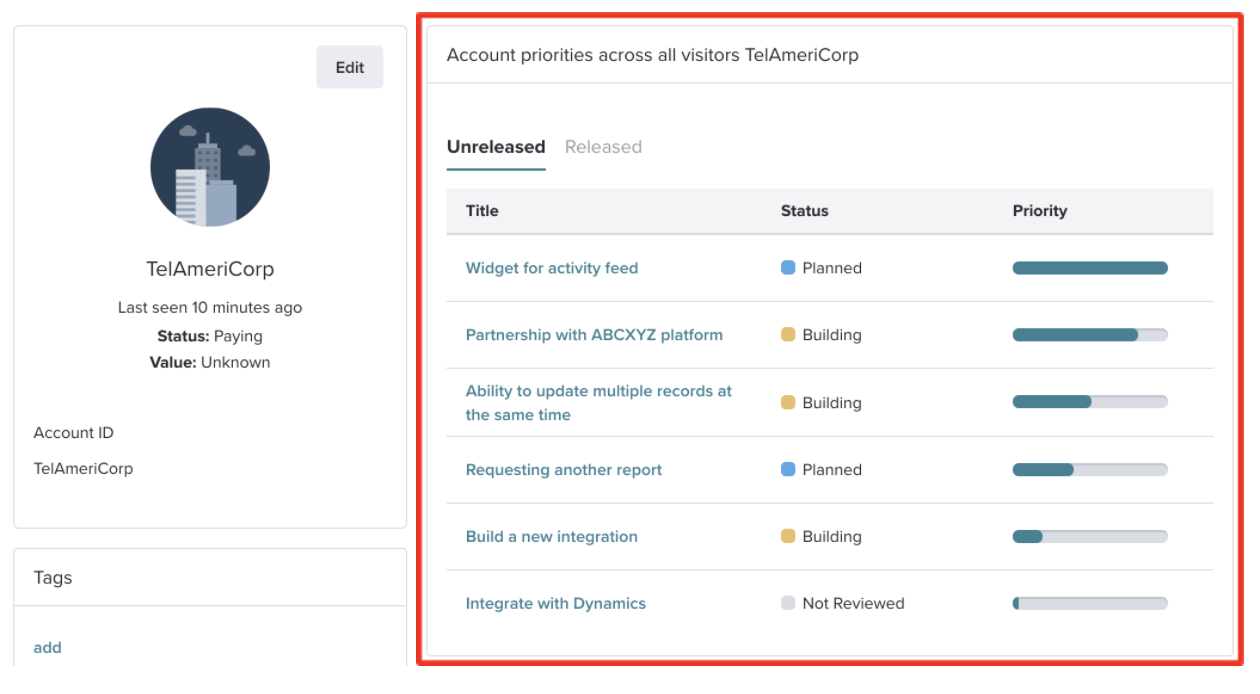 Drill down to a specific visitor from the list on the left hand side to see an individual's requests & priorities.
Tip: Before a meeting or phone call with a customer, review the "Released" tab to see what ideas you've recently released for them. See if they've used it and if they have any feedback or additional requests.
See the status of any request
Need to research the status of a request for a visitor?
Want to know if the product team has made progress on a request you've made?
Just find that request using the search bar in the top navigation of your dashboard, and open the request to see all the latest comments and updates.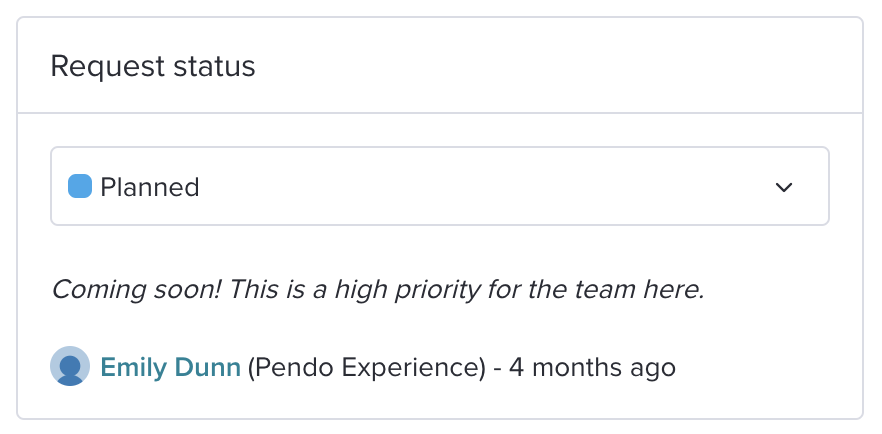 Making your own Requests
Whether you noticed something needs to be improved or have an idea that would help you do your job better, you can submit requests that you'd like to see implemented.
From the internal view in Feedback, click "Suggest" in the left-hand navigation.
Add a title and a description, including your use case.

Updating your priorities
Head to your dashboard to update your priorities just as your visitors can. This way your product team will know what's most important to you and your team.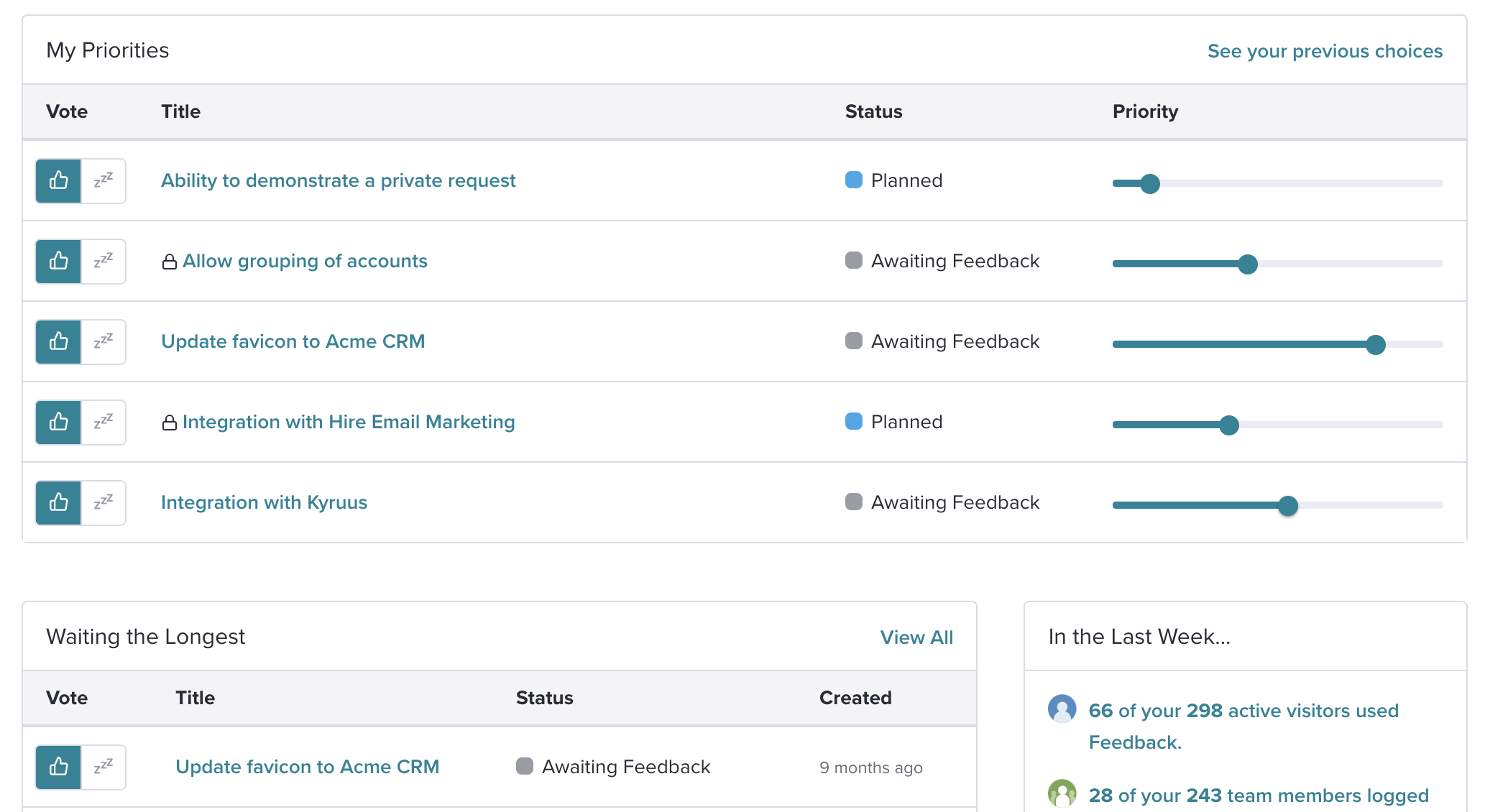 Requesting Pendo features
Have ideas for how Pendo could help you and your team? We'd love to hear them!
Just follow these instructions to get to our own Feedback portal and suggest, search, vote & prioritize ideas you'd like to see us build.
Tip: Remember to include your use case so our product team can understand the problem you're having when considering your request.
Advanced
Engagement email
In a few clicks you can send a personalized email to each of your visitors, encouraging them to use Feedback and improving the amount and quality of your feedback data.
It's also a great way to ask visitors to review their priorities, highlight progress you have made and show what you are currently working on.
Read more about the engagement email here.
Customer Insights Dashboard
The Customer Insights Dashboard provides Customer Success managers with key insights and the data they need to help their customers be successful and avoid churn.
Using the left-hand nav, go to your Dashboard, and click the second tab "Customer Insights". These reports surface a ton of insights and metrics that can help you understand your customers' engagement and usage. For a full overview on these insights, head here.
Metrics
Under the Metrics page you have access to more granular insights into customer activity.
Just click "Metrics" in your left-hand nav where you can see an overview of activity, the most engaged visitors, and those who have had the most requests released.
Want to know which of your customers have used Feedback the most? Just head to the "Engagement" section to see your most active visitors.
Another great report for customer success teams is the section: "Visitors who wanted features released in the last 30 days". Click on any user's name to be taken to their page. Click the "Released" tab to see which requests you've released for them.
Tips for responding to visitors
Head here for some best practices on how to respond to visitors when you have recorded a request on their behalf.