Why is this important?
With Feedback, support teams have their workload decreased as support tickets relating to product improvements or new requests have their own central area.
Introduction to Feedback for support teams
Feedback allows you to collect prioritized demand from your visitor base, internal teams, and your prospects.
Depending on your approach to support, you might use Feedback on behalf of visitors (detailed below) or you may prefer to send visitors to Feedback to self-serve.
If you use Zendesk, you can add requests to Feedback directly from the ticket panel in Zendesk. Learn more about how to use the Zendesk with Feedback here.
How your visitors use Feedback
Logging In
When Feedback is integrated with your app, a link or button will be added to your software called "Suggest a feature" or similar.
Visitors reach their dashboard by clicking this link. No additional login or password is needed.
Alternatively, if you have enabled the embedded widget, then your visitors can click on the tab on the right-hand side of your product and immediately access the Receptive dashboard.
Making a Request
Once your visitors have reached their Feedback dashboard, they click "Make a suggestion" and add details as needed.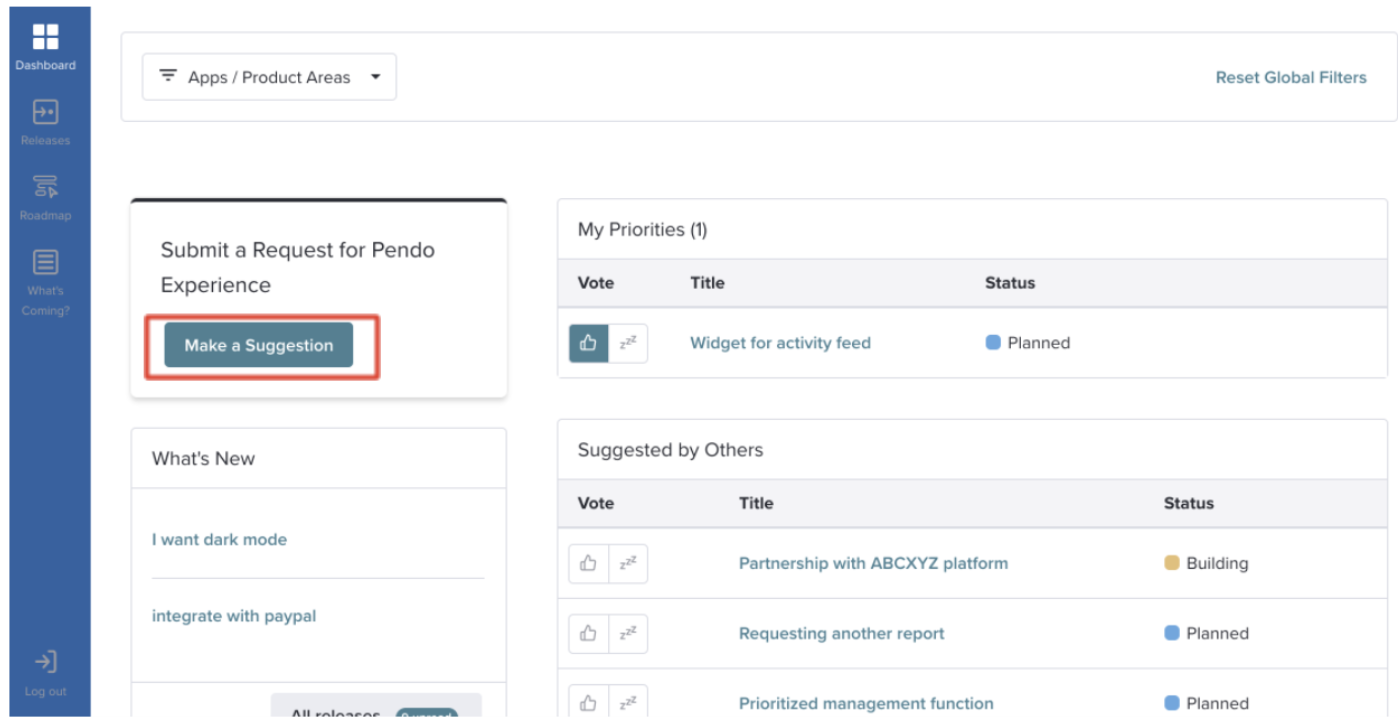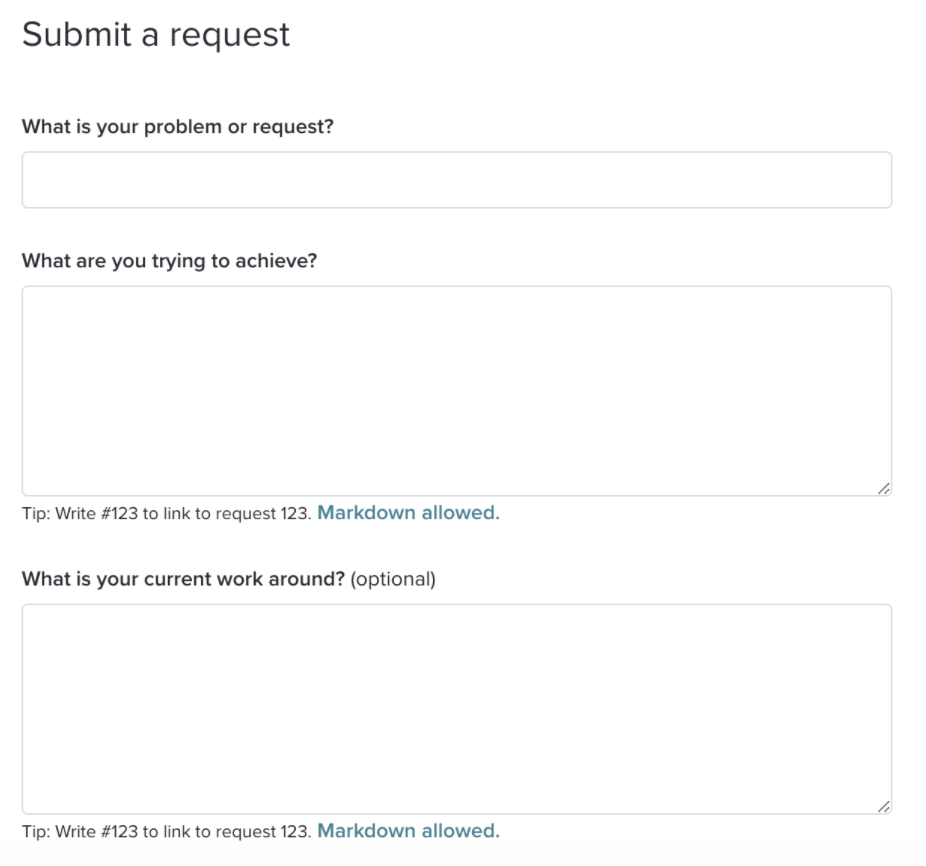 If you have these set up, visitors will be asked to select the App and/or Product Area their request relates to.
Voting On Requests
Visitors will see a list of requests that have been submitted by other users in their dashboard under "Requested by others".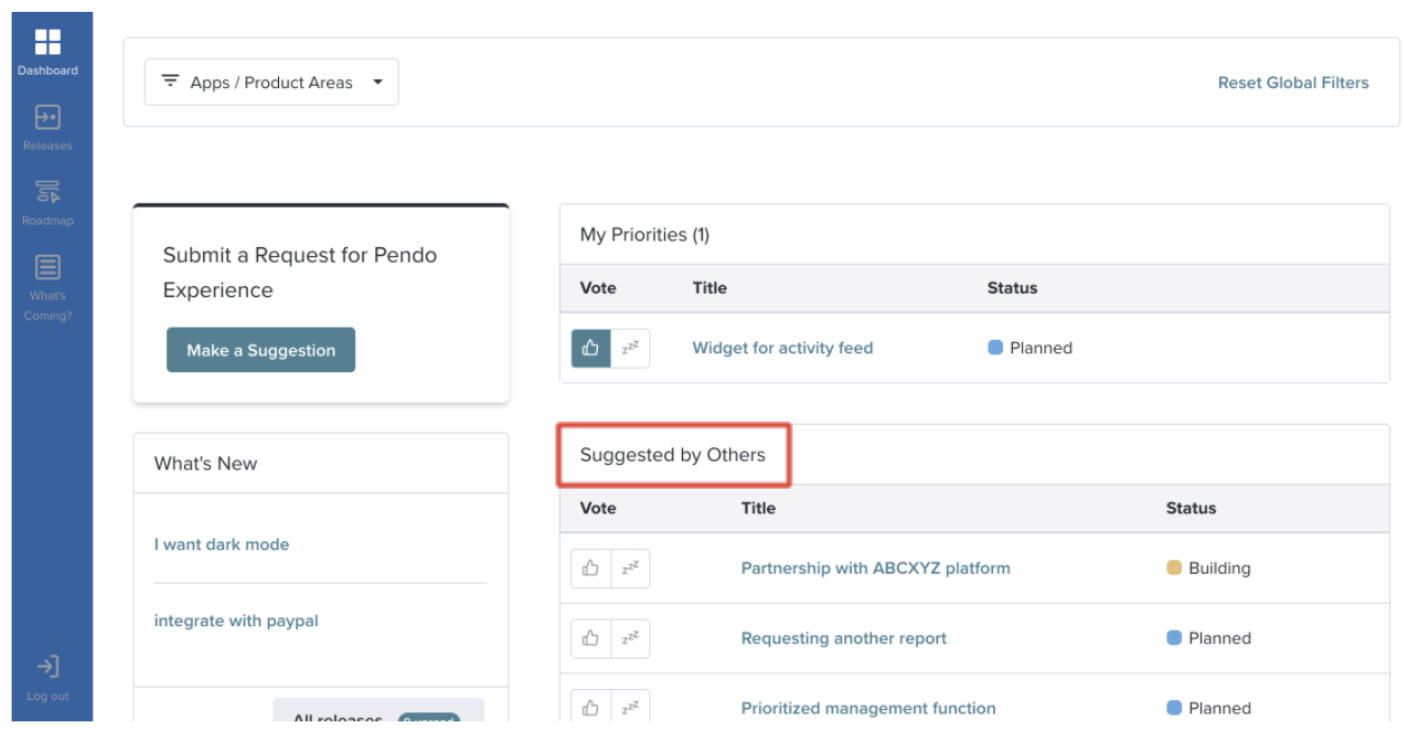 They can vote for any of these or show they aren't interested straight from their dashboard.
Prioritizing Their Requests
Once your visitors have voted on more than one request, they will have the option to prioritize them using the sliders.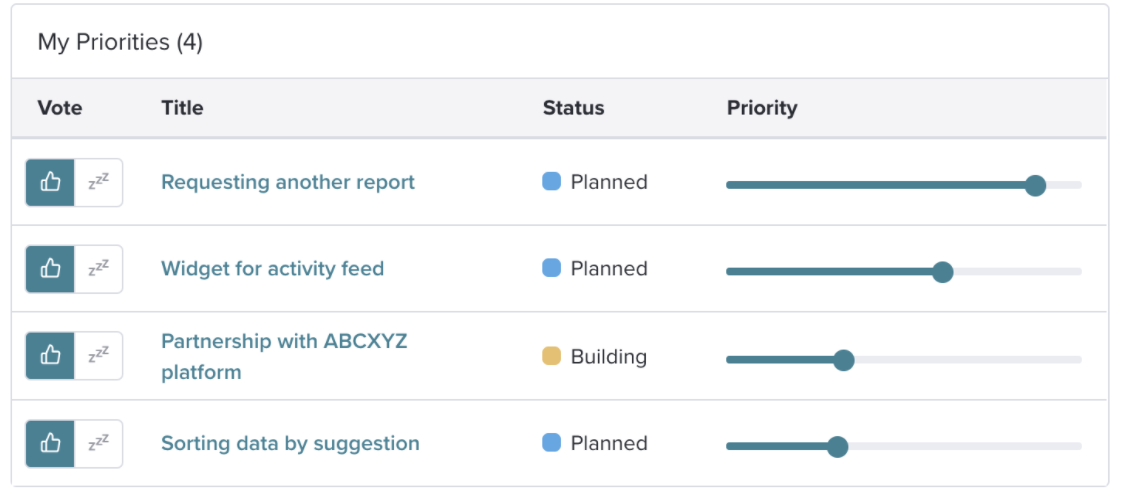 As they increase the priority of one, the others move down slightly. This stops your visitors from telling you that everything is important, and allows them to update their priorities over time.
Adding Feedback
By clicking on any request, your visitors can view the description, status, and any public comments from your team and other visitors.
Users that are subscribed will receive notifications when new comments are added.
Use this area to gather use cases and understand why something has been requested.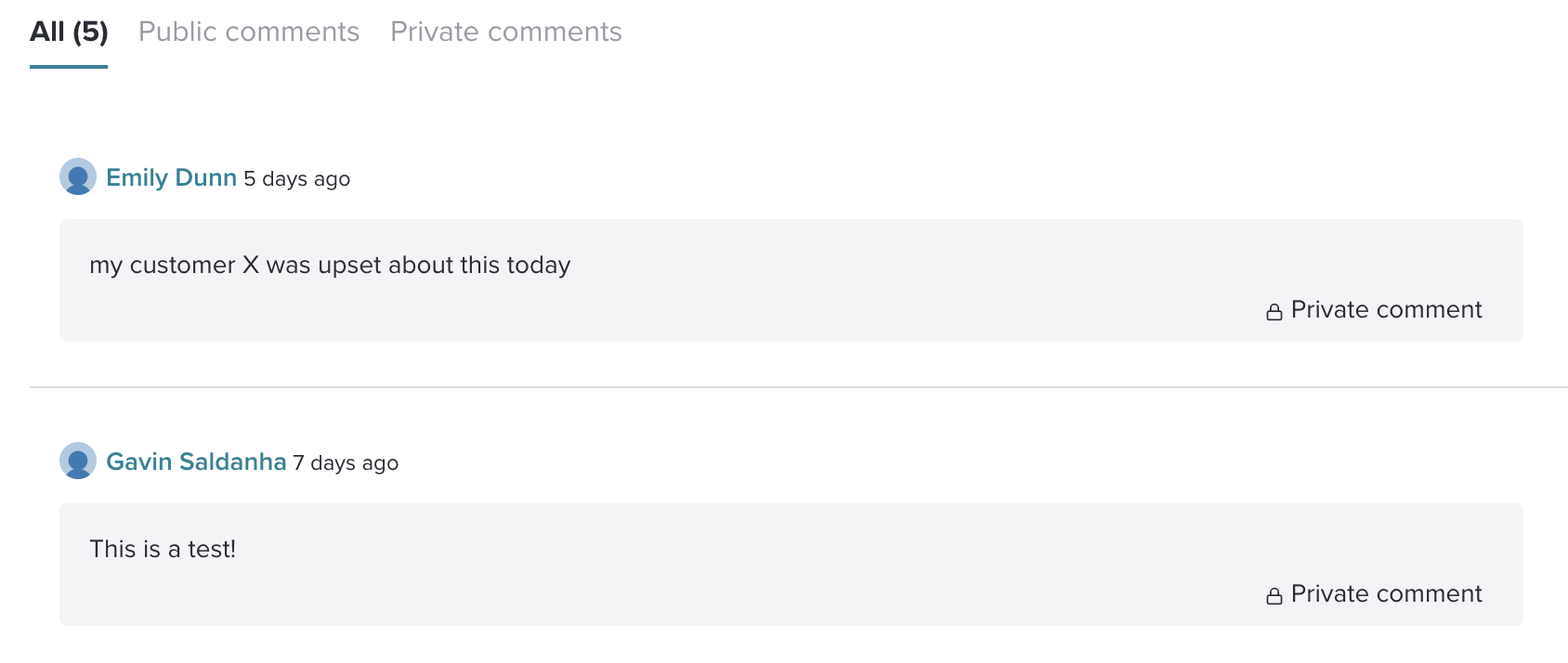 How to use Feedback on behalf of your Visitors
Logging In
If you've already received an invitation to your Feedback account, just go to app.pendo.io and use the Product Switcher bottom left to navigate to Feedback.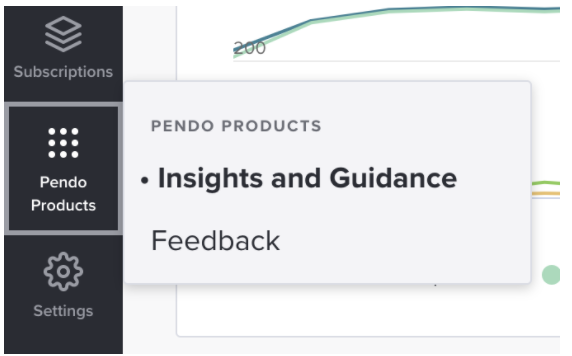 If you need an invitation, have your Feedback champion go to "Manage team" from their Product Settings in Feedback and send you an invitation.
Managing Incoming Visitor Requests
When visitors mention requests via call or email, Feedback allows you to quickly add the visitor to the request and then move on - Feedback handles the rest.
Adding A Visitor To An Existing Request
If you know the request already exists, just use the search box in the top right hand corner, and click on the right request to open that request's page.
Add the visitor directly to the request by clicking "Add visitor" on the right-hand side.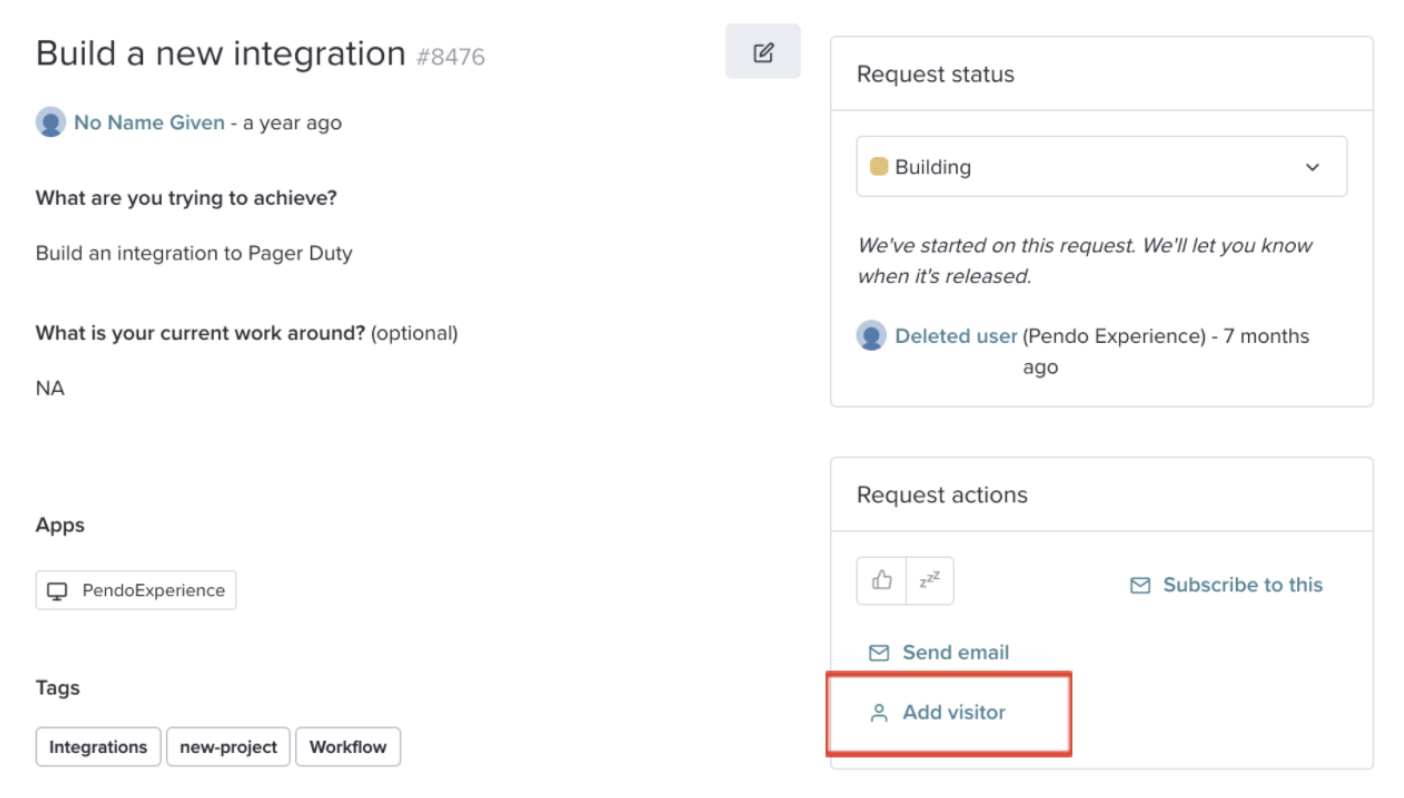 Start typing the visitor's name (not company name), and select the appropriate visitor.
Your visitor will be updated automatically every time the request is updated (via status or discussion).
Creating A New Request On Behalf Of The Visitor
If you're not sure (in most cases) whether the request exists or not, just click "Suggest" from the left-hand navigation.
At the top of the page, click "Requested by you" and click the link on "you":

Start typing the visitor's name and select the correct visitor from the drop-down menu: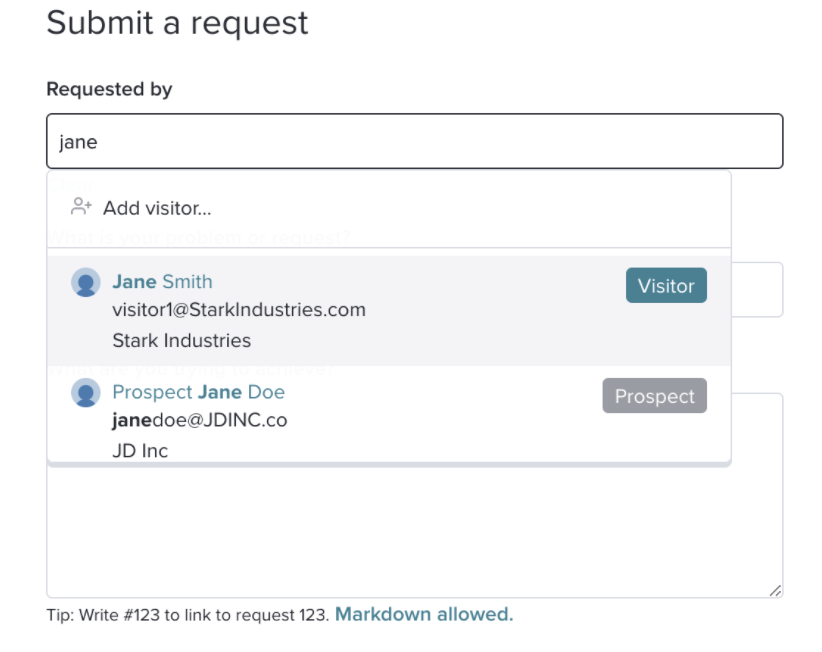 Add a title and any similar requests will appear below. If the same request is already there, just click the title to open that page and add the visitor to the request (see previous step).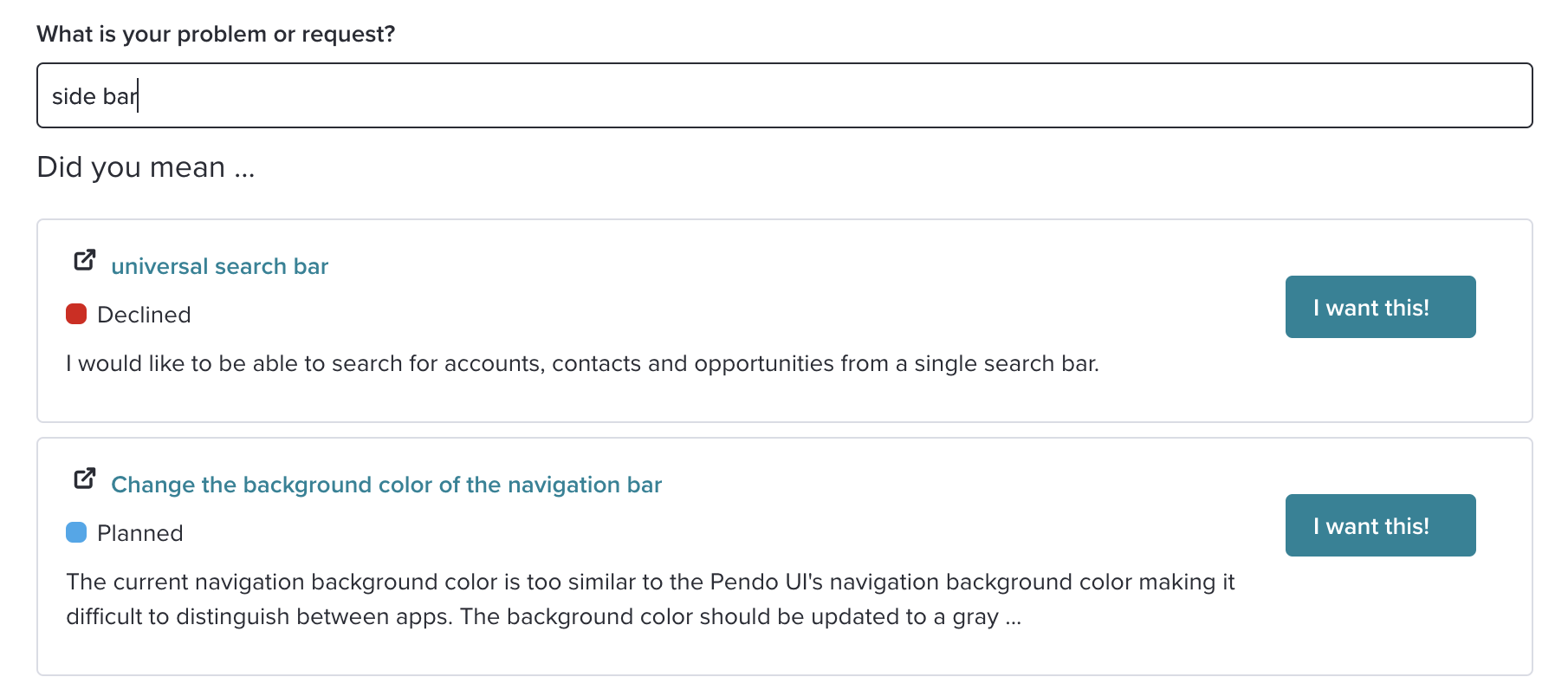 If the request doesn't exist, just continue to fill out the form, making sure to add which App & Product Area the request relates to, and hit "Suggest".
Notifying the Visitor
Once you've added the visitor to the request, let them know they'll be receiving updates on it, for example:
"Thank you so much for the feedback! I've submitted this as a request on our Feedback portal. (You can view your own dashboard here.) When our product team reviews your request you'll receive automatic updates. Also, feel free to add additional details in the discussion section so our product team knows how this would help you."
Read more below: Tips for support teams when responding to requests
Updating Visitor Priorities on their Behalf
If you're on a call with a visitor who indicates their priorities should be updated, you can do this for them.
First, you need to find their profile. Enter the visitor's name in the search bar at the top and then click on their name.
Alternatively, select "Accounts" from the left-hand navigation, and choose the visitor's account.
Find and click on the correct user from the list on the left hand side.
Once you find the user's profile, click the "Edit" button on the user page and then select the "Priorities" tab.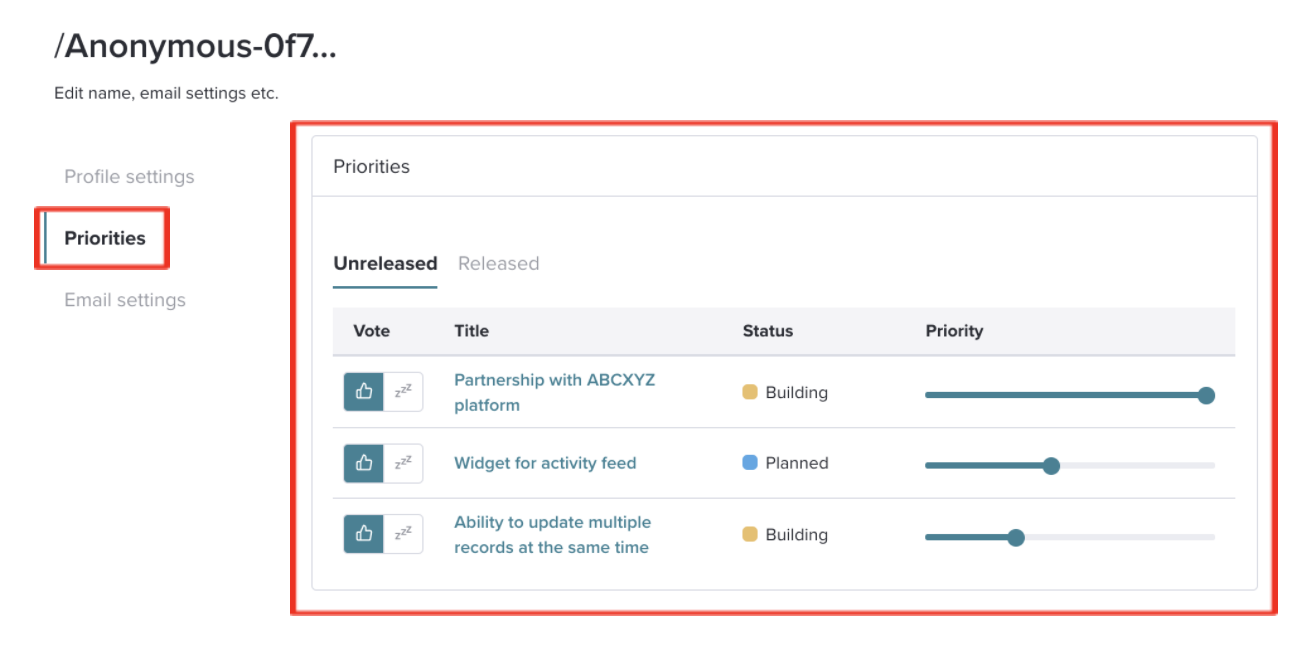 Any changes are saved automatically.
How You Can Use Feedback In Your Role
See The Status Of Any Request
Need to research the status of a request for a visitor?
Want to know if the product team has made progress on a request you've made?
Just find that request using the search bar in the top navigation of your dashboard, and open the request to see all the latest comments and updates.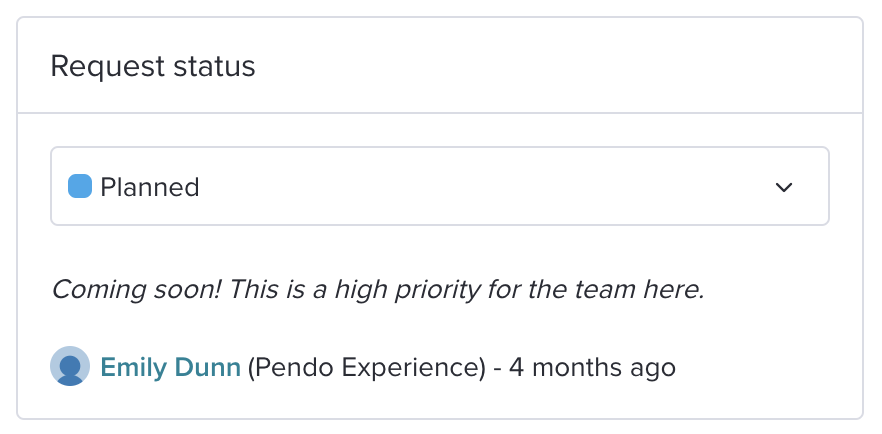 Making Your Own Requests
Whether you noticed something needs to be improved or have an idea that would help you do your job better, you can submit requests that you'd like to see implemented.
From the internal view in Feedback, click "Suggest" in the left-hand navigation.
Add a title and a description, including your use case.
 Remember to select the App and Product Area the request relates to, if you have these set up.
Updating Your Priorities
Head to your dashboard to update your priorities just as your visitors can. This way your product team will know what's most important to you and your team.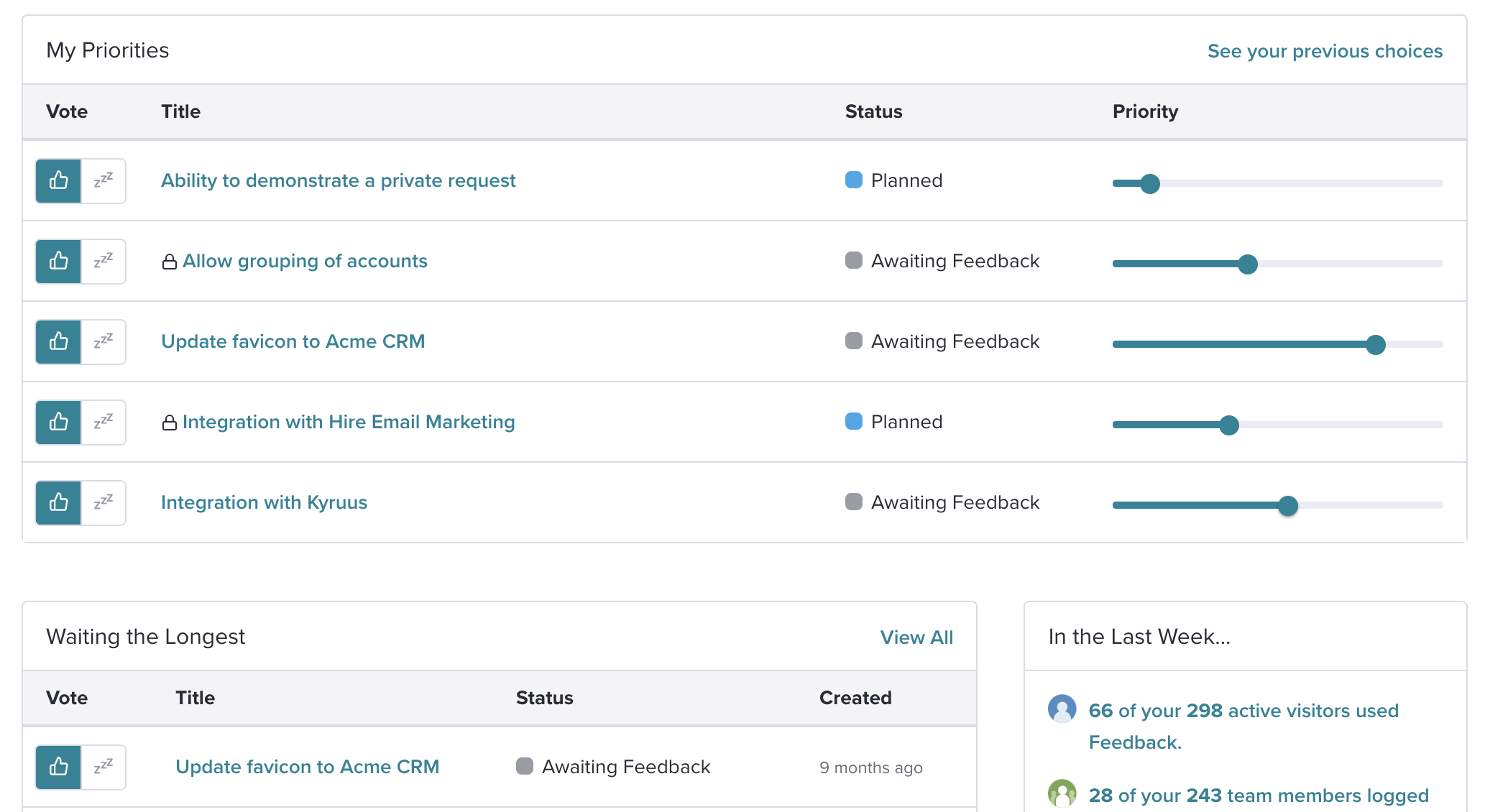 Requesting Pendo Features
Have ideas for how Pendo could help you and your team? We'd love to hear them!
Just follow these instructions to get to our own Feedback portal and suggest, search, vote & prioritize ideas you'd like to see us build.
Advanced
Tips for support teams when responding to requests
When you have added a request on behalf of a visitor, you can quickly & easily let them know that their request has been recorded.
However, instead of generic and vague responses like your competitors are sending:
"The only thing I can do is pass it along, and put this in as a request. Unfortunately I can not make you any promises if this will be implemented."
"We have received your idea and we will review it soon."
Your team, as a Feedback user, has a huge opportunity to stand out.
Here are some tips and templates that will make a huge difference:
Download the Gorgias chrome plugin here.
The Gorgias extension allows you to type a "shortcut" word and it will automatically populate the templated response you'd like to send.
For example, you can set it up so when you type the word "request" and hit "tab", it populates the following text:
Thank you so much for your feedback! I've submitted this as a request in our Feedback dashboard, and you'll be automatically updated when your request is reviewed by our product team.

You can reach your dashboard, see your request, vote on requests others have submitted, and prioritize your requests by clicking the "Request a feature" button in our app [add link location details].

Also, feel free to add additional details in the discussion section so our product team knows how this feature would help you.
Be specific
Vague responses to requests and ideas make visitors feel like you don't value their feedback. Show them that you take their requests seriously by having a solid process in place with Feedback to listen, respond, and act on their ideas.
Save time by pointing them to Feedback
Once your visitors know about Feedback they'll submit fewer support tickets with requests and submit it themselves into Feedback. In your Gorgias shortcut (or however your reply to requests), make sure you explain the benefits of Feedback and how they can access it themselves.