Overview
In Slack, you might have noticed that you see a short description and image display shortly after posting a link in your message (referred to as "Unfurling Links in messages"). These previews are typically designed to give users an idea of what the link is referring to and configured with web pages.
Slack allows companies to configure a more customized experience when Slack recognizes a link associated with your app, then sends your Slack app a corresponding event (See Slack's documentation). Pendo's Slack Integration will unfurl a quick summary so users can see information without needing to enter Pendo. Summaries include:
Sharing a Pendo link to specific Pages, Features, and Track Events displays timeframe, segment, total visitors, total accounts, average time on a page or total clicks on a feature.

Sharing a Pendo link to specific Guides displays aggregate data on total visitors, total views, total first time views, Average time on Guide.

All other links will display a description of Pendo so users can understand what Pendo is: "Pendo helps teams make products people use, love, and share. We'll show you product analytics and customer sentiment that you can use to increase adoption, loyalty, and innovation."
Requirements
You will need the following permissions to authorize your Slack instance to preview your Pendo subscription links.
Pendo Admin user access
Slack Admin user access
Important
Pay attention to the Slack workspace
Pendo Admin but not Slack admins will see a request page
How to set it up
Step 1. Navigate to the Integrations section of your Pendo subscription and locate the "Slack Link Preview" tile under the "Collaboration" section.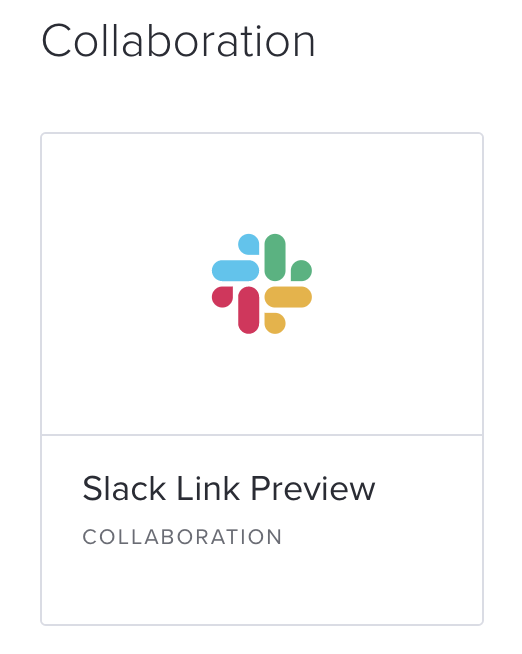 Step 2. Click on "Add Slack Link Preview."

Step 3. If you're a Slack Administrator, it will redirect you to your primary team or ask you to choose which instance you want to connect to via slack.com on a new browser tab.
Note: If you don't have Admin permissions on your Slack instance, you will get a message letting you know you will need to contact your Slack admin to set this up.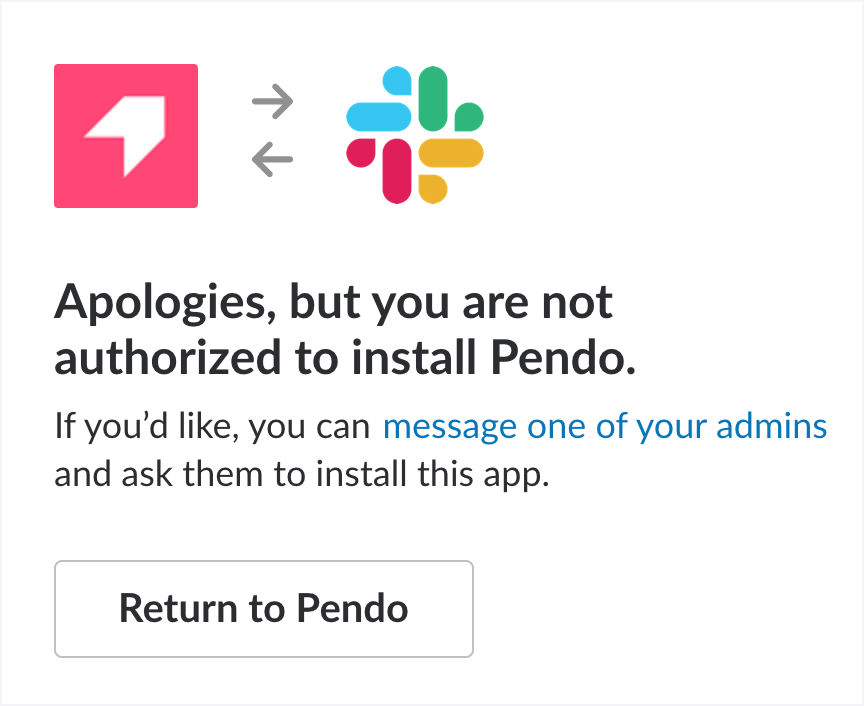 After you click on "Authorize," you will be brought back to your Pendo subscription and shown a message that your integration is setup. Now, your subscription is ready to go!
How to see Slack Link Previews
After authorizing your Slack instance to your Pendo Subscription, users can copy and paste links for Page, Feature, and Track Event details pages. Links will include an ID at the end of your URL and will look similar to this URL structure:
https://app.pendo.io/pages/ABCjN7Kfb56ABVros_test
https://app.pendo.io/features/ABCjN7Kfb56ABVros_test
https://app.pendo.io/trackevents/ABCjN7Kfb56ABVros_test
Once a user "posts" a message in the Slack channel, then Slack will "unfurl" a summary. Summaries include:
Page details link: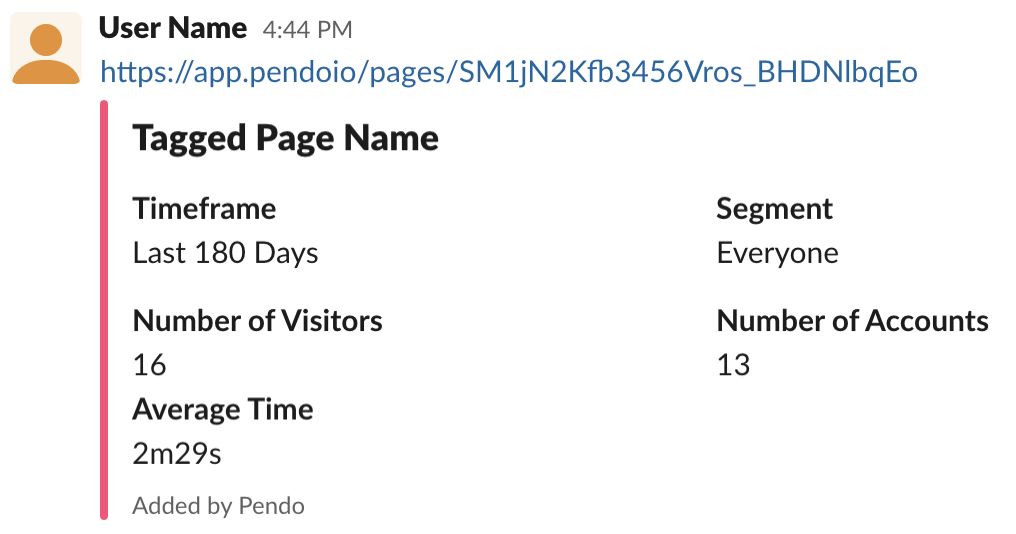 Feature details link: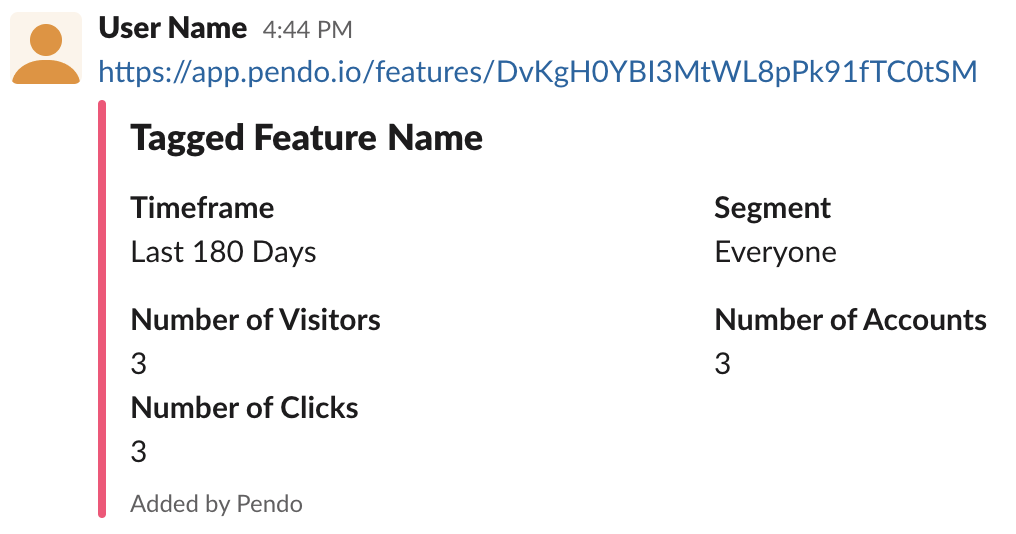 Track Event details link: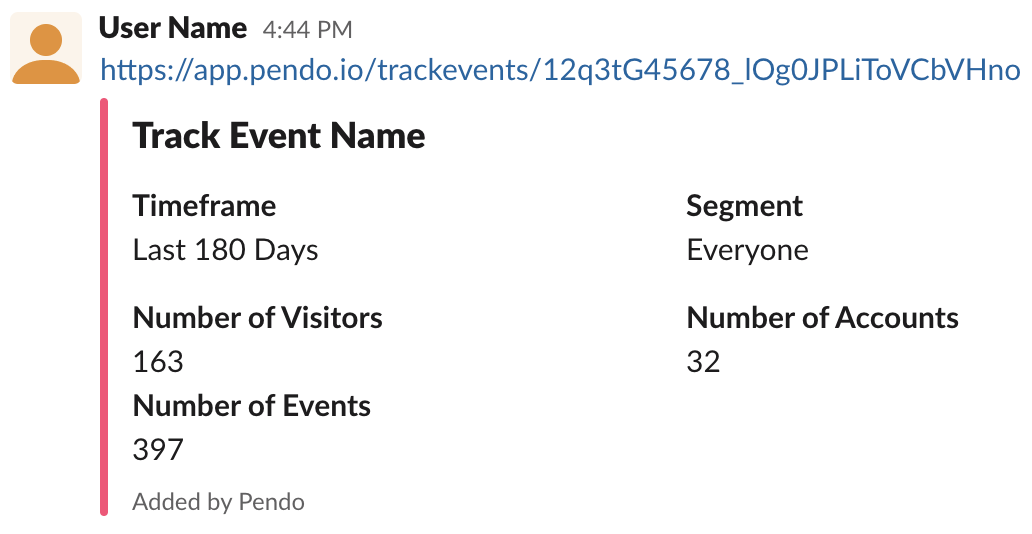 All other links will display a generic description of Pendo so users can understand what Pendo is:

Frequently Asked Questions
If I have access to multiple Pendo subscriptions, can I have to authorize Slack for each Subscription?
Not at this time. We support one Pendo subscription to one Slack instance at this time.
If I already setup the Slack for NPS integration in Pendo, do I need to follow the authorization process again?
Yes. This integration is different from NPS and will require access to more than NPS poll data so you will need to follow the setup steps outlined for this specific integration.