Note: This article covers new functionality for controlling Pendo user roles and permissions that is currently in open beta. For articles on the current generally available user roles functionality, please refer to the User Roles article and User Roles matrix article.
Overview
Pendo user roles and permissions control which features users can access in Insights and Guidance. Users can have different roles applied to each app in a multi-app subscription. Roles provide more granular control of access to guide creation, editing, and publishing, page and feature tagging, analytics tools, sharing, and settings.
Requirements
Pendo Admin users can change roles for a user
Default Roles
Subscription-level Roles
Roles and permissions applied at the subscription-level are applicable to every app in the subscription. Admin users have full access to the entire subscription. Subscription-level permissions are applied in addition to any app-level roles.

Application-level Roles
Application permissions manage a user's access to guides and analytics features for each of your applications in Pendo. Multiple roles can be assigned to give a user the right permissions. For example, a user could be assigned the Guide Publisher and Analyst roles to manage guide content and analytics tags without being able to create new guides. Users can have different roles for each application in your multi-app subscription. A user that only needs to create guides in one app can be a Guide Creator in one app and a Viewer in all other apps. Viewer is the default role automatically assigned to all apps for all users. This role cannot be removed.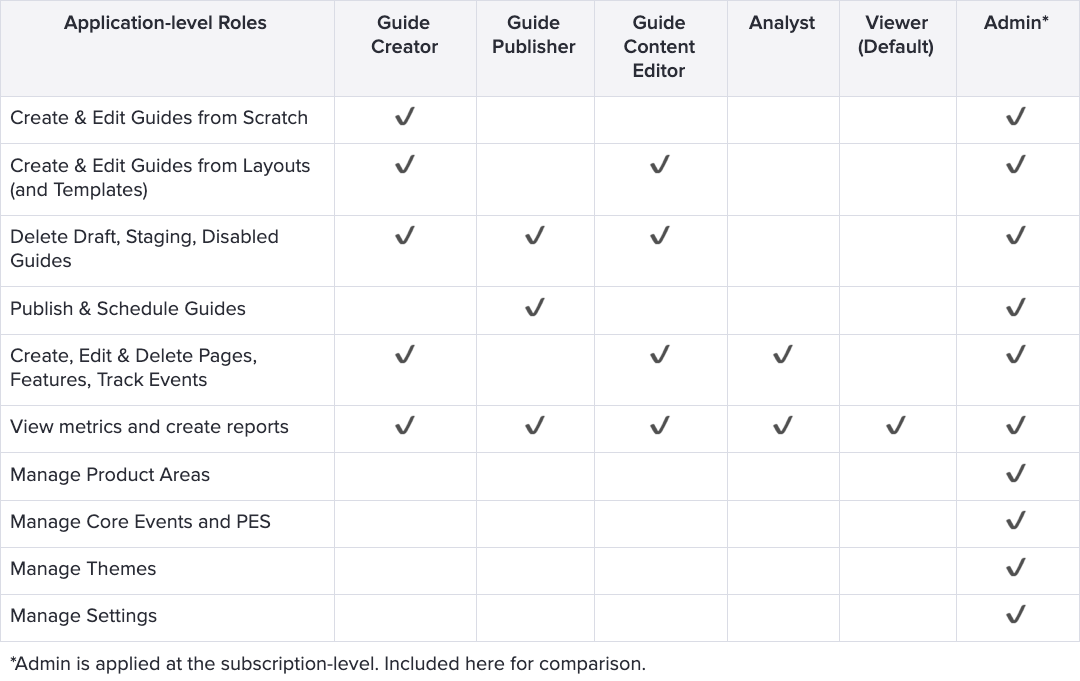 Note: Viewer is applied to all users for all apps by default. This role cannot be unassigned. Roles and permissions cannot limit data visibility. All users will be able to see all data in the subscription.