Overview
Use Dashboards to analyze and centralize your Pendo reports and insights. Share dashboards with other users in your subscription or collaborate and make a dashboard together. Dashboard widgets, like the text and embed widgets, allow you to provide more context for you data. This allows you to build the story around your data and share that information with others. You can grant other Pendo users editing access and they can build the dashboard or make changes with you. You can share a link to the dashboard with any user who has access. Someone must have access to the Pendo subscription to view the dashboard.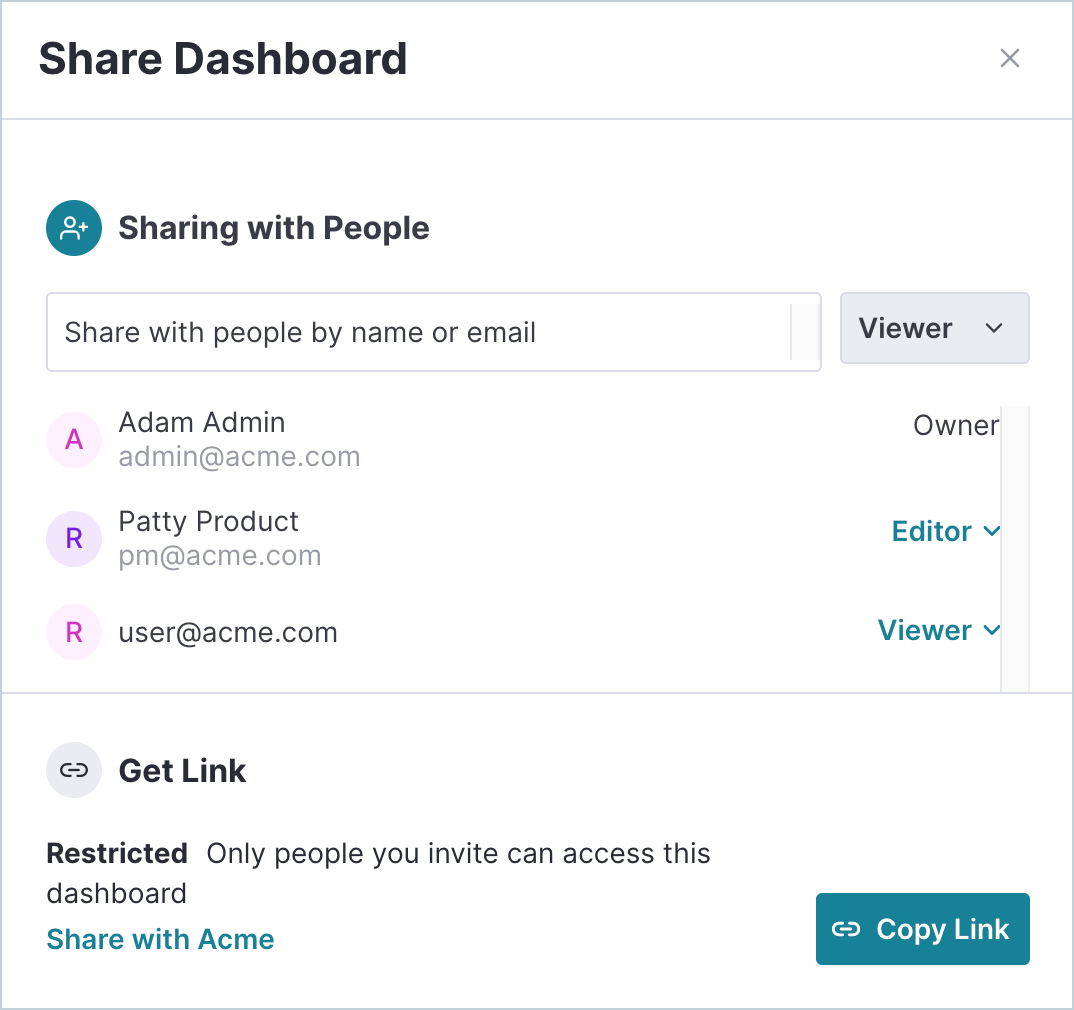 Dashboards shared with you are visible in the dashboard directory. The directory is visible by clicking View All from the Dashboards navigation menu.
All sharing settings are accessed from the Share button in the dashboard action bar.

Requirements
Available for any Pendo user
Share with the subscription
Sharing a dashboard with the subscription adds it to the dashboard directory for all users. Users can be given viewer or editor access. This enables link sharing with every user in the subscription.
1. Click Share with [subscription name] to enable subscription sharing.

2. Adjust sharing settings. You can toggle viewer or editor access for everyone in the subscription.

3. Deactivate sharing by toggling access from the subscription to restricted.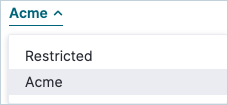 Share with individual users
Sharing a dashboard with an individual user sends them a notification email and adds it to their dashboard directory. A user can have viewer or editor access. The dashboard owner can change or restrict access to users at any time.
1. Click Sharing with people to open the user sharing menu.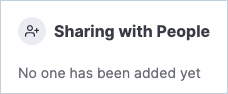 2. Search for a user and select viewer or editor. The search only finds users in the subscription.

3. Click Share to send the user an invitation to the dashboard which includes a direct link. The dashboard will appear in their dashboard directory.

4. Edit or remove access for a user in the dropdown menu next to their name.

Co-editing a dashboard
Multiple users can have edit access to the same dashboard. Co-editing dashboards does not support real-time simultaneous updates. If users are making changes to a dashboard at the same time, they will not see each other's changes, and the last saved version will load the next time the dashboard is opened. This could potentially lose the updates from one user if you're not careful.
To avoid this issue, be mindful of editing the dashboard one-at-a-time. If the dashboard has been static in your browser for a long time, refresh the page to reload the latest version of the dashboard before making any changes. Co-editing is a powerful tool that allows the entire team to contribute and share collective reports and insights.