Data Explorer empowers you to analyze your product and segments using visualizations and reports of your data from one location. You can quickly uncover usage behavior and patterns, then utilize these insights to make improvements to your product and customer experience. Additional filters by Segment or Grouping by Visitor or Account metadata further define how your product is being used by different user groups. Visualizations and comparison tools help you compare performance between different segments or different date ranges in your analysis. Download your graphs as images and add them to presentations or download tables as a CSV file for further analysis outside of Pendo. Your saved reports can be viewed by anyone in your subscription, shared, or added to your dashboard for easy access.
Requirements
Any user can build and save reports in Data Explorer except for Read-Only users.
Create a report in Data Explorer
Data Explorer is in the Behavior section.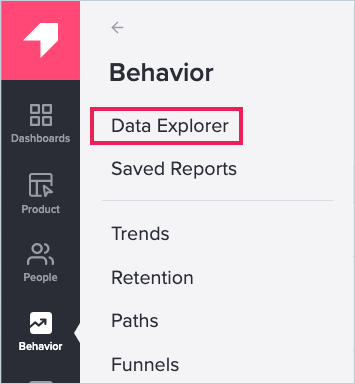 You'll start with a fresh new report, ready for you to build your query.
At a minimum, you need to add a Data Source and an object. Data Explorer looks at data daily for everyone for the last 30 days by default.
For more advanced analysis, you can add up to two Data Sources with 10 total objects. If you use five objects or less, you can compare up to five Segments with one date range, or up to two date ranges with one segment. There may be a cap on each parameter dependent on the other parts of the query.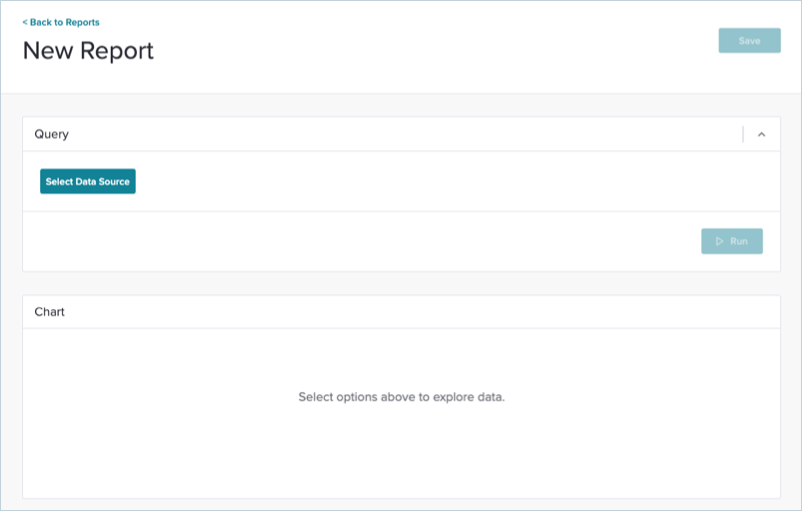 Build your query
Build your query by selecting:
Up to 10 objects from one or two data sources
The measurement of these sources
The date range for the analysis
The segment used to filter the query
Group By any available metadata
This is a powerful combination of parameters that can compare app usage, guide usage, events, and user behavior against each other for different Segments, at different times.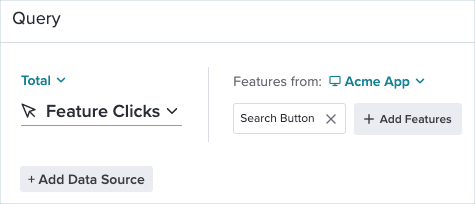 Data sources
Select up to two:
Any Activity - Any Visitors or Accounts with any events in your application
Page Views
Feature Clicks
Track Events
Guide Views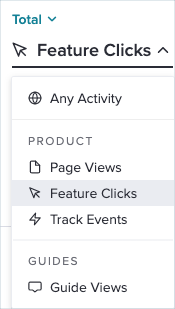 Measurements
For each Data Source, select:
Total - This includes all events.
Average - This measurement will calculate the average number of views, clicks, or events based on your data sources.
Median - This measurement will calculate the median number of views, clicks, or events based on your data sources.
Number of Visitors or Accounts - This includes all unique visitors or accounts.

This is the only option available for the Any Activity Data Source.

Percent of Visitors or Accounts - This is a percentage of all unique visitors or accounts who have clicked a feature, viewed a page, or fired a track event versus the number eligible in the Segment.

This option is not available for Any Activity or Guide Views.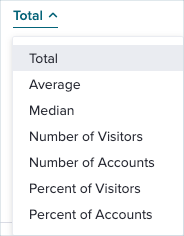 Select app
If you have multiple applications within your Pendo Subscription you can select a different app for each Data Source.
If you use the Any Activity Data Source, you can select up to five apps to query.

Select date range
Select a date range, or pick your own custom date range, and select the data breakdown within the date range. The data will be aggregated according to the breakdown frequency in the data visualization.

Date Range Options
Today
Yesterday
Last 7 days
Last 30 days
Last 90 days
Last 180 days
Custom Date Range (Max 180 days)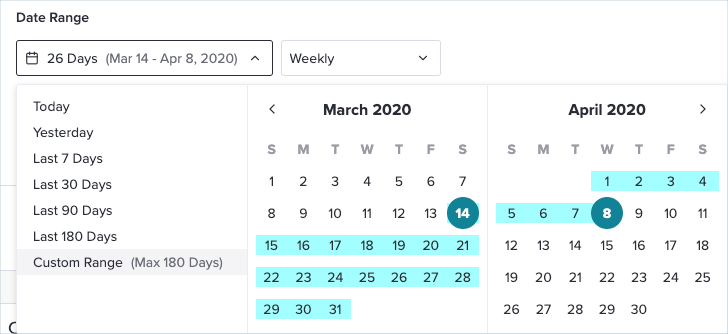 Data Breakdown Options
Hourly - Default one day selection
Daily - Available for 2 - 59 day date ranges
Weekly - Available for 14 - 180 day date ranges
Monthly - Available for 60 - 180 day date ranges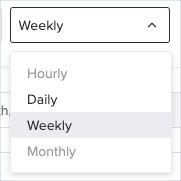 Compare date ranges
Comparing date ranges repeats the query for a different time period and allows you to compare your analysis for the same group at different times in one data visualization.
The second date range must be the same duration and breakdown as the first date range. The default selection is the date range immediately before your first date range.

With the second date range drop down you can select other options.
Previous date range
Same date range from the previous year
Custom date range with the same number of days

Select the start or end date for the data range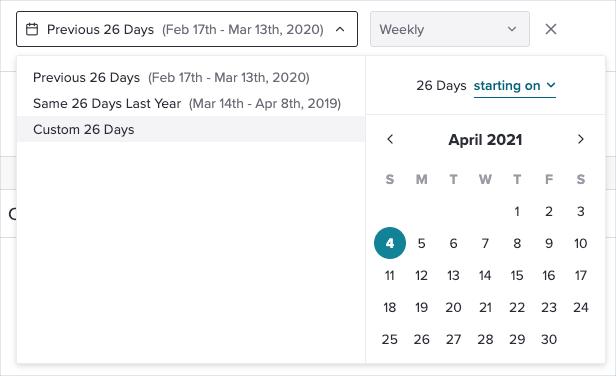 Note: To use Compare Date Ranges, you can use two date sources but only five objects and one segment. If you have too many objects or segments selected, the Compare Date Ranges button are grey.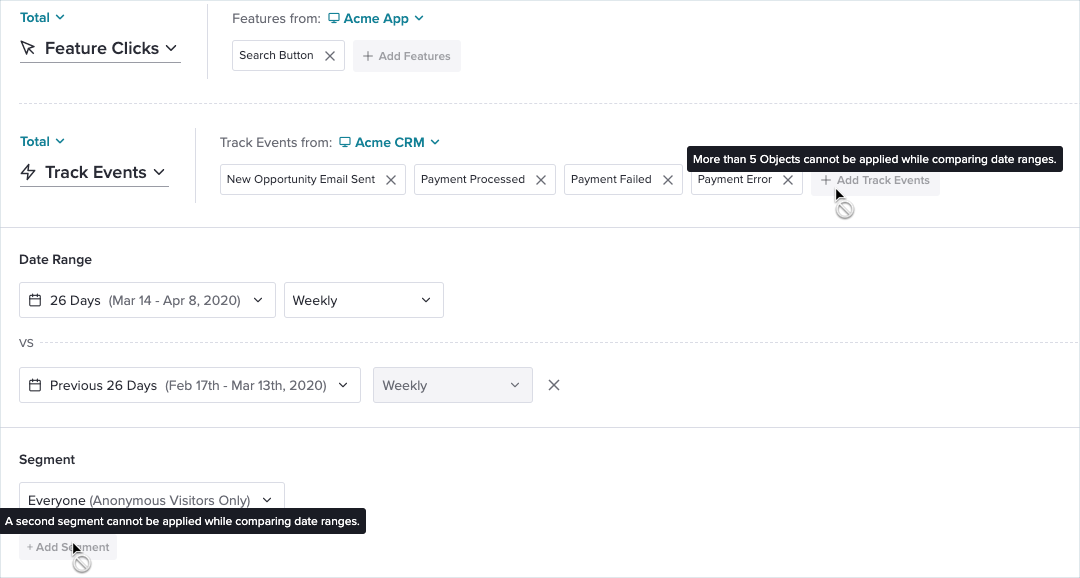 Select segment or multiple segments
Select the Segments to query. The default segment is Everyone. You can create a new or draft segment if needed. A new segment created from the dropdown is added to the list of segments for the subscription. Draft segments are used to create a segment for just this report with the option of saving it to the subscription. They can be modified in the report without saving them to the subscription, similar to custom segments in Guides.

Select Add Segment to select additional segments to compare against. The query is repeated for all additional segments. You can select up to five segments if you have five or fewer data source objects and one date range. If you select more than five objects, you're limited to two Segments.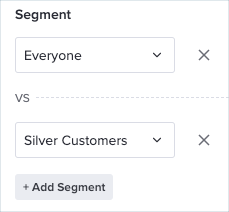 Note: To use Multiple Segments, the query can only use one date range. Queries with more than five Date Source objects cannot use more than two Segments. If you have too many objects or date ranges selected the Add Segment button will be grey.


Create Draft Segment
Draft Segments allow you to build a Segment and run your report without adding a new Segment to the subscription or changing an existing Segment in the subscription. The Draft Segment is saved with the Data Explorer report even if the Segment isn't saved to the Subscription. You can add multiple Draft Segments up to 2 or 5 depending on other selections in the query builder.
1. Click Create Draft Segment to open the Draft Segment builder.

Draft Segment - Default name is Draft Segment A-E for up to five Segments, name can be changed
Use Existing Segment - Closes the Draft Segment and uses the existing Segment dropdown
Save Segment - Saves the Draft Segment to the subscription as a new Segment, name and visibility can be changed prior to saving
Remove - Removes any Segment selection from the query and defaults to Everyone
2. Add Rules to build the Segment. This is the same as building a Segment on the create Segment page.
3. Click Run to run the Data Explorer query with the selected Segment rules. The draft Segment stays open and visible for quick editing.

Select group by metadata
Group By clusters metadata and event property values in the visualization and table. There is no limit to the number of values that can be grouped but metadata must be categorized as string or boolean. Metadata categorized as text, number, date, or list do not appear in the dropdown menu.
Note: Only boolean and string metadata data types with up to 10k unique values will be available to query.
Visitor Metadata - Additional Visitor level metadata and Account ID

Available fields are listed in Data Mapping Settings

Account Metadata - Additional Account level metadata

Available fields are listed in Data Mapping Settings

Event Property - Available if a selected feature click, track event, or page view data source object has associated event properties.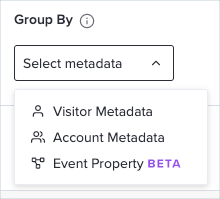 Note: Group By is only available if a single date range and Segment are used. If Compare Date Range or multiple Segments are used the Group By button will be grey.

Note: When applying a Segment and Group by together, all metadata values appear in the table regardless of segment. So, if the metadata value is accountID, then ALL values are shown; however, the values outside the segment display as 0s. Group By returns all possible values of the selected metadata field and includes that in the report even if it doesn't have data within the given constraints.
Run your query
Click Run at the bottom of the Query to run your report and create the data visualization and data table. The report takes a few seconds to process depending on the size of the database and the complexity of the Query. The Run button is grey when the report is complete but unlocks if any changes are made to the Query.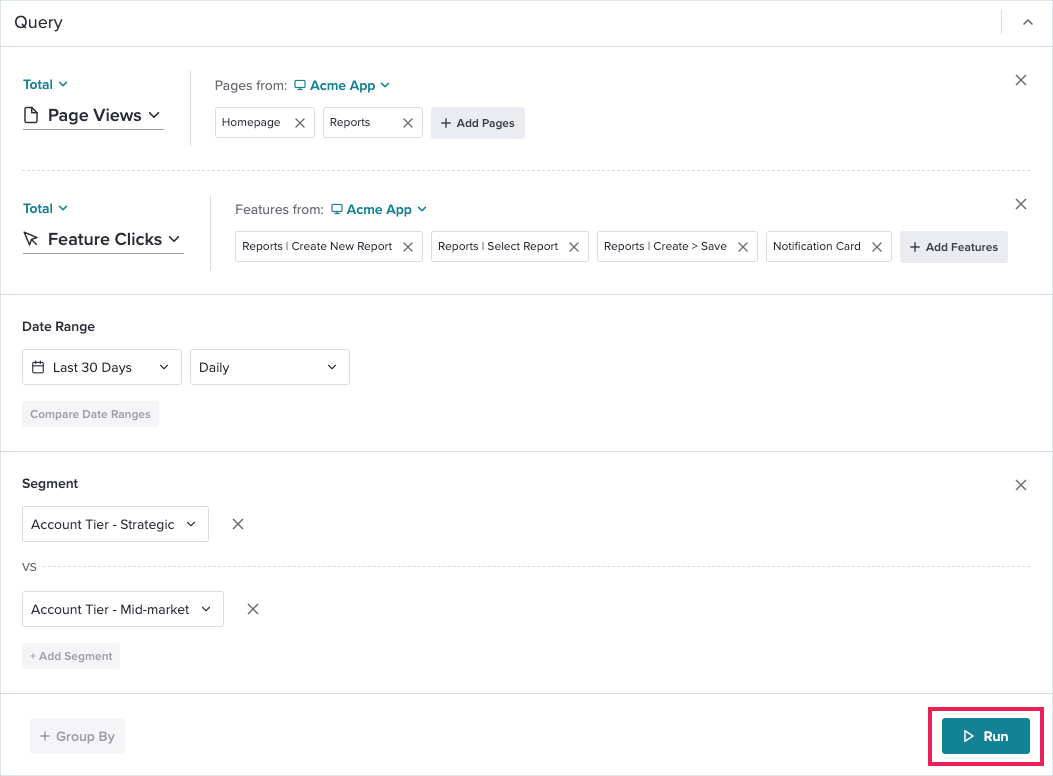 Visualization and side panel
After you run your query, the Chart and Breakdown table appears for you to visualize your data and see the raw data used to generate the chart. The chart has several customization options to change the data visualization. You can also download the chart or raw data. A maximum of 10 rows from the breakdown are visible in the chart at a time.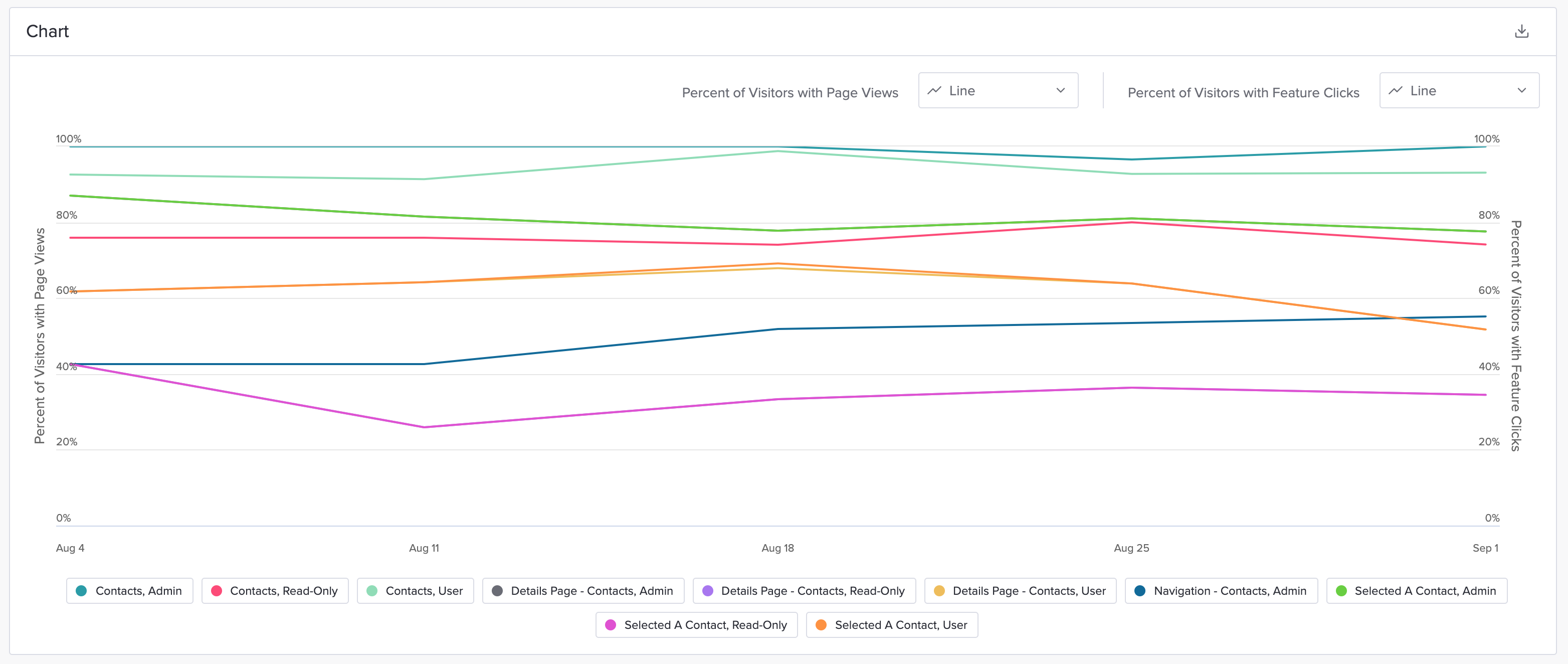 Select the Chart Type you want to use for each of your Data Source Types.
Line
Area
Column
Bar
Donut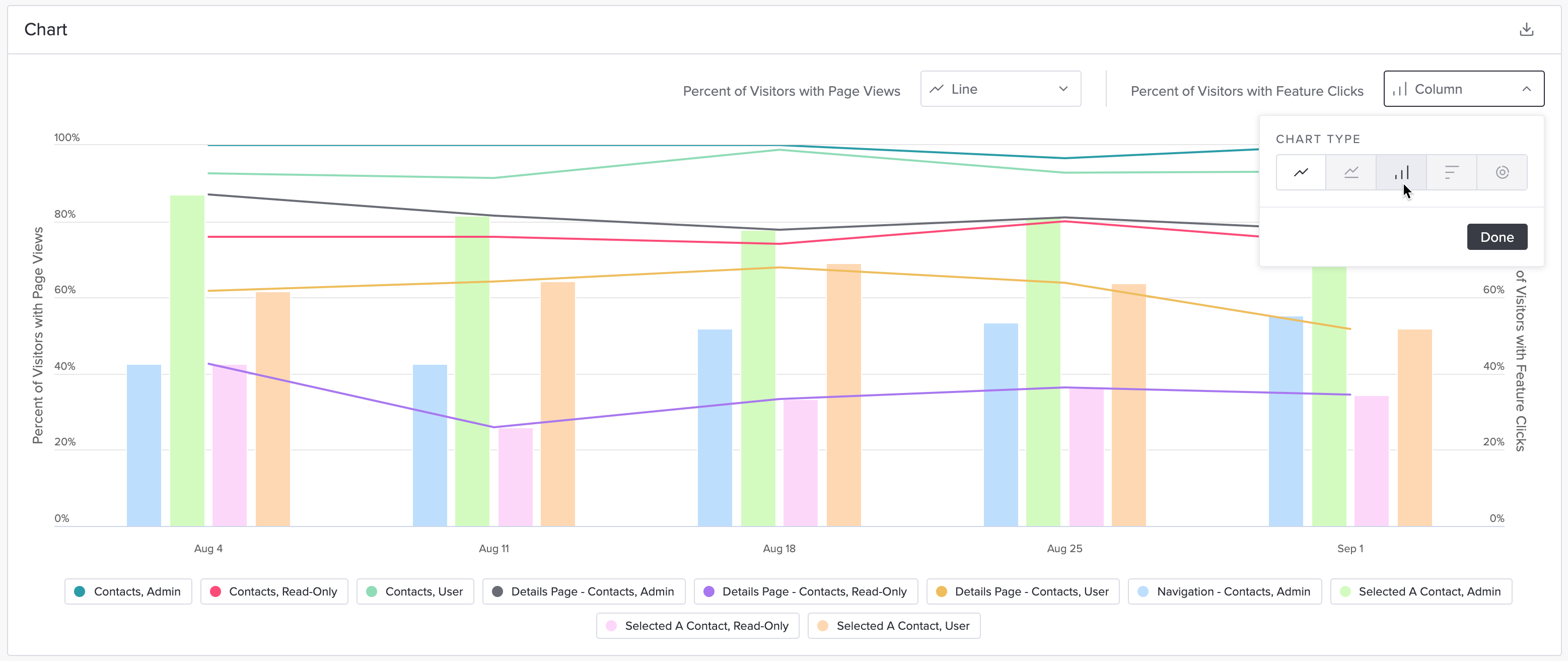 The left and right Y-axis correspond to a Data Source. You may be able to match the Y-axis scale using Chart Options if your Query includes two Data Sources (Page Views, Feature Click, Track Events, Guide Views) that use the exact same Measure (Total, Average, Median, Number of Accounts, Number of Visitors, Percent of Accounts, Number of Visitors),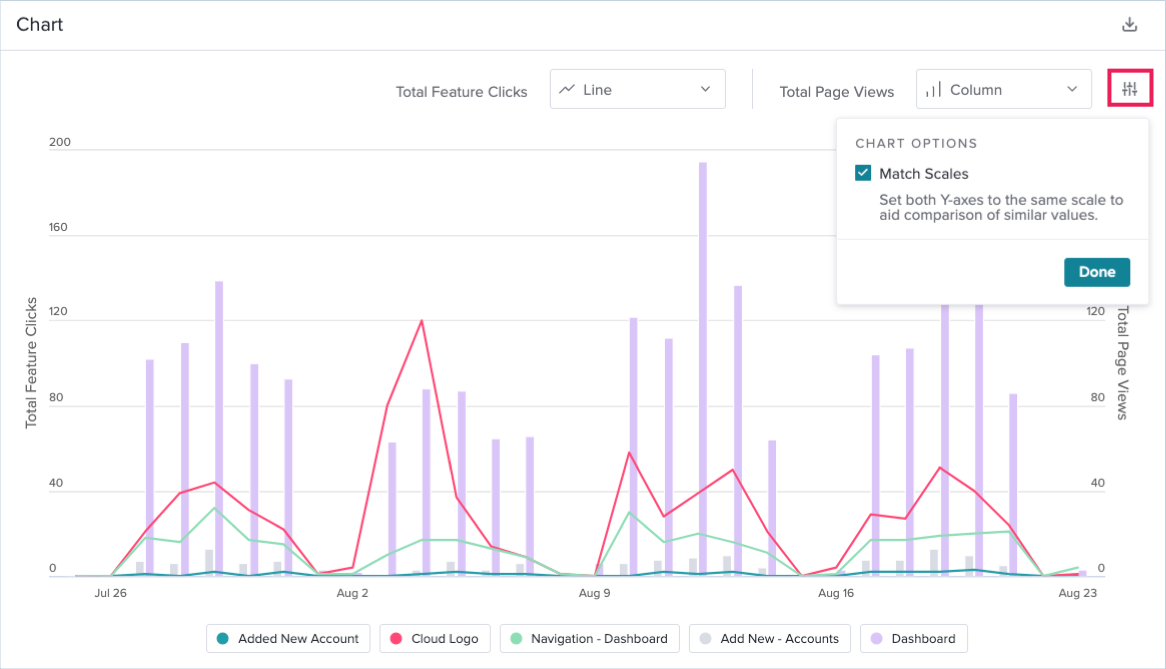 Hover over a data point to see additional information.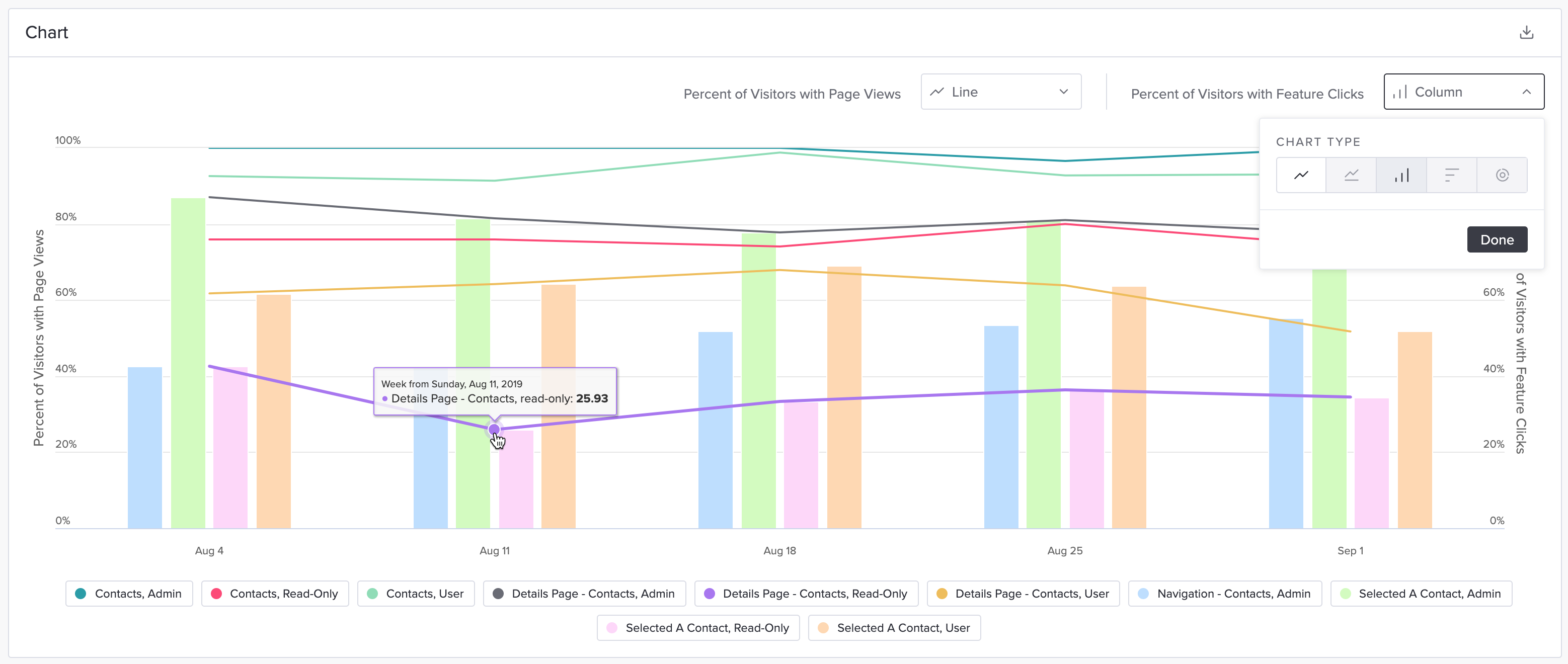 Click on a data point to open the side panel which displays all Visitors or Accounts included in the quantity of that specific data point. The side panel shows data by Visitor ID or Account ID by default.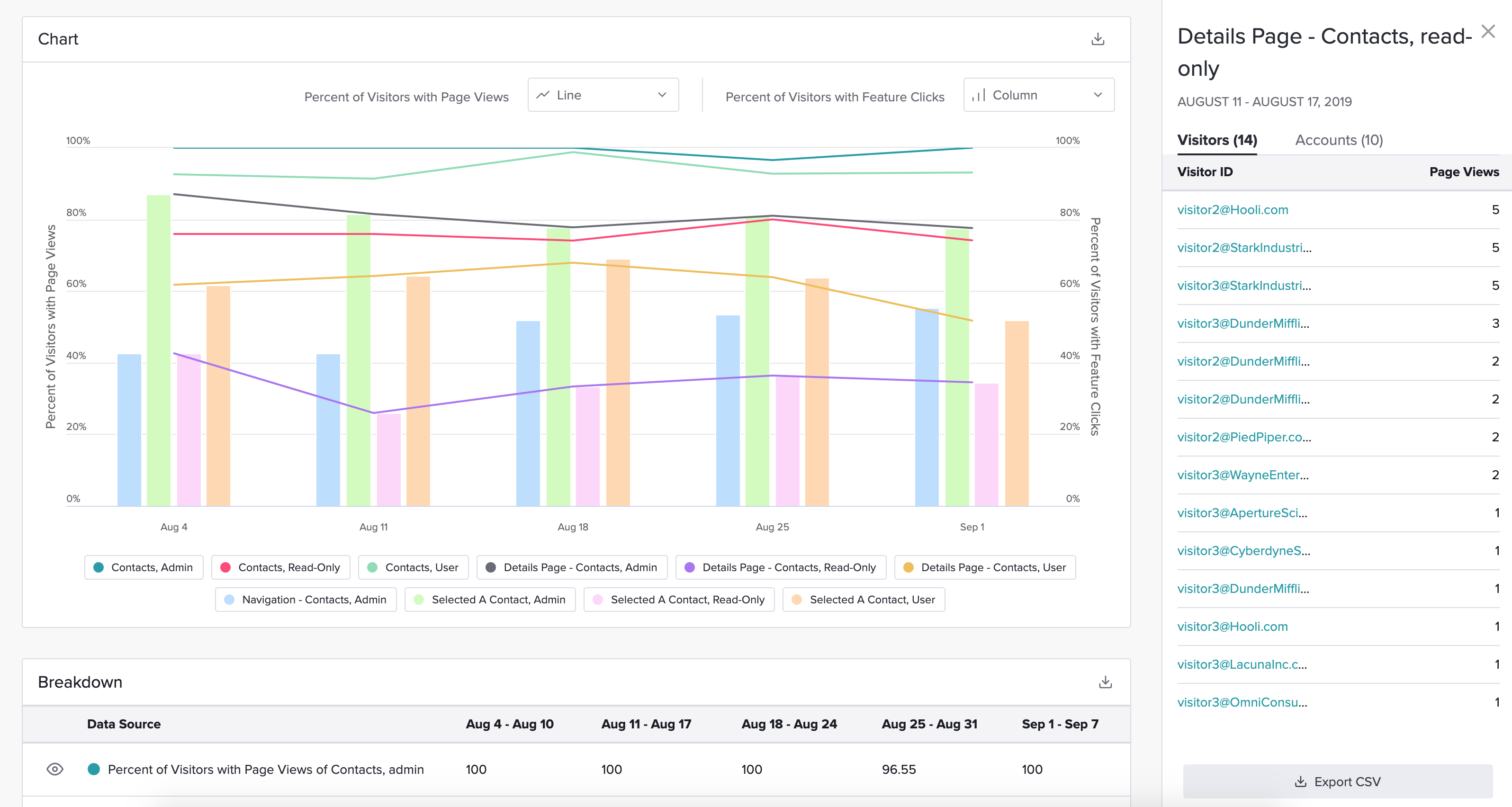 Export a Comma-Separated Value (CSV) file of the side panel data with any additional metadata fields that you would like to include.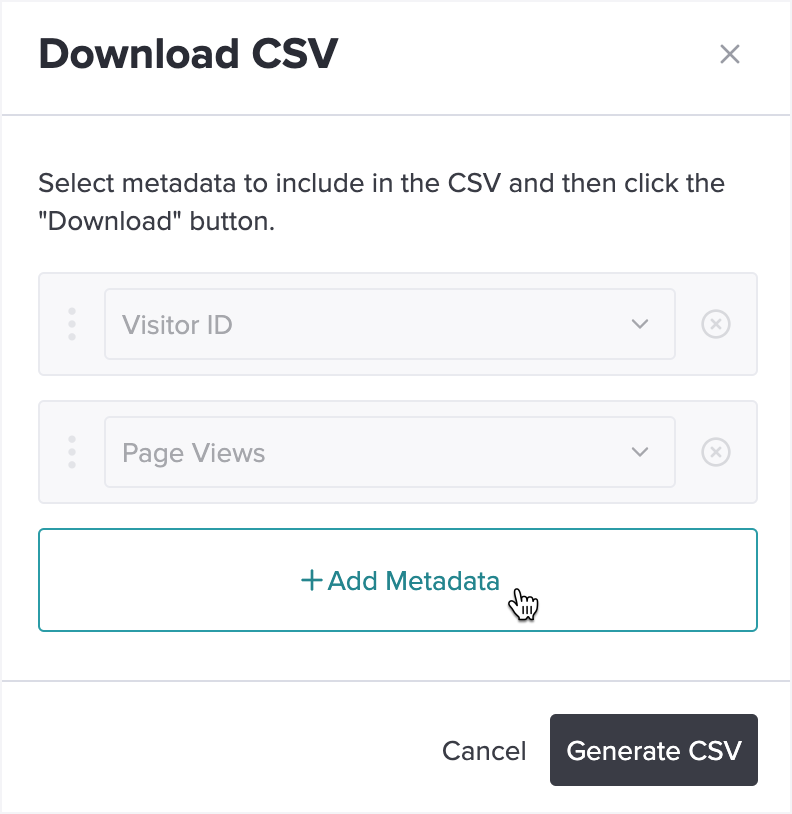 Click Change Metadata to substitute the metadata you want to see in the side panel from Visitor or Account ID to any other available text-based Visitor or Account metadata. This substitutes the Visitor ID or Account ID with the new value and does not recalculate the data or quantities (Feature Clicks, Page Views, etc.) displayed in the side panel. This setting sticks until the report is closed or the metadata field is changed.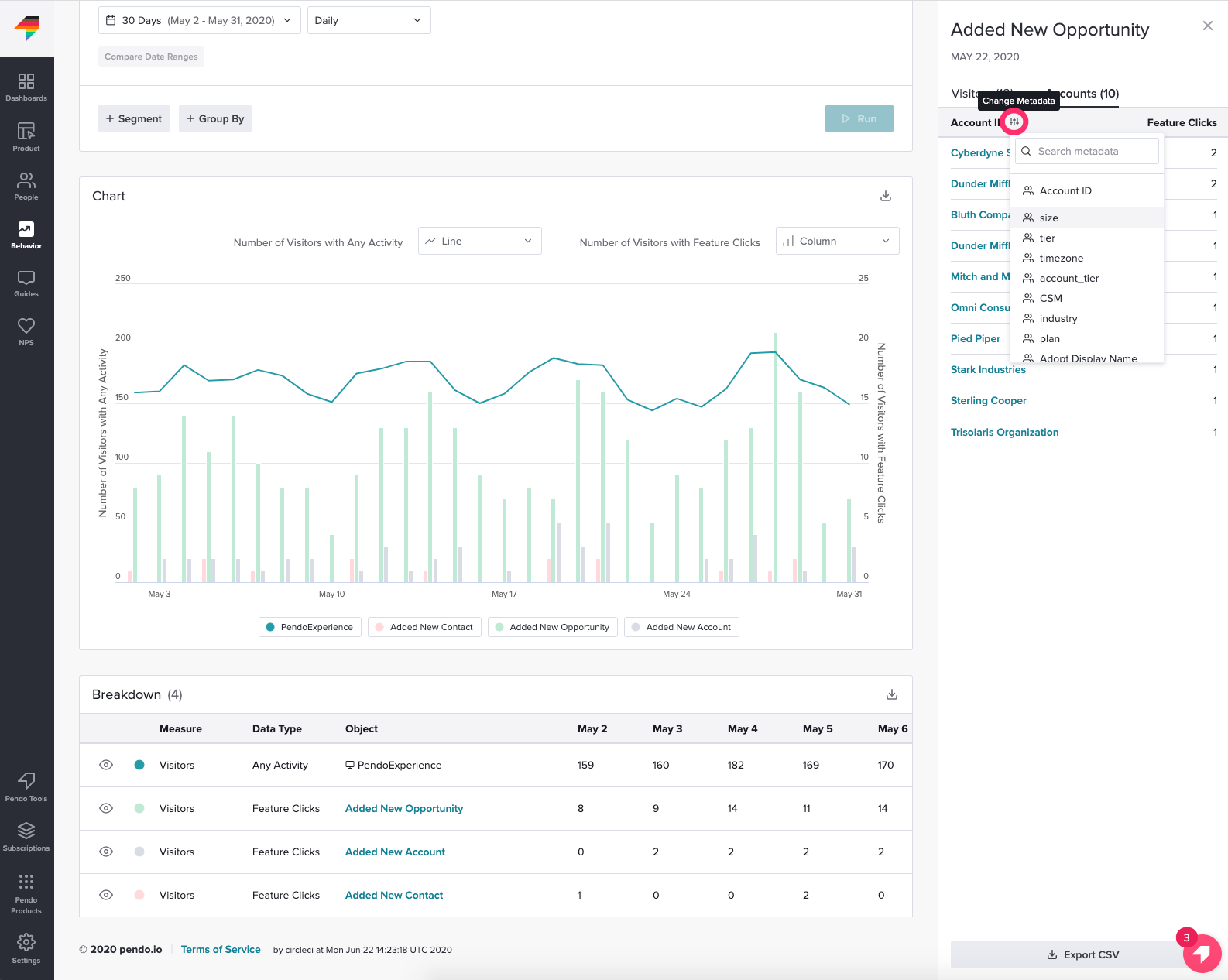 Hover over a label to highlight the associated data in the Chart.
Download the Chart as a PNG image file by clicking the Download button on the Chart.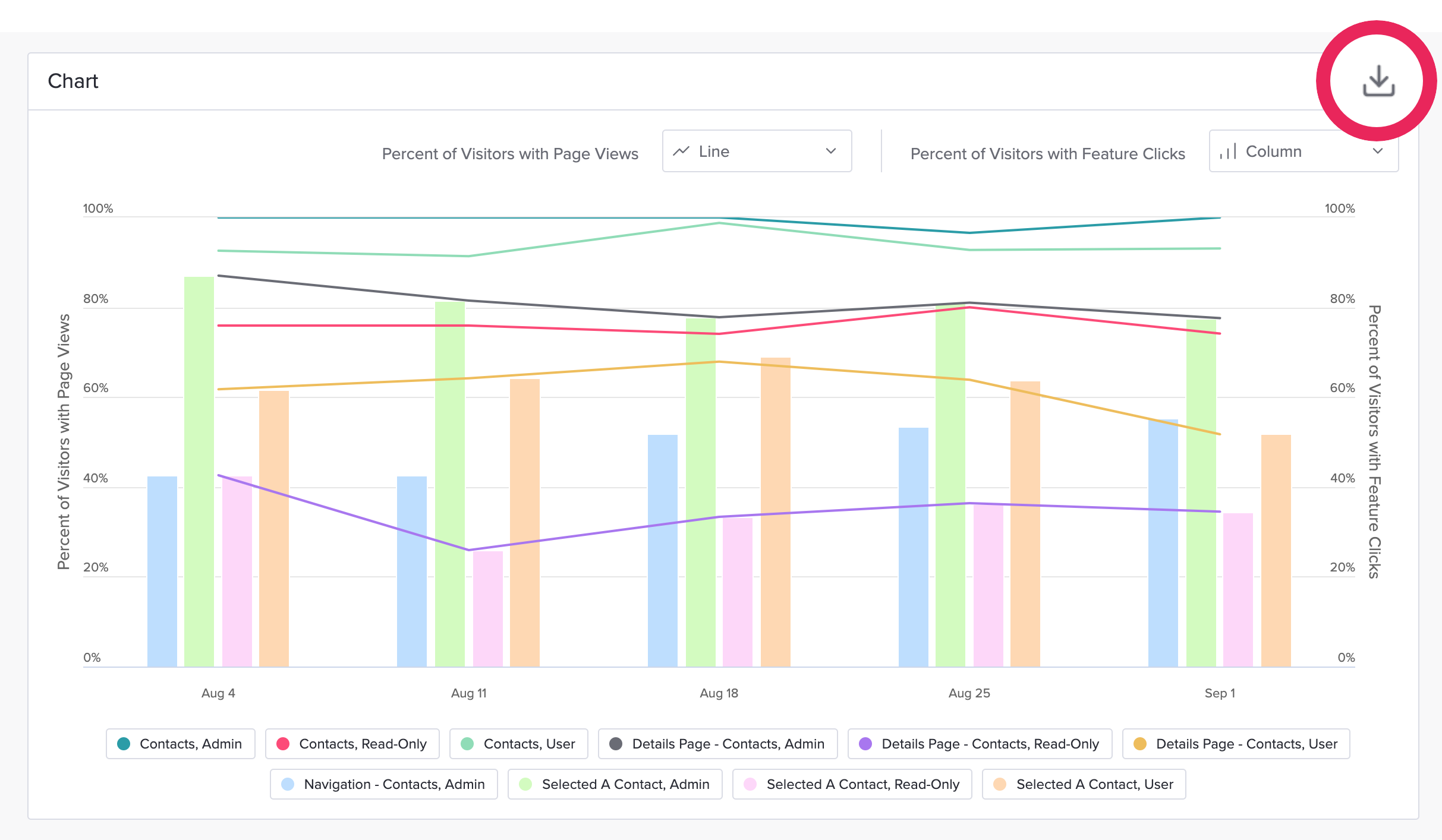 Breakdown table
The Breakdown table that summarizes your data is below the Chart. All possible values and quantities are shown in raw data, including empty fields.

The Eye indicates which rows display in the Chart or not. 10 rows can be displayed in the Chart at a time. If 10 rows are visible, a row must be hidden before a new row can be selected.

Note: Data sources without any data to display will be hidden from visualization automatically. Click on the eye to show data with no value in the Chart.
Export the full table as a CSV by clicking the Download button on the Breakdown table.

Group By and Segment Interactions
When using Segments and Group By, the Breakdown table returns all possible values of your selected Group By metadata and filters the quantities by Segment. Group By first builds the rows of the table from metadata and the query data is filtered using the Segment to return the number of results.
Example - Group By with Account metadata "plan" and Segment "Gold Customers"
Group By builds the Breakdown table with all metadata values, in this case gold, silver, bronze, and none. The Segment filters anyone who doesn't have "gold" in the "plan" metadata field and does not include those values. The Breakdown table shows rows for all Group By metadata values but only the row for "gold plans" shows data due to the Segment.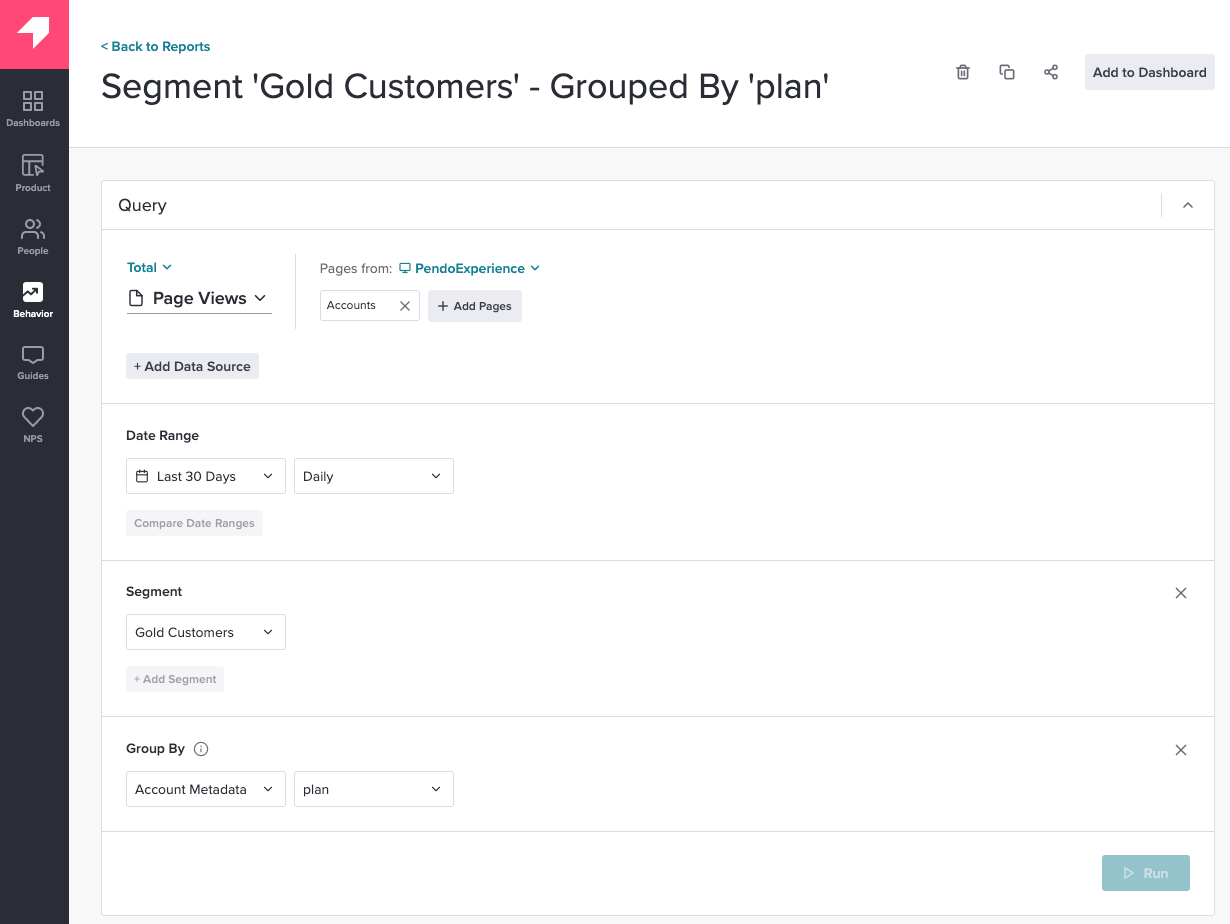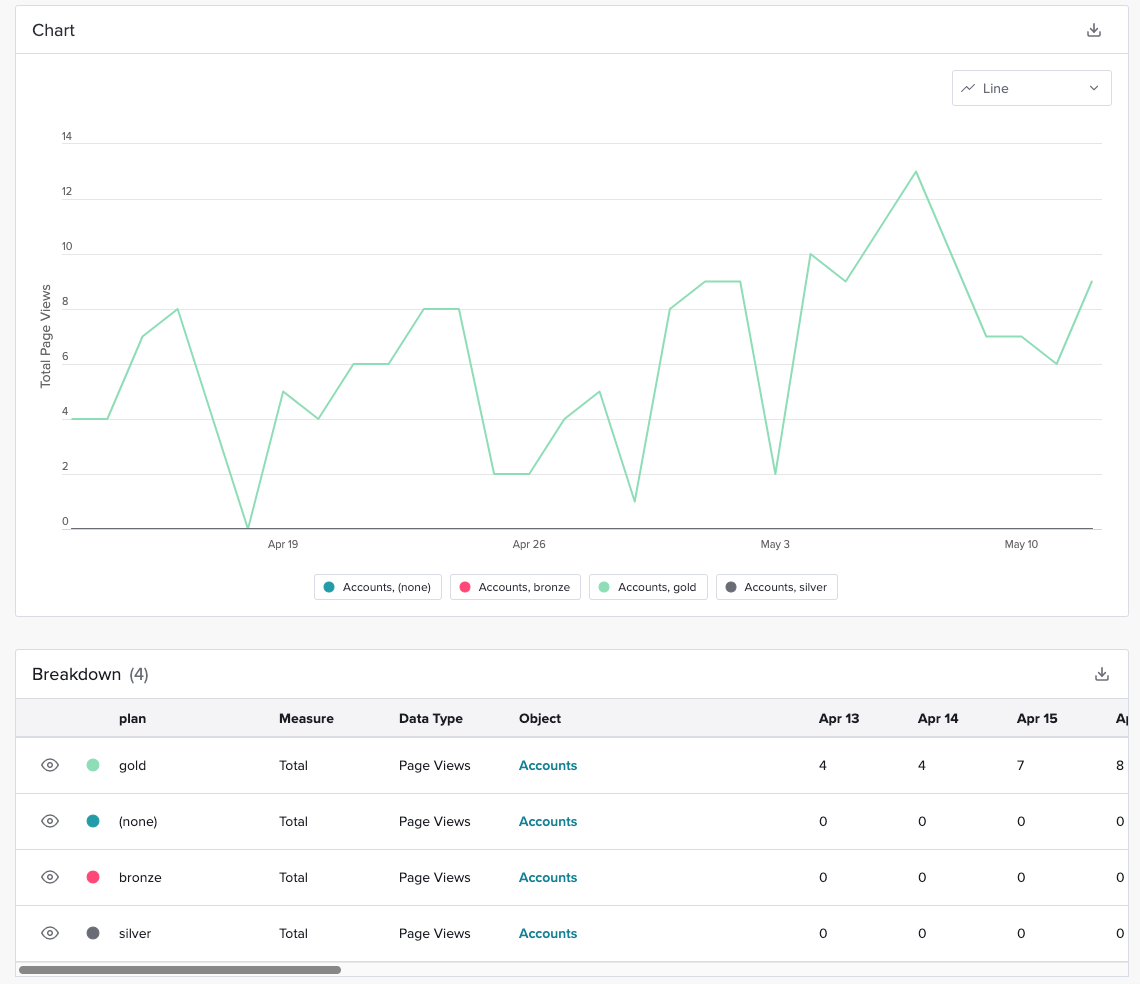 Save your report
Save the report to access the Query again later. This is helpful for rerunning or sharing the report. Reports that aren't saved are lost as soon as you exit Data Explorer.
Select Save to open the Save Report form.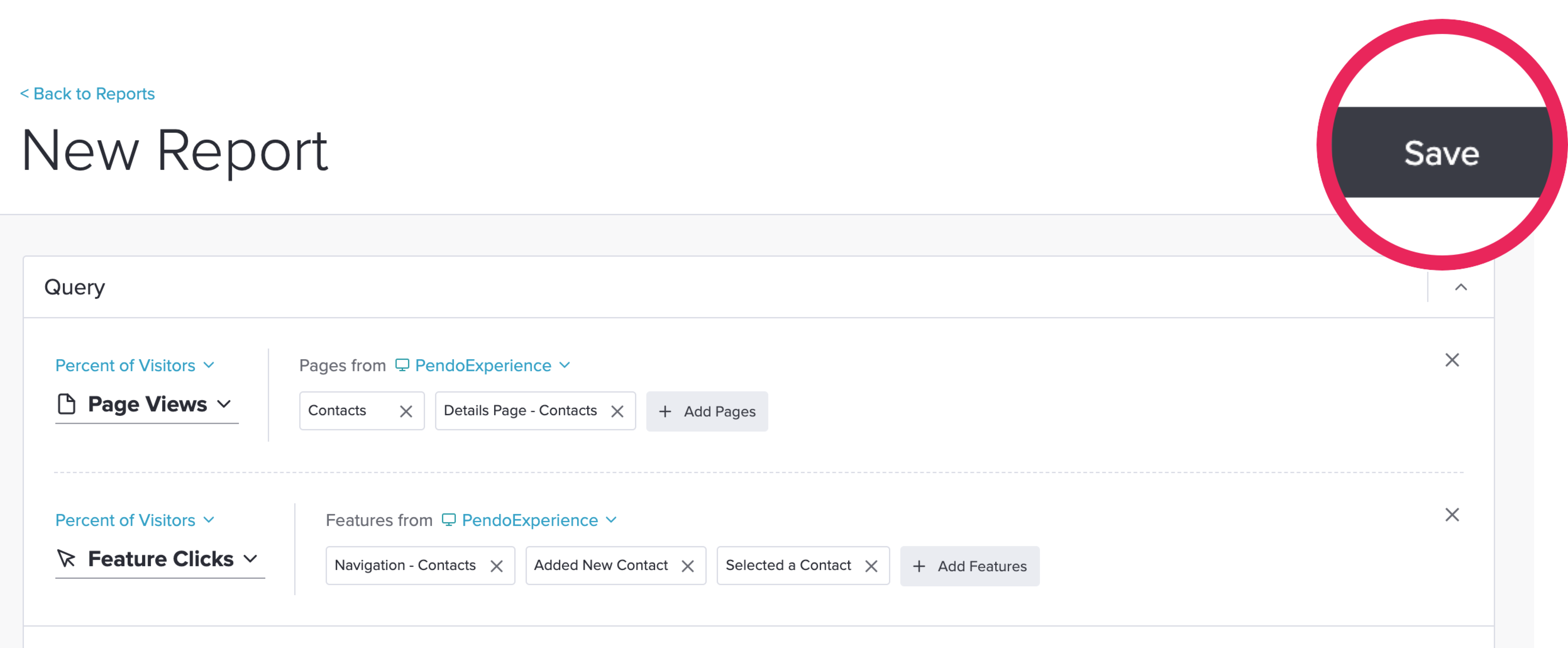 Name the report and choose the Visibility.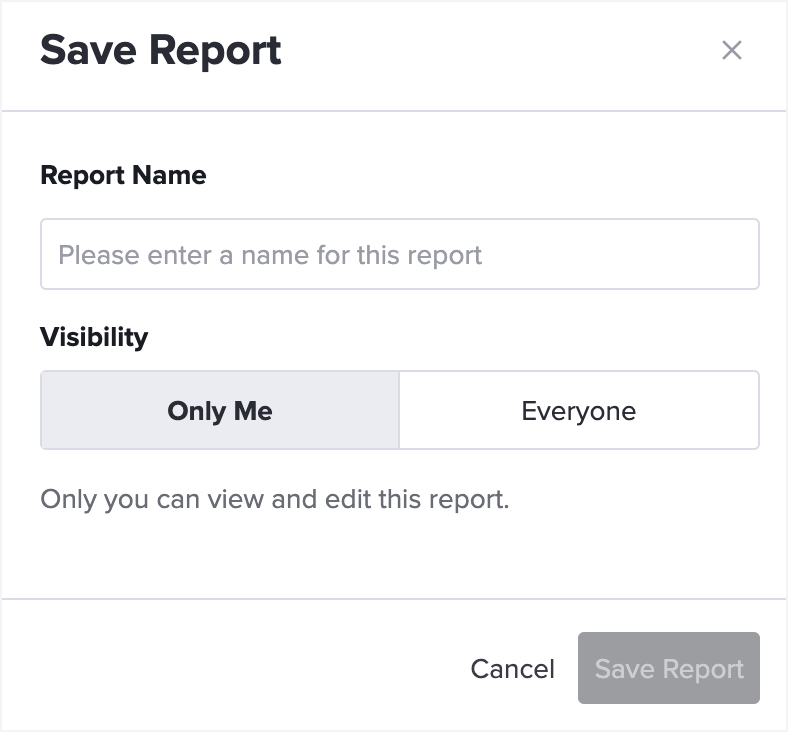 Select Save Report to add the report to Saved Reports for the subscription. Saved Reports are accessed in the Behavior Section.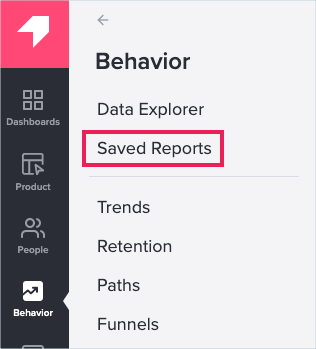 Saved reports
After you save your report, you are taken to the Saved Reports page.

Filter the list by changing the dropdown option from Created by anyone to Created by me or search the list.