Overview
Data Explorer empowers you to analyze insights, create visualizations and reports using any of your product data in a central location. This allows you to quickly uncover usage trends and patterns, then utilize these insights to make iterative improvements to your product — all within a single platform.
Requirements
Any user can build and save reports in Data Explorer except for read-only users.
Get Started
To navigate to Data Explorer, click on "Behavior" and then select "Data Explorer" in the main navigation.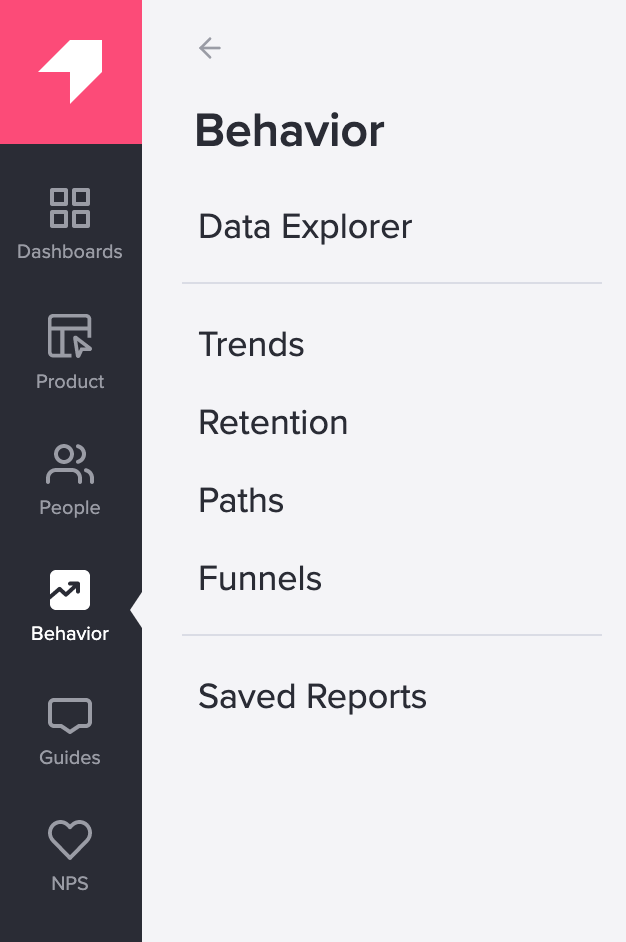 Then, you'll see a "New Report" builder so you can get started.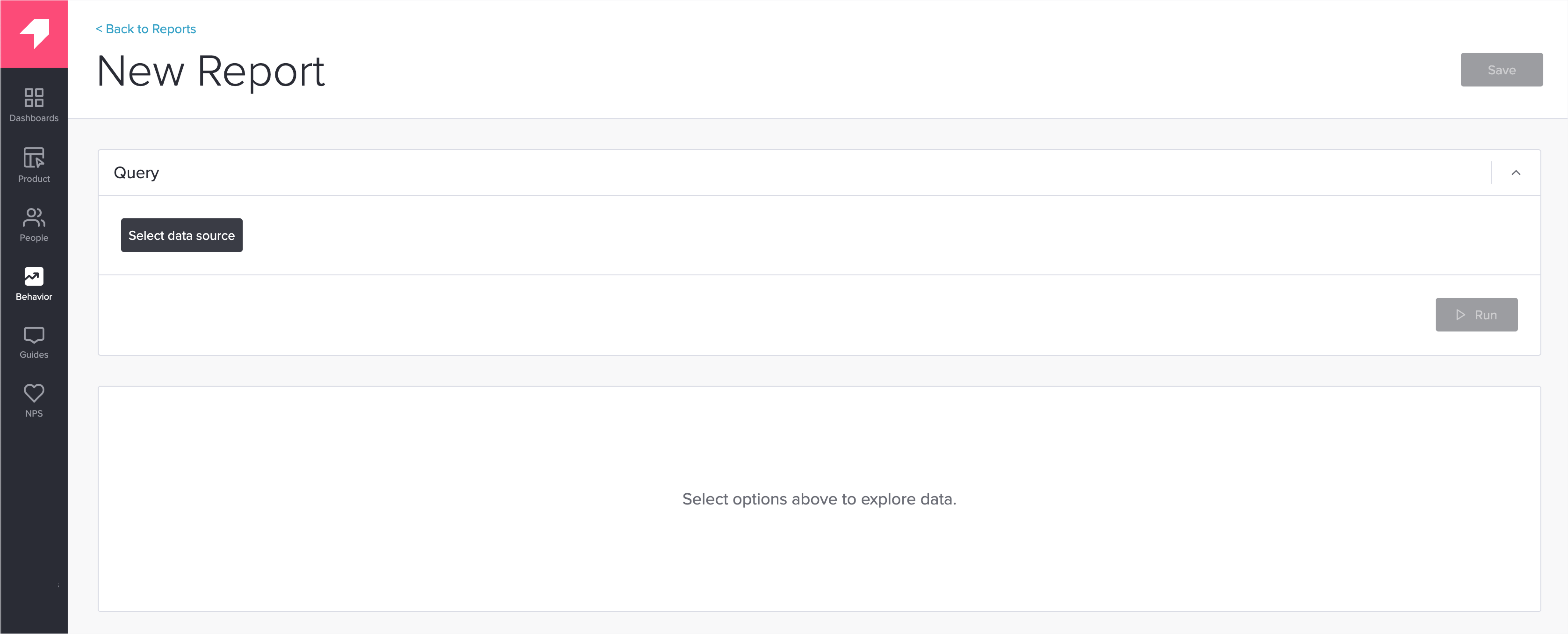 Data Explorer is essentially made up of 3 parts:
Query
Visualization
Breakdown Table
Query
In this section, you will build query by choosing up to 2 data source types. Data sources options include:
Any Activity (any Visitors/Accounts who had any activity your application)
Page Views
Feature Clicks
Track Events
Guide Views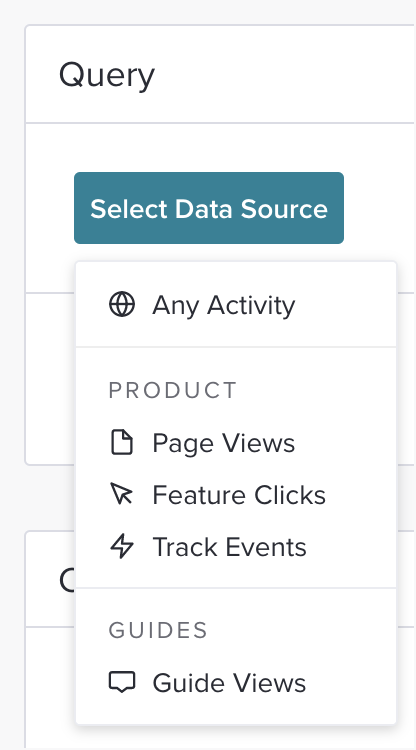 Next, choose how you want to measure these sources:
Total - This includes all events
Average - This measurement will calculate the average view, click or event based on your data source.
Median - This measurement will calculate the median view, click or event based on your data source.
Number of Visitors or Accounts - This includes all unique visitors or accounts
Percent of Visitors or Accounts - This includes all unique visitors or accounts
Note: Any Activity is limited to use number of visitors/accounts measure options. If you have multiple applications, choose up to 5 apps.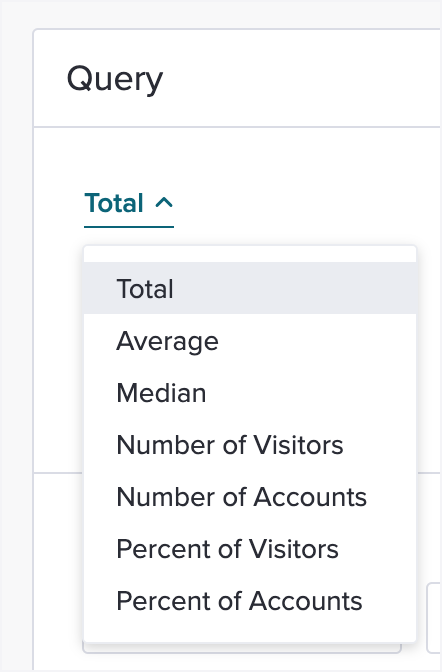 If you have multiple applications within your Pendo Subscription, choose your app. Then you can choose up to 5 "Objects" at a time:

Note: For multi-app customers, you can only choose one app for each Data Source.
Next, add your second Data Source as desired. Your finished data sources might look something like this:

Date Range Presets
Choose the date range of this data from a preset dropdown of options:
Today

Yesterday

Last 7 days

Last 30 days

Last 90 days

Last 180 days

Custom Date Range (Max 180 days)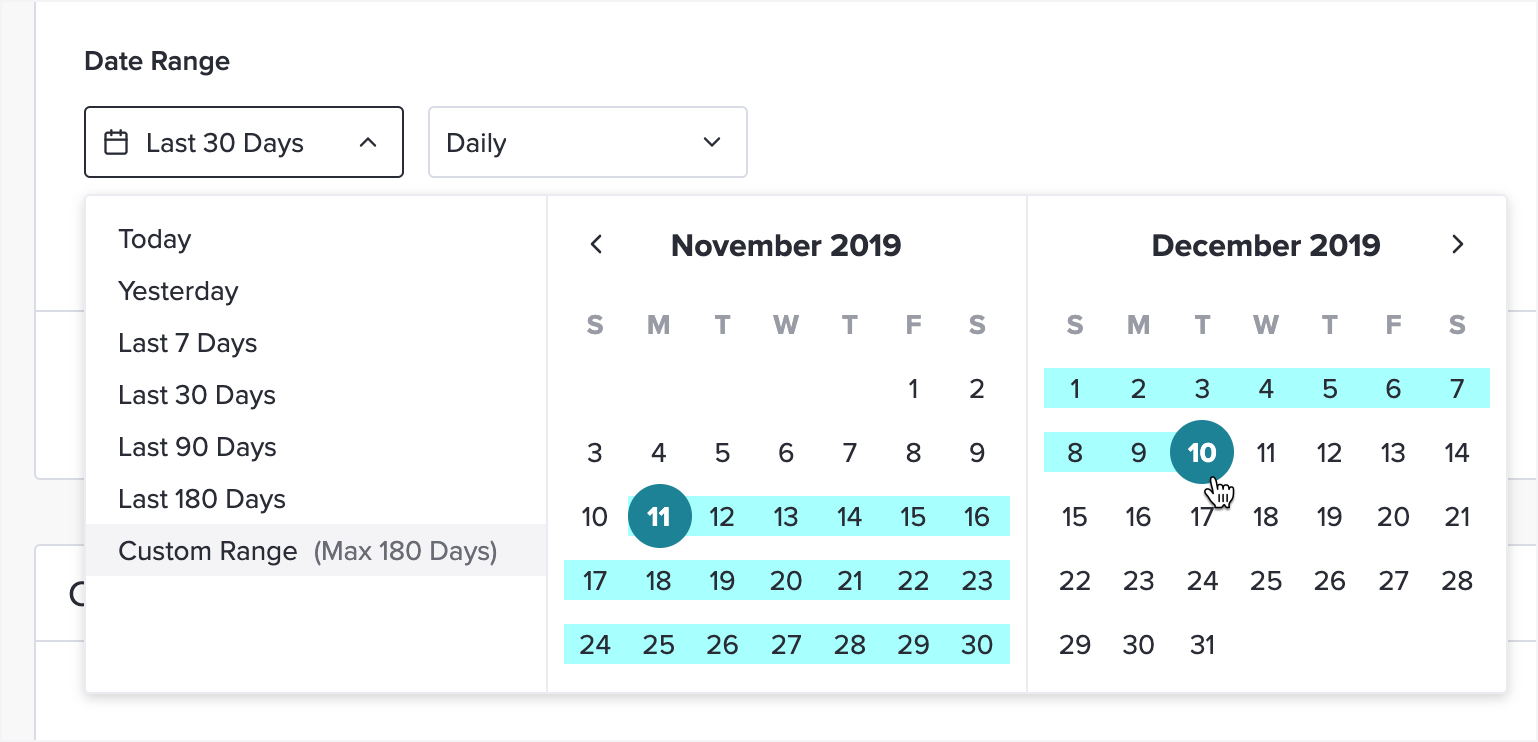 Then, choose the data breakdown within that time period: hourly, daily, weekly or monthly.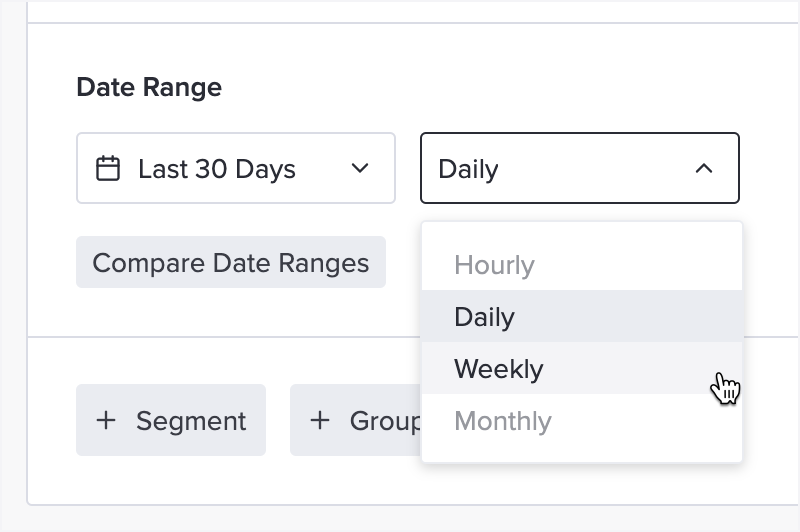 You may notice that some options are greyed out. Depending on what preset date range you're choosing from, the frequency may be to large or too small to represent within your visualization. The following options are available in these date range presets:
Today: Hourly

Yesterday: Hourly

Last 7 days: Daily

Last 30 days: Daily / Weekly

Last 90 days: Weekly / Monthly

Last 180 days: Weekly / Monthly

Custom Date Ranges will show you the same options based on
Compare Date Ranges
To do this, choose "Compare Date Ranges" button under the date range dropdown. You will see the previous date range with the same number of days auto-selected for you:

If you choose the date range dropdown, you will see that you can choose another option:
Same date range from the previous year
Custom date range with the same number of days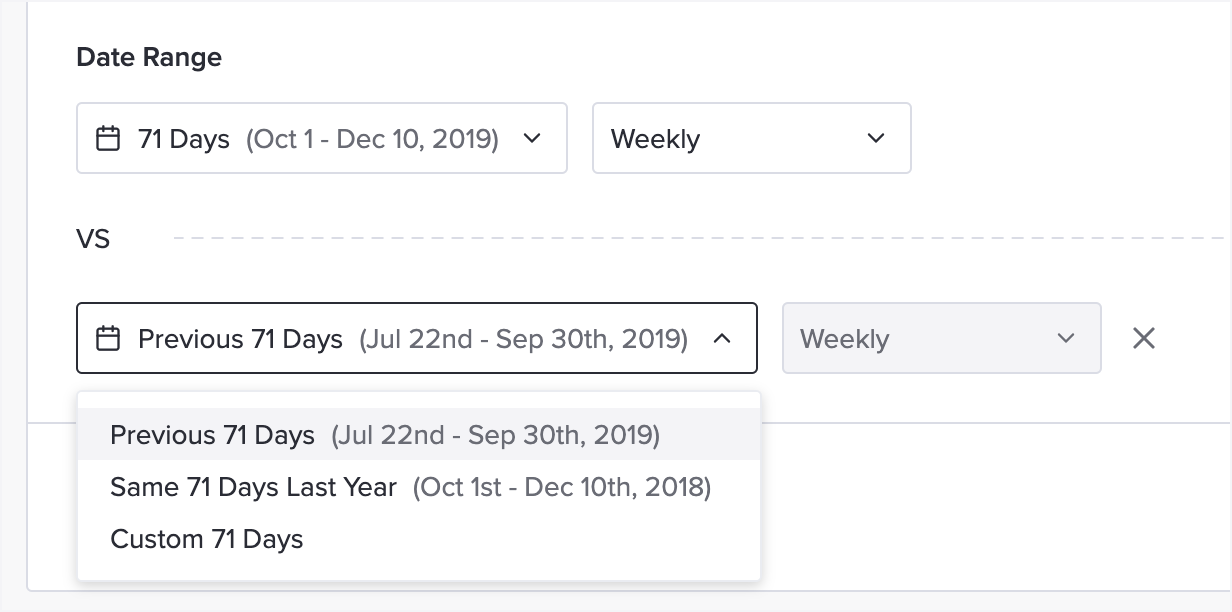 If you choose the custom option, you can choose a date starting on or ending on a particular date so Pendo can auto calculate your date range for you: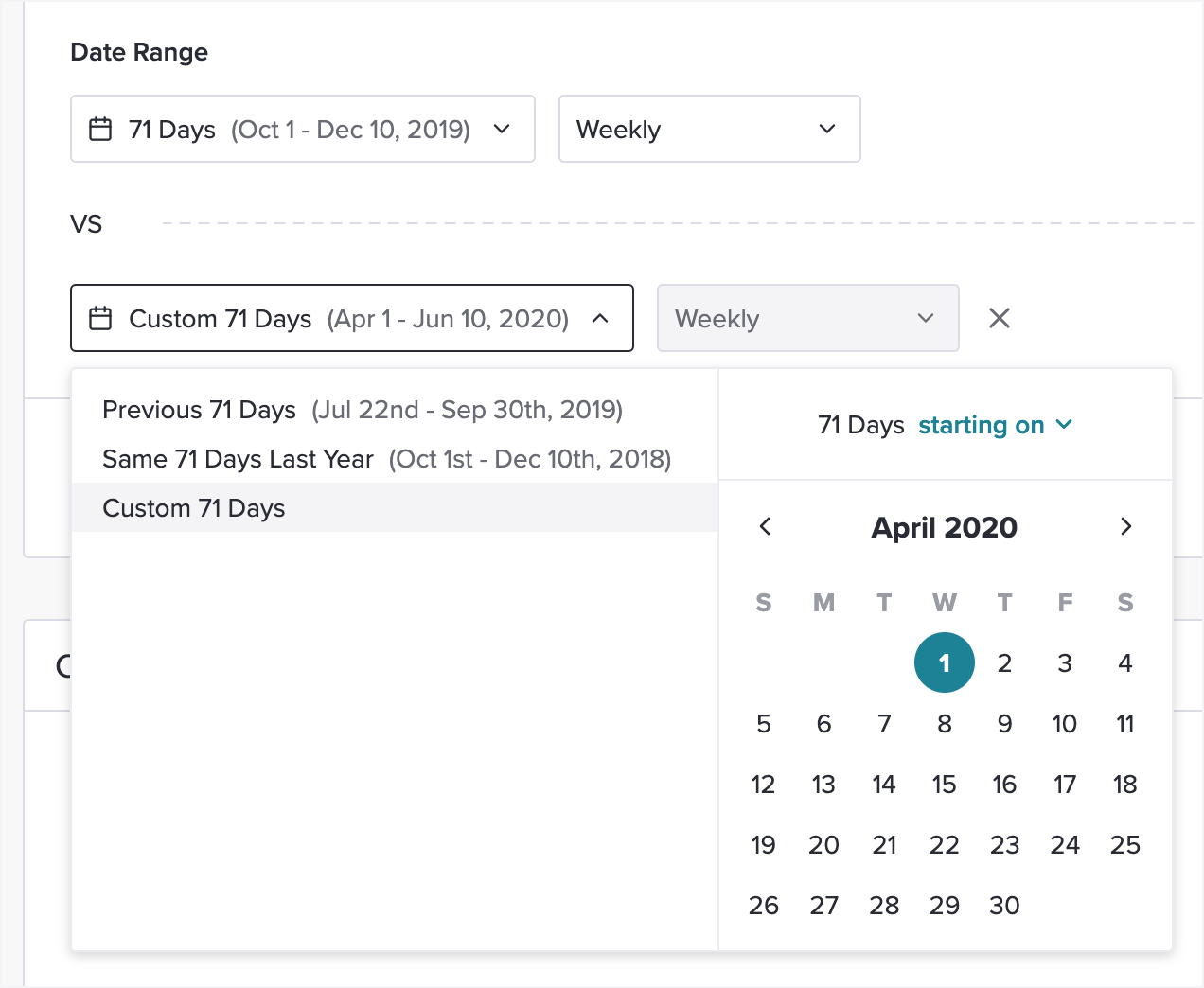 Note: If you choose to compare data ranges, you're doubling your data sources so choosing a second data source, choosing more than 1 segment, and group by options are greyed out.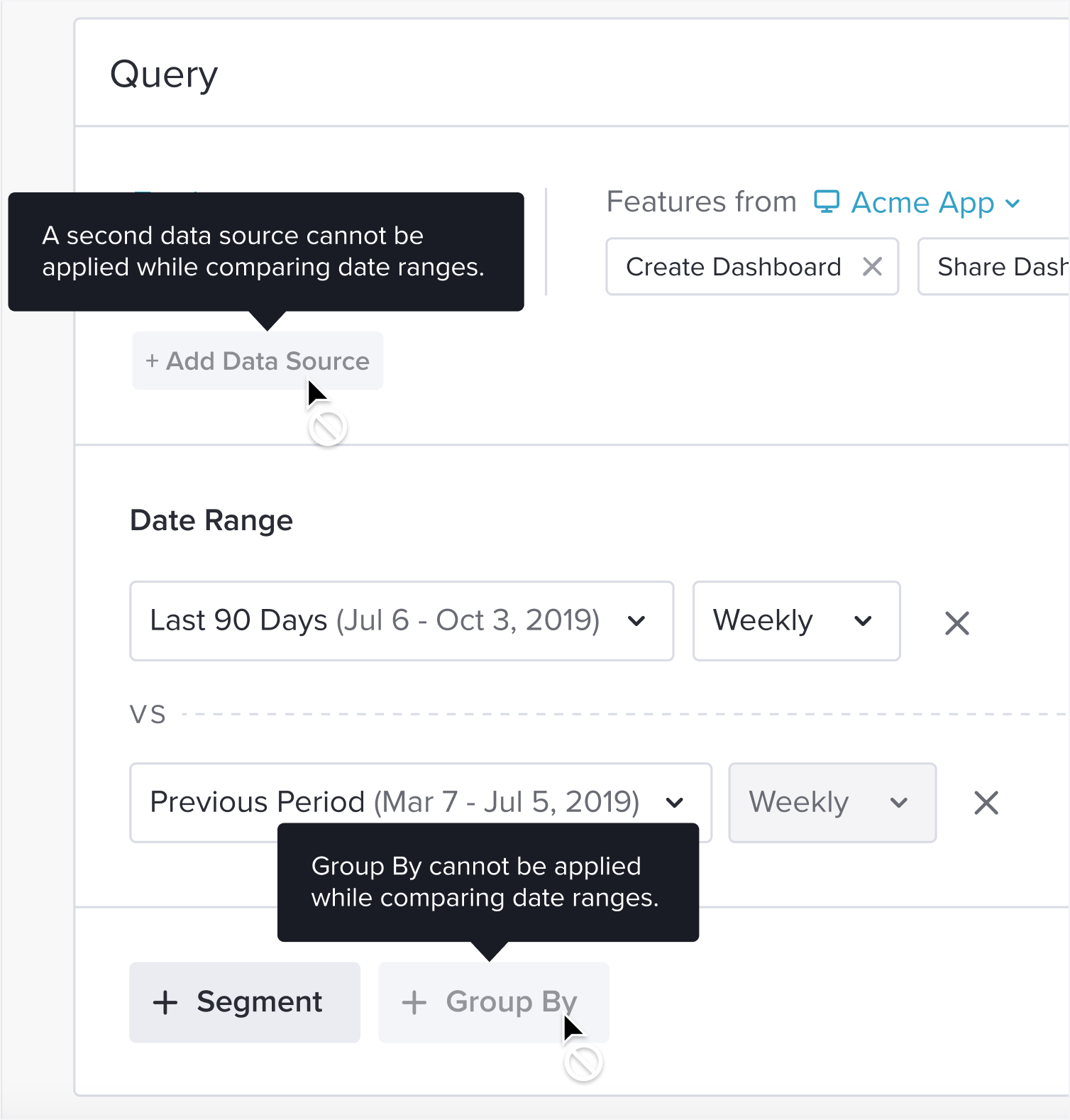 Segment
Choose who you want to include in your dataset by selecting or creating a custom segment: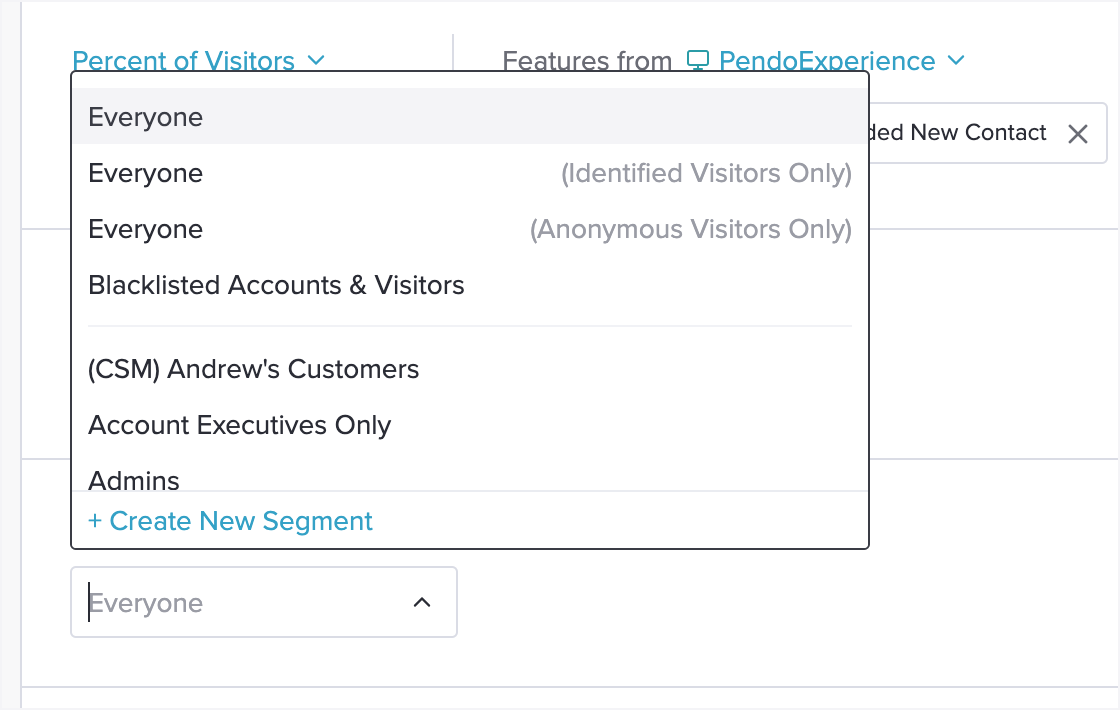 If you need, you can choose multiple segments to compare the data by segment as needed: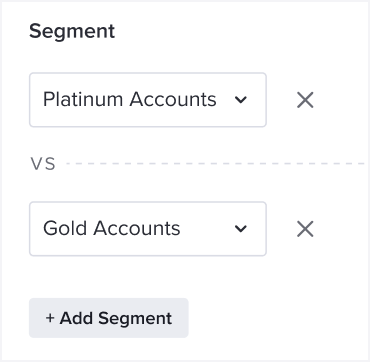 Group By
After choosing your segment, choose how you would like to "Group" your users by selecting Visitor or Account Metadata, or Event Property: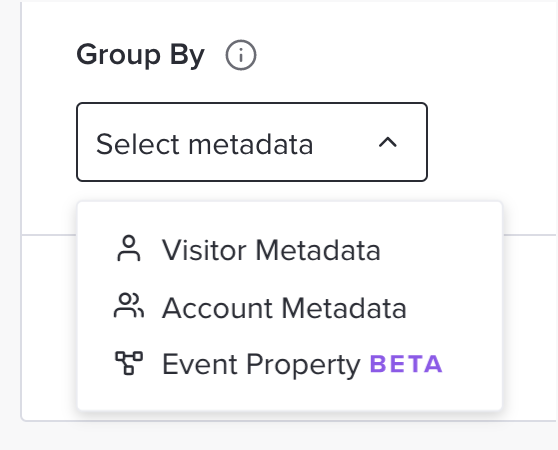 Note: Event Property option will be available if you chose a "Feature Click" or "Track Event" data source that have Event Properties associated with them. "Group By" Event Properties in Data Explorer is currently limited to properties categorized as Strings. We will be adding support for Event Properties that are categorized as Numbers, Boolean and Time/Date in future releases.
Then, select the specific type you'd like to use. For example, you could choose "role" so you can see the different persona or department roles for your Visitors:

Note: The group by option is limited to metadata fields that have less than 200 different possible values. Fields that have more than 200 possible values will not appear in the dropdown as a group by option. Additionally, if you choose multiple segments, Group By option is greyed out.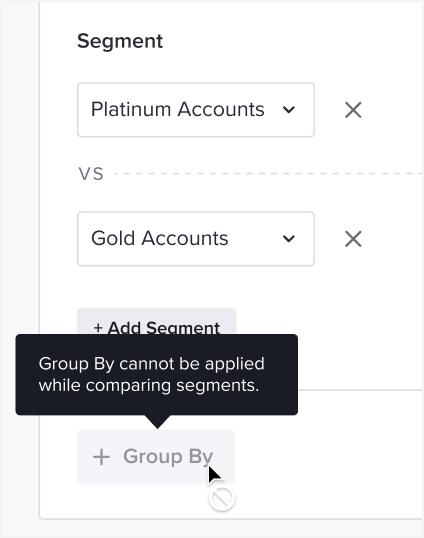 Once you're ready, click on the "Run" button at the bottom of your Query Builder to see your visualization: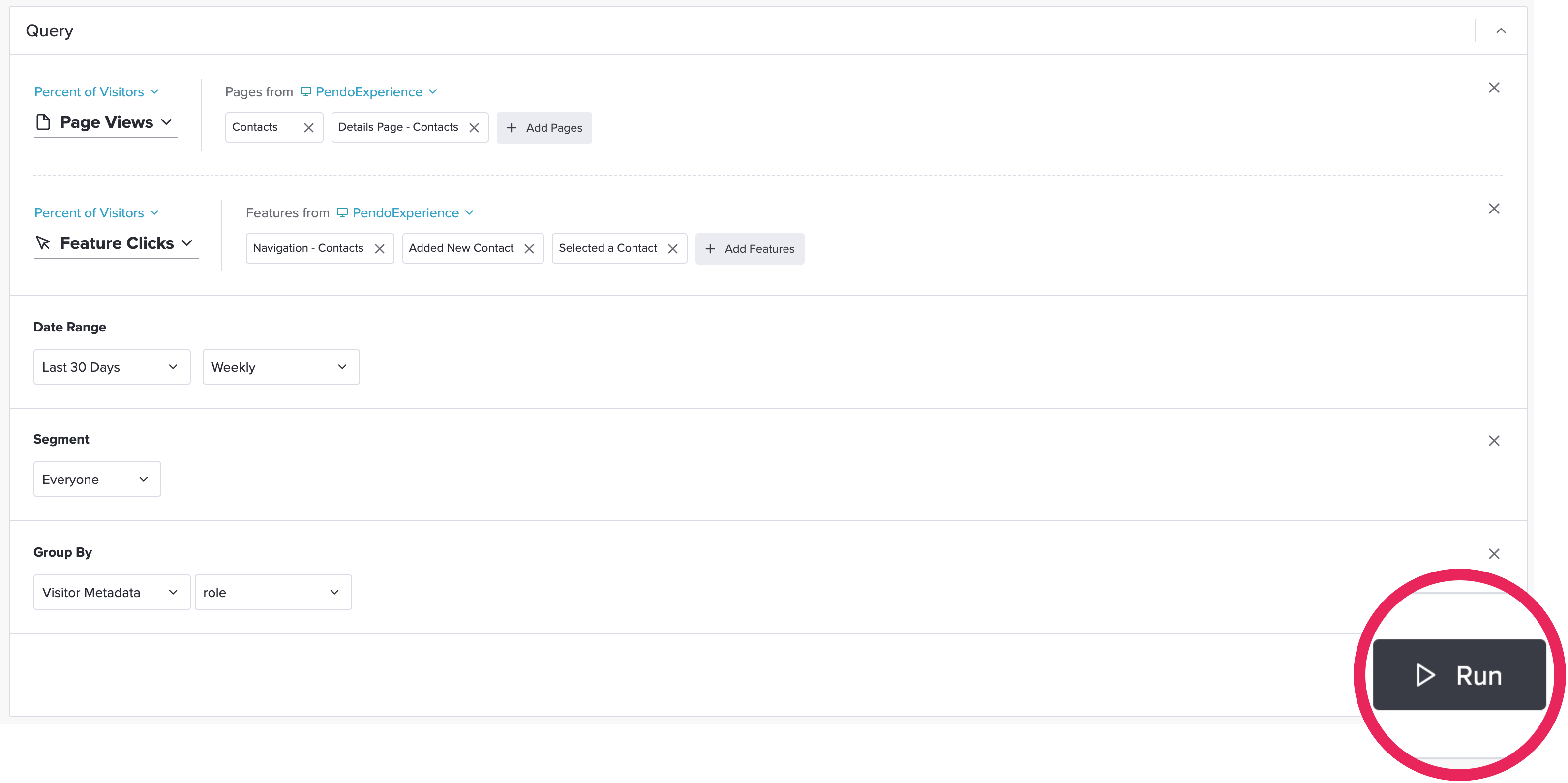 Note: When using "Segments" and "Group By" - we will return all of your potential values of your selected "Group By" metadata (Visitor, Account, or Event Property). The concept is that "Group By" is first building your rows of data to be returned in the Data Explorer report, and then we filter out the values from those rows using the Segments applied. Below is an illustration of this in practice.
Group By and Segment Interactions
"Group By" with Account metadata 'plan' where the potential values of 'plan' are:
1. Gold
2. Silver
3. Bronze
4. (none)

If you add a "Segment" of 'Gold Customers' - with that Segment to only select Accounts where 'plan' is equal to 'Gold', then you will still see the other 'plan' results of Silver, Bronze, and (none) as rows in your query, but the values for the non-Gold customers will be show as zeroes due to the Segment applied.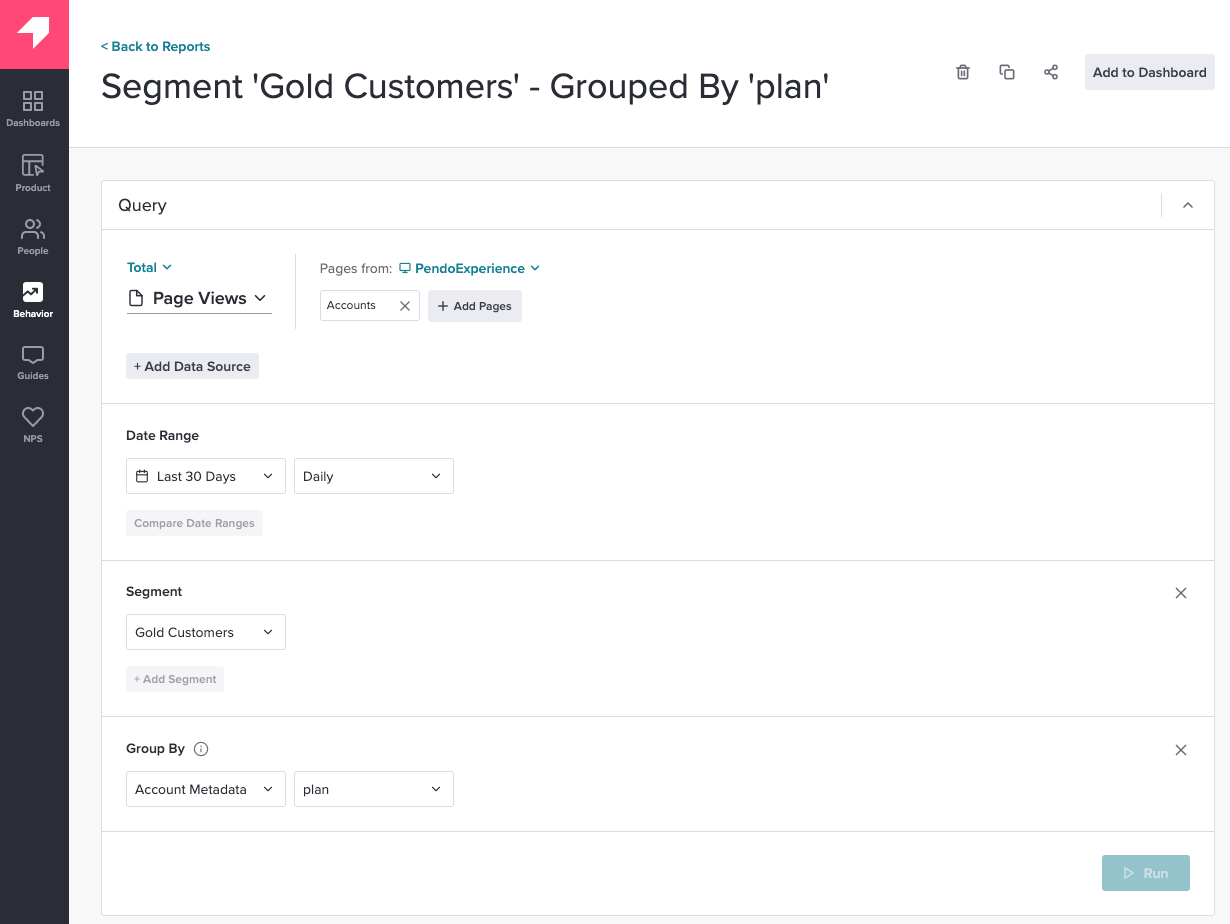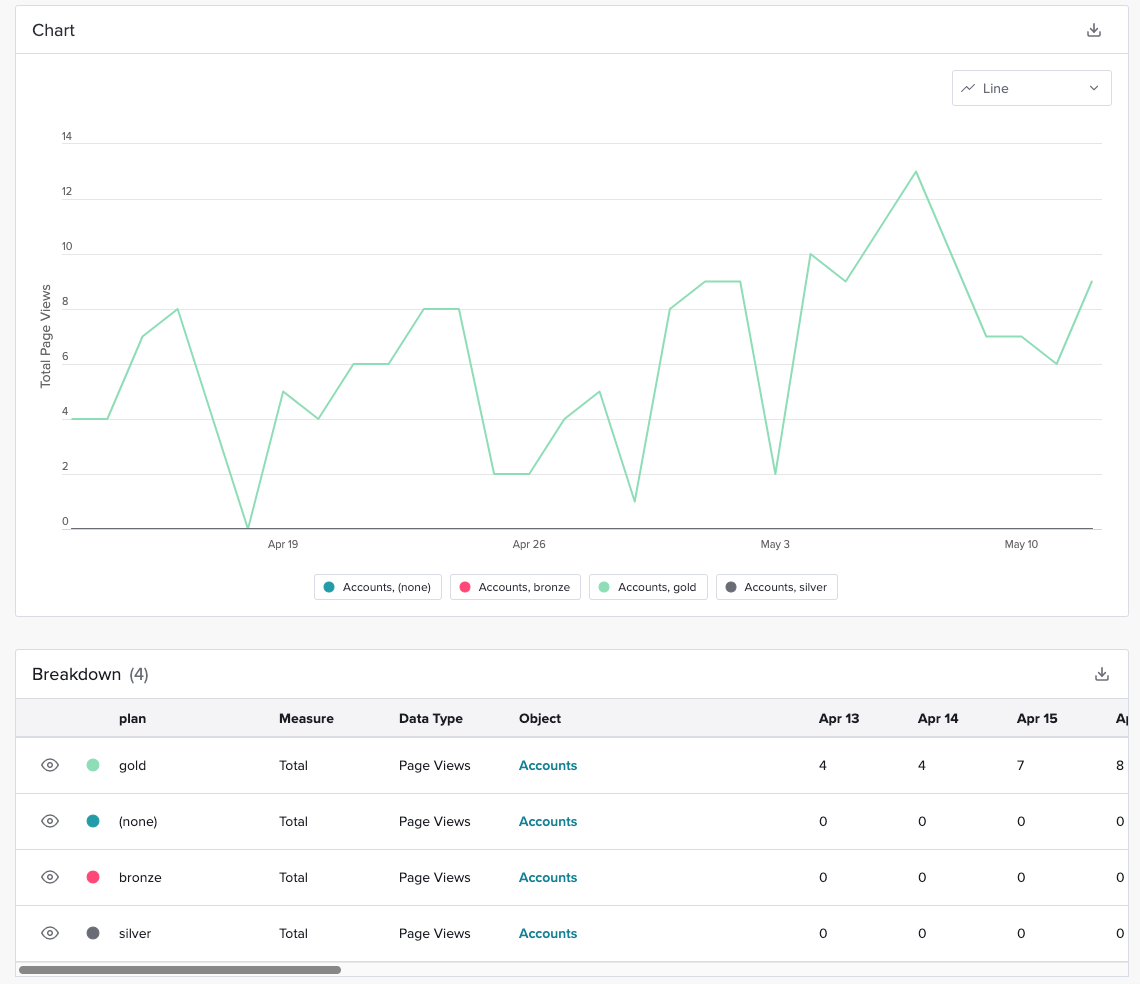 Visualization and Side Panel
After you "Run" your query, you might see your visualization build differently from what you desired.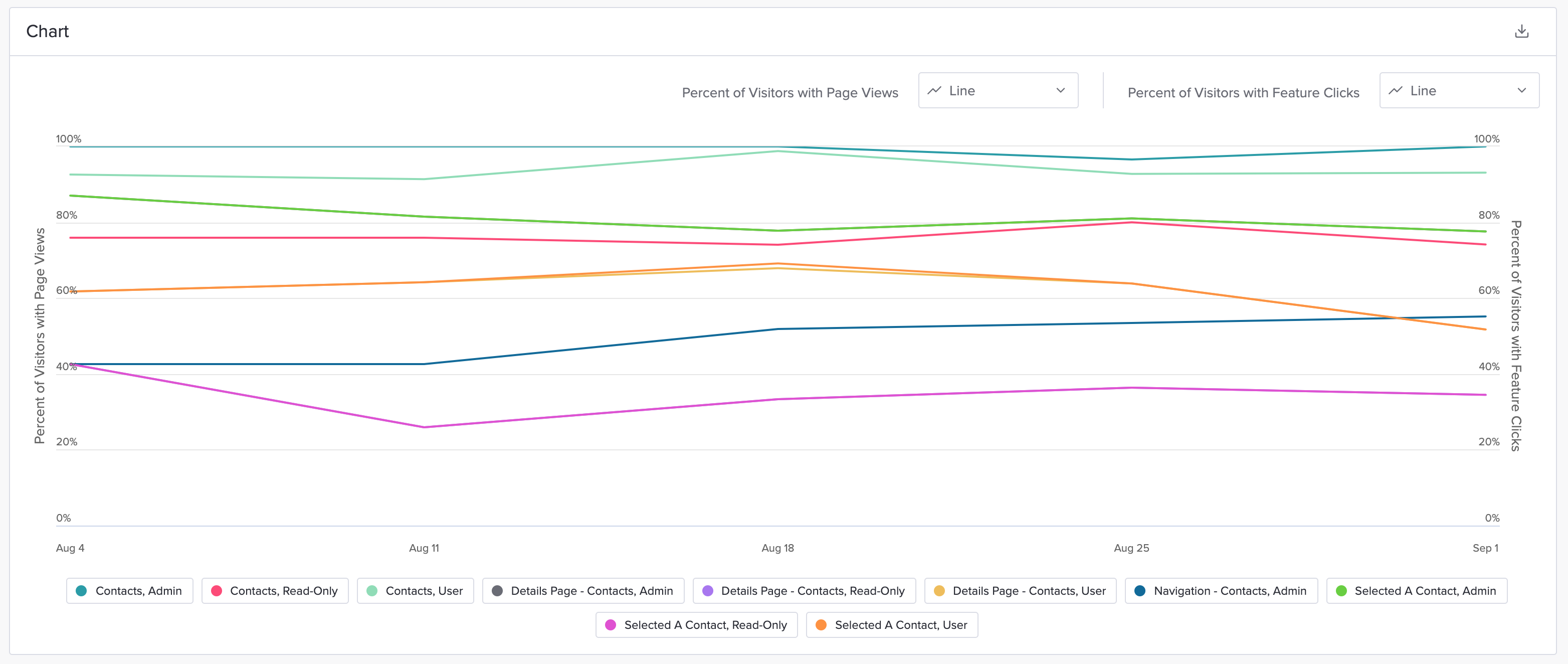 From this view, you can adjust how your visualization looks by choosing the chart type you want to use for each of your data source types: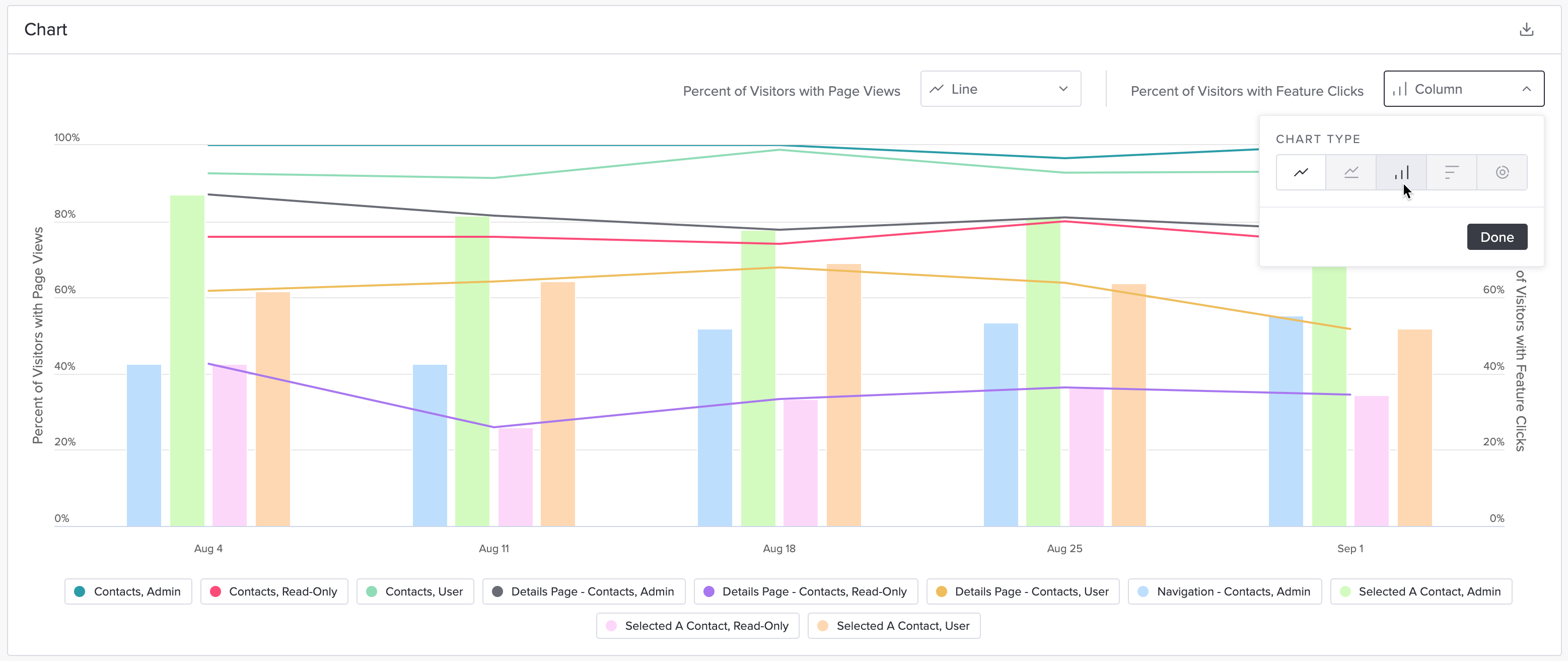 If you want to analyze your data hover over a data point within your chart as desired: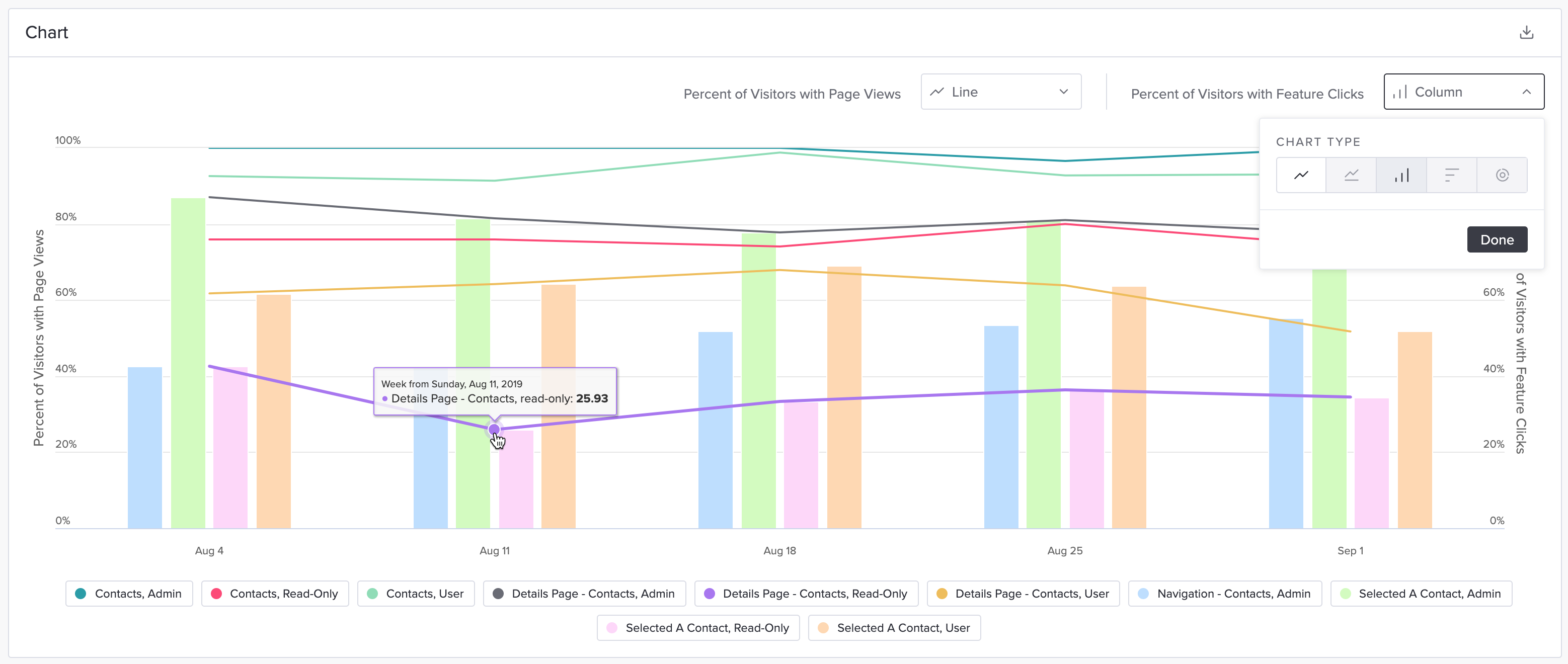 Click on the data point to launch the side panel to see all the visitors and accounts that are included in that specific data point (i.e. a list of Accounts and a list of the Visitors within those Accounts who meet the query criteria for that data point).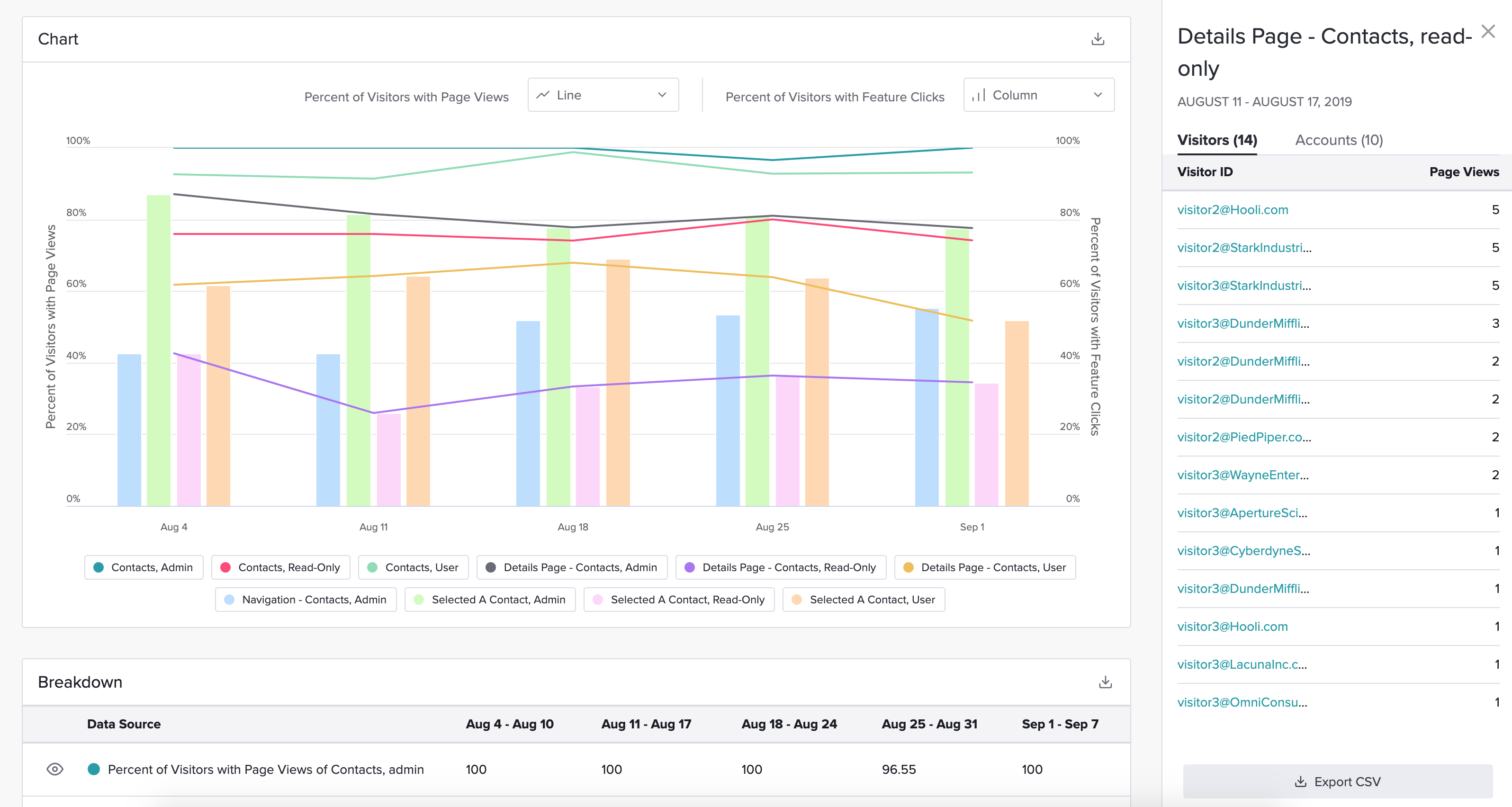 You can export a list of Accounts or Visitors via a .csv with any additional metadata fields that you would like to include in your file.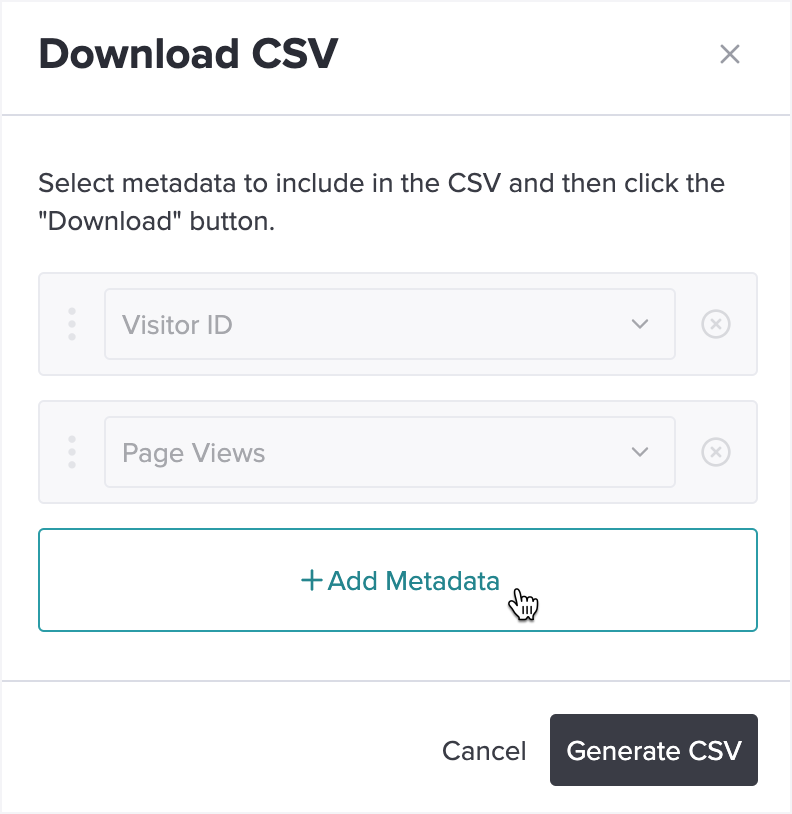 In the side panel, the default metadata field will be Visitor ID for the Visitors tab and Account ID for the Accounts tab; however, you can substitute the metadata you want to see in the side panel from Visitor ID [Account ID] to any text-based Visitor [Account] metadata available on your subscription by clicking the 'Change Metadata' icon.
Note that this simply substitutes the Visitor ID or Account ID metadata and does not recalculate the data/counts (Feature Clicks, Page Views, etc.) displaying in the side panel.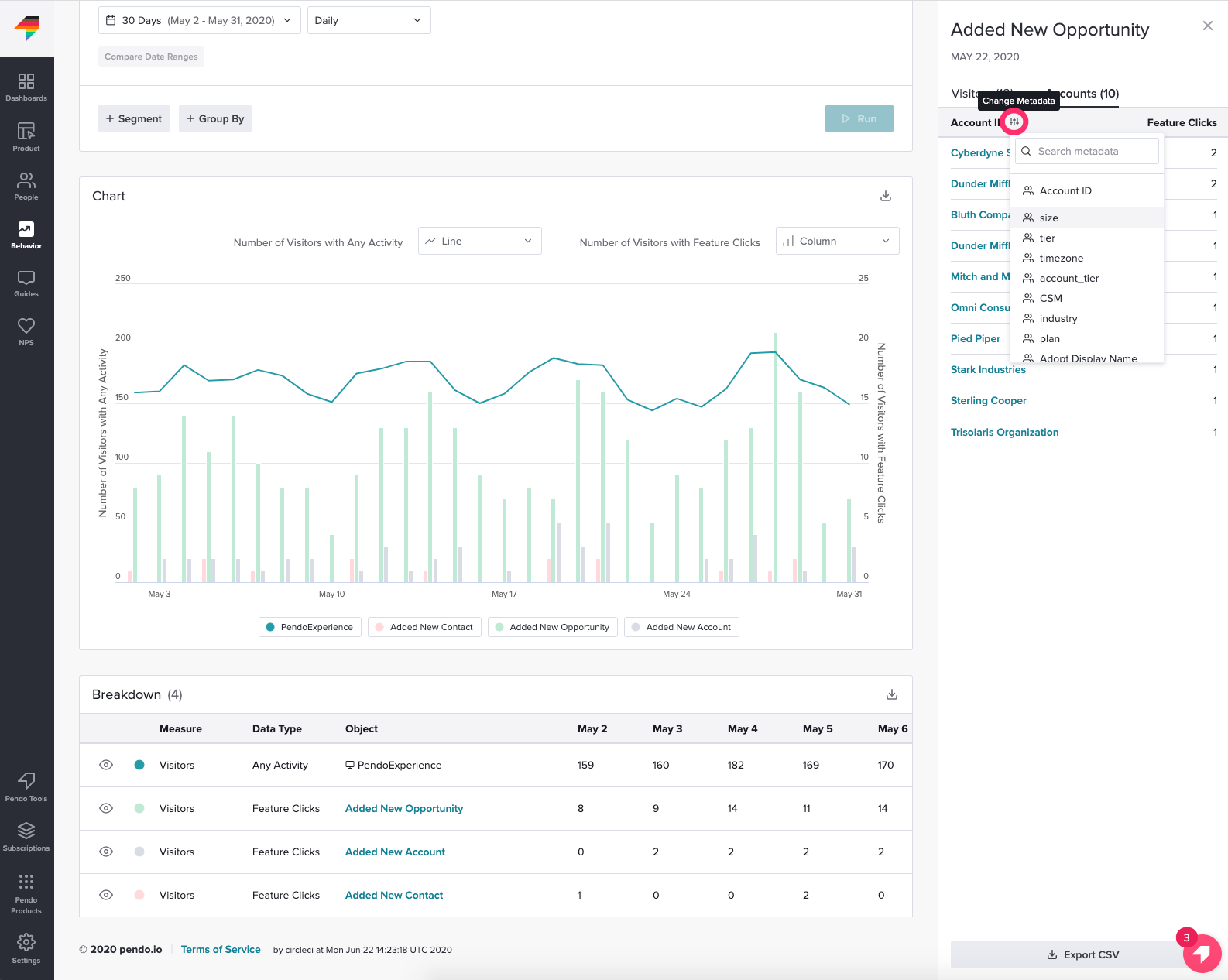 We will automatically default to showing your most recent selection for Visitor and Account metadata when you return to this side panel.
Just like the chart data points, your chart labels are interactive as well. Hover over any labels to see the representation highlighted to understand all of your data types.
After analyzing your chart, you can also download the chart as a .png file.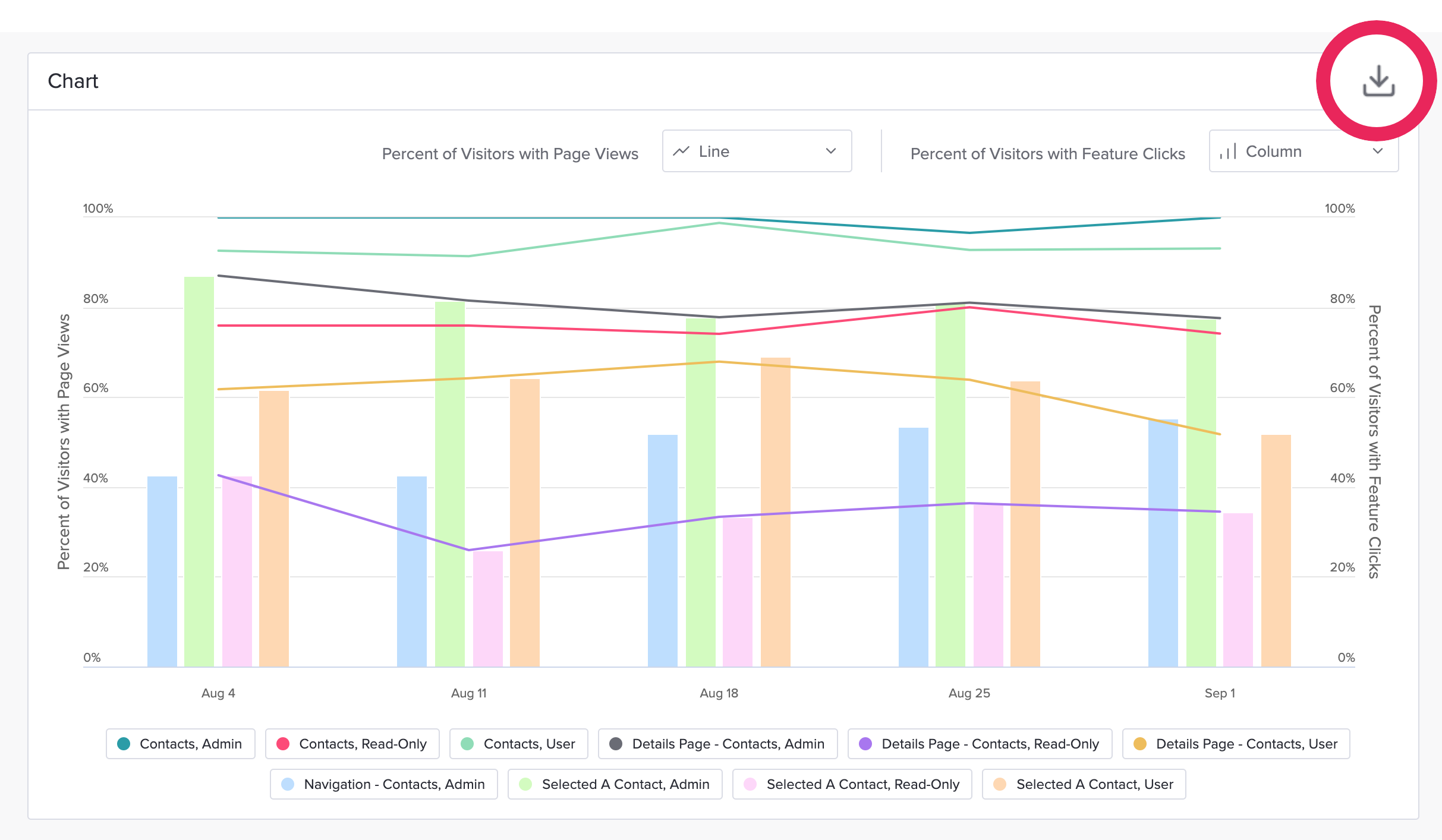 Breakdown Table
Below your chart, you will see a breakdown table that summarizes your data into a table:

Click on the "eye" icon next to a data source in your Breakdown table to temporarily hide it within your visualization:

Note: Data sources without any data to display will be hidden from visualization automatically. Click on the eye to show data with no value in the chart.
If you need, you can also choose to export the full table as a csv by click on the "download" icon in the top-right corner of the section:


Save Your Report
If you want to review this report on a recurring basis, save the report so you can re-run your it as needed. To do this, click on the "save" button in the top right-hand corner of the page.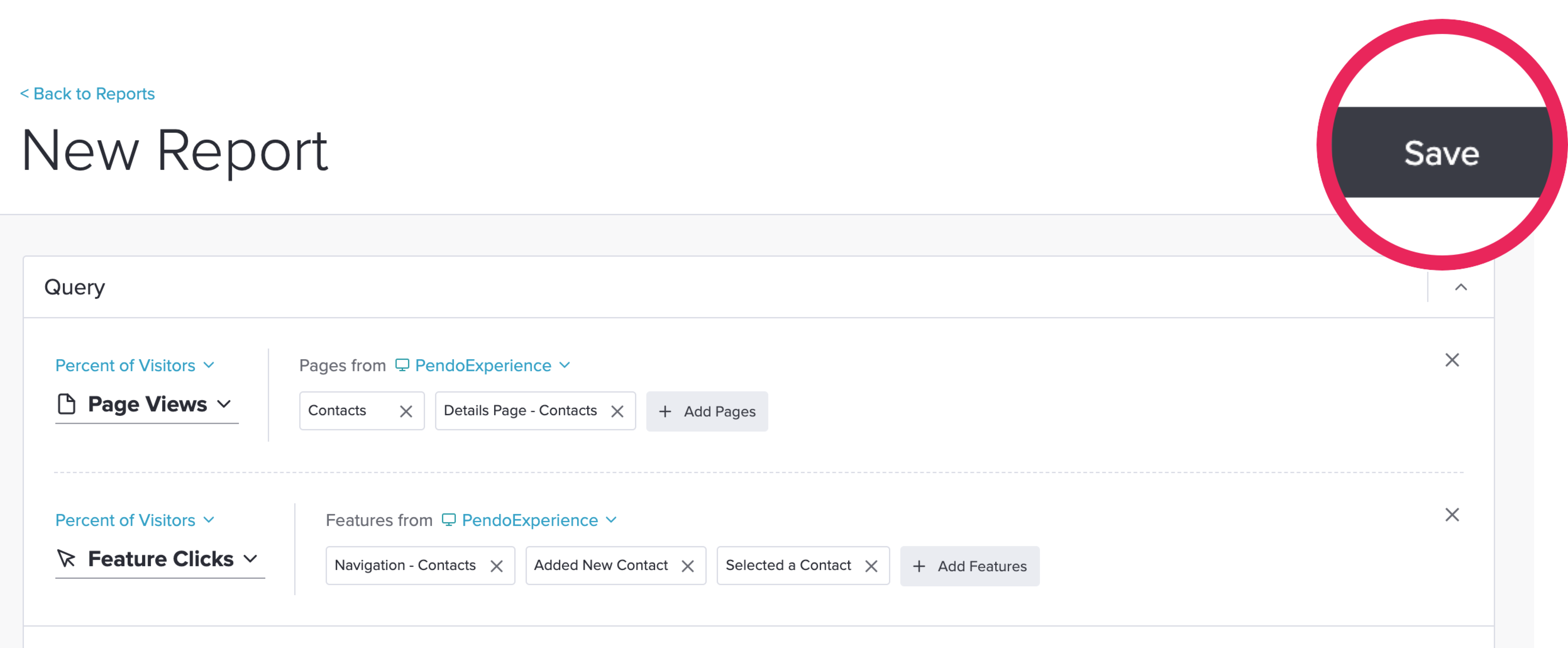 Then name your report and choose your visibility: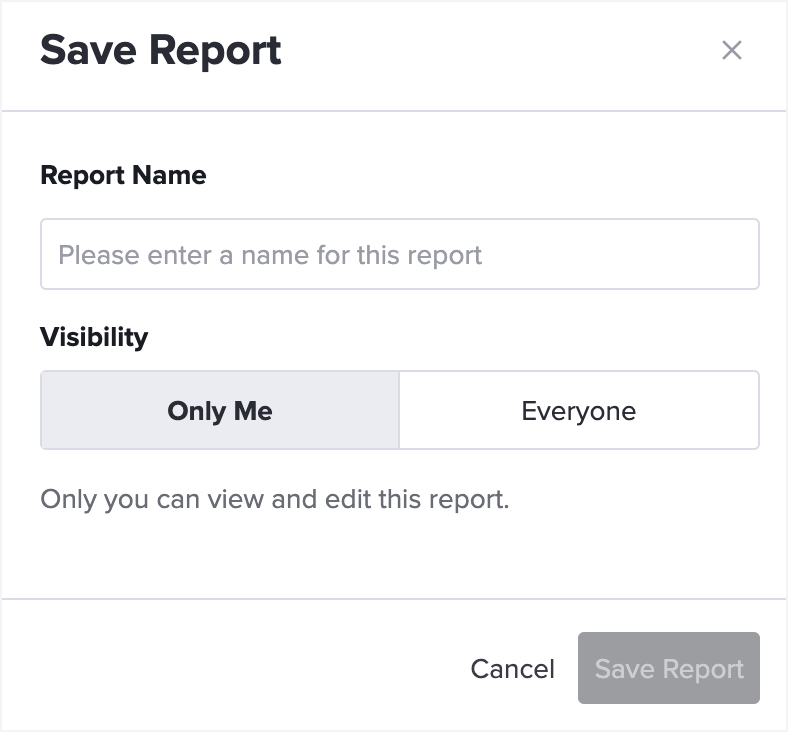 When you're ready, click on "Save Report."
Saved Reports
After you save your report, you will be taken to the Saved Reports page.

If you have a long list of saved reports, you can filter your list by changing the dropdown option from "Created by anyone" to "Created by me" (1) or simply search the list (2).

You can also navigate back to this page by choosing "Behavior" and then "Saved Reports" from the main navigation: