What is Multi-App?
Instead of having separate subscriptions with completely separate databases of analytics and data, multi-app allows you to run analytics across your product lines and/or applications, while also allowing you to filter down to just one application's data at a time. This is useful when you have :
Web and mobile versions of the same app
Multiple web apps that are able to identify the same visitor across applications
Multiple apps (mobile or web) that pass in unique visitor/account ids that do not overlap in format structure, but you would like to run analytics to compare usage and other data across those applications
Warning: Visitor IDs will need to identify the same users across both apps. So whoever visitor id "1234" is in app1, needs to be the same person in app2 with visitor ID 1234. If you have applications passing in different visitor/account ids (your applications cannot identify the same visitor across applications), make sure that the formats would NEVER overlap, so that an account/visitor metadata from one app would not overwrite the account/visitor metadata from another app.
Setup
Each application will have a separate API key, and this is how we differentiate the events for each application in your Pendo subscription. These API keys are located in the Install Settings tab of your Subscription Settings. You can hover over the App in question, click "view app details," and find the Install Settings tab with your Pendo snippet and API key. Your development team will need to install the snippet for each app using the corresponding API key and any differences in metadata needed between applications.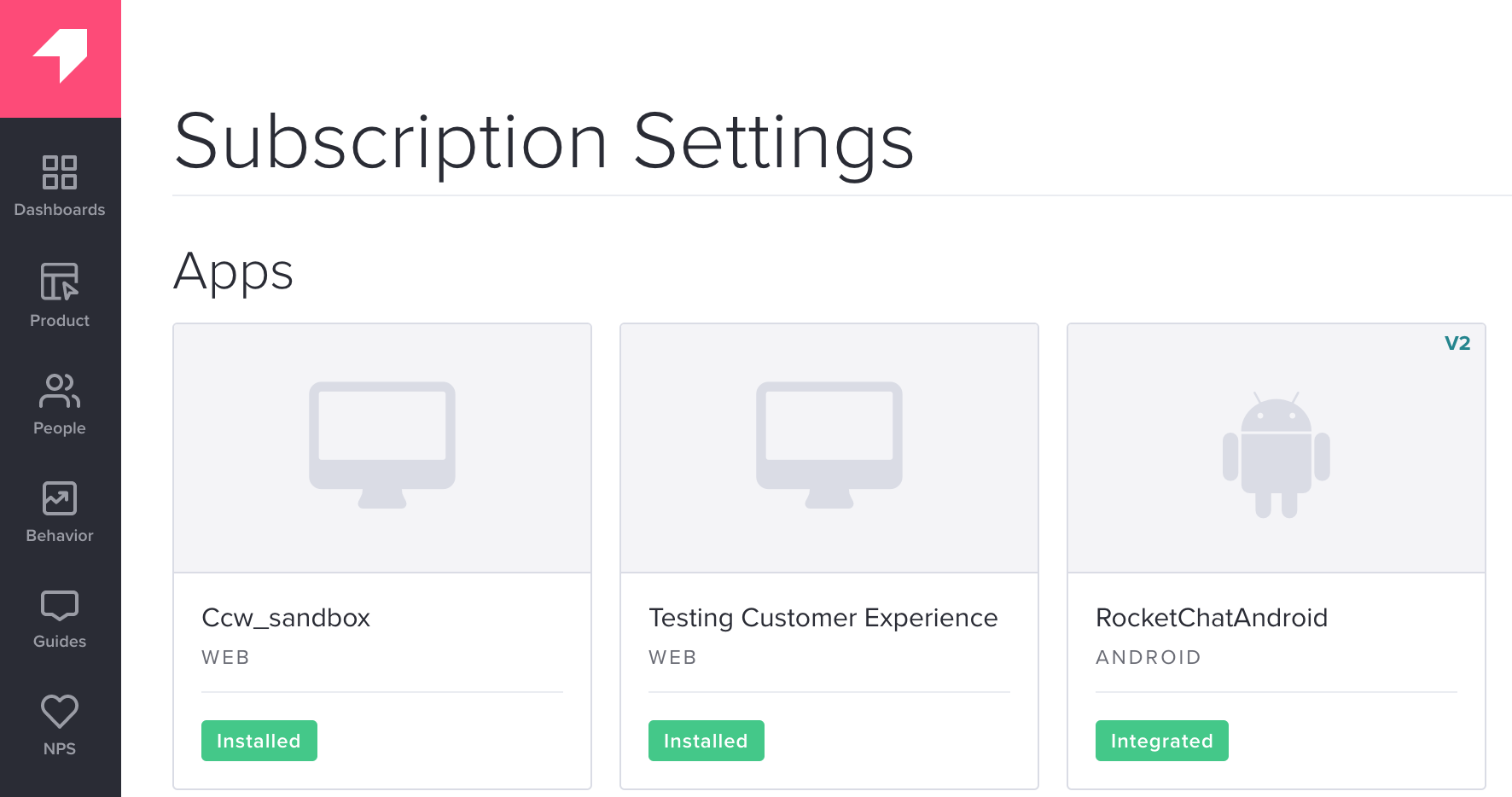 Pages, Features, and Guides
Although you can have visitor ids persist across applications, Guides/Features/Pages/Analytics are all kept separate from each other. This means that:
1. If a guide is created for one app, it will not show up for the other apps.
2. Pages/Features will only correspond to the app in which they were tagged (matching off the API key in your application at the time of being tagged)
Ensure that you are on the right application when you launch the designer to create a guide or page a page/feature. You can check in the top right hand corner of the designer for the subscription name: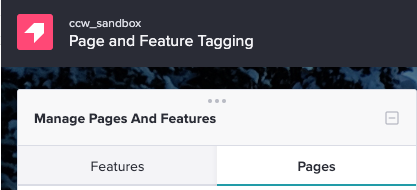 Analytics
Analytics and Guides for all your applications will be under the same subscription so Pendo users will have the same login where they can switch back and forth between their apps with a drop-down menu on their Pendo pages.
This serves as a high level segmentation tool for dashboard widgets and behavior tools as well as seen below:
Data Explorer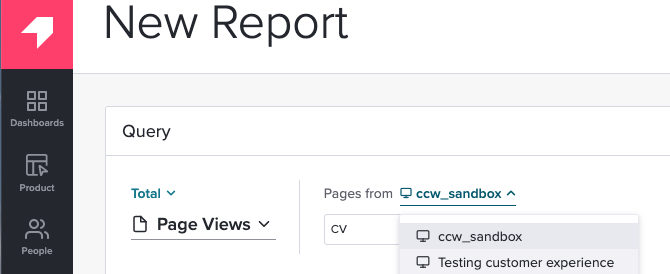 Dashboard Widgets
Resource Center
For each app that you add to your subscription, you will get a Resource Center. You can customize them all in the same way, or individually for that particular application. For more information on Resource Centers check out our Resource Center Help Article.
Important Note: We are currently only able to create one instance of each integration per subscription, so this means if you have the Zendesk Knowledge Base integration, you will only be able to add one Knowledge Base across all of your Resource Centers in that subscription.
Frequently Asked Questions
Will your visitor IDs identify a single user across both apps?
A. If yes, multi-app will work. If no, new Pendo instance. Example) If I am user 1234 in app1, but someone else is 1234 in app2 then that is not identifying a single visitor across both apps and you will need to have a separate subscription for app2.
B. Vet account IDs too for the same thing.
Will it be an issue if different teams working on different apps have access to the other app?
If a user has access to your Pendo subscription, they can see all apps and potentially change settings across guides/pages/features/segments.
Not a question, just a confirmation:
If you have multi-app, your feature/pages/guides/analytics will all be app specific.