Pendo Free is a free version of the Pendo Engage platform that includes some of our most popular features. You can start collecting insights into user behavior, deliver in-app messaging, and share reports and dashboards at no cost for both web and mobile applications.
This article provides an overview of the Pendo Free subscription.
Once you configure the Pendo install script, the platform starts capturing all events related to user behavior. This allows you to tag Features and Pages at any time in the future and get usage data starting from the time of your installation, even if you upgrade to a paid Pendo subscription later.
Features included in Pendo Free
With Pendo Free, you have access to the following features:
Net Promoter Score (NPS) surveys (Pendo branded)
Tagging and usage data for Pages, Features, and Track Events
Tracking and reports for visitors and accounts, including anonymous visitors
Pendo Free also supports unlimited internal users and additional configurations for both analytics and Guides, including:
Feature limitations in Pendo Free
Several features aren't available in the Pendo Free subscription. You can unlock the following features by upgrading to a paid plan:
In addition, Pendo Free only provides access to your raw event data within the Pendo UI for 1 year (12 months). You can gain access to your data beyond this time limit by upgrading your plan. To learn more about data retention, see Subscription data retention.
MAU limit for Pendo Free
Pendo Free has a limit of 500 monthly active users (MAUs). MAUs are calculated by adding up all unique Visitor IDs in a 30-day period. When your subscription approaches this limit, you see a banner indicating that you're about to hit the MAU limit.
Once you exceed the 500 MAU limit, you lose access to certain functionalities until you upgrade to a paid subscription. Specifically, you won't be able to create new guides, NPS surveys, or segments, and your view of data throughout reports and dashboards will reflect generalized trends based on a random sampling of 500 visitors. To learn more, see MAU limits for Pendo Free.
Note: Excluded visitors and accounts aren't included when calculating your subscription's MAU limit. Pendo still collects and saves events associated with excluded visitors, and excluded visitors still receive guides (if they're eligible), but the associated analytics aren't reflected in Pendo.
Activate free trial
Once you configure the install script in your application, there's a 14-day free trial available to activate at the time of your choosing.
To activate your free trial, select Upgrade from the left navigation menu, then select Start 14-Day Full Trial. Once activated, you unlock additional paid features:
You won't have access to our API, third-party integrations, or Pendo Feedback until you upgrade to a paid subscription.
At the end of your 14-day free trial, all paid features deactivate automatically and you won't be able to access Product Areas, PES, and Data Explorer reports.
Upgrade to a paid subscription
You can upgrade your Pendo Free subscription to a paid subscription at any time. To do so, select Upgrade from the left navigation menu, then select Buy Now. This takes you to our Buy Now page where you can purchase Pendo Starter with a credit card, compare plans, or explore a customized plan and request pricing information from our sales team.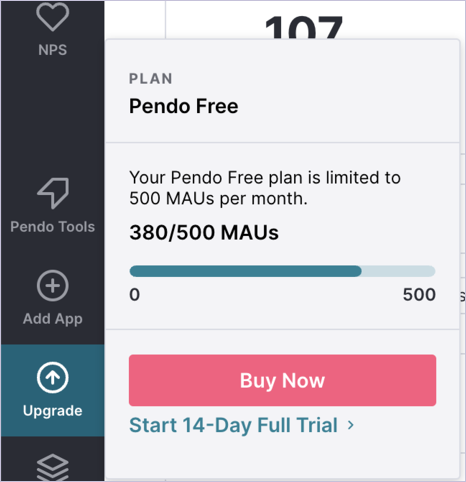 When you upgrade to a paid plan, you keep all of the event data collected since you installed Pendo on your application and all configurations in your subscription, including anything you added during your free trial.