The Guide Details page gives you a detailed, at-a-glance view of how users interact with a specific guide. You can access the Guide Details page by clicking a guide's name in the Guide list.
Note: This article provides information about the guide settings. See Metrics for information about guide metrics.
The Settings section of the Guide Details page includes:
Guide information. shows guide description and guide status
Content section. shows a preview of the guide.
Guide component tiles. component tiles such as Guide Goals, Activation, Segment, and Scheduling make it easy to view or manage each component accordingly.
Guide information
Below the guide's title, you can see which group your guide has been assigned to and the category assigned to the guide.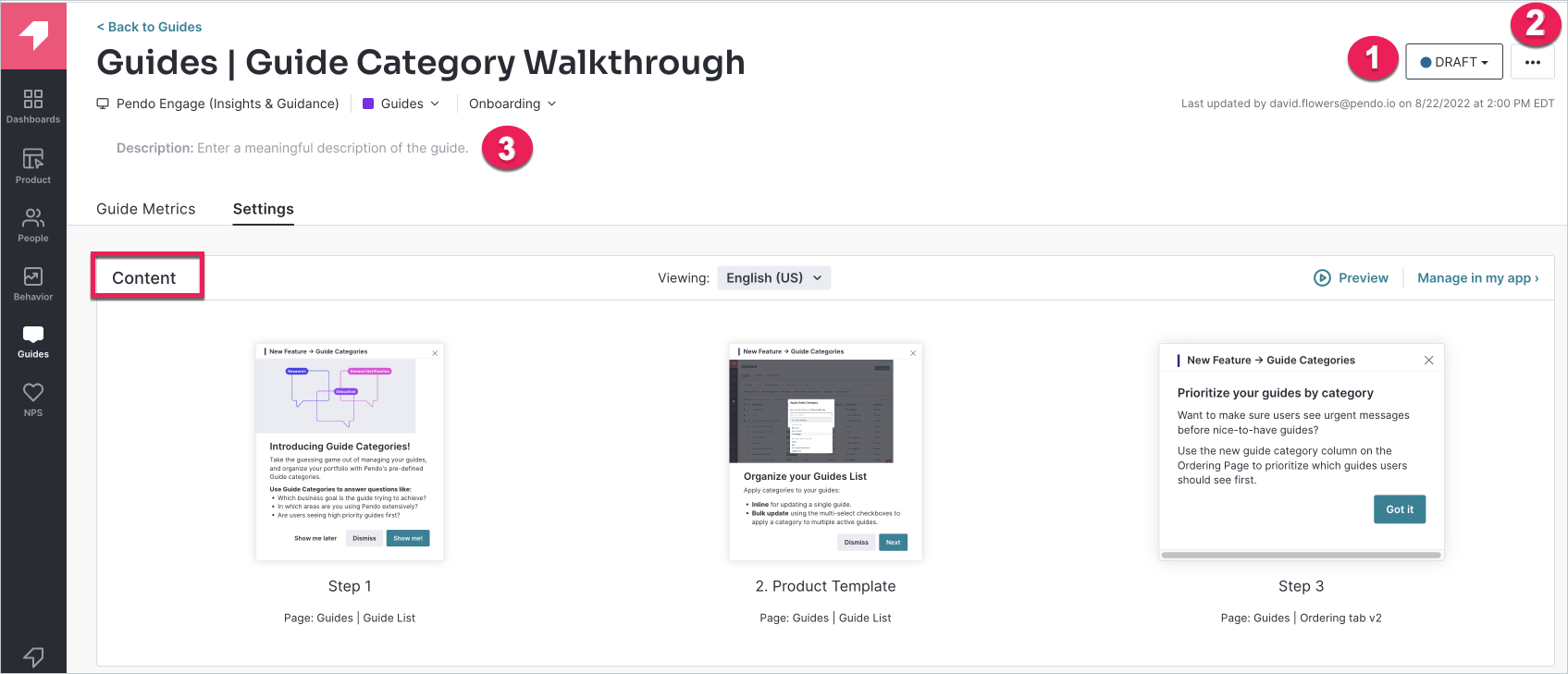 In addition:
The drop-down box (1) is where you set the status of your guide as a draft, pending review, staged, or disabled, as well as delete it altogether. (Note that if you don't have admin access, you might not see all of these options.)
The ellipsis ("…") button (2) gives you additional options, such as the ability to see guide details, edit history, and clone your guide.
Use the Description field (3) to add a description for the guide. You can edit this field to add context about the guides, such as tracking usage and sharing notes.

Note: You can see the description in the Guides Overview list by adding it as a column.
Content
The Content section contains a preview of the guide. If you have multiple steps, you can scroll through each one without having to launch the Designer.

Guide Preview
To preview your guide, click Preview Guide (1) or hover over your desired guide step and select the Preview icon (2).
Once you choose Preview, enter your page URL and click Launch to see a live preview.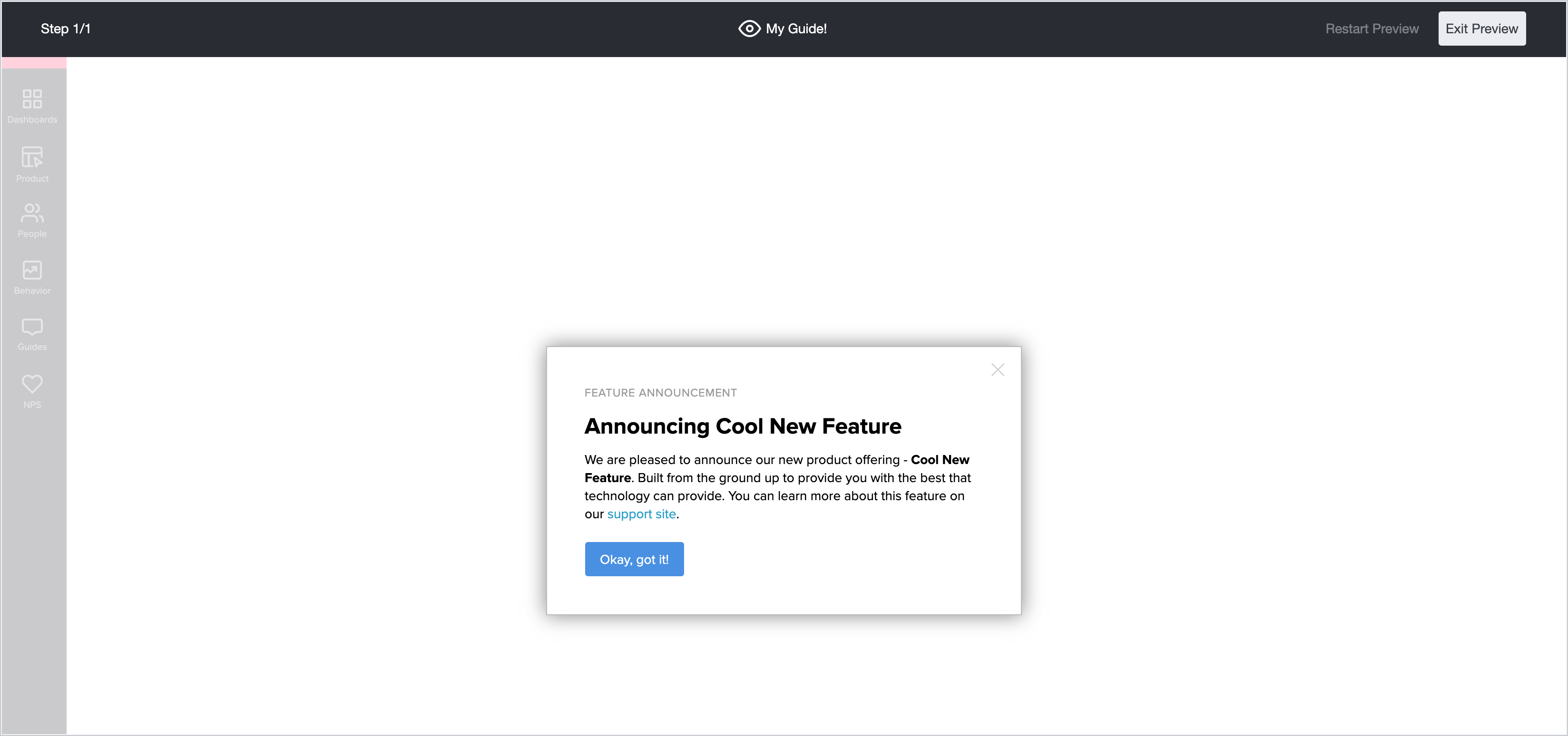 Preview mode allows you to test your guide regardless of segment, throttling, status, or activation method on the targeted page. If you open your preview that doesn't match your guide's page target, you will see a "Wrong Page" error message.
Navigate to the guide's targeted page in the Preview mode to see your guide.
If you want to experience the guide exactly like your customer would, test your guide in a staging environment.
Important: If you are using Location API to transform the URL passed to Pendo, Guide Preview does not see the transformed URL, which can result in a misleading 'Wrong Page' error. Instead of using Preview, you will need to test the guide in a staging environment or production environment with a narrowly defined segment.
Component tiles
Below the content section are various tiles to enable you to define additional settings for your guide.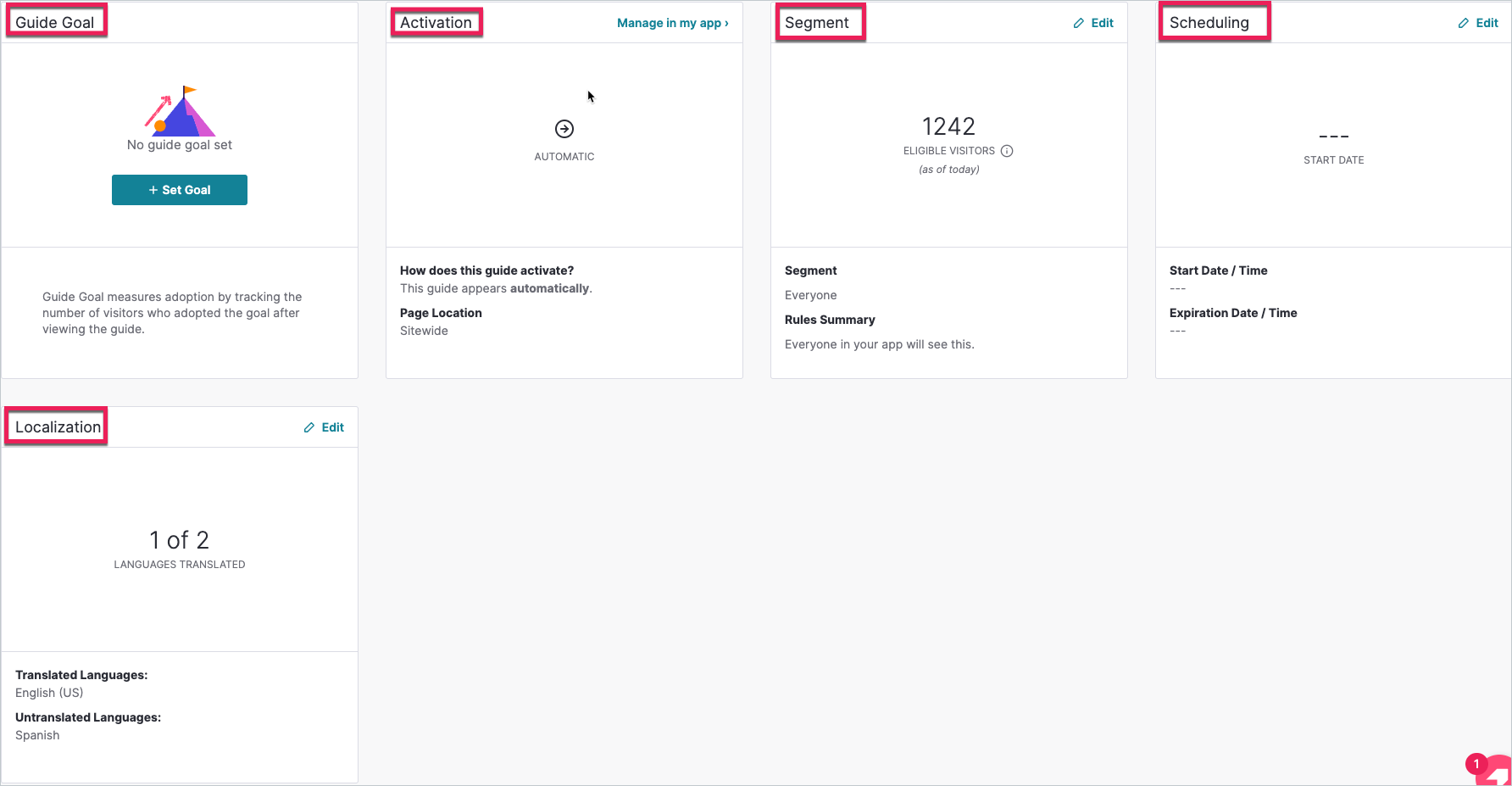 Guide Goals
Guide goals track how many visitors performed a specific action after viewing the guide. Set an adoption goal for the feature, page, or track event you want users to use after viewing the guide. The goal is used to measure effectiveness. An effective guide results in more users taking the action you're directing them to.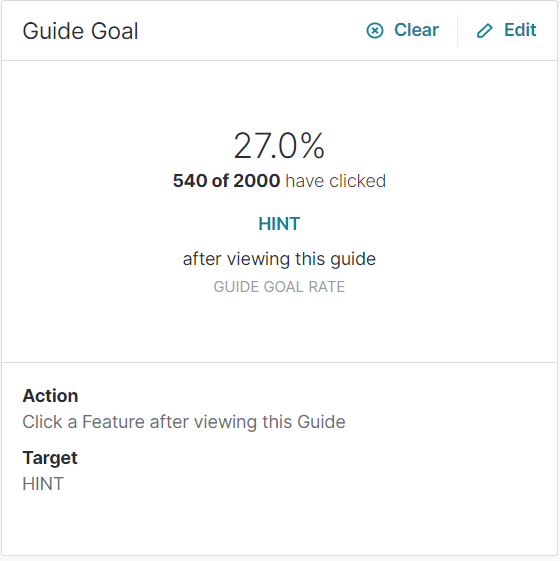 See Understanding Guide Goals for more information.
Activation
This tile summarizes the chosen method(s) a guide displays for a user, called the Activation Method. Guides can display automatically (as soon as a user opens an app or page), via a custom badge that users click, or via a target element on an app or page that users click. guides can also use a combination of Automatic with Badge or Automatic with Target Element. The guide activation method is set up during guide creation and can be updated within the designer.
Take a look at the Guide Activation Options article to learn more.
Segment
The Segment tile summarizes the guide targeting rules and the total number of eligible visitors as of today.
Scheduling
If you want the guide to start and/or expire at a specific date or time, set it from this tile.
Localization
See Localization for detailed information.
Guide status
The guide status can be found in the upper right-hand corner of the Guide Details page. It will contain four options: Public, Staged, Draft, and Disabled.
Public.

The guide is public to all visitors targeted in the guide's segment and will appear in the designated "Location" on all environments with Pendo installed. Public guides will still appear on your designated staging servers.

Staged.

The guide is only visible on your designated staging servers. Staging servers can be managed by admins of your subscription

here

.

More information on staging here

.

Pending Review. Designers can use this status to indicate that their guide is awaiting review. Publishers and reviewers can use this status to filter the guides list to see which guides are awaiting review.
Draft and Disabled.

The guide does not appear in any environment but can still be edited. While there is no functional difference between Draft and Disabled, these categories are helpful for guide organization.

Delete.

Deletes the guide and all of its data permanently.
More options
The ellipses (...) button provides access to additional details about the guide.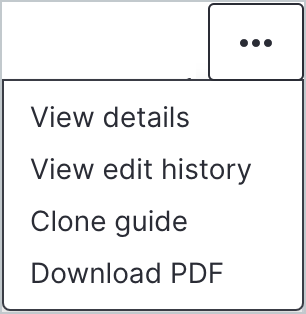 View details
View details shows basic information on who created and updated the guide and access the permalink.
Created By. User ID, date, and time of guide creation
Last Updated By. User ID, date, and time of the last edit to the guide
Permalink. Permalink used to programmatically launch the guide with a URL
View edit history
Edit history shows an audit of all changes to a guide with some details.
Date. Date and time of the change
Status. Guide publishing status when it was changed, this can indicate when the status was changed
User. User who made the change
Clone guide
Clone guide copies all guide steps and settings into a new guide with the name "Copy of (your guide name)".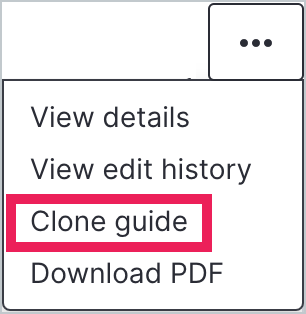 Clone guide can copy guides between apps in the same subscription. In a multi-app sub, select the app you want to copy the guide into in the Clone guide modal. Themes can be applied and code blocks can be removed when copying if needed. Some settings cannot be cloned between apps.