The Dashboard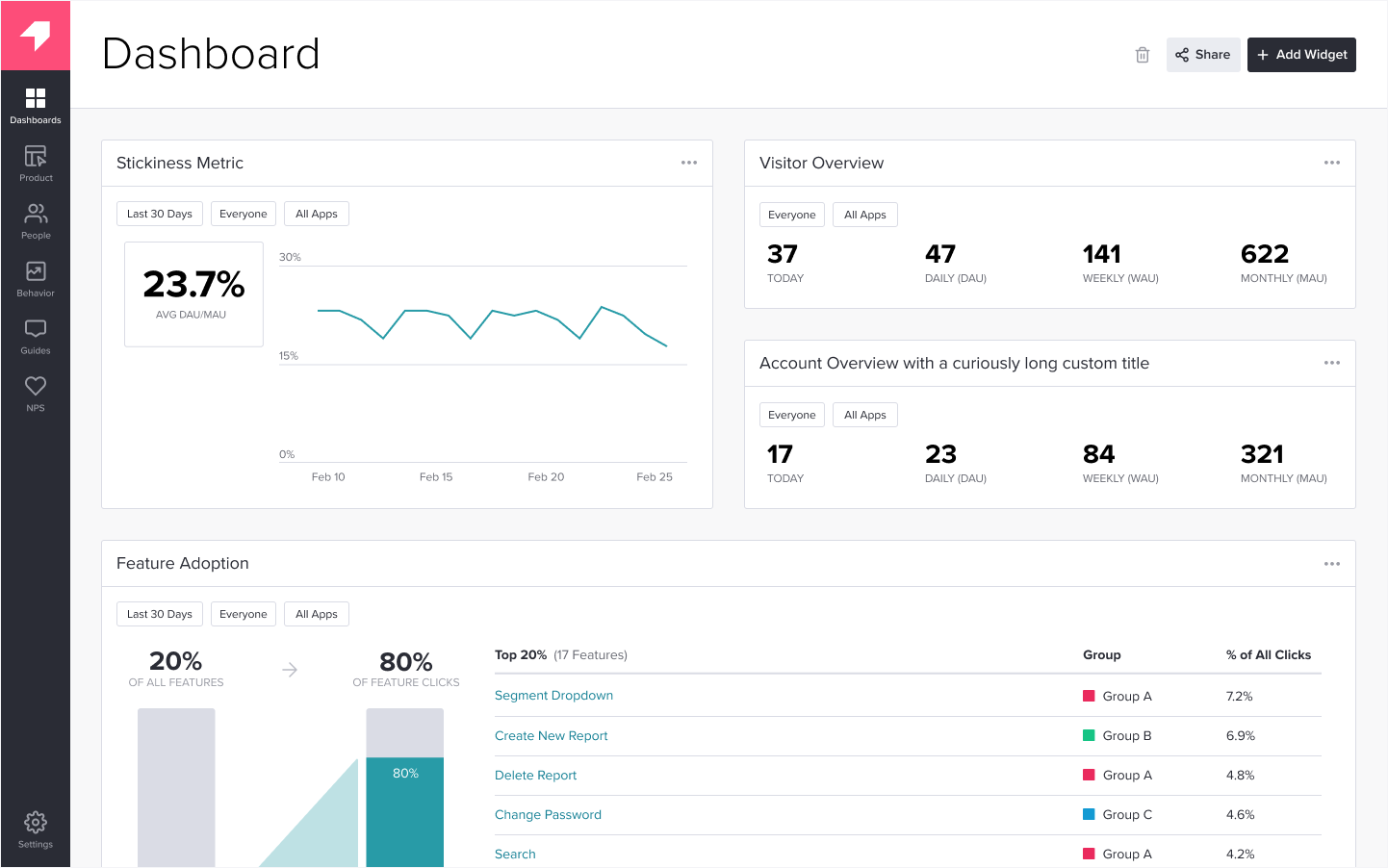 Set up the dashboard to quickly access information for your accounts
Create dashboard modules to display your active accounts. You can even take it one step further and create modules representing activity for your account segments. Sometimes it's nice compare the activity of your small tier accounts against the larger ones. For example, start with something simple like creating two dashboard widgets to compare time on site for those segments.
Segments & Reports

Leverage segments and reports to monitor user activity
Renewal time comes around and the customer says "we haven't used your product in months."
Create segments so you can quickly and easily identify which accounts and visitors need attention. Segments mean less time is spent guessing who might need your help and more time spent with the ones who actually need it.
Inactive Users: Capture users who haven't logged into your product in the last 30 days.

Power Accounts: Build a report that captures your top 5 or 10 power accounts. You might consider including details such as time on site and number of days active.
You can also use segments to define which users are eligible for a report. Here's an example of a report that could be segmented by the segments above:
Account Page/Feature Usage report: Want to know which area of the product your power users are using? You can set up reports to easily view that data for a given date range.
Measure Customer Health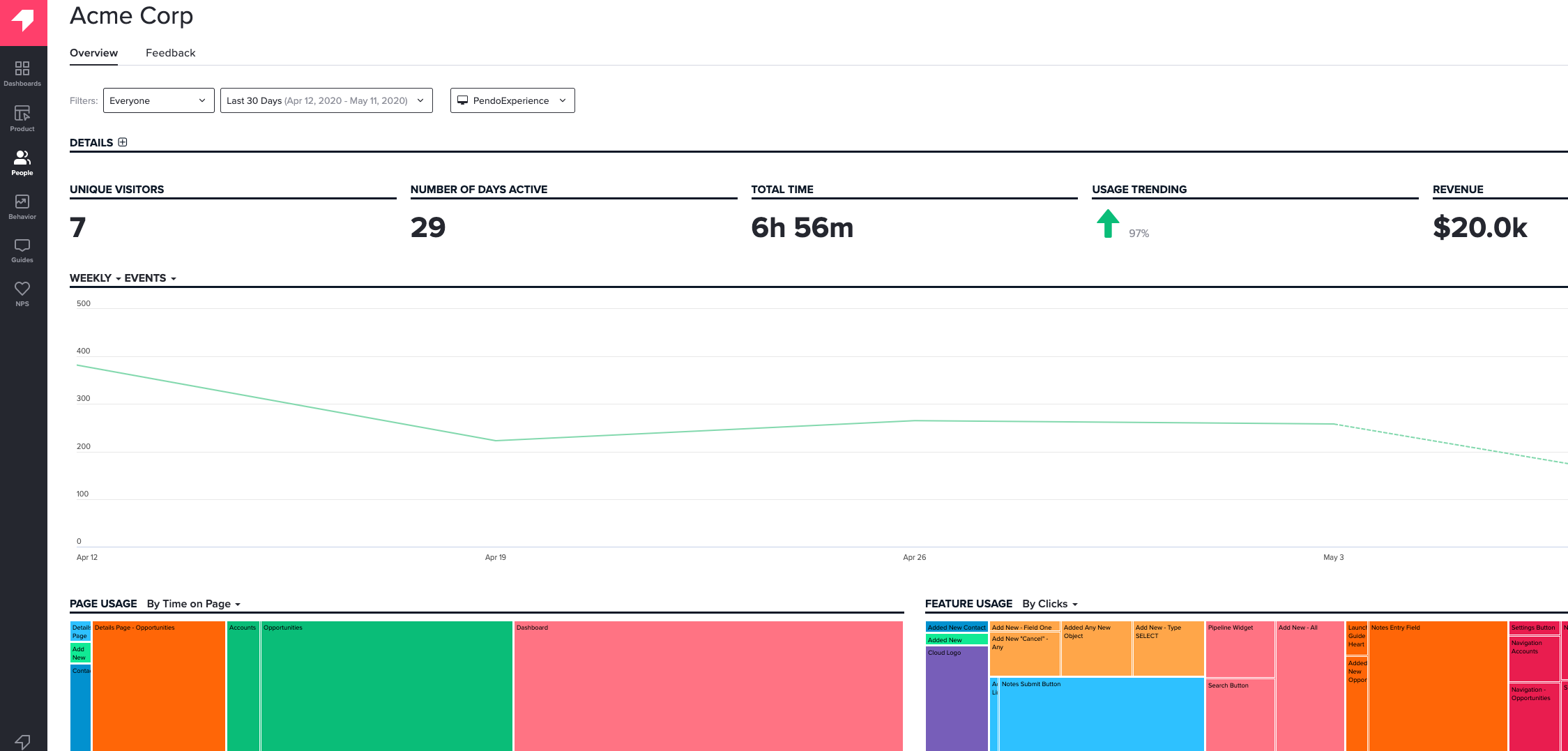 Breadth, Depth, & Frequency - a framework to measure product success
Here at Pendo, we take a look at product usage across three vectors - breadth, depth, and frequency. These indicators provide us a holistic understanding of whether our customers are both engaged and receiving value from the product.
Breadth: For this we look at the total number of active users within a given account. In Pendo, you can view this information on the Account Details page.

Depth: Is the customer going deep into your product? The goal is to find out if the customer is using features that will create a "sticky" experience. You can measure this by monitoring 5-8 key features that your team has validated as leading retention indicators.

Frequency: Do you know how often users need to access your product to be able to see value? For some it will be daily, other products it might be once a month. If you're not sure, take a look at number of days active for customers who have renewed vs. customers who have churned. Once you've determined the standard for your product, segment your users into two groups - one group for users who meet the days active criteria, and another group for users who do not.
Scaling Engagement
Supercharge your one:many efforts
By nature, customer success teams are resource constrained - an overload of accounts to handle, an unlimited number of fires to put out, and never enough time in the day. Use a combination of in-application messages and emails to engage with users based on their profile, product usage, or even survey results.
Build an onboarding experience: Start with a simple welcome lightbox that welcomes a new user to the product and provides some detail as to what they can expect to experience. Once you tackle that, you can slowly begin to build out walk-through guides to teach users various features of the product. The goal is to reduce the overall time-to-value (TTV) that it takes for a user to have that aha! moment.
Impact Support Ticket Volume: can you think of a certain feature or terminology within your product that a lot of users have trouble with? Add a badge activated tooltip to improve the experience for users interacting with the feature.
Automatically email inactive users who have not logged in recently. Once you've created a segment of users who have not been active in the last 30 days, connect to a mail service with our Zapier integration and then let Pendo and Zapier do the rest of the heavy lifting.