Overview
Pendo defines an account as a collection of visitors associated to a specific or multiple groups. The Accounts section of Pendo provides details about those groups. In Pendo, you can customize a specific report and save them so you access it again as needed.
To create a custom report, you can do this from the Account List Summary or the Account Reports section.
Account List Summary View
Towards the bottom of the Accounts Summary Page, you'll find a list of accounts:
Account List: This list reflects all active accounts within the selected segment and date range. Your columns will provide product usage or metadata fields.

Actions: This button will reveal additional options to edit your columns, Download to CSV and Save as Account Report.
Create an Account Report from Summary View
To start your report creating process, choose the segment and date range you want to use in your report.
Note: If you have multiple applications, choose which app(s) you want to include in your report.
Click on the "Actions" button and choose the edit your columns option. If this is your first time, you will see a set of default columns.
Columns can be additional product usage or metadata details to your view as you desire. Product Usage includes:
Feature
Guide
Page
Poll
Track Events
Once you edit your columns, you should see those options until you edit your columns again. Once you're satisfied with your changes, Click on the "Actions" button and choose the "Save as Account Report" option. Then, you will be prompted to name your report and choose if the report is visible to everyone or only for yourself. Below that, you can review your report details and save.
Create New From Account Reports
To navigate to this section, click on the Account Reports tab underneath the "Accounts" header at the top of the page.
In this section, you will see all your saved reports. If another Pendo user creates a report and sets the visibility as "Everyone," you will also see listed there.
To create a new report from this view, click on the "+ Create New Report" button under the "Account" header at the top of the page.
Name your report and adjust details you would like to see in your report.
When you're ready, click on "save."
Saved Reports
Once you save a report, you see the Report Summary. From this view, you will see additional options:
Download via CSV - Click on this icon to download your report via CSV
Re-run Account Report - Choose this option if you want to manually refresh your report.
Edit Account Report - If you want to edit your report, click on this icon and adjust as you need. This new view will save with your report.
Duplicate - make a copy of any report that has public visibility. Edit and refine as needed to make it your own!
Delete Account Report - Sometimes you need a temporary report. Choose this option when you're ready to delete your report. Clicking the "trash" icon will also prompt you to confirm that you want to delete your report.
Setup Salesforce Push - If you have Salesforce integration setup, use this option to push the report data into Salesforce.
Duplicating a Report
You can duplicate any account report with public visibility. The new report will inherit the original segment, date range, and column view. Of course, you can always add to or edit any reports you copy. This lets you treat any report as a template!

Click the duplicate button at the top right of the account report details page, rename the report (the default name is set to "Copy of [Existing Report Name]), edit any criteria you wish, and click Create Report.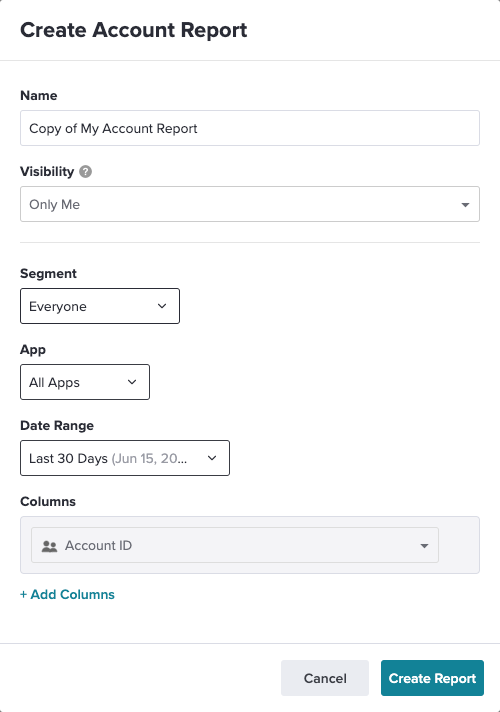 The duplicate report's default visibility is set to Only Me. Update the visibility to Everyone to make your report public.