Why is this important?
You can tailor your request form so that you ask the questions you want to ask and collect all of the relevant data you need to make great product decisions. This puts you more in control of your Feedback experience.
Overview
We recommend asking targeted questions to understand your customer's pain points and really get to the bottom of what they're actually trying to accomplish with your product.
Here are two examples: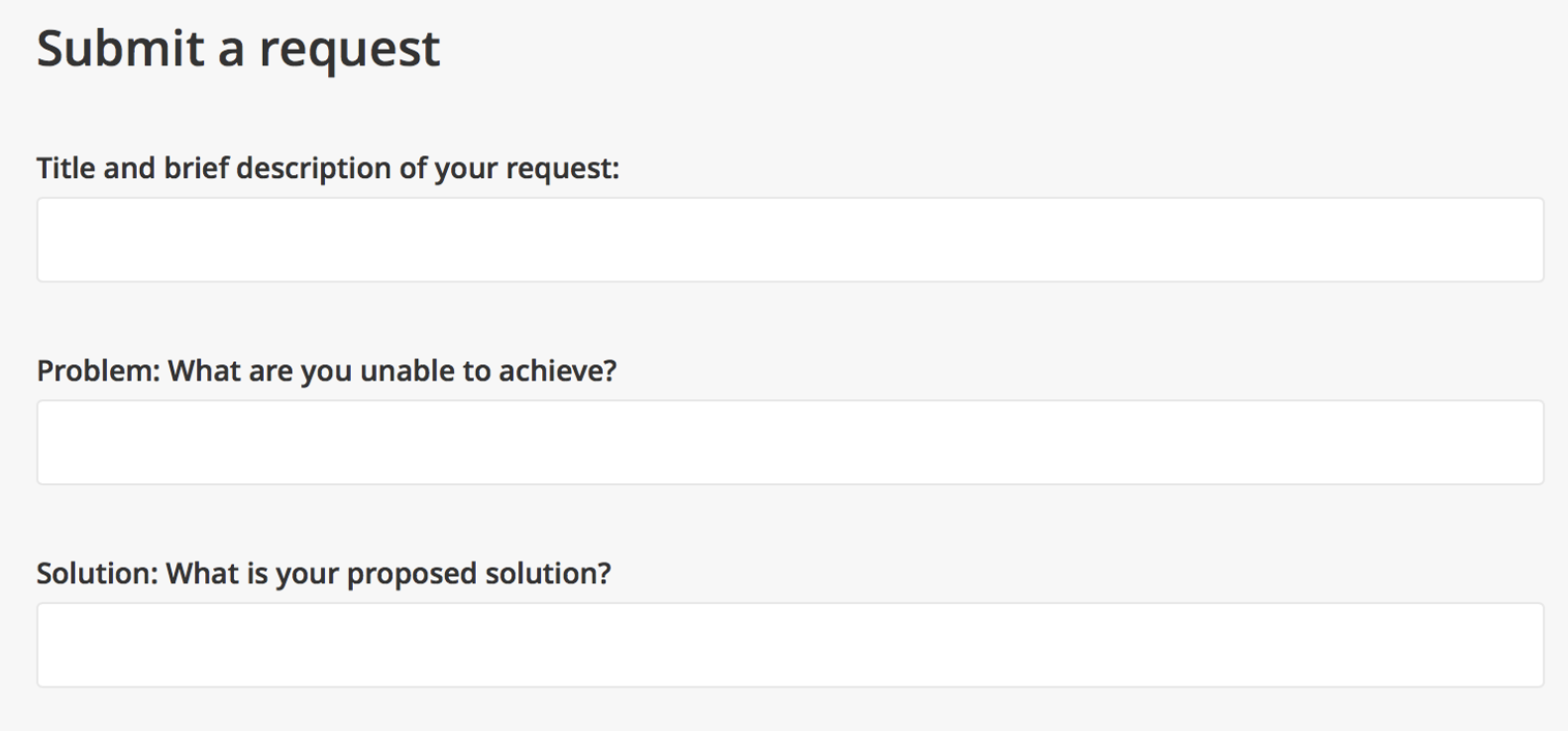 Some additional options:
What problems are you experiencing?
What is your goal?
What are you trying to accomplish?
How does this help you?
What's your expected outcome?
How does this affect your workflow?
What is your current workaround?
How often does this happen?
What's the impact of this?
How much are you spending to solve this problem?
How does this problem impact your business?
NOTE: Bear in mind that the first text box is considered the request "title", and the second box the "description" within Feedback. This is important because duplicates will be surfaced by assessing primarily these first two text boxes.
How to
To customize your request form, you need to head over to the Product Settings: click the gear icon bottom left, then click "Product Settings".
Next, select "Customize Reqest Form" in the options on the left.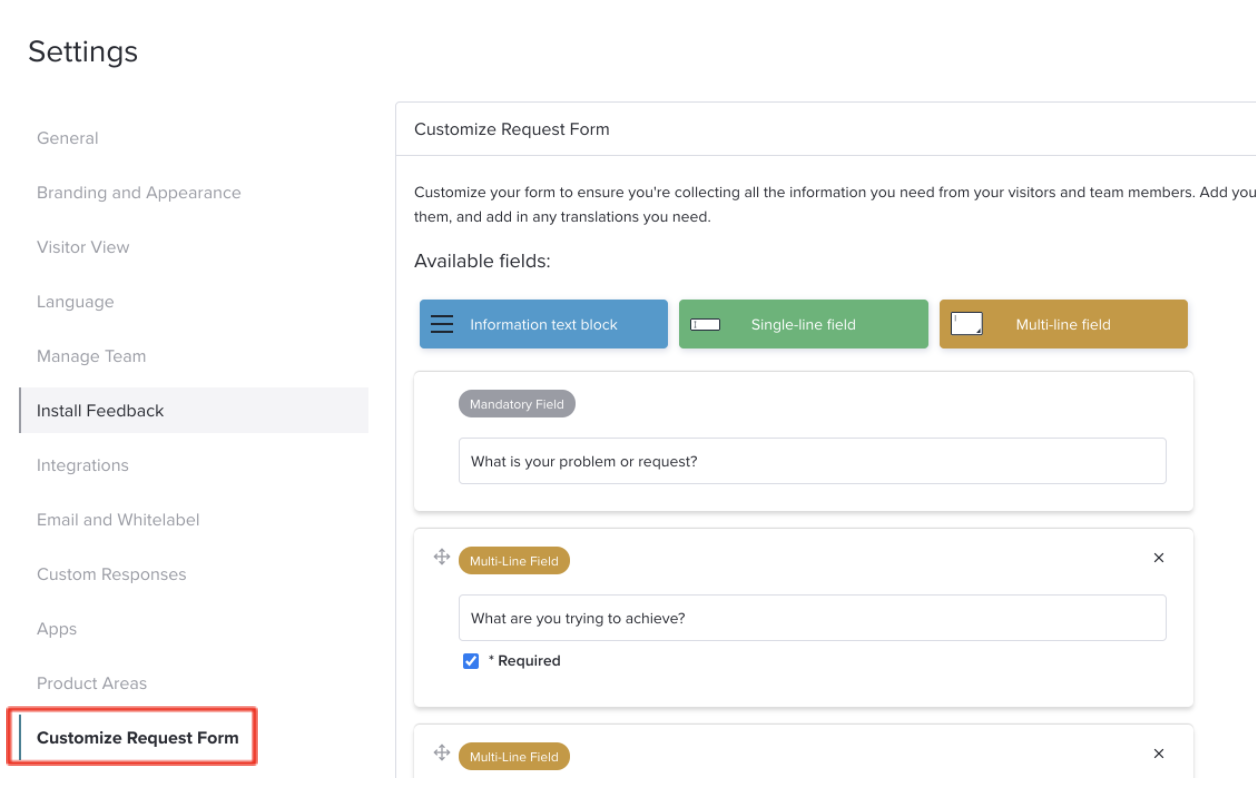 That takes you through to the form builder. At the top of the page, you will see three different elements.

Information text block - A passage of text, no response input from your end users. Used by your team to give more information if required.
Single-line field - A question with a single line of space given for the answer. Used for short questions requiring a word or phrase.
Multi-line field - A question with multiple lines of space given for the answer. Used for longer questions which require more in-depth answers.
You can use any combination of these elements on your form.
To add an element to your form, drag and drop it into the form, making sure to insert it in the order you want it to appear.
You will then be able to type in your text (for the text block) or your question (for both single and multi-line fields).

Note that the information text block supports HTML and inclined CSS. If you want to add in something similar to the image below, you can add:
"If you'd like to learn more about our Feedback 

Process, click <a href='

https://your.url

' 

target="_blank">here</a>."
Once you've entered your text or question, simply click away from the element and it will add it to the form.
You can edit an element directly by just clicking inside the box and editing the text. Use the arrow in the top-left corner of the element to to drag and drop the element into the correct position.
To delete an element, click on the cross in the top-right corner of the element you wish to remove.
You can also set a question to be a required question by clicking the checkbox at the bottom of the element.
NOTE: You can't remove the top element, only edit it. We highly recommend making the second element "required" as well, since this is considered the request description.
At the bottom of the form, you'll see a box labelled "File-Upload". This determines whether your users are allowed to upload files when they fill in the form.
Checking the box labelled "Allow visitor uploads" will turn this feature on for your users. There is a size limit of 1GB for file uploads.
Your end users are able to edit and remove their files at any time. If you remove the option to upload files, any previously uploaded files will remain, but can be removed at your discretion.
NOTE: If you do allow uploads, make sure your users know that these files will be visible to all users so confidential data should not be included here. Consider adding an information text block to remind your users of this.
Finally, once you've created your form exactly how you'd like it, you can save it by clicking the "Save Form Layout" button at the bottom of the form builder.