One of our values is maniacal focus on the customer, and so we take feedback seriously. It's important that our customers have a say in where we take the product. From your feedback, we learn not just what you want, but why something is important to you and your company.
This article describes how to submit feedback to Pendo about Pendo's products. If you want to share feedback about your own organization's products, see Requests, votes, and priorities, which summarizes how to submit requests for yourself, or on behalf of your customers and prospects.
Why give us feedback
Give us feedback to help us understand what you need from us, to deliver value to your customers, and to enhance the experience of all Pendo customers.
We use your feedback to improve our current products and to help identify the most important problems, experiments, and opportunities to innovate so that we can deliver features that will provide the most value to you and your company.
Send feedback to Pendo
Sign in to

https://app.pendo.io/

Open our Resource Center in the bottom-right of the screen.

Choose the

Feedback requests module.
Complete the Submit a request form.

Be detailed and describe the use case.

Select

Submit request when you're done.
Get the full Feedback experience
We highly recommend expanding the Feedback area into the full screen view where there are more features available to you, such as a detailed view of your previous feedback requests and requests from other users.
From here, you can see what we're planning and building, prioritize the requests you're interested in, and interact with other requests. Commenting, prioritizing, and interacting with feedback requests helps us understand which requests are most important to you.
Select Open in Portal in top-right of the Submit a request form. In the window that opens, you can see navigate to other tabs to see the status of all requests you're interested in, our recent releases, what we're planning, and what is currently being built.
View and interact with feedback
You can view and vote on feedback from other customers, and add your comments and use cases to requests that are already on our roadmap. Select a request with a status of Planned or Building and then add your comments for our Product team to see.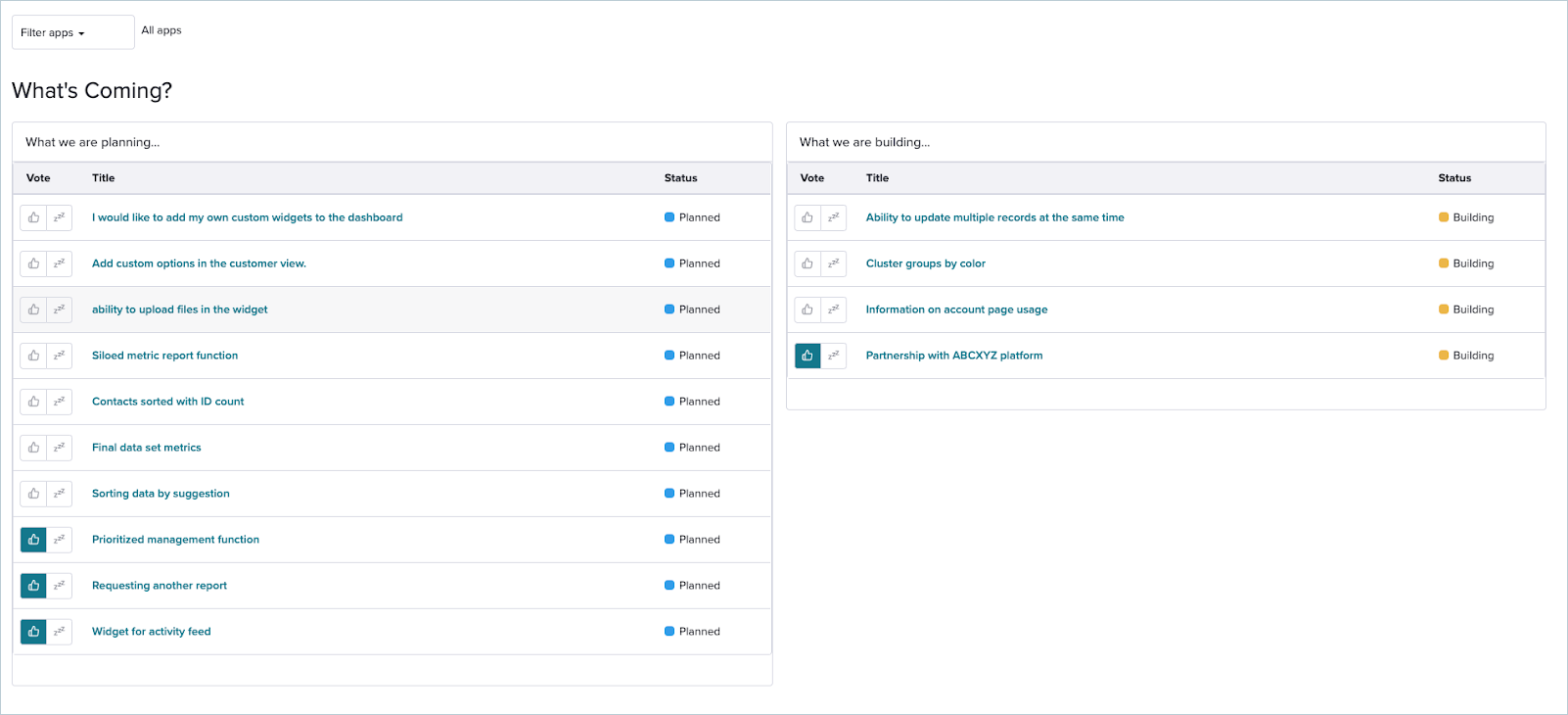 Prioritize your feedback
Prioritizing requests regularly helps our Product team understand what matters most to you. When you add or select I want this on three or more requests, you can use the priority sliders to show us your top requests.
When you increase the priority for one request, the others decrease proportionally.



Additional resources