Users of Pendo Guides and Pendo Feedback can leverage a multi-channel approach to communicating releases to their customers, both in and out of the app. You can, for example, simultaneously email users who voted for the feature about a release and publish an in-app guide announcing the feature.
This allows you to:

Communicate releases in-app rather than through email alone.

Include in-app onboarding workflows as part of a new release to get visitors to value quickly.

Send notifications to those who don't pass email address in the Pendo install script.
Prerequisites
To use this feature, you must have a Pendo Engage (Insights and Guidance) subscription, as well as the Pendo Feedback product.
The team member using this feature must have the following user permissions:
You must also have a Draft or Staged guide ready. For guidance, see Create a Guide. This feature also supports Product Announcement guides in Pendo's Resource Center. To take advantage of this, your Resource Center must be released to Production and the Draft or Staged guide should be added to the Resource Center. For guidance, see Resource Center Overview.
Limitations
Launching a guide is currently limited to requests moving to the

Released status only.

This feature doesn't currently support Mobile guides.

Guides can only be launched for one request at a time. You can't launch a guide when you bulk update the status of multiple requests.
Step 1. Change the request status to "Released"
Find the request you want to release in the Browse page, or by using the search bar, and open the request's details. In the Request status section on the right, open the drop-down menu and select Released. This opens the Set status to released window. For more information about updating the status of a request, see Request status updates.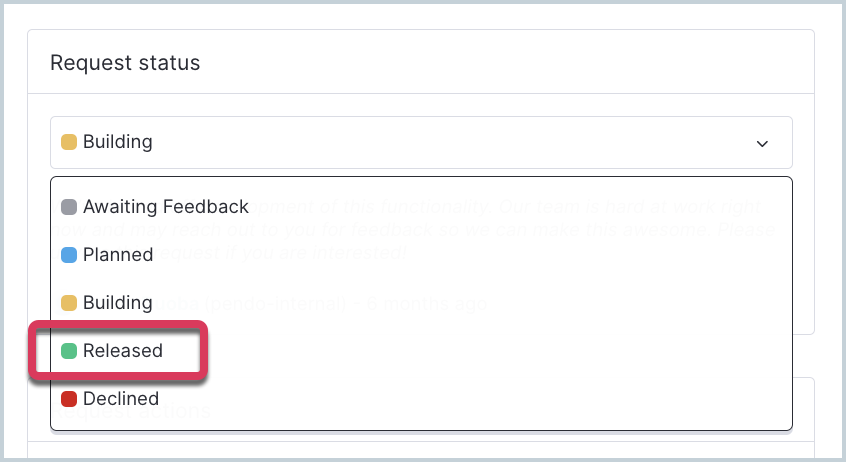 Step 2. Choose messaging
When the release request window appears, select or customize your status response as usual. For information, see Request status updates.
Choose whether you want to send out an email to subscribers of this request by selecting the corresponding checkbox. If you don't pass email address to the Pendo install script, this option doesn't appear in the form. For information about passing email address to Pendo for Feedback, see the Developer's guide to installing Feedback.
In the Publish a guide section, find the guide you want by scrolling through the list or typing the guide title. From here, you can select one or more guides you want to publish. If the guide you select has a scheduled release date, it will not be published until the date set there.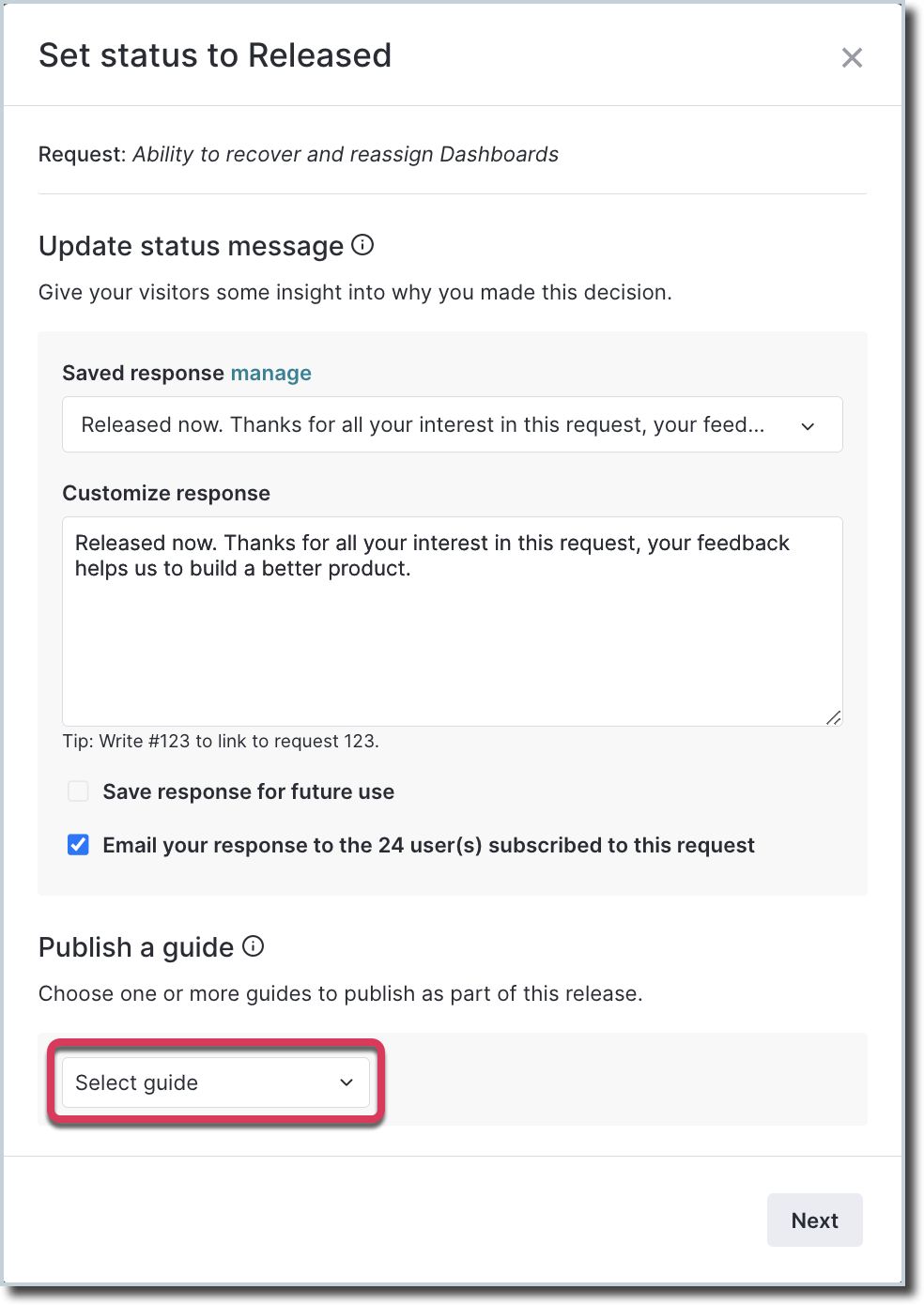 Step 3. Confirm settings
When you select Next in the bottom right corner, a confirmation screen with a summary of your communication choices appears. This includes the request title, status message, email status and titles of guides that will be published. When you're happy with this, hit "release request" to send these out.