The Resource Center has been enhanced to provide an improved user experience. Building upon its existing foundation, this revamped version has been fine-tuned so that each section provides easy access to the information you need to work better with Pendo.
What changed?
We consolidated modules that were aimed to provide help resources (Community, Self-Help Hub, I Want To…) into one to improve discoverability and accessibility to support offerings. Additionally, we now have a repository of upcoming and past events and training in the Events module. We'll continue to announce major product changes in the Product updates module, but you'll see less frequent notifications and instead have in-flow experiences and monthly release notes to notify you of new functionality.
To access our Resource Center, navigate to the bottom-right corner of the Pendo application and select the badge.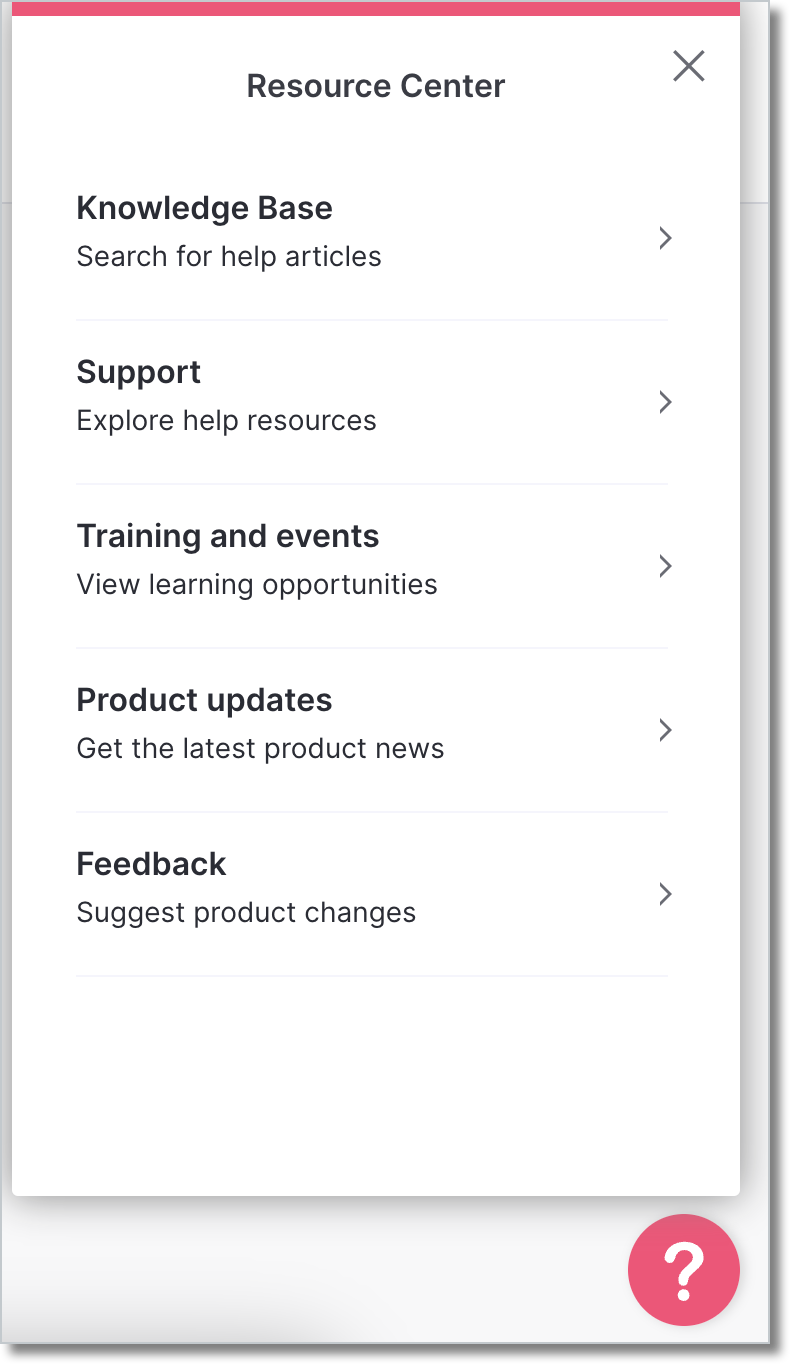 Note: Depending on several variables, such as product usage or payment tier, you might see different modules and guides within the Resource Center. Our goal is to outline likely variations, but some might not apply to your specific configuration or stage of Pendo use. To learn more about how to configure your own Resource Center for your users, see the Resource Center Overview article.
Free trial support
The Free trial support module is only visible to Pendo Free users during their trial window. During a free trial, Free users have access to 1:1 support from a product expert and can try out our premium features for the duration of their trial.
Post-install checklist
The Post-install checklist module appears for users who have installed Pendo within the last 90 days. It provides guidance and best practices to set up and optimize your subscription and is available only to Admins of Pendo. This module is dismissable on a per-user basis and doesn't appear 90 days after the first installation of Pendo.
Knowledge Base
When you select the Knowledge Base module, you are taken directly to the Help Center to search for help articles.
Support
The Support module lets you explore self-service and support resources so that you can get help when you need it.
Explore the Community
These resources include links to our self-paced learning Academy, user-led Discussion Forum, and extensive Knowledge Base.
Hire an expert
This section provides a list of paid offerings with a Pendo expert to supplement and help reduce time to value.
Tutorials
Use this section to find in-app tutorials designed to guide you through various areas of the product that are critical to product adoption and driving business outcomes.
Technical support
If you're on our Growth or Portfolio plan, this section provides you with direct access to our Technical Support team to troubleshoot and report issues. You can also see previously submitted tickets and check their status any time.
Training and events
Use the Training and events module to explore learning opportunities.
Live and recorded trainings
Use this section to register for upcoming in-person or virtual webinars and to watch recordings from past trainings or certifications.
Community events
This section shines a spotlight on upcoming thought-leadership events and Pendo User Groups (PUGs). If you can't find a PUG in your area, you can use this section to apply to start your own!
Product updates
This section is a one-stop-shop to see large product release announcements, a high-level of our most recent updates (per month), plus a link to see all features released month over month in our release notes.
Release notes
Find a log of all product releases (from large product announcements to small enhancements) for each month, categorized by product area.
Beta signups
Sign up to get early access to upcoming product launches.
Developer documentation
Read more about our agent updates, API, and SDK information.
Feedback
Use the Feedback module to suggest product changes to the Pendo product team using Pendo Feedback. Submit new requests here, or open the portal to view and vote on requests that other users have submitted.