Why is this important?
Tagging offers a flexible way of tracking different types of ideas. This allows you to segment your reports in a variety of ways and analyze product demand at a granular level.
What is tagging?
Tagging allows you to group together and segment out your data. They can apply to requests, users (teams, visitors, and prospects), and accounts.
You can then use these tags to dive down deeper into your data when it comes to reporting. You could, for example, see the most popular requests by Enterprise customers who are based in Europe.
This makes it easier to efficiently analyze your data.
Request tags
Using the format used in these examples ("Category:Tag") categorizes your tags and quickly access them in your reporting / browse UI. (See below.)
Product areas
Projects or themes

Project:Integrations
Project:Test
Project:Customer UI Overhaul
Project:Reporting
Theme:Automation
Theme:Faster triage process

Problem or pain point

Problem:Ticket management / efficiency
Problem:Complex system issue

Strategic goals

Strategy:Decrease churn across enterprise accounts
Strategy:Increase SMB sales

Functions

Function:Onboarding
Function:Communication

Integrations

Integrations:JIRA
Integrations:Salesforce

Workflow or status clarifications

Status details:Reviewed + Tagged
Status:Needs translation
Status:Waiting for clarification

Project owner (see product area management)
Expansion potential

Expansion:100-499
Expansion:500-999
Expansion:1000+

Product version

Version:1.1
Version:2.4.5

Other ideas

Customer Success:Quick Win (for example, if a request may be a small tweak to an existing feature)
Customer Success:Efficiency Project (for example, if a request is a pain point related to a bigger pain point the CS team is seeing more often)
Customer Success:Strategic (if your customer success teams notice a theme or project that ties to a strategic goal)
Sales:Strategic (if your sales teams notice a theme or project that ties to a strategic goal)
Trends:Sales (for example, if your sales team has noticed trends
Risk:Customer value (if a request is stopping customers from getting value from your product)
Risk:Lost sale (if a feature blocked a sale, in this case add the prospect to the request and add a private note in the comments)
Risk:Potential bug (if a request is not quite a bug but the feature isn't performing as the customer expected)
User tags
Apply these to your users, which could be your visitors or prospects. Examples include:
Persona
User role or access level

Role:Admin
Role:Limited
Role:View only

Job title, team, or role

Job title:CXO
Job title:CSM
Job title:Admin
Job role:Sales

Customer Advisory Board Member
NPS Category

NPS:Detractor
NPS:Passive
NPS:Promoter
Account tags
Apply these at the account level. Examples include:
Account owner or CSM
Industry

Industry:Education
Industry:Finance

Region

Region:Europe
Region:Eastern USA
State:Texas
Country:UK
City:Spokane

Plan type
Strategic

Strategic:Yes
Strategic:No

Customer Advisory Board Account
Team tags
Use these to organize your teams. Examples include:
Regions

Region: Europe
Country: Mexico
City: Boston

Roles

Role: CSM
Role: Account Manager
Role: VP Sales

Verticals

Vertical: Education
Vertical: Finance
Sector: Health

Projects

Project: UX Improvements
Project: Integrations
Tag categories
Categories offer a way of grouping tags together on the reporting and browsing pages. This makes it easier to find the tag(s) you're looking for.
To add a category, enter the tag like you normally would, but use the following format:
CATEGORY:TAG
For example, you might type, "Project: Integrations". In this example, "Integrations" is the tag, while "Project" is the category.
Here's an example of an account tag being added: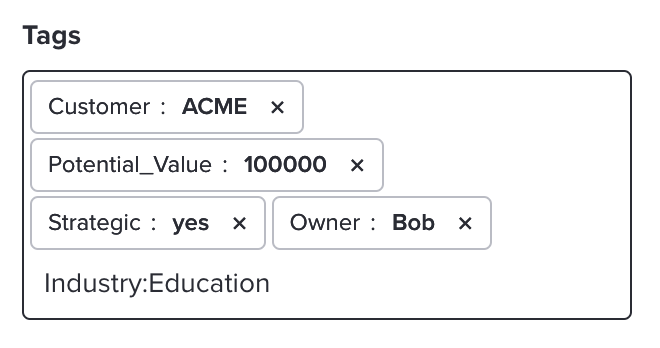 Once you press tab, enter, or click outside the box, the tag will be created. Or you can select existing filters that appear as you start typing. Here are some example request tags & categories:

Note: Creating new tags is restricted to users who have that permission enabled, but users who do not have the correct permission will still be able to select tags from the pre-populated drop-down menu. More on permissions in Feedback here.
Once you've added a tag & category, the category and associated tags will be added to your Reports and Browse pages, where the category has created one easy drop-down menu: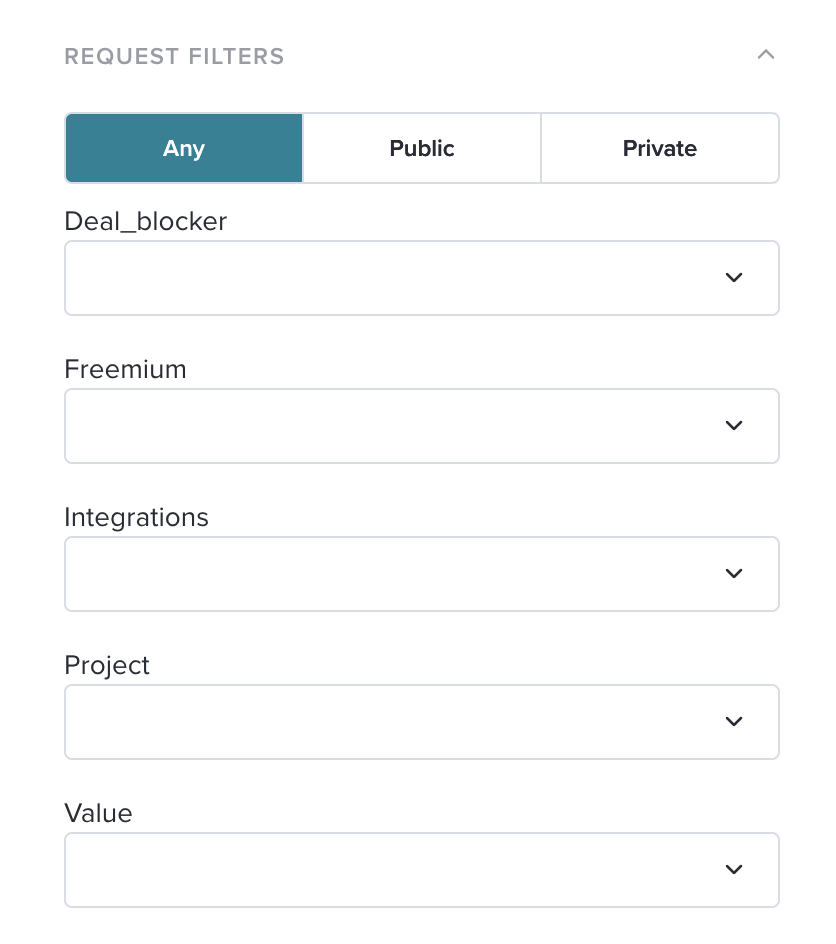 Adding Tags
The key to tagging efficiently is to focus on the groups of users, requests or accounts which will directly contribute to your strategic goals, rather than trying to tag every user or every piece of feedback. Start small, and work your way up as you find knowledge gaps in your feedback database.
Tags can be added via the UI to requests, to visitors, team users and accounts:
By far the quickest way to add tags is to set up auto-tagging when configuring the Pendo snippet. Auto-tags will pull data from your product and automatically add tags to visitors and accounts in Pendo Feedback. This lets you pull reports and view requests from specified user or account groups.
Auto-tagging can additionally be configured using Feedback API's.