Polls are in-app messages designed to collect feedback from your users. You can use polls to understand a user's sentiment and satisfaction or to get feedback on specific questions.

It is always preferable to solicit feedback in-app as users are engaged in your mobile application and in context. This tends to lead to a higher response rate and a better experience for your users.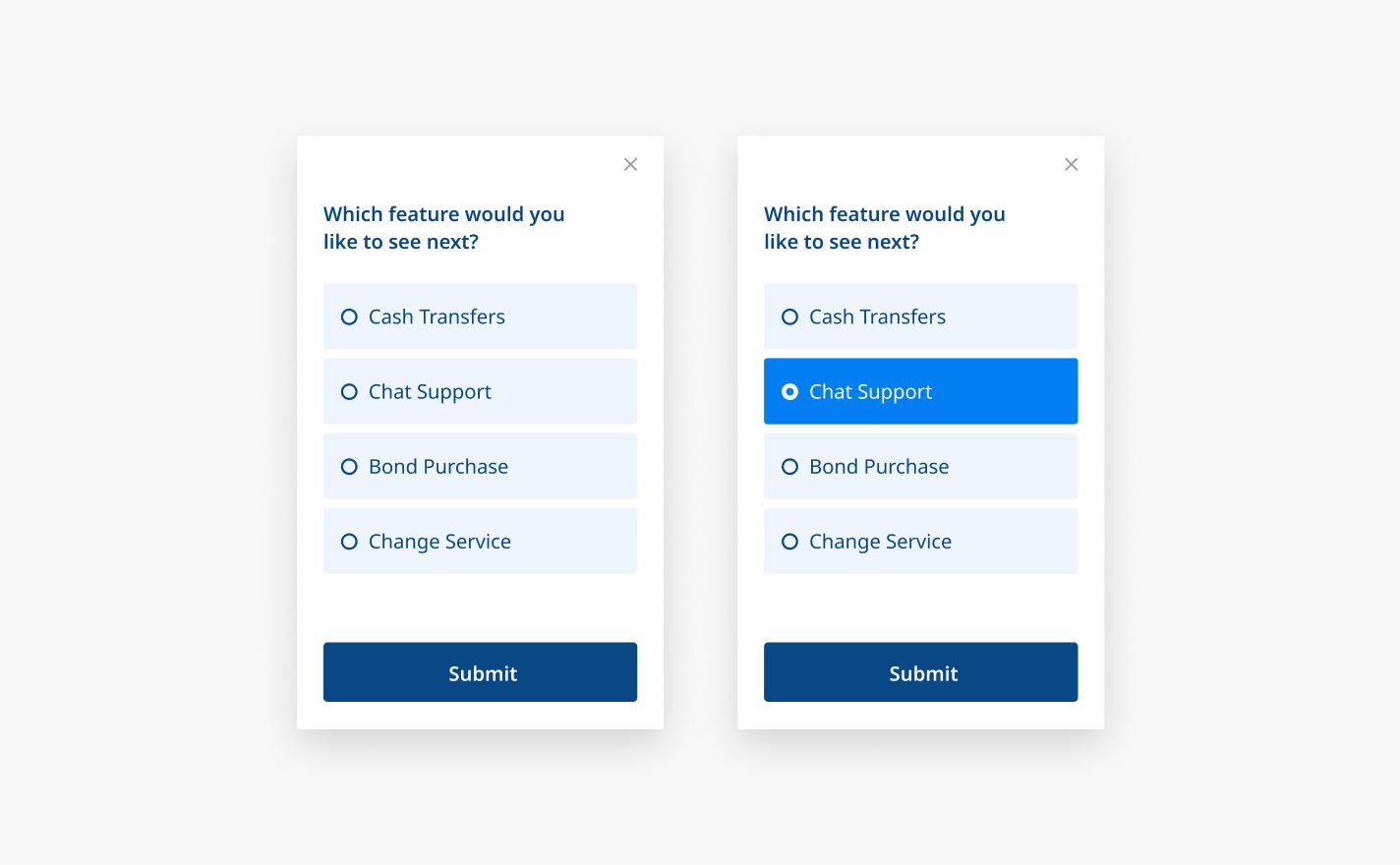 Polls can be styled in the Pendo Visual Design Studio to match your brand and design needs.


How to Add a Poll to Your Guide
To add a poll in the Visual Design Studio, either select a poll layout or add a poll building block from the building blocks menu. Access this menu by placing your cursor inside a Guide and selecting the blue horizontal line that appears.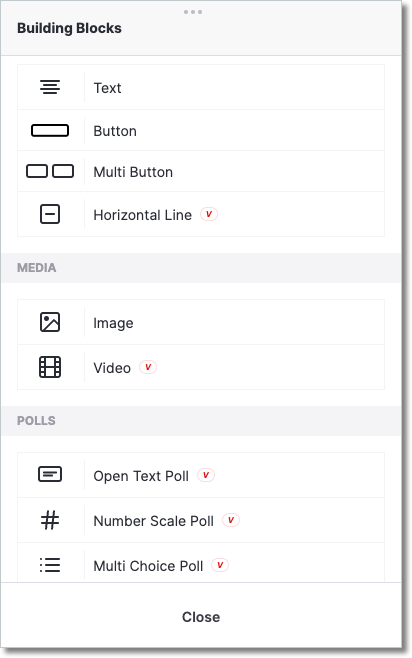 Once a poll building block has been added you can customize three individual areas such as the questions, selection options, and the submit button. Note that a 'submit' button is predefined to include a 'Submit all polls + advance guide' action.
Multiple Choice Poll
A multiple-choice poll must include at least two options. The user is able to select one answer from the list of options you provide. This poll is best suited for known, predefined options such as:
Getting feedback on a specific feature/flow by asking how they feel about them
Shaping your roadmap

: ask users to vote for features in your roadmap to help you prioritize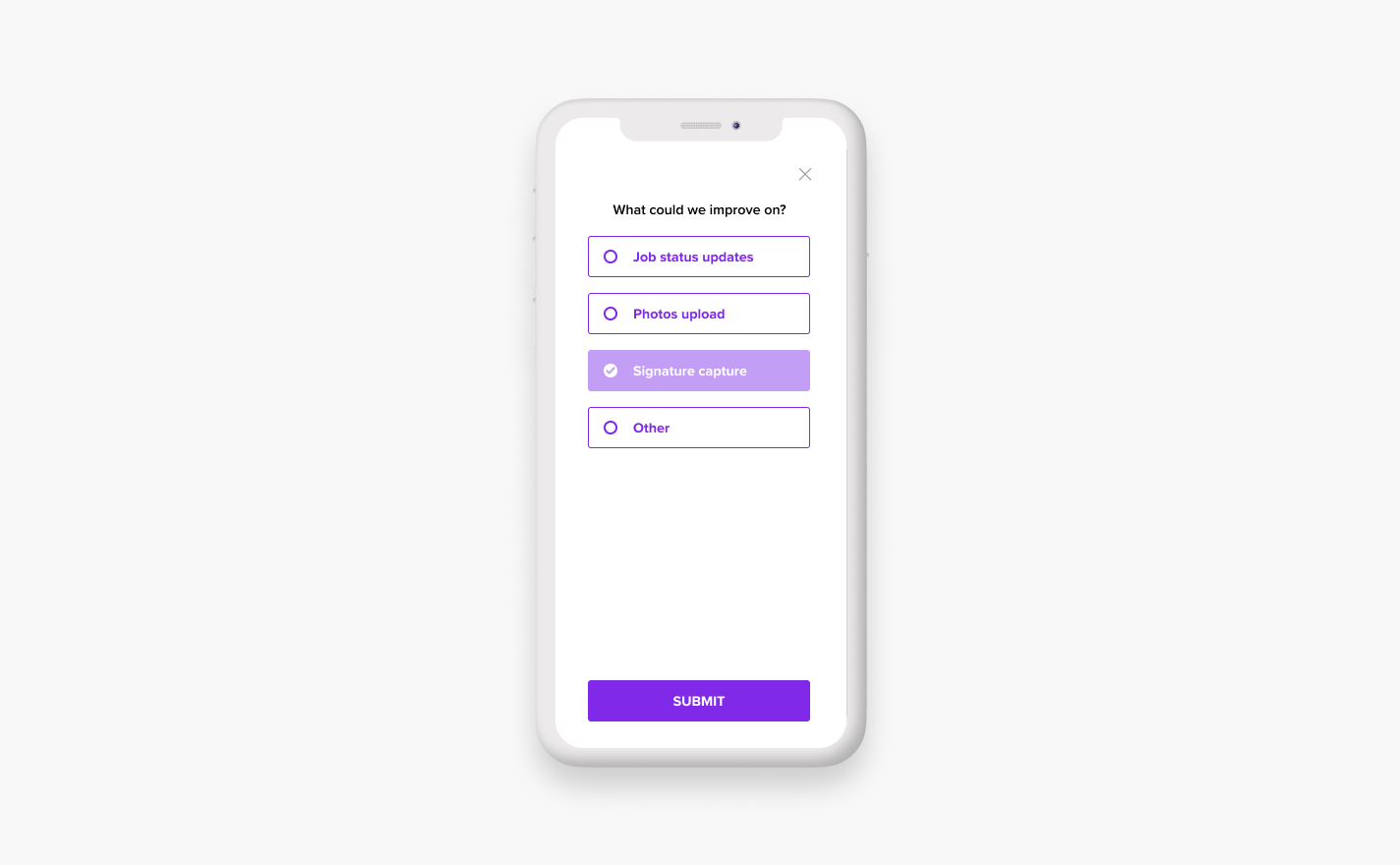 Number Scale Poll
Number scale polls are a great way to quickly get ratings from your users, on a variety of features or experiences you have created in your mobile app. This poll is best suited to:

Get feedback on a specific feature/flow by asking your users to rate it
User satisfaction

: Determine the degree to which users are satisfied with your app's experience (0-10 how happy are you with our app?)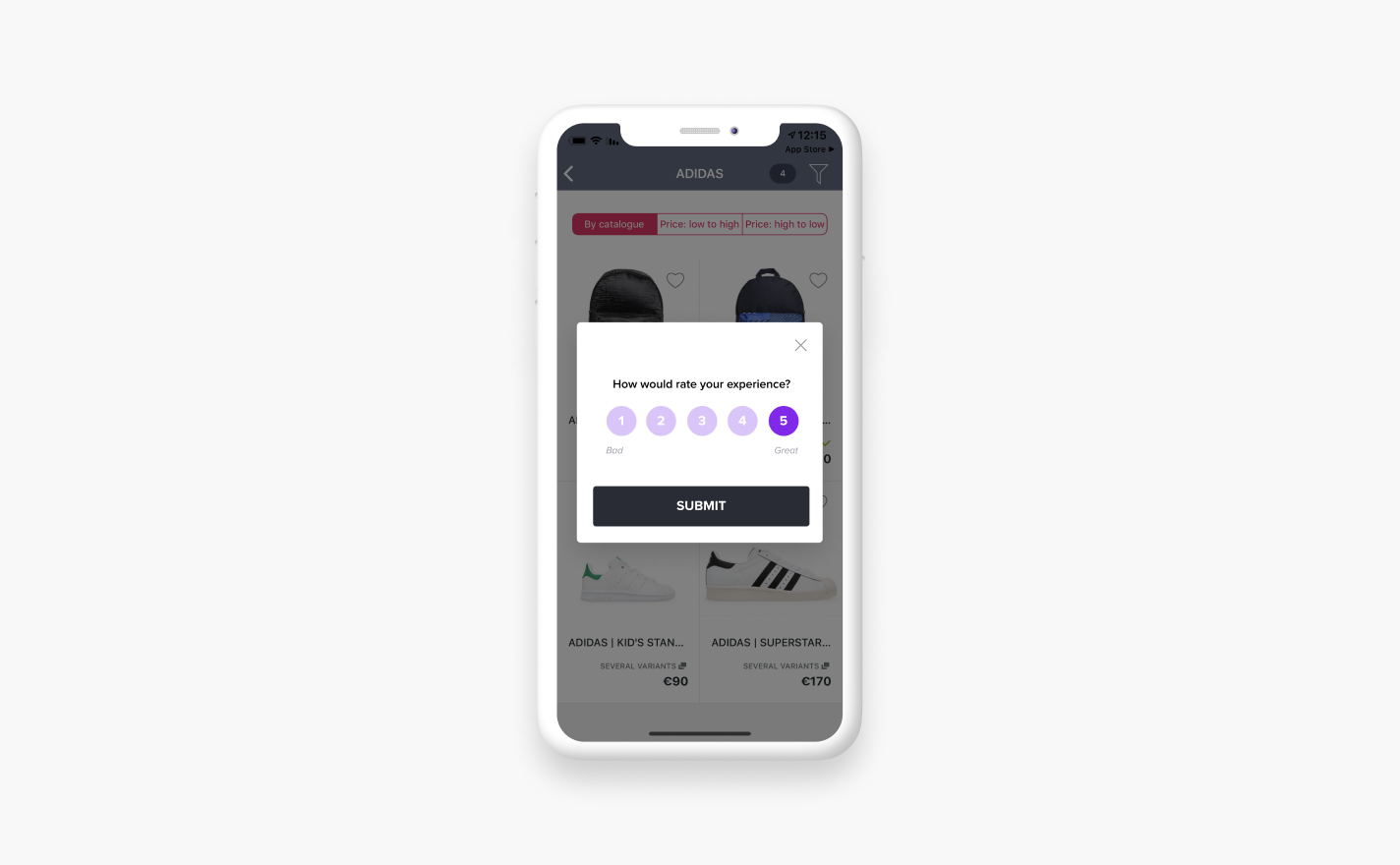 Select how visitors submit answers
Select how a user can submit Number Scale Poll responses:
1. Button - Submit button in poll building block. This advances the poll when visitor selects Submit.
2. On Tap - Enable the "Submit poll after user taps answer" in poll building block. This advances the poll to the next step once an answer is selected.
Notes: When enabled, any other 'submit' option should be removed. When disabled, ensure a submit button is added.

Open Text Poll
Open text polls allow your users to share what they really think, without limiting or influencing them with predefined options. These are great to understand exactly what they need.

Allow respondents to explain their feedback or describe the troubles they are facing
Expose yourself to creative ideas when allowing respondents to answer freely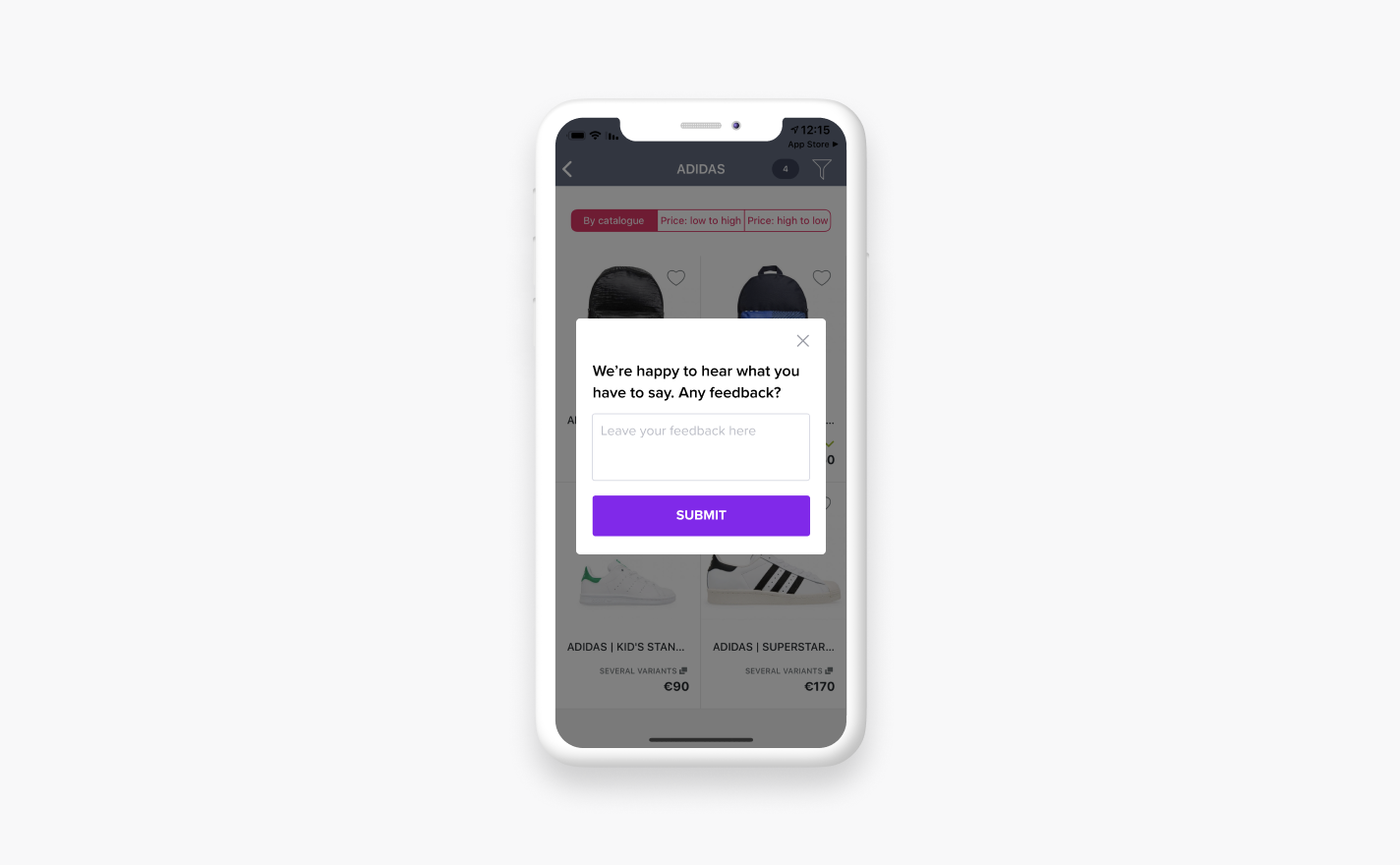 You can include several poll questions in the same Guide step. The Submit button of this step submits the responses to all questions in the step.

You can create a poll where each question is in a different step. The responses of each step will be submitted once the user moves to the next step.

Users are allowed to click on 'Submit' without selecting a response. In this case, if this is a single question poll, they will not be considered as respondents.

If you include a 'Back' button in the poll and the user submits a response to an already answered question, both responses will be registered.
Tip! Poll responses can be used to segment your users for slicing and dicing analytics or for more specific guide targeting.

Poll Best Practices
Be polite! We recommend including a 'Thank You' message as the last poll step, to acknowledge the effort that the user invested in responding to the poll.
Poll fatigue: Be careful with the number of polls you publish. Create a thoughtful customer survey plan and space them out.
Segmentation: Make sure you segment your user base correctly to target the correct audience for each poll.
Where to place a poll: It's advisable not to place a poll right after users open the app for a specific purpose. Instead, trigger a poll at the end of a user flow when users are more likely to respond. Use a new feature or a special occasion as an opportunity to celebrate and ask for feedback.
Number of options: Do not include too many options in a poll question or you will frustrate your users. Make sure the poll options fit on common mobile screens. The recommended maximum number is 5. (See this article by the NN group).
Number of Questions: Same goes for the number of questions in a Multiple Choice Poll. We recommend not going over 5 to prevent user frustration.