Request statuses (Awaiting feedback, Planned, Released, and so on) offer a quick way of communicating plans and progress. You can create custom messages for each status. These messages are important for setting the correct expectations with customers.
The status of a request is seen across Pendo Feedback and is visible to your internal teams and visitors. You can also send automatic notification emails for every update to a request's status in Feedback, so long as the Product Area is set to Team & Visitors. If you change the Product Area of a request to Team Only, only internal users are updated about requests that they register their interest in.
For more information about Product Area visibility, see Product Areas in Feedback. For more information about automatic updates sent to email, see Notification emails in Feedback.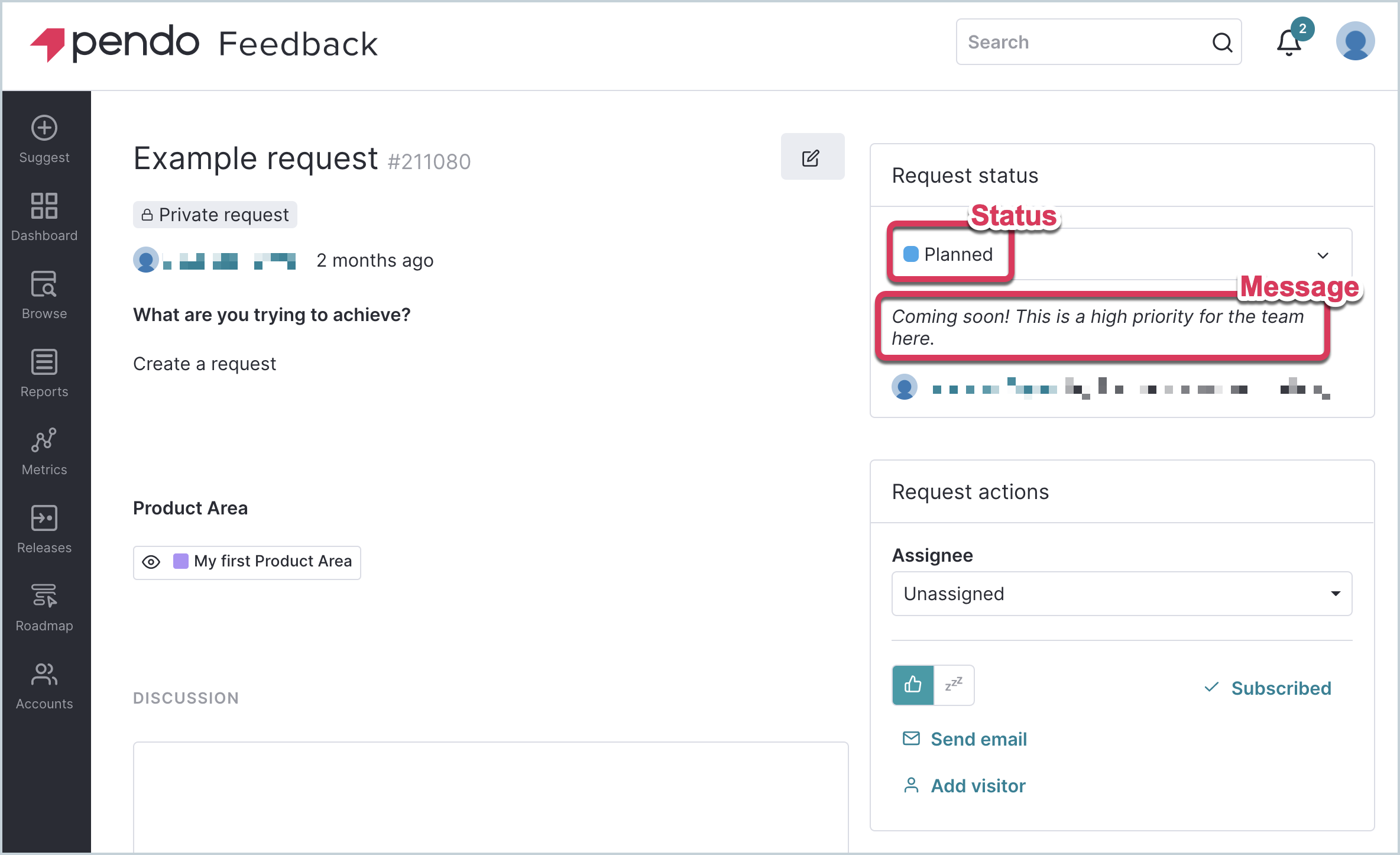 Default Statuses in Feedback
There are six status options for your requests in Feedback. Each status has its own function and color within Feedback. The default statuses are: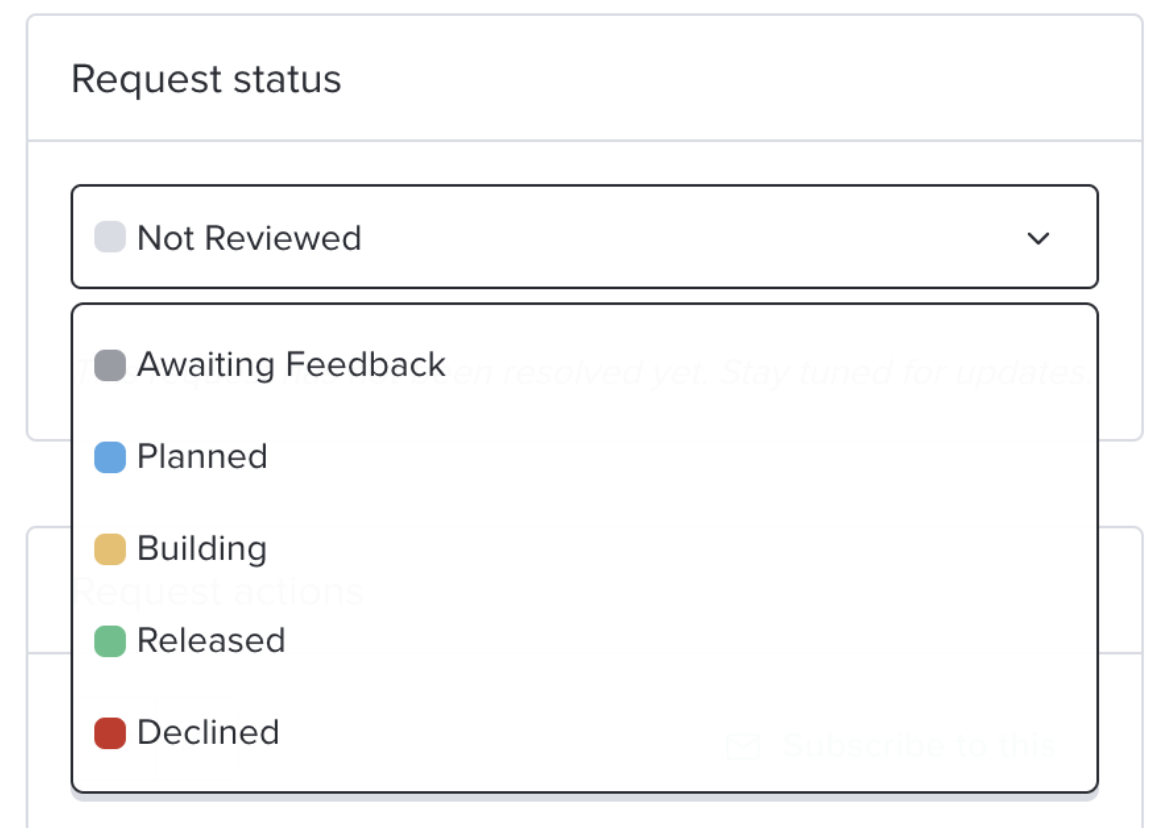 Not Reviewed. Light gray.

This is the default status for a new request.

Awaiting Feedback. Dark gray. This status l

ets users know that you've received their request.

Planned. Blue. The status given to i

deas that you want to build.

Building. Yellow. The status given to i

deas

that you're currently working on.

Released. Green. The status given to i

deas

that have been built and rolled out.

Declined. Red. The status given to i

deas

that you have no intention of building.
You can rename these statuses to align with your Feedback Workflow. For more information on renaming statuses, see Customize status names, below.
Status visibility
For internal users, statuses are visible across Feedback, wherever requests are found, including:
Team

and visitor

dashboards.

The Browse and Reports

pages.

Email notifications

sent out when a status is updated.

Any integrations you've set up, including the Salesforce integration.
Requests with a status of Not Reviewed, Awaiting Feedback, Planned, and Building can be found across your app, including the Visitor Dashboard. Requests in these statuses are included in your reports by default.
The What's Coming report is auto-populated with requests in the Planned and Building statuses for low-maintenance communication of high-level roadmaps. For more information, see Communicate what's coming.
Released and Declined requests don't appear in your reports by default, but you can optionally include them. Released requests move from your Visitor Dashboard to your Release Log. For more information, see Communicate releases. Declined requests don't appear in your Visitor Dashboard and end-users can no longer add their votes, but they can add comments.
Change the status of a request
Internal users must have the correct permissions to update statuses on requests. For more information on permissions, see Manage Team: Roles and Permissions in Feedback.
You can update a request status from either the Browse page or the Reports page. After you've navigated to one of these pages you can change the status of a request in one of two ways:
Directly in the request list on the page. Select a new status value from the dropdown menu

in the

Status

column

next to the appropriate request

.

In the request itself. Select the relevant request and use the

Request status

dropdown menu in the top-right corner to select a new status value.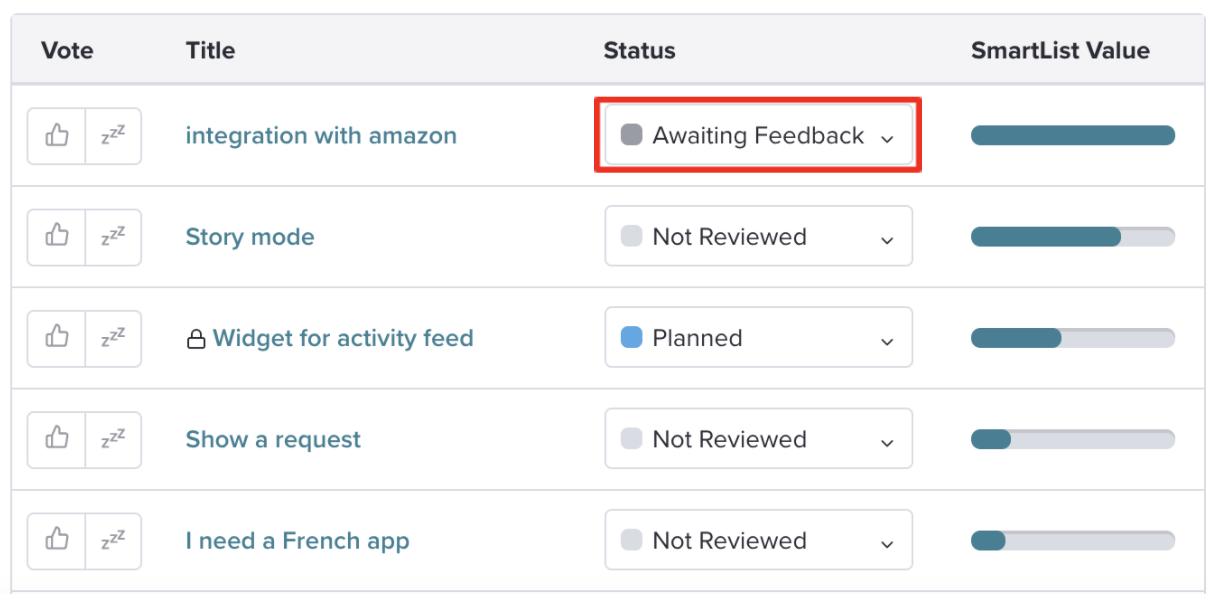 After setting a new status, you're prompted to choose a saved message or write a custom message to let users know why you made the decision. If you customize the response, you can save it for future use by selecting Save response for future use. For instructions, see Save custom responses.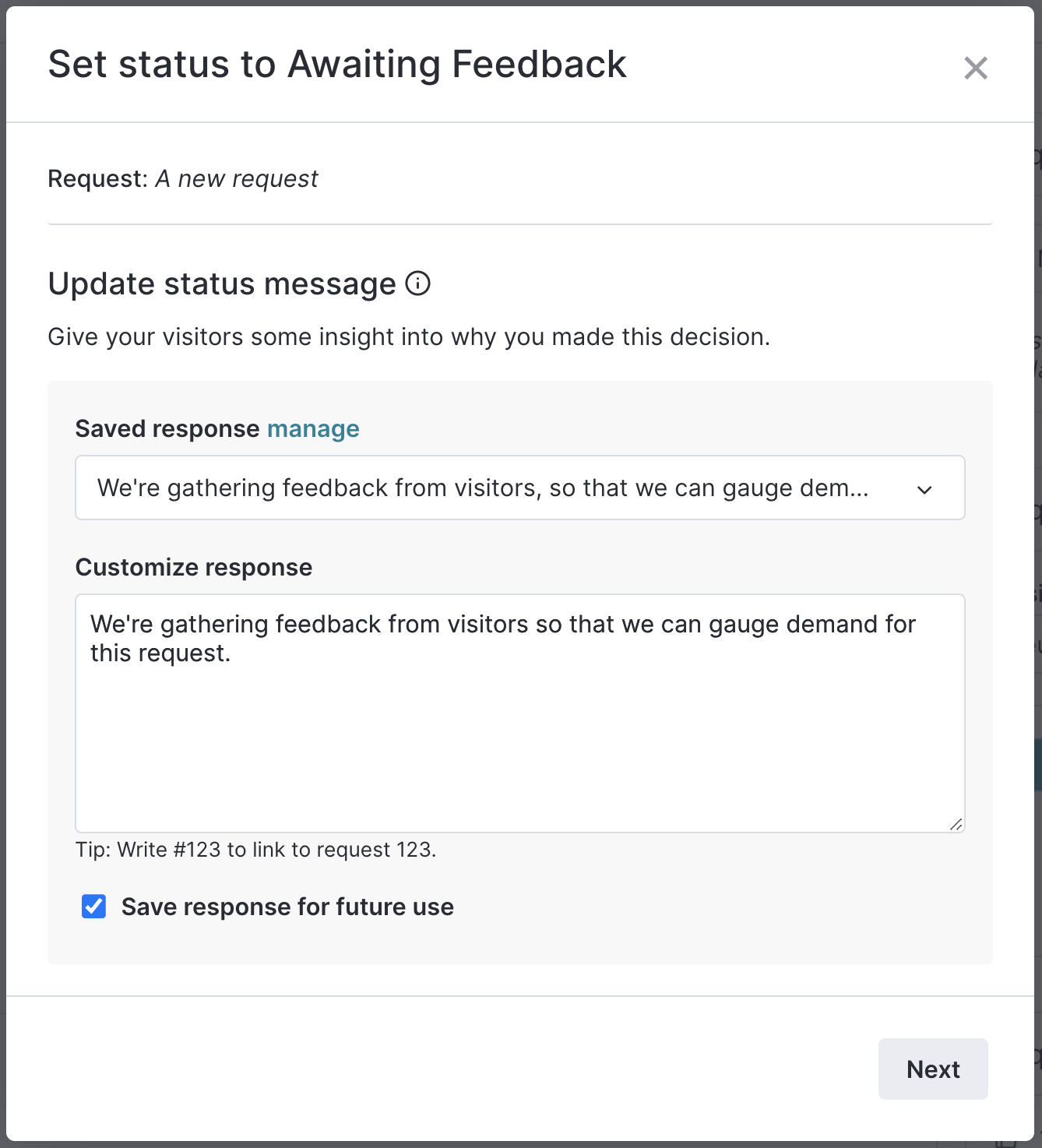 If you have the JIRA add-on installed, you can also select Create under project in JIRA. For information on integrating JIRA with Pendo Feedback, see JIRA with Pendo Feedback.
When you're ready, select Next to confirm the change.