Overview
Tagging pages allows you to see page traffic and understand the flow & behaviour of your mobile users.
Pendo's Mobile SDKs start collecting analytics after a successful install and are retroactive. This means that Pendo automatically tracks any user action in your app, providing insights without any prior app tagging.

When you are ready to see the traffic and user behaviour for certain Pages, follow these simple steps.
How to Tag a Page
Go to Pages.
Click on Manage Pages In-App to tag pages through our In-App Designer.
Select your mobile application from the list and Launch Designer.
Connect Your Device by using the Connect a new device button and follow the instructions. Or relaunch the App for an already connected device.
Once your device is connected, a camera icon should appear on your device.
Navigate in your app to the page you'd like to tag and click on the camera icon

on your device. In a few seconds, you will see the page's screenshot in the Pendo UI. Name the page. You may also assign it to a group.

You can now select 'Save and Exit' to save the newly tagged page.

Alternatively, you can select to

Tag Features or continue tagging more pages. Don't worry, you can always go back and tag more pages and features, analytics are constantly collected.
How is my page identified?
When tagging a mobile page, Pendo automatically sets a page rule for the page based on the page's structure.
Since applications vary, sometimes further configuration is required to make sure the page rule yields the correct analytics.

When different pages in your app have a similar structure, those pages might be assigned with the same page rule by default and show the same view analytics.
Advanced Page Rules: Page Identifiers (Beta)
Page Identifiers help Pendo identify a page as unique and get accurate analytics. On the Page Rules tab, you have more visibility into your mobile page identifiers and the ability to modify them.
A Custom Identifier can be added when a page cannot be uniquely identified based on its structure.

To add a Customer Identifier, select a text label from the app's screen, and add it to the page rule. You can only add a Custom Identifier that exists across all of your app versions.
(Note that in React Native applications, you will usually not need a custom identifier).

Page Title Identifier (iOS Only): Pendo uses page title information, if exists, in the default page rule in iOS. If the title text changes between users or visits, you should exclude the title from the page rule. (Note that this is not relevant to React Native applications, for which Pendo doesn't use the page title).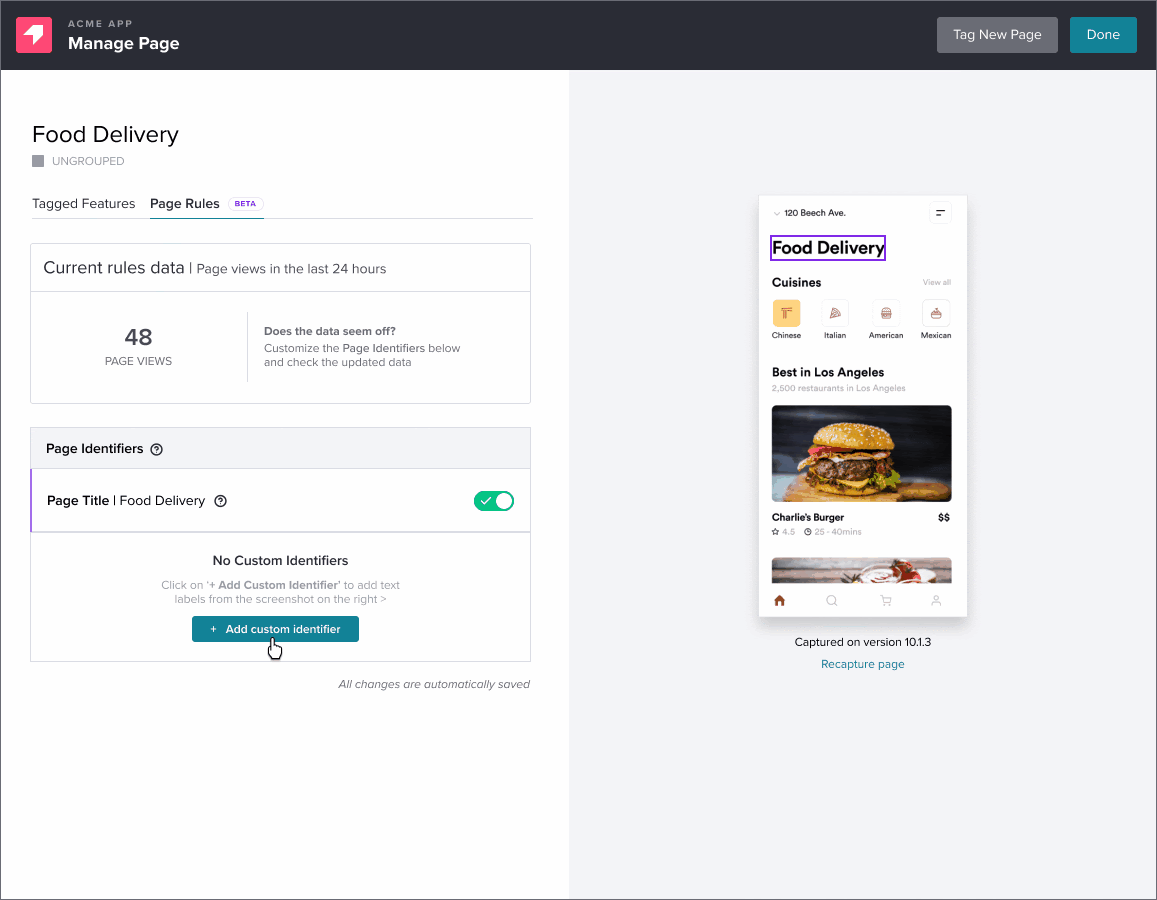 Frequently Asked Questions
Why do I have several pages that show the same amount of data?
When several pages have the same structure, they might receive the same page rule and yield the same views. If this happens, try editing the rules of those pages and add a Custom Identifier unique to each page to increase the page identification accuracy.
What should I do if my iOS page shows no views?
When a page shows no views, it might mean the page rule is too specific. You can try removing any custom identifiers or excluding the page title from the rule and check the results. The page title should be included in the rule only if it uniquely identifies the page across all your users.
What happens when I have a new app version?
When releasing new app versions, pages will usually be identified with the existing rules. However, if changes were made to the page structure, page title, or the custom identifier, we recommend Updating the page, to make sure the page rule is updated with any changes made.
Why I'm not getting new analytics for some of the tagged pages?
Have you released a new app version to the store recently? If some of your pages/features changed in the newly released app version, you can update them by Updating the Mobile Page.
Since the Pendo's mobile page rule relies on the page's structure, major changes to your app require re-tagging the page, to continue getting analytics on the page. If button texts were changed in your app you might need to re-tag the page to update its features.
I can't tag some of the features in my application. What do I do?
We're constantly working on identifying as many mobile element types as possible. In iOS SDK 2.6 we've added support for gestures, if you have elements you couldn't tag we suggest updating the relevant page with SDK 2.6. If you're unable to tag and get analytics for any of your mobile features, please contact our support. A possible workaround is either adding an accessibility label or adding Track Events for those features to collect that data.
How are advanced tagging rules relevant for my React Native applications?
In React Native, the title of the page is usually known at the Javascript level, so pages should generally be identified correctly by the automatic rule assigned by Pendo.
Usually, a custom identifier will not be needed.
Also, the page title is not identified for React Native iOS pages, so the option to include the page title will not be available.