Overview
Product Areas in Feedback is an extension of the Groups functionality currently available within Insights & Guidance.
Product areas give you the ability to:
Create and manage product areas under each of your apps
Choose which product areas are for "Team only" or visible to your Visitors so they can select a product area when they are making a request
Use global filters to see all requests relating to the apps and product areas that you choose (this is visible to your team & Visitors) making the data really easy to consume
See Feedback requests associated to a Group within Insights (note: this is for Insights users only)
A Product Area refers to part of an app, therefore a Product Area can only be assigned to a single app to ensure feedback is categorized appropriately.


Benefits for you
Requests are categorized by team users & Visitors as they are made; this saves a lot of time because you won't be manually assigning product areas to all of your requests.
Categorizing by product area also allows your team users to focus on the parts of your applications that matter the most. For example, each of your Product Managers may be responsible for a specific area of your application. Using product areas allows them to cut through the noise and only view requests they are interested in.


Benefits for your Visitors
Product areas are great for Visitors too! They can categorize their feedback at the point of submission, enabling them to add as much specificity as they like to their request.
They also have the option to filter all requests down to the application and area of the product so they can quickly understand other requests in a particular area of your application.

How to Create & Manage Product Areas
When you are logged into Pendo Feedback for to Settings > Product Settings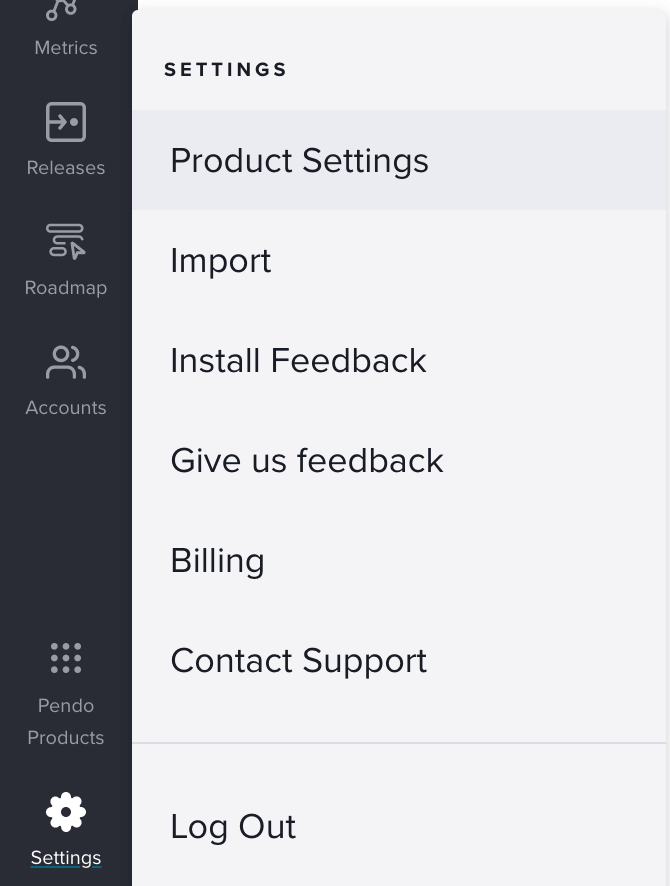 Choose Product Areas in the left-hand menu. Here you will see all Product Areas, the app they are assigned to, and their visibility.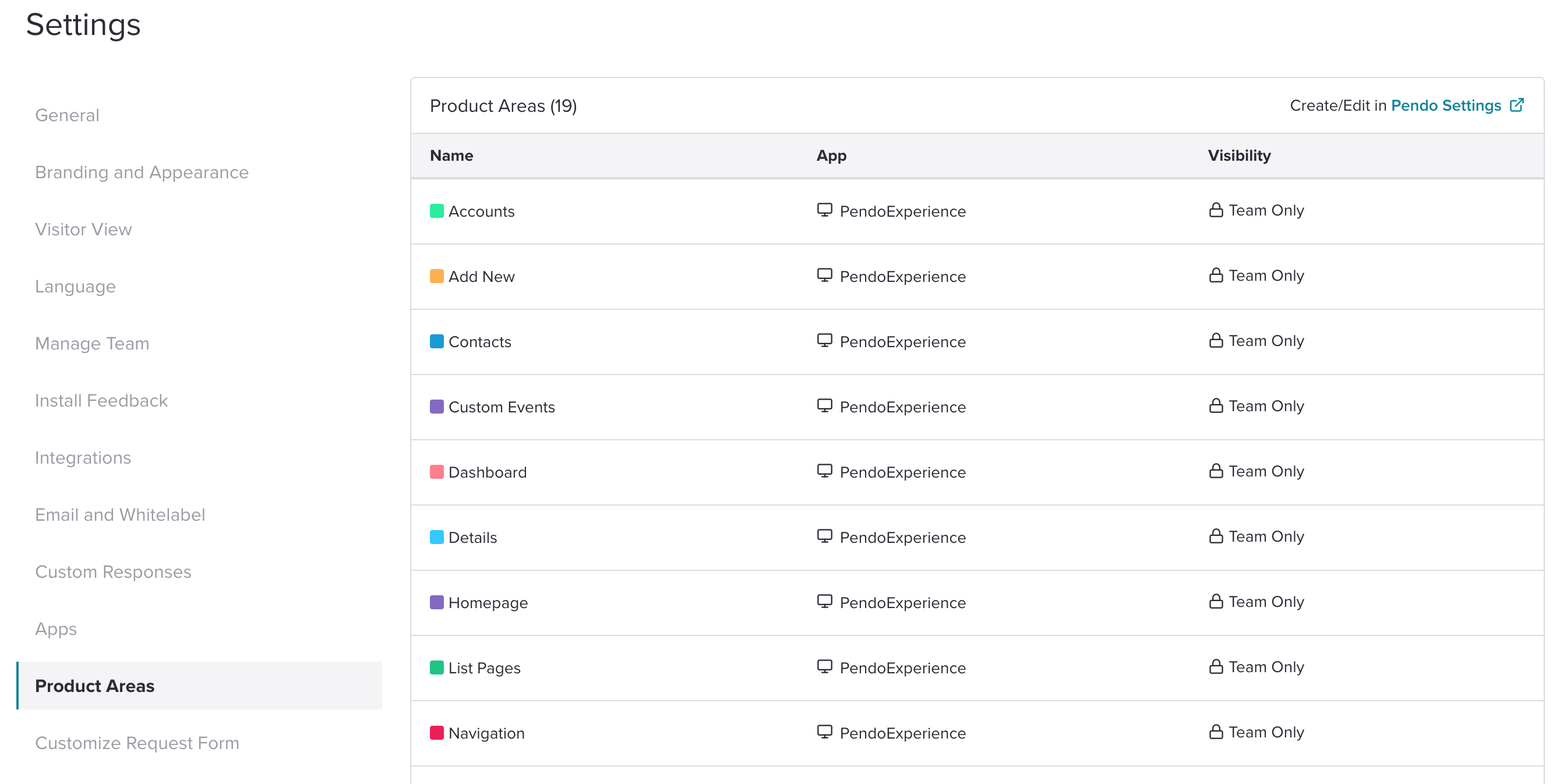 Click on Pendo Settings to manage your product areas. On this page, you can edit and delete product areas.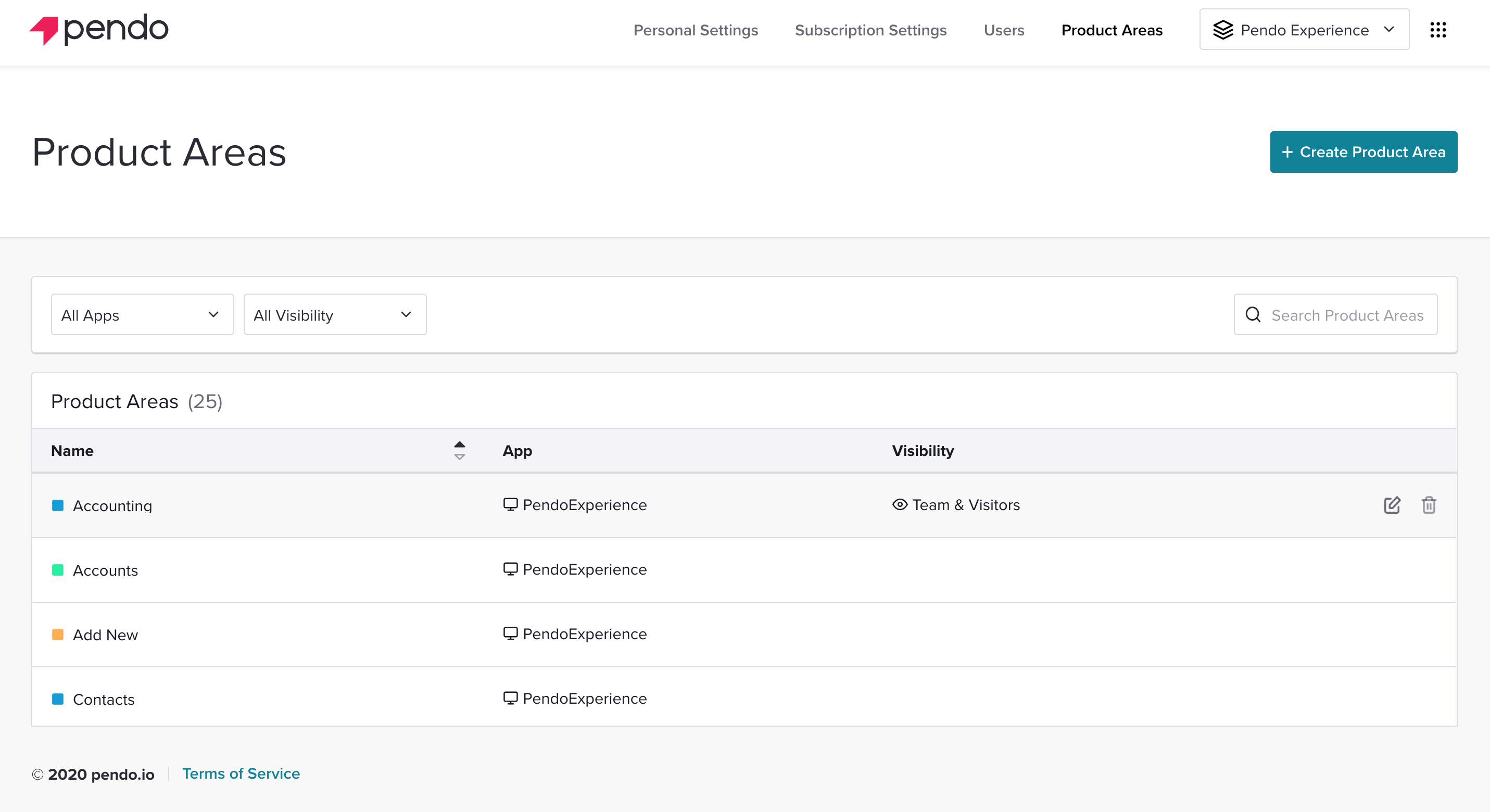 Clicking on the Create Product Area button will allow you to add a new product area. Simply fill in the details, choose the visibility, and click Create Product Area.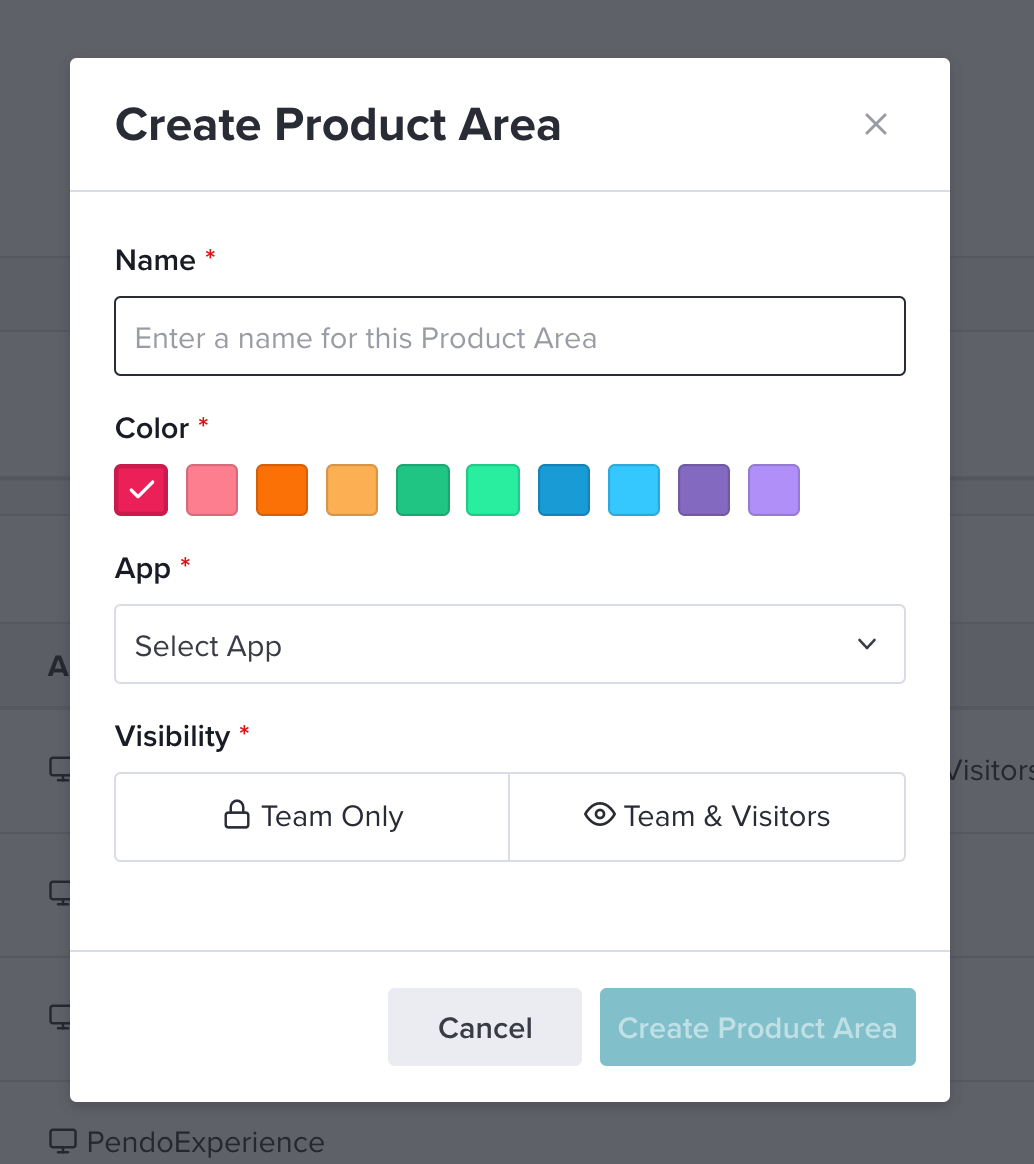 Assigning Requests to Product Areas
When a team user or Visitor makes a request, they will have the option to assign an app and product area.

Visitors only see product areas that have the "Visibility" setting on "Visitors & Team", while team members see all product areas created under an app.
For a single app subscription, teams are able to associate requests to a Product Area by viewing the request and assigning the relevant Product Area by using the Product Area drop down option.
For a subscription with multiple apps, select the app the request relates to via the drop down, and then select the appropriate Product Area from the drop down below.

Please note:
Once an app is selected only the Product Areas associated with that app will be shown as available options.
Although Groups within Insights & Guidance are able to be shared across multiple apps, Product Areas in Feedback may only be assigned to a single app. It is not possible to share a Product Area across multiple apps in Feedback.
Using the Global Filter in Feedback
The global filter in Feedback is shown to your Team Users and Visitors.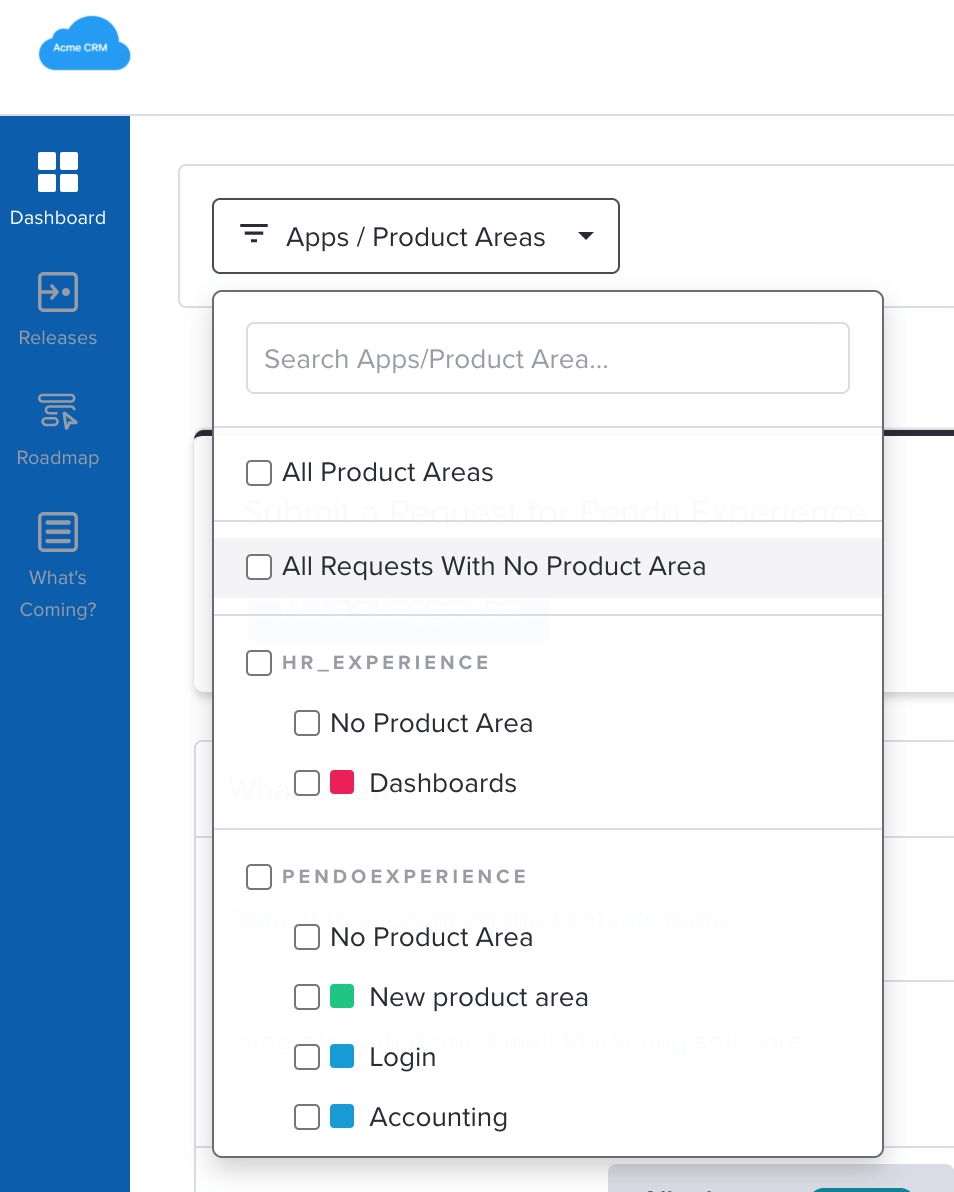 They can filter all requests down to their chosen apps and product areas on:
Dashboard
Browse
Reports
Releases
Product Areas Data in Pendo Insights
If you are a Pendo Insights user too, any requests made on a product area will be shown in Groups in Insights. Just click the Feedback tab on a chosen Group. This data syncs in Insights every 15 minutes.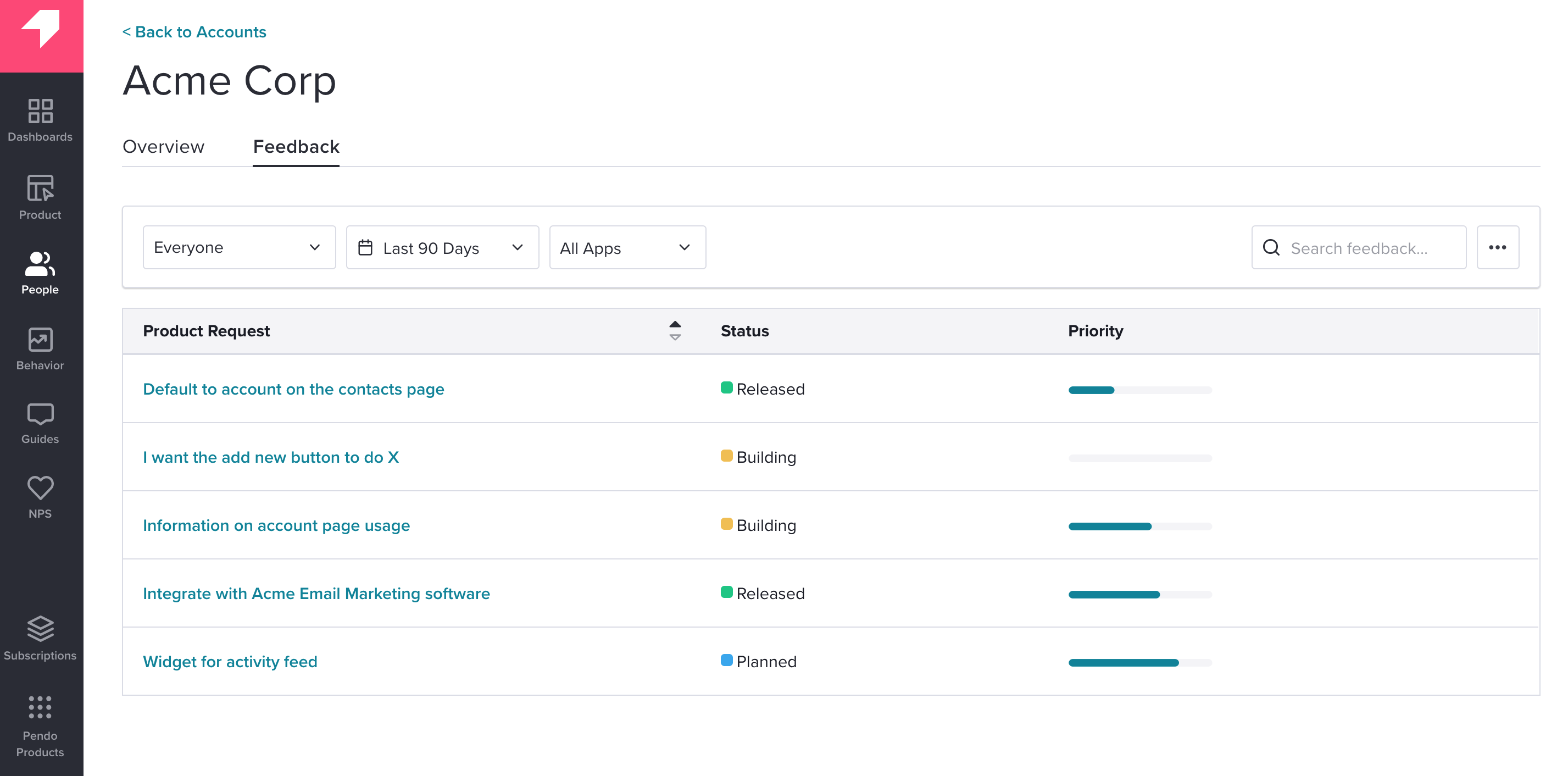 Currently in development
We are working on the following:
Bulk edit and merge
Ability to choose to receive email notifications when a new request is raised under your chosen apps and product areas