Overview
Support ticket deflection is not only critical for enabling your Support team to scale, but also for elevating your customer experience. There are many ways to deflect tickets - in this article, we'll discuss out-of-the-box self-service options available in Pendo by utilizing guides and Resource Center, as well as dive into several use cases we've seen help reduce Support costs, improve customer retention and decrease churn risks.
Empowering your customers with on-demand guidance and information in your application allows them to find the information they need, at any time, without creating a ticket. As a result, your Support team can be more productive, scale more effectively to meet the needs of your growing business, and focus their efforts on higher-priority tickets.
Where to Start
While there are several different ways to approach support ticket deflection, we'll focus on some basics to get started.
Total Support Volume + Metrics - Do you have access to information about the tickets submitted to your team? Things like number of tickets submitted, average time to close, and cost per Support hour can be helpful for measuring the number of hours saved and the associated cost-savings when you implement the one-to-many approach of Pendo guides.

Ticket themes - Does your Support team currently utilize tags to help broadly identify the themes of the tickets they are receiving? If so, dive in and begin by selecting a few themes to start with. It's nice to pick both a few quick wins (isolate which tickets are one-touch closes and create that "touch" as a guide - for example, a single step tooltip guide with a definition for some company-specific jargon), as well as a few larger flows that you can tackle with a full walkthrough guide.
Knowledge Base Articles - Does your company already have a robust knowledge base in place with up-to-date information? Great! You can link to your articles within guides to provide more context for your users, while being able to keep your guide content short and sweet for the most impact. If this isn't your company's strong suit just yet, see if you can at least get some articles written for the main themes you've identified above.
Tip: If you have access to the code of your knowledge base, you can install Pendo there, too! Track article usage, common paths before a ticket is opened, and know which articles a customer has already viewed when they open a ticket.
How To Make It
Single-step Badge Activated Tooltip Guides - Consider this a go-to for quick wins, specifically recommended for definitions, reminders, warnings, bug notices and collecting feedback from your users.

Badge activation

allows you to customize the badge image to convey your meaning even before a user hovers/clicks on the badge to see the guide messaging - for example, you could use an information icon or a question mark for a definition, an alarm bell icon for a reminder, and a bug icon to tell your users your team is aware of the issue and actively working on it. You can also specify badge behavior so that it is always visible on the page, or only becomes visible when your user hovers over the element that badge is targeted to.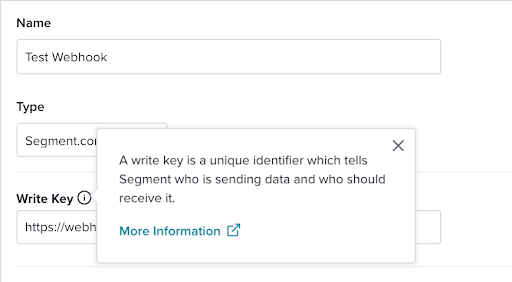 Multi-step Walkthrough Guides - Use this approach when you've identified a ticket theme around a full flow in your application. Walkthrough guides allow you to provide context to each step of your flow and lead your users through the process from start to finish.
Resource Center - Think about utilizing Pendo's out-of-the-box

Resource Center

functionality in combination with the guides above for maximum effectiveness. The Resource Center acts as a repository for in-context help, allowing your customers to self-serve simple questions and improve their experience with your application. Stocking the Resource Center with basic how-to/getting started guides, new product Announcements, knowledge base articles, and maybe even an FAQ section will save support time and help the team scale, as they can start to focus on more complex tickets.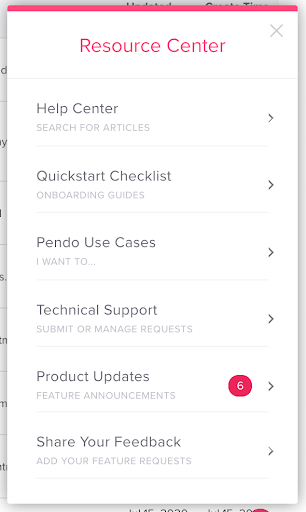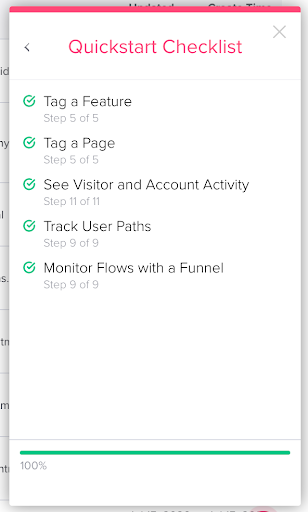 Use Cases
While there are likely several more use cases specific to your company and application, below are a few examples we've seen work for customers across the board.
Definitions - Does your company have application-specific terms? Maybe your users are confused about how a metric is calculated, why they don't see a specific option in a dropdown or want to learn more about that area of your application. Include both the text descriptor and maybe even link to your knowledge base article for your users to get more context if they need it.

Tip:
If you include a link to an article in your guide,
tag it as a feature
to include in reports and understand how many users are clicking on it to get more information.
Bugs - It is likely that very few users of your application will actually submit a non-critical bug ticket. Most users will get frustrated and either move on to do something else in the application or just leave entirely. With Pendo, you can quickly and easily publish a guide targeting the broken feature, letting your users know you are aware and working on it. Is that broken feature just in Firefox, for example? Create a segment targeting your Firefox users of that feature specifically, that way you can prevent messaging fatigue to users that wouldn't even be affected by the issue at hand.

Warnings - Is there an area in your application where they can accidentally get click happy and delete some un-deletable content? Consider placing a warning badge next to that element/on that page in your application with both Automatic + Badge activation methods. With this combination of activation methods, the first time your user sees the feature/navigates to the page, the guide will display automatically and provide the warning. Once your user dismisses the guide, every time after that they go back to use the same feature/load the page, they will see the warning badge and that can either be enough of a warning in and of itself, or they can click on the badge and see the guide messaging again as many times as they need.
Reminders - Do your users need to follow specific naming conventions? Are they using certain areas of your application infrequently and need a refresher on process? Utilize either a quick tooltip or a full walkthrough guide to remind your users how to complete a task.
Feature Requests - Do your users frequently submit feature requests through a support ticket, taking up valuable troubleshooting time? Train them to submit requests via a badge-activated open-text poll guide that you can place anywhere in your application so that it is always available. Create a Visitor Report targeting those poll responses and your team can then subscribe to the report to get automated emails from Pendo every Monday to show the new responses/requests from the previous week.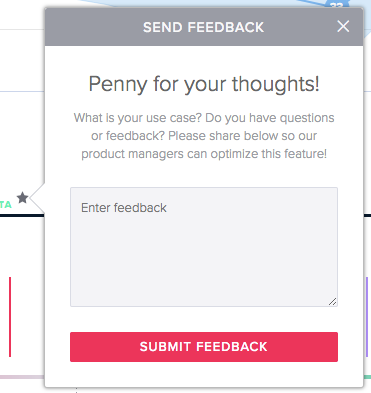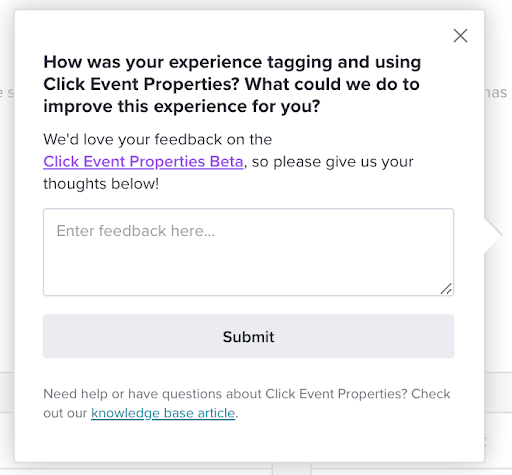 Tip: You could even place an open-text poll guide for feedback in the Resource Center with it's own module to make it available on every page if you didn't want to utilize badge activation.
Note:
If you are interested in more robust feature request capabilities, consider
Pendo Feedback
. This functionality works to capture and prioritize user feature requests, allow users to view and vote on other people's ideas, see the status of requests they are interested in, and get an idea of what you are currently working on and what you have released.
Refine, Iterate, and Learn More About Your Users
As you make guides public, you will begin to learn more about your users. Regularly review your guide metrics and consider questions like:
Are people engaging more with badge tooltips, walkthroughs or Resource Center?

If we include help article links in a guide step, are users clicking on the link?

If we create a multi-step walkthrough guide, are users getting to the final step, or is there significant drop-off earlier in the flow?

Do our users respond better to gifs or images (maybe even videos) rather than just text content?

Are the guides which are targeting the Support themes identified previously actually causing a reduction in tickets submitted?

What new ticket themes are popping up?

If a user sees the guide, clicks on the article link, and *still* files a ticket, how can you improve your content (guide + article) to help that customer better self-serve?