Overview
Early product engagement is a critical indicator of long term customer health, so it's essential to help users find value in your product as early as possible. With only 30% of users exhibiting regular usage in their first 90 days according to our interactive benchmark's study, the importance of the initial user experience is clearer than ever.
How to Make It
Form your hypothesis

Brainstorm "Aha!" moments (target one to three to start) and consider what actions can be done by a user in a single sitting. Your onboarding journey should get the user to their desired outcome as quickly as possible.

To help inform these hypotheses, it's important to understand the goals, format preferences, and personas of your ideal users. Some questions to consider:
What is the user's goal? What is the pain your product helps eliminate or ease? Let this inform which features and functionality you choose to highlight in your onboarding walkthrough.
What is their technical proficiency? This will help you decide how much detail you provide in the content.
What is their format preference? Depending on the preference of your users, you may want to choose different communication formats (such as gifs or video tutorials) rather than relying solely on written content.
How do they like to learn? Different messaging layouts require different types of engagement. For example, an onboarding walkthrough requires more user attention than a small tooltip. Having a hypothesis on whether your users prefer a more tactical or high-level approach will help inform your in-app onboarding strategy.
Step by step instructions for setup:
Building your first onboarding walkthrough
Identify and tag 4-5 key features or flows

Create a

step-by-step walkthrough guide

to highlight these key features and how to navigate to them within your product.

Target this guide to new users by creating a

segment

. In the case of an onboarding guide, you should likely start with the segment rule "first visit within last 1 day":





Consider adding

contextual tooltips

to parts of your product to provide additional in-app context to new users.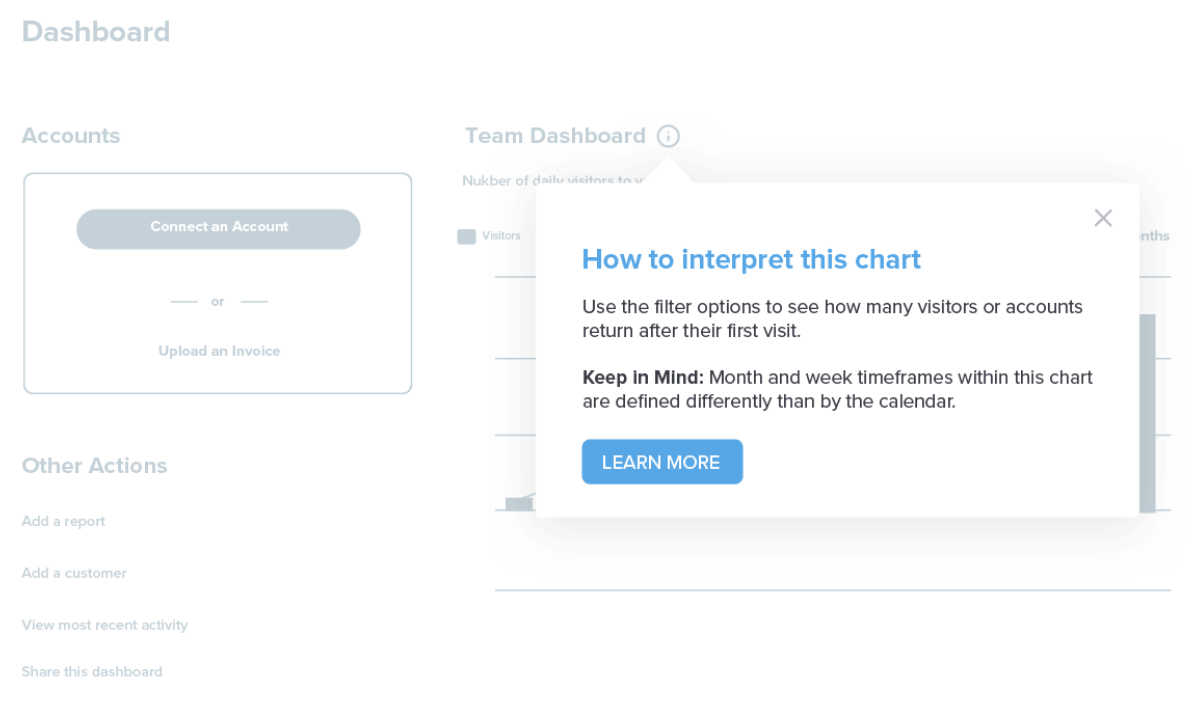 It's important to measure how your onboarding experience performs against your adoption goals. You can look at three primary indicators to measure the success of your onboarding experience:
Onboarding engagement: Pendo can show you how many people saw and interacted with your guide and for how long. Navigate to the Guide Details page to see guide views, time on guide, and drop-off by step:


Product usage: This category of report looks at how an onboarding guide actually changed users' behavior in your product.

Data Explorer

is a great tool to evaluate how guide usage is influencing the adoption of relevant features. Simply select the feature you're measuring adoption for and the guide that's meant to influence this feature:


The resulting report will show you the impact your guide has had on the adoption of this feature or page: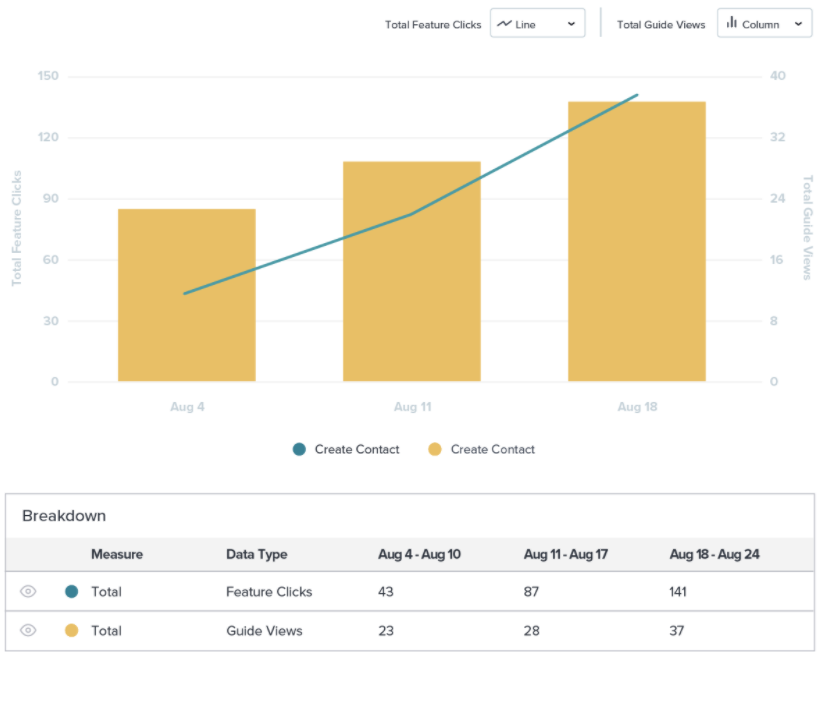 Business outcomes: Measurements at this level give you a general sense of how onboarding influences your most important KPIs. You can use the retention

and

stickiness

reports to see how the features you've onboarded impact long-term retention and engagement.
Your onboarding experience should ideally be something you regularly revisit to ensure you're onboarding users on the features most important to them. To continue to evaluate which features are most important, you should monitor the following reports:
Feature Adoption Analysis

: Use this Dashboard widget to see which features are your most popular features. In addition, you can segment these reports by NPS or power users to see which features are most likely to positively impact sentiment.

Funnels: Use funnels

to visualize where users are dropping off in the ideal onboarding flow. Build a funnel that mimics the steps in your onboarding walkthrough, and see where people drop-off within the flow

.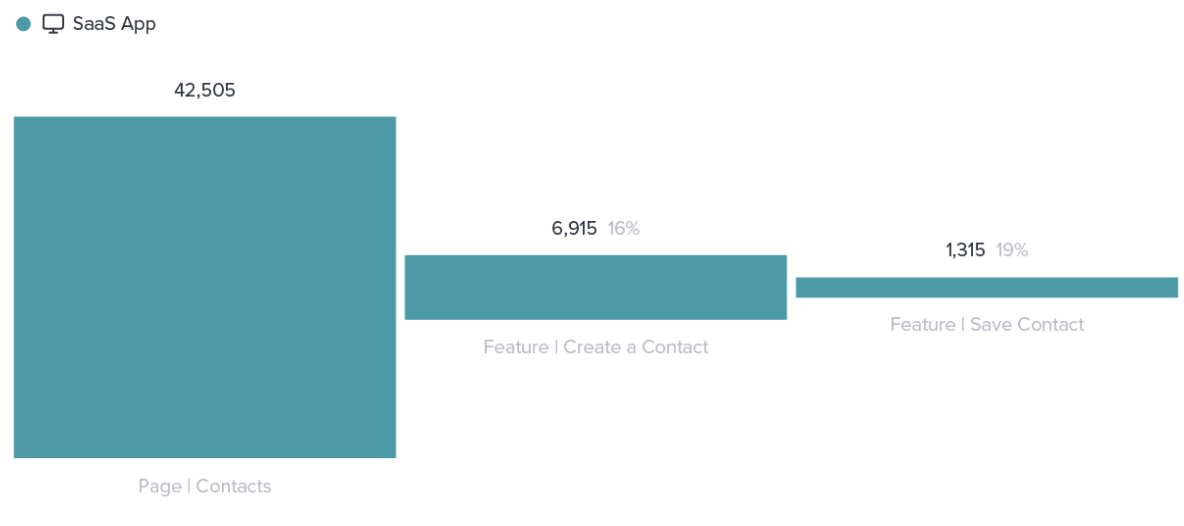 Paths: Use paths to see how users are actually traversing your product.
You can continue to personalize your onboarding at scale by creating more advanced segments based on product usage or visitor/account metadata. This will enable you to tailor the onboarding experience to specific roles, permission levels, or industries. Below are some examples of metadata you could pass from SFDC to create more robust segmentation: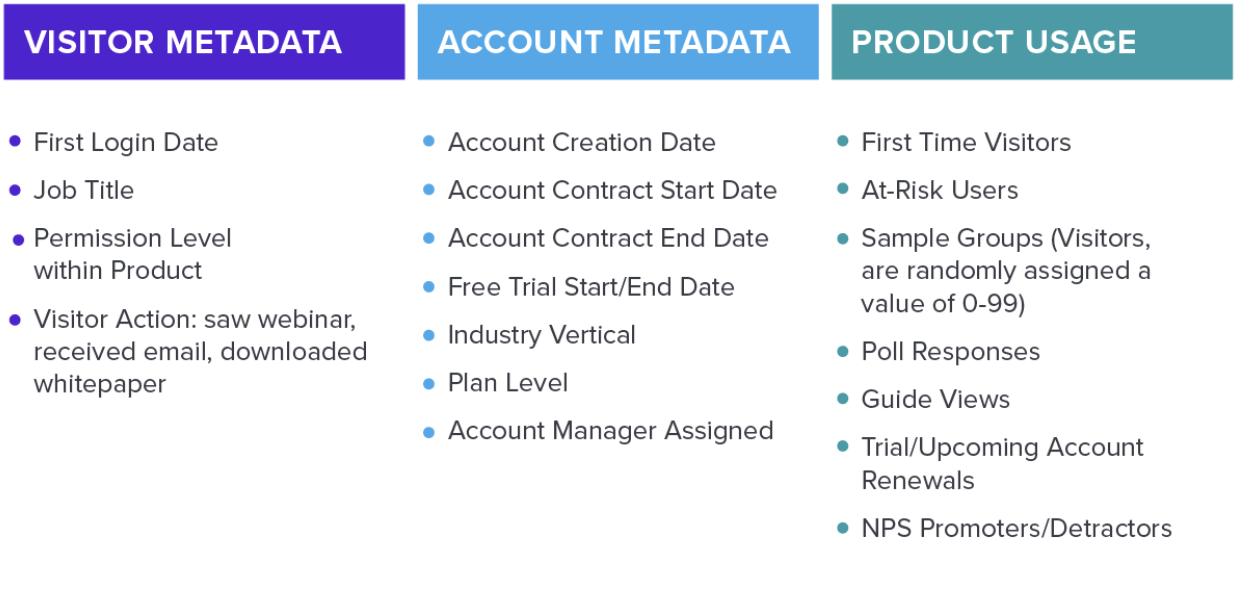 Create a Resource Center to provide an in-app location for users to receive support, such as links to help articles, or even onboarding checklist for users to refer back to the original onboarding flow: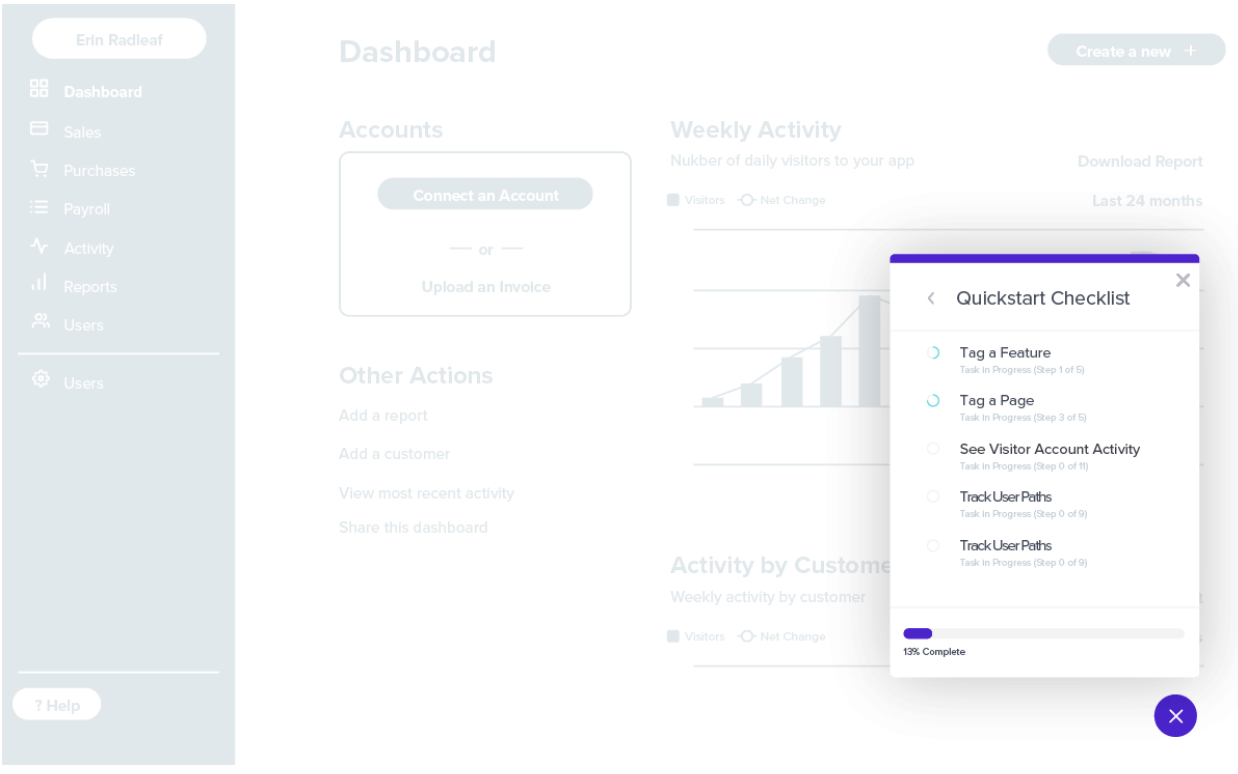 To set-up the Resource Center, you will need Admin permissions.
Confirm which segments of users should see which modules(s) within the Resource Center. You can add segmentation rules on both the guide level as well as the module level to ensure users are only seeing help that is relevant to them. Some common examples: segmenting the onboarding checklist module to new users within their first 30 days, segmenting certain guides for specific user personas or account types.

If you'd like to set-up an integration module (i.e. knowledge base integration and/or live chat) and you have integrations enabled in your account, click on the "+ Add Integrations" button to temporarily navigate to the Integrations hub. Once you add an integration, you will see it as a module option in the Resource Center.

You can follow the

step-by-step instructions here

.
Best Practice: Once you're ready to go live with your Resource Center, build and deploy a tooltip that points out the Resource Center widget to let users know they have a new place to go to for in-app help. Not sure how to do this? Reach out to our Technical Success team to help you out.