Overview
This article is for customers who are looking to start tagging features in their Mobile application.
Tag A Feature
Tagging features can either be done when tagging a page or at any other by going accessing the designer via 'Manage Pages:'
Go to Pages

Filter to your mobile app

Select the page you want to tag features on.
Click 'Manage Page'

Start tagging your Features!
To tag a feature in your app, click on any feature in the screenshot on the right. The feature will show up in a table on the left, where you can name it, optionally group it, and then save it.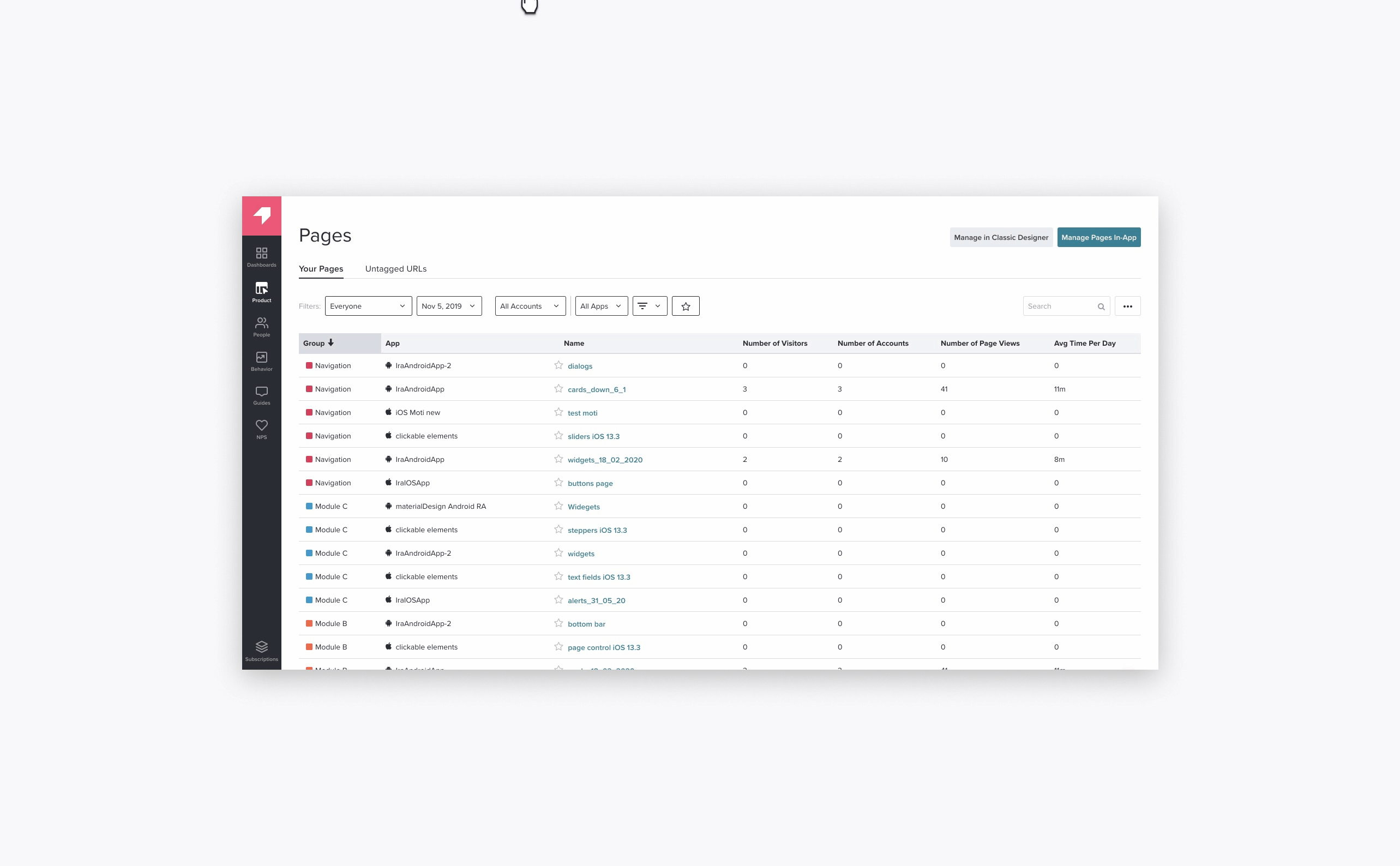 Tip: To quickly edit a tagged feature, go to 'Product' in the left-hand navigation and click 'Features'. Then choose 'Manage Features In-App' to open the Designer on the page where the feature has been tagged.

Enhanced Tagging Capabilities
Note: upon editing feature attributes, wait 5 minutes for the new attributes to take effect in guides, due to caching.

Exclude text from feature's rule
Best for tracking features regardless of the text they may contain. For example:
In multi-lingual apps where button texts are different for different users.


A button does not have consistent text across users or times
Tagging App-wide Features
Used for features that appear across your mobile app, such as on the navigation menu or a tab bar button. Using App-Wide will allow Pendo to collect click events for these features regardless of the page it was tagged in your app.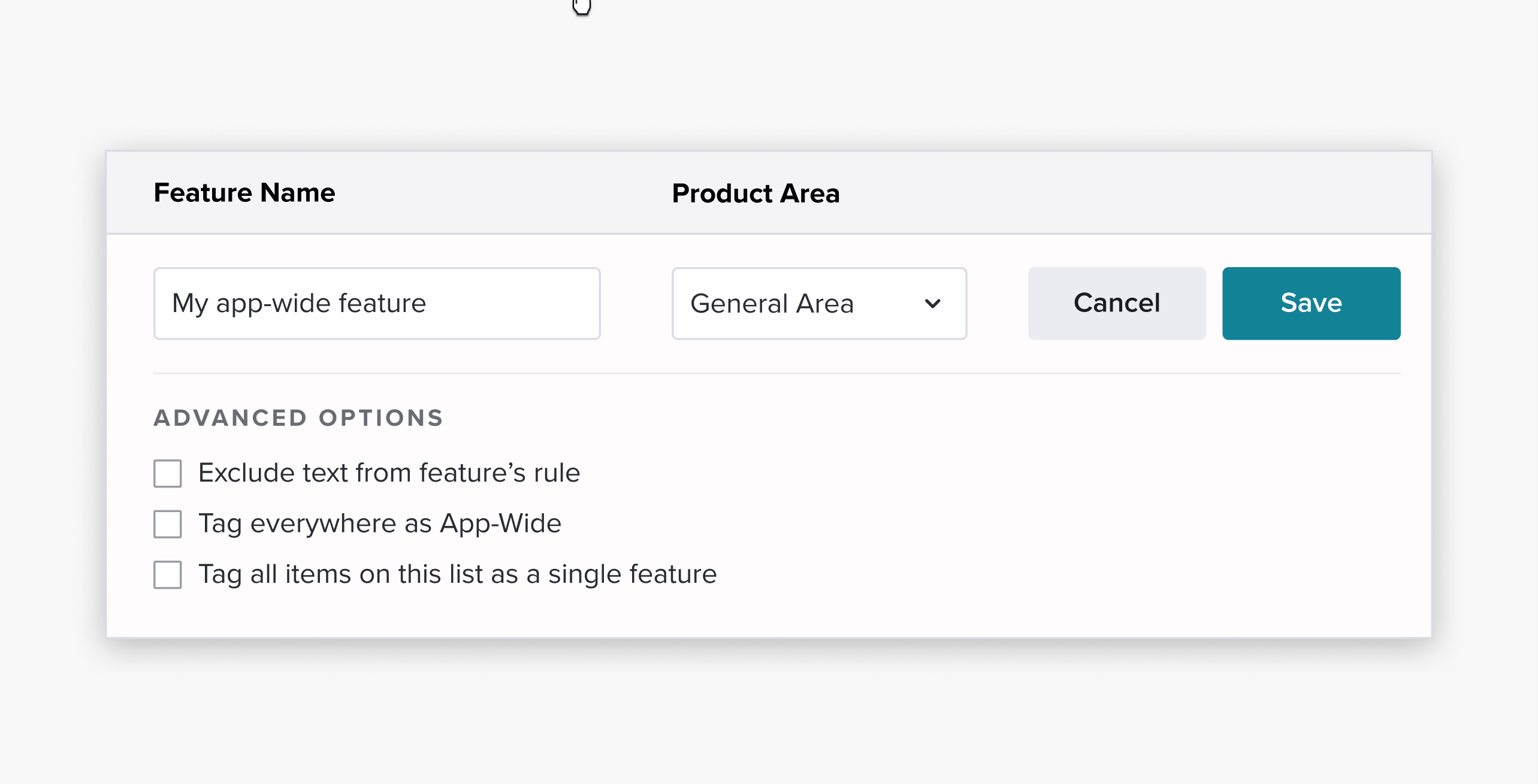 Note: You will be able to edit an app-wide feature from the original page it was tagged on. The feature will not appear as tagged when managing other pages that include the same feature at this point.

As a best practice, tag the App-Wide Feature from the home screen or use a naming convention that will help you (or others) easily locate it (ie: "Info (tagged on Home)").
Tagging List Elements
Pendo automatically tags the feature by the position/index of the item in the list when tagging a list item in your Application (a line in a table, a menu entry, etc).
For example:
If the 1st list item is tagged, Pendo collects analytics only on clicks on the 1st item. If the 3rd item is tagged, Pendo collects analytics only on clicks the 3rd item, and so on. This usually works well with static lists.
Tag all items in the list as a single feature (Beta) - This can be used for dynamic lists where the content of the list changes per user each time a user logs into the Application. This will allow you to collect analytics of any click on a list element, regardless of its position.

Choosing List-item as Guide Activation would launch the guide by clicking on any of the list items
Targeting a List-item with a Tooltip Guide will point at the first item in the list
Tagging 'below-the-fold' features
If some of your features reside "below the fold" i.e. - they do not exist in the original page's screenshot, follow these instructions:
Capture the page in its scrolled state and save it as a new page. The name can indicate that this is a 'below-the-fold' capture.

Tag features on this new page.

Note that the page analytics of this 'below-the-fold' page will be the same as the original page.
Frequently Asked Questions
How are my features identified?
A feature is always tagged in the context of a page.
A rule is created for each tagged feature which relates to the "class" of the element, the element's text if such exists, its position in the list, its position on the page and many other parameters.
If a feature is not identified correctly, contact our support so that we can modify the feature's rule to match your needs.
Features will usually be identified correctly across your app versions. However, if you performed User Interface changes to your app and specifically changed button texts, you might need to Update the Mobile Page in order to make sure all features are identified correctly and fix the tagging if needed.
I can't tag some of the features in my application. What do I do?
There are many ways to implement mobile buttons within an App. We are optimizing the way our SDK identifies features. However, if you're unable to tag and receive analytics for specific mobile features, please contact our support. A possible workaround is using Track Events to track specific features to collect that data.
I stopped getting new analytics for some of the tagged pages. Why is that?
Have you released a new app version to the store recently? If some of your pages/features changed in the newly released app version, you can update them by Updating the Mobile Page.