Overview
Portfolio Summary provides a way for you to easily view performance across a portfolio of products. This view allows users to quickly identify areas that require attention or improvement. Portfolio Summary includes the Apps widget and the App Landscape widget, which show the performance of all apps in the Pendo subscription at the same time. Portfolio Summary allows you to filter data displayed in all widgets using a single set of global filters for segment, date range, and app. The Portfolio Summary and widgets can be used to monitor the relative performance of each of your apps, compare your apps against each other, and focus on the apps that are performing better or worse than others.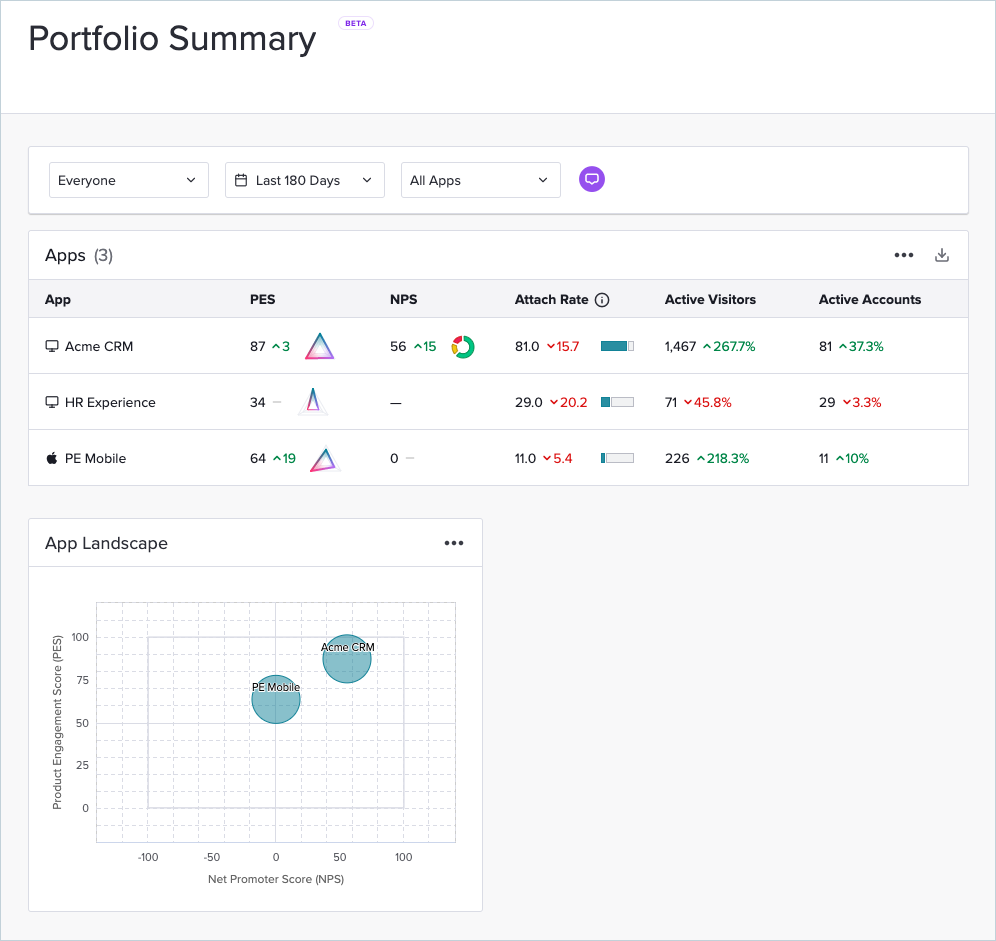 Requirements
Multi-app subscription to view portfolio summary
Active NPS poll and PES score to plot the app in the App Landscape widget
Apps Widget

The Apps widget provides a comprehensive overview of how your Pendo apps are performing across a comprehensive set of metrics. Scores and trending changes are reported for PES, NPS, attach rate, active visitors, and active accounts.
Product Engagement Score (PES) - a composite objective metric of adoption, growth and stickiness, requires core events Product Engagement Score (PES) Overview
Net Promoter Score (NPS) - a subjective measurement of user satisfaction indicated by a standardized NPS poll, requires an active Pendo NPS poll Setup NPS Overview
Attach Rate - a measurement of how much of your total customer base owns a particular product and indicates opportunities for cross-selling

Active Visitors - number of active visitors in a given period
Active Accounts - number of active accounts in a given period
Trending data is also provided alongside these metrics. Trending is the calculated difference between the KPIs in the given time period compared to the preceding equal time period.
The values in the Apps widget table can be exported as a CSV and easily added to presentations and reports.

Configure Apps Widget
The only configuration required to use the Apps widget is selecting the active NPS poll used in each app.
1. Click

to open the Edit modal.
2. Select the active NPS poll for each app.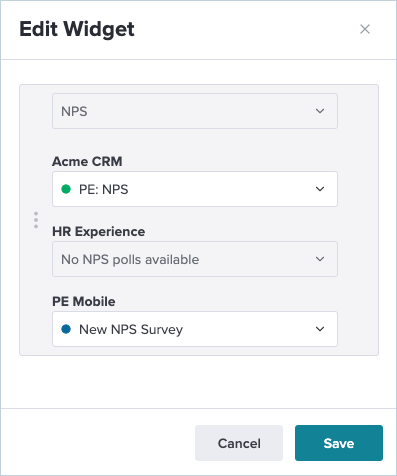 3. Click Save.
App Landscape Widget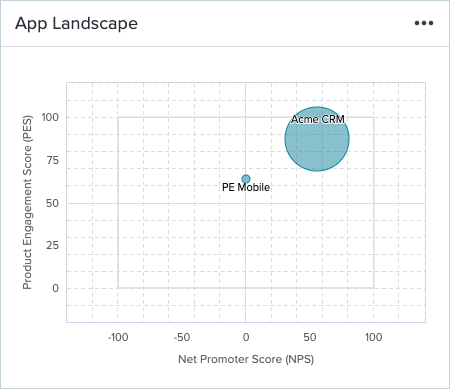 The App Landscape widget provides a scatter plot visualization of how apps compare to one another in terms of NPS, PES, and overall number of active visitors or accounts.
Apps are represented as circles on the graph. The X-axis is NPS. The Y-axis is PES. The relative scale of each app by active visitors or accounts can be represented by different sized circles, larger populations will have larger circles.
Configure App Landscape Widget
Select the NPS poll for each app to populate the graph in the widget. You can select visitors or accounts to indicate the relative population of each app in the visualization.
1. Click

to open the Edit modal.
2. Select the active NPS poll for each app. Optional, select active visitors or accounts to scale the size of the circles across apps. Toggle labels to add app names to the circles.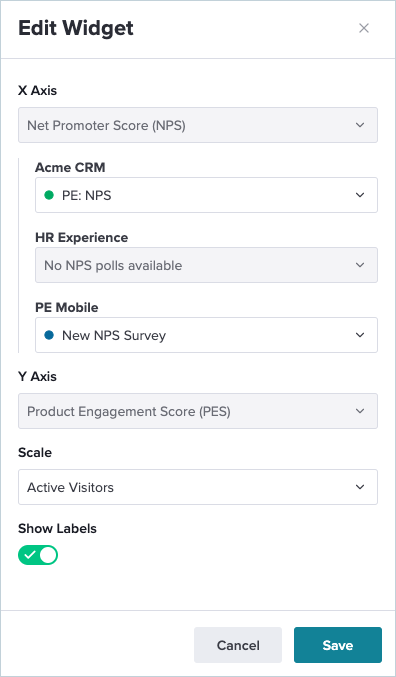 3. Click Save.
Frequently Asked Questions
Why is the PES score for my app in the Apps Table empty?
Core events must be configured for your app for a PES score to be available. Learn more about how you can set up your Core Cvents here
Why is my NPS Score for my App in the Apps Table empty?
An NPS poll must be configured and selected for your App for the score to be available in the Apps Table. Learn more about how you can set up an NPS poll here. You can also configure which NPS poll result to report per app by going into the App Table widget settings