Dashboards are composed of widgets that provide snapshots and visualizations of your data, allowing you to quickly view and compare different figures. Each Pendo user can create their own unique dashboards to access the metrics that matter to them at a glance.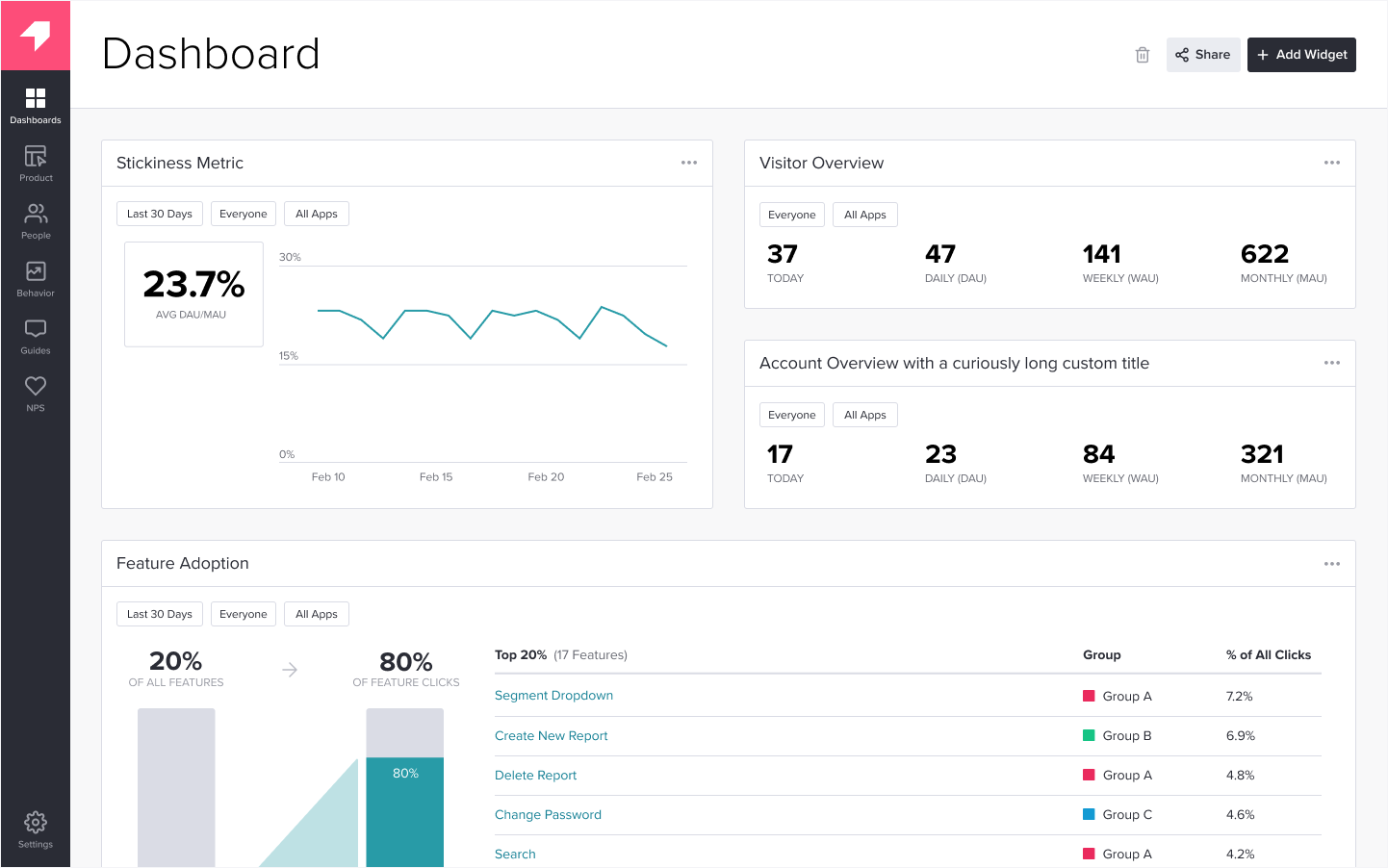 Move dashboard widgets
If you want to move the placement of a widget on your dashboard, hover over a widget to reveal the textured area at the top-center of the widget.
Modify and interact with dashboard widgets
Select the ellipsis (…) icon in the top-right corner of each widget to reveal the edit and remove options.
Edit dashboard widget
Editing allows you to edit the name of any widget to make it easier to identify. You can also add a segment to any widget if you want to see information for a certain population of your users. The same widget can be added to the page multiple times, allowing you to quickly compare two different segments against the same metric.
Remove dashboard widget
Once you delete a dashboard widget, you can't recover it, but you can re-add the widget at any time through the Add widget button on the page.
Interact with a dashboard widget
You can hover over certain widgets to reveal additional information. For example, the Weekly Visitors widget provides more specifics as you hover from left to right.
Some widgets allow you to perform a different action to view more details within the widgets. The categories in the Browser Usage widget allow you to select the type of browser to provide a breakdown of which versions your visitors are using. Click and drag over widgets that are scatter plots, such as Feature Use By Visitor or Feature Use By Account, to zoom and view additional details within the widget.
Filter dashboards
Most dashboard widgets allow you to apply filters so that you can customize the data that is displayed in the widget. By applying filters, you can segment and drill down into specific subsets of data, which can help you identify patterns and trends that might otherwise be missed.
In addition to being able to apply widget-specific filters, you can also apply dashboard-level filters that apply to most widgets on the dashboard. This allows you to update the segment, date range, app, or account that's being targeted on a dashboard without having to edit every widget individually.
Note: Not all dashboard-level filters are compatible with all dashboard widgets. The Goals widget, in particular, doesn't support any dashboard-level filters.
When you apply a dashboard-level filter, the dashboard URL is updated accordingly. This means that these filters are retained when you copy and paste the dashboard URL to share with other users in your Pendo subscription.
To apply a dashboard filter, select Add Filter above your first widget, choose which type of filter you'd like to apply (Segment, Date, App, or Account), then select a value. Repeat as needed.

To remove an applied filter, select the Delete icon on the filter, or select Clear Filters located to the right of the filters to remove all dashboard-level filters applied.
Once applied, you can view the filters that were applied using the filter icon in the top-right corner of the widget. Hover over this icon to view which filters were applied and if any of the filters aren't supported with that particular widget.

Any dashboard-level filters that you apply override the filters applied on the individual widgets. If you decide to remove dashboard-level filters, the original widget filters apply.
Expanded dashboard widget definitions
Total Usage Time
Total Usage Time measures the total time that all of your visitors have spent related to a specific activity in the past 30 days (not including today). This is calculated per minute. If a visitor does only one tagged activity during the course of that minute, that full minute is attributed to that user. If the visitor does more than one activity during the course of a minute, each activity is credited with a fraction of that minute. For example, if a visitor does three tagged activities in the course of a minute, each activity will be credited with 20 seconds worth of usage time.
Visitors Using Tag
The total number of your visitors who have done the tagged activity in the past 30 days (not including today). If a visitor does the activity more than one time during that period, it will still only count as a single visitor.
Time Per Visitor
Time Per Visitor is the Total Usage Time divided by Visitors Using Tag. This gives you a feel for how much time each visitor spends using this feature over the course of a 30-day period.
Multiple dashboards
Multiple dashboards can help you measure a variety of metrics for different parts of your initiatives within Pendo. To create a new dashboard, select the Add (+) icon next to the dashboard header in the left-hand navigation bar.
Note: Unless you share a dashboard with another Pendo user, your dashboard is only visible to you.
Name your dashboard and customize it with different widgets, including Pendo Goal(s) or Trend(s). If Pendo detects you have multiple dashboards when saving a widget, you are prompted to select which dashboard before saving.
You can create as many dashboards as you want, as well as rename and delete them as needed.
View all dashboards
All of your dashboards, and dashboards shared with you, are available on the Dashboards page. Click View All from the dashboard list to access the full directory.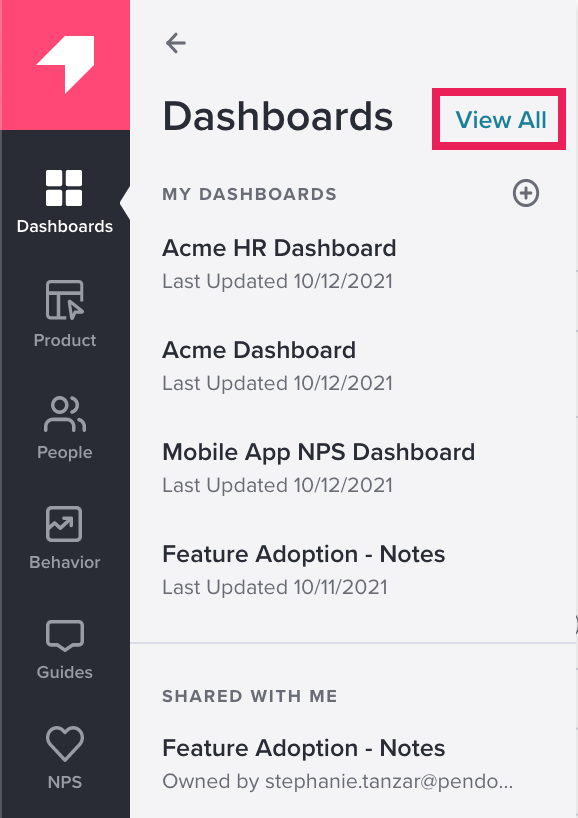 All of your dashboards are searchable and filterable by dashboards created by you or shared with you. You can sort the table columns by name, creator, and when the dashboard was last updated. You can also share or delete your own dashboards and remove dashboards shared with you from the directory.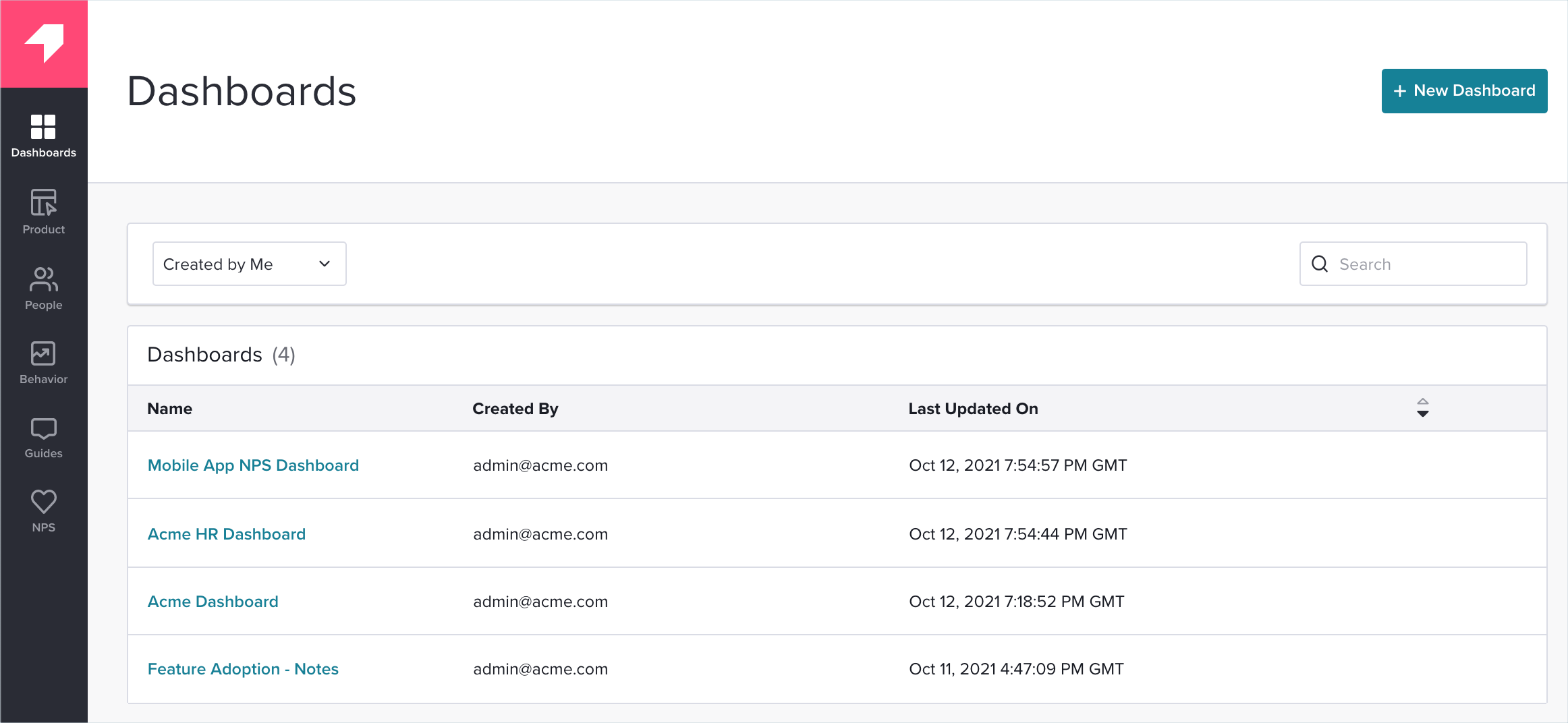 Share your dashboards
By default, dashboards are set to private and only accessible to you. To share the dashboard with other users in your Pendo subscription, select Share.
To learn more about sharing dashboards, see Dashboard Sharing.
Duplicate dashboards
If you have an existing dashboard that's mostly what you need in a new dashboard, copy it by selecting the Copy icon in the top-right corner of the dashboard.

You can copy dashboards that you built or any dashboard that's shared with you. Once you select the Copy icon, a new dashboard populates with "Copy of" in front of the dashboard name you just duplicated. Update the new dashboard's name, and adjust the widgets as desired.