Overview
The Pendo Mobile SDK version 2 is a new SDK, which provides codeless retroactive analytics across all of your app-versions, as well as lightbox (in-app message) guides built with Pendo's Visual Design Studio. Read more about the new release here.
The integration takes three lines of code.
The SDK will start collecting analytics right away.
Tracking analytics and guides will work across all your app versions.
How Do I Get It? 
To add a new mobile app (with SDK V2) to Pendo:
 Navigate to Subscription Settings
Click on the "Add Another App" button in the top right-hand corner of the page.
Enter your desired app name and choose the relevant OS: iOS or Android. If you don't see these options, please contact Support.
Once you hit the Save button, you will see the app in your list under Subscription Settings. Check for the v2 in the top right hand corner as seen below: 

Hover over the Android/iOS icon and click "Complete Installation"

Proceed to install the SDK by following the integration instructions displayed


note: if you've already installed our 1.5x SDK version, make sure to change all "Insert" references to "Pendo".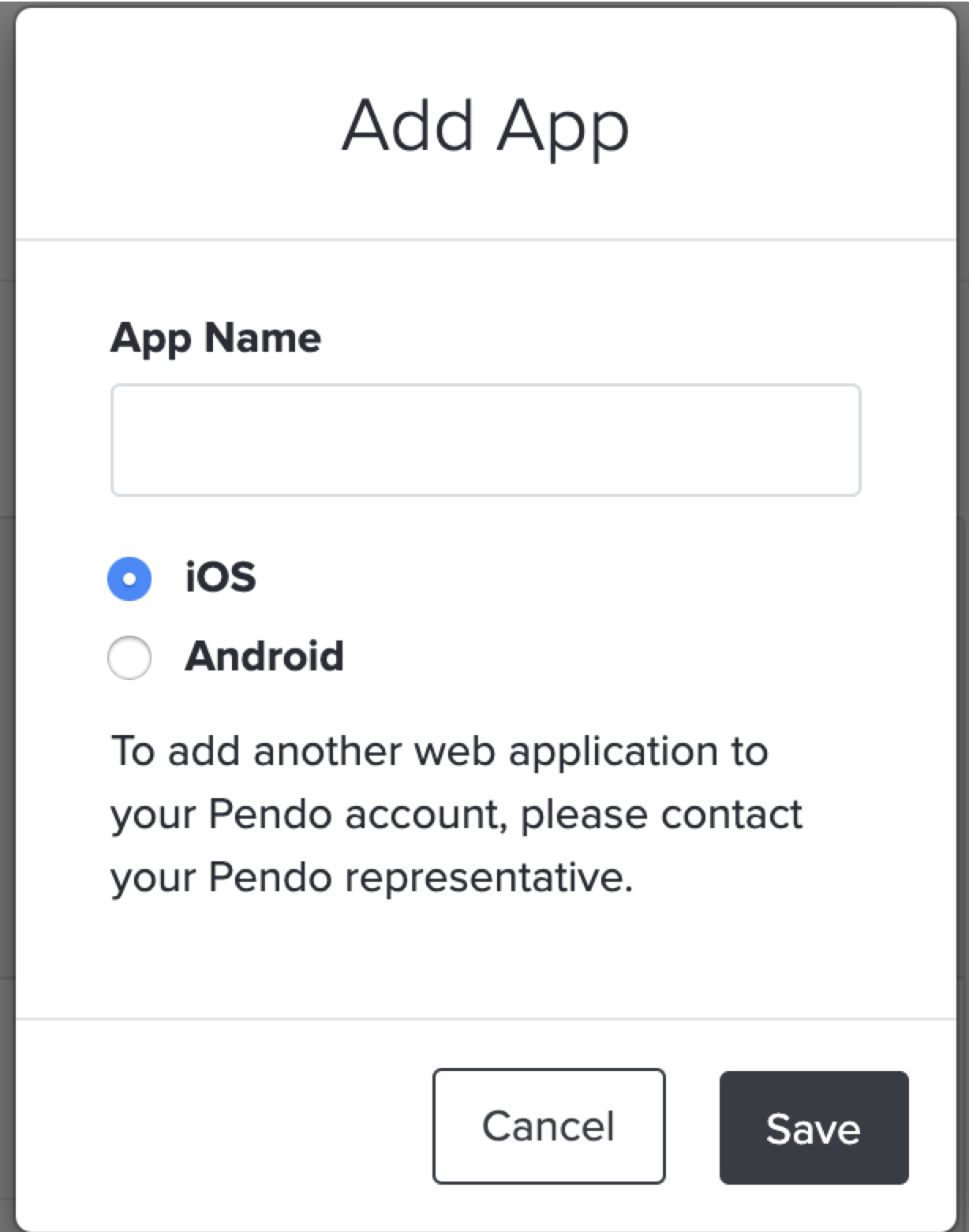 You are now ready to:
Frequently Asked Questions
Do I need to do anything when I release a new app version?
No. If you dramatically changed the user interface of your app in a new app version, you will probably need to fix your tagged pages. 
Can I merge my older app (V1) Analytics with the new ones?
No. Your older analytics will still exist in Pendo, but they can't be migrated to the new app. However, you can use Trends or our new Data Explorer to view or compare them side-by-side with the new analytics.
When will the data appear?
Just like with Pendo web analytics, data is processed at the top of the hour, every hour. Processing times can take up to 15 minutes after the hour, depending on the amount of data. 
Do I need to pre-define user data in the Pendo UI?
There's no longer a need to pre-define user and account data. Just send us the data from the app and it will automatically be populated in Pendo's Data Mapping.
Known limitations 
Xamarin framework is currently n

ot supported

. Let us know if you want a Xamarin version of this SDK and we will contact you once available.

React Native framework is supported via track events. Read here for more details.
You might not be able to tag some controls in your app, or they might not collect analytics.
If you experience such behavior, please contact us for more information.
When two pages have the exact same structure, we will currently consider them as one page. Contact our technical support to tag these as different pages.
When you want to tag features that are below-the-fold, you can tag the 2nd one and save it as a new page in the Pendo UI.